Don't stress, it's mind over football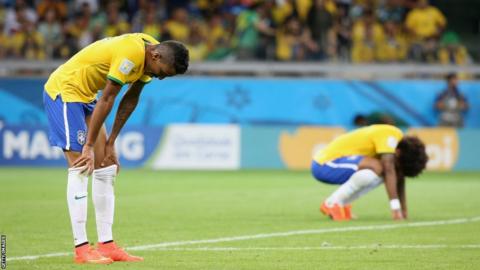 Following Brazil's brutal and humiliating 7-1 World Cup semi-final loss to Germany on home soil in 2014, the country knew exactly who to blame - the team's psychologist.
The problem, the critics said, was that the World Cup favourites were either "too passive" or "too stressed".
The team's management had brought in sports psychologist Regina Brandao to help their stars relax and deal with the pressures of playing in front of an adoring - and highly expectant - home crowd.
Her aim was to evaluate the players' emotions, harmonise their responses, and put them "at ease on the pitch".
A 7-1 scoreline suggests that they were less "at ease" and more easy to beat.
The wrong medicine
Gavin Freeman is one of Australia's top sports psychologists, having helped prepare Olympic teams for the Sydney and Torino Games.
He thinks the example of Brazil is a textbook case of treating a patient with the wrong medicine.
"If I were part of the Brazilian team, I would've been having as many open trainings as possible in the lead-up to the game," Freeman says.
"I would've been inviting the entire country to come and watch them train and then meet with all of the individuals.
"One could argue that would add a sense of pressure. But, when they get to the competition, they're going to feel that anyway, so why not deal with it earlier on?
"Those guys were so protected, nobody was allowed anywhere near them, and so they felt the weight of pressure."
Freeman feels the role of team psychologist is much more complex that merely stress management.
"For athletes to be successful, they have to understand the concept of performing consistently under pressure," he explains.
"My goal is to find ways to challenge them and help build their skills, whether it's resilience, determination, focus or setting goals."
Psychological advantage
Football managers, of course, look for any opportunity to gain an edge over their opponents. Assuming elite professional players share similar skill levels, any chance to gain psychological superiority is taken.
Some teams and coaches eager for success have even tried supernatural powers. The former England captain Bryan Robson flew in faith healer Olga Stringfellow to help him overcome a thigh injury at the 1990 World Cup in Italy while manager Glenn Hoddle famously employed faith healer Eileen Drewery to help his club and national team players.
Some African football squads have been known to use witchcraft to encourage the spirits to help them win.
While the claims of some motivational methods are highly dubious, there is no doubt the science-based techniques used by sport psychologists can have a profound impact on performance.
Cool Runnings
But Freeman thinks it is important to distinguish between the assistance psychologists can provide for teams and what they can do for individuals. For teams, it is all about practising in the right environment.
"The sport psych needs to be integrated in the group, as another coach, to build and develop a very bespoke programme to help teams perform under pressure," he says.
"The psychologist isn't there to do the rah-rah motivational stuff. Quite frankly, if you're not motivated to be there, then there's nothing I can say that's going to motivate you.
"In the good old days, I used to get invited to come along and give lectures on relaxation, thought stoppage and all these things. Eventually, I realised it didn't work. I needed to make it specific for the athletes, and what works for you doesn't work for somebody else."
Freeman believes that motivational techniques such as self-talk and positive body language are fine for individuals but not teams. The same applies to using mental imagery - visualising yourself winning - although he thinks it can be useful for some specific team sports.
"The best example was shown in [the 1993 film] Cool Runnings, about the Jamaican bobsled team. Remember the four boys in the bathtub? They had the pictures [of the course] and they were going, 'first turn, second turn, third turn, fourth turn'. It's very difficult to get a whole bunch of people closing their eyes and trying to imagine the team doing something," he states.
"It can be quite useful at the individual level to practice. Remember when David Beckham came out to play in Australia? There was a youngster who was told he was going to be defending Beckham. I guarantee he spent at least three nights imagining what that was going to be like to try and create the environment for himself. A lot of athletes build their own self-affirmation statements."
A state of mind
Freeman believes that it is important for players to be nervous, not stressed, if they want to perform at their best.
"Nerves are a great thing to have," he says. "But I want players to know how to deal with those nerves. I want them to understand how their body is reacting.
"Athletes will develop coping mechanisms for themselves, but it's very rare that you can do that as a team. I used to do a lot of work helping athletes deal with stress, particularly during competition. Over the years, it dawned on me that this is just a state of mind. It's a perception of the event driven by a degree of self-doubt because they're not prepared."
Freeman adds that while there are many reasons football teams lose - they set the wrong goals, use a poor strategy, make bad decisions or perhaps have a shortage of luck - they should never blame stress.
"Great teams don't experience stress," he insists.
Optus hold the broadcast rights to the English Premier League in Australia.