Fields of dreams provide Premier League path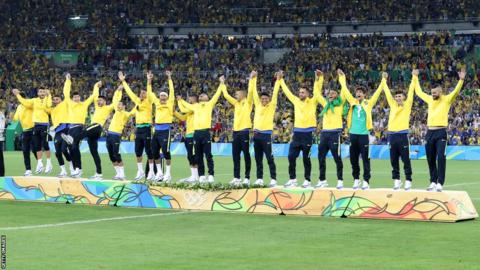 Two days before the opening ceremony for the Rio 2016 Olympics, Sweden and South Africa's women's teams played each other in the first event of the Games, with Iraq v Denmark kicking off the men's tournament 24 hours later — 14 matches in all scheduled before the lighting of the cauldron at the Olympic Stadium. But does anyone really care about football at the Games?
The Olympics are, after all, supposed to be the pinnacle of any sport. Does the Olympic football tournament — effectively an under-23 competition, with three over-age players allowed in each squad of 18 — really matter more than the World Cup, European Championship or Copa America? Or even club competitions? Would John Mikel Obi swap his Premier League winner's medals with Chelsea for Olympic gold with Nigeria, for example?
Does it matter?
Henrik Larsson, the former Sweden striker, stopped his son Jordan, whom he manages at Helsingborgs, from going to play at the Olympics in Brazil, preferring to hold him back instead for club duty.
In 2012, while Britain was swept up in the euphoria of a hugely successful home Games, the effort to put out a football team felt a little tokenistic. Naturally, Team GB's men went out on penalties in the quarter-finals — the same stage at which the women's side also succumbed.
The Olympics are always held in the same year as the European Championship finals, so it is perhaps understandable that Europe generally ranks the chase for a gold medal lower down its pecking order.
The last six men's Olympic tournaments have been won by non-European nations. Indeed, in that time, only one European country, Spain (also the last to win it in 1992), has reached the final, losing on penalties to Cameroon at Sydney 2000.
World football expert Keir Radnedge said the perception of the Olympic tournament "depends entirely on which country you're from".
He continued: "For the Europeans, it's not as valuable because all the young players are known, scouted, etc. But a stellar performance by a non-European player can be significant."
This is borne out by the fact that the likes of Argentina's Lionel Messi and Brazil's Neymar have starred at previous Games.
"For the South American countries, it is a chance to test themselves against the best European nations," Jack Lang, a writer who specialises in South American football, said.
"It has not been seen as massively important over the years but, in Brazil especially, it has assumed greater importance over the last 20 years, mainly because [before this year] they had never won it."
Talent show
As most of the players are aged 23 or under, scouts would have been in Brazil watching on, hoping to unearth the next big thing.
Yet, as clubs' scouting operations have become increasingly sophisticated and more football from around the world is available to us at the tap of a remote control, click of a mouse or the touch of a screen, so the discoveries may be less surprising than they once were.
"I would be stunned if those interested didn't already have people looking at these guys [before the Games]," Lang said. "The level is not spectacular but it is a good test to see how players react in the spotlight."
The Nigeria team that triumphed at Atlanta in 1996, for example, included the likes of Nwankwo Kanu, Jay-Jay Okocha and Celestine Babayaro, who would all subsequently go on to earn big moves to Premier League clubs.
This time, Manchester City have got in early to sign one of Brazil's gold medallists, wonderkid Gabriel Jesus, from Palmeiras. But the 19-year-old winger, who will link up with Pep Guardiola's squad in January, does not come cheap, costing $35.5m (£27m, AUS47m) plus add-ons.
Italian giants Inter Milan have identified another Brazilian Olympic champion, Gabriel Barbosa, as someone who can add to their goal-scoring threat for about $28m. The forward, whose nickname is Gabigol, is also 19 and had been linked with major clubs including Manchester United.
Brazil break Olympic hoodoo
Five World Cups, eight Copa Americas and some of the finest teams and players in the history of the game, yet going into the Rio Games there was one glaring gap in Brazil's football roll of honour — Olympic gold.
Brazil had lost their third Olympic final at London 2012 where, despite being the overwhelming favourites and having a squad packed full of talent, they contrived to lose against Mexico at Wembley.
Added to this the pressure of home advantage and their catastrophic failure on home soil at the 2014 World Cup (Brazil 1 Germany 7 in the semi-final, lest we forget) and Brazil did not have only one monkey on its back, but a whole troop.
The pressure looked to be telling as they limped to 0-0 draws in their opening two group games against sides that would hardly be considered as football superpowers, South Africa and Iraq. Yet, inspired by their talisman Neymar, the host nation came good, culminating in a storybook ending in which Brazil at least partly avenged that 2014 defeat by beating Germany in the final on penalties at the iconic Maracana. Fittingly, it was Neymar who scored the decisive spot-kick.
"Winning the Olympics restores a little belief, even if it is an underage tournament," Lang said. "The World Cup was bad but the last three Copa Americas have been pretty abject for them too."
Radnedge agreed with Lang's assessment. "The stakes are much higher than in Europe because Europe is awash with high-profile professional competitions at national team and club level," he explained.
"Don't try telling a Brazilian that Olympic gold doesn't matter!"
No hope for America
Equally, try telling those who competed in the women's competition that Olympic gold is a second-rate prize. Women's football was introduced at the 1996 Games in Atlanta. Unlike the men's competition, there are no restrictions on age, meaning that the Olympics — like the World Cup — is a showcase for the world's best players and a crucial shop window in trying to grow the game.
The United States went in as strong favourites, having won four of the five previous Olympic tournaments for women, but they suffered a surprise quarter-final defeat, losing to Sweden on penalties.
Hope Solo, the United States goalkeeper, did not exactly take defeat with grace, calling the Swedes a "bunch of cowards" - US Soccer said her comments were "unacceptable" and suspended her for six months.
Sweden went on to reach the final but were beaten 2-1 by Germany, who claimed their first Olympic gold in women's football.
Football Olympians
Some of the world's greatest players have starred at the Olympic early in their careers
Ronaldo — Brazil, 1996
Xavi, Carlos Puyol — Spain, 2000
Cristiano Ronaldo — Portugal, 2004
Lionel Messi, Sergio Aguero — Argentina, 2008
Neymar — Brazil, 2012
Optus hold the broadcast rights to the English Premier League in Australia.