Passion and loyalty Down Under for the beautiful game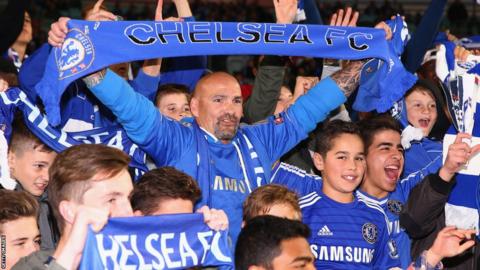 They are Australia's Night's Watch, the hearty band of men and women who come out at all hours to support their English Premier League teams. It does not matter if kick-off is at midnight or 4am, they assemble in pubs and clubs across the country to cheer on their heroes, beer or coffee in hand, with all the fervour you would expect at Stamford Bridge or Anfield.
It is difficult to know precisely how many fans Premier League clubs have in Australia, but the numbers are certainly growing. Enthusiastic crowds exceeding 70,000 at post-season friendlies in Sydney last year, when Chelsea and Tottenham Hotspur played Sydney FC within a week at the Olympic stadium at Homebush, was proof of the fanatical support for England's biggest clubs. (On both occasions Sydney FC supporters were clearly in the minority.) Even a match in January between Liverpool legends and former Socceroos attracted 40,000 people, most of them dressed in red.
Many EPL supporters are happy to follow their team's fortunes from beneath their duvets at home. Not the Night's Watch. Thanks to the power of social media, in particular Facebook, they are able to mingle with other parochial fans as part of the growing numbers joining football supporters' clubs in Australia.
One of the country's biggest is a Tottenham supporters' club, OzSpurs, which has more than 1500 paid-up members. For $12 (£9, AUS$15), a season membership includes a pack with a sticker, membership card and associated "goodies", as well as access to buying tickets for selected matches at Spurs' ground, White Hart Lane.
The club's main purpose, though, is to provide a central place for Tottenham fans to follow and watch their team, according to OzSpurs committee member Tommy Silver.
"We have chapters in all major cities around Australia, as well as some of the smaller places where [we] get anywhere from five to 300 people for matches," Silver says. "We also have a 'national' each year, where we select one city and descend en masse to have a Spurs weekend.
"Another thing to come out of the club is lifelong friendships," he adds. "I've been involved in the club since my 14th birthday, in 2001, and can genuinely say most of my best friends are Spurs fans I've met through OzSpurs."
Last year's match in Sydney was a major membership driver for OzSpurs and Silver will be hoping for a further boost from Tottenham's recent pre-season trip to Melbourne for the International Champions Cup, which also involved Melbourne Victory, Juventus and Atletico Madrid.
"We had close to 2000 last year for the Sydney trip, with many benefits coming through that," he recalls. "The important thing now is that people keep coming back."
Dan Thorne, a Chelsea diehard, agrees. As treasurer of the Chelsea Supporters' Club in Melbourne, he organised a trip to Sydney for 400-500 fans to see their team play.
"I [went] to a few of those friendlies back in the day and they can be a bit of a fizzer, but it was great atmosphere," he enthuses. "I'm really chuffed they [Chelsea] came out."
Thorne explains that his supporters' club has been going for some time but it only became "kind of official" with paid memberships within the past four years. Chelsea fans used to meet at clubs and pubs across Melbourne but have now settled at The Crafty Squire while the Sydney chapter meets at the Aurora Hotel at Surry Hills.
"Once the game gets going there's definitely an energy and a vibe in the room," Thorne says. "We've torn the roof off the place a few times. At the [Crystal] Palace game, when we won the league the season before last, you couldn't move for blue shirts."
Thorne states that Chelsea matches attract up to 100 club members and other fans, depending on the kick-off time. "I've been to an early morning midweek game and we've had 70 people there," he reveals. "That's at 4am on a Wednesday. It shocked me, and the guys working the bar. It's not just coffees being ordered."
The cultural mix of the membership is diverse. While there are many "old-school" Chelsea fans such as Thorne — "a season ticket holder in the 1970s, [who] went to Stamford Bridge with my dad and my granddad, singing on the terraces sort of thing" — members have a variety of backgrounds and day jobs.
Thorne explains: "We have ex-pats, Indians, Asians and Islanders. We've got a croupier, I'm in film and communications and another guy runs his own real estate business. Some of the young lads are still studying. There are sparkies… even two funeral directors! Us old farts are keen to not so much relive the old days but have some fun with like-minded people
"As a product, the EPL has a lot more clout — a lot more leverage — in Australia than it had even two or three years ago. I think they've marketed it very well. The EPL hasn't tried to compete [with other football codes]; it's its own product."
Last season's "miracle" team, Leicester City, attracted more fans in Australia every week as they closed in on a maiden Premier League title. The Star Casino in Pyrmont and Cheers Bar in Sydney became hubs for Leicester supporters to find their voice and share in the glory. It did not matter to them that much of the celebrating was being done while others were preparing for work.
Lenny Palmer, a lifelong Leicester fan, moved to Australia from the UK 15 years ago but until recently it was difficult for him to follow his team's fortunes so far away from home.
"When they got into the Premiership, like two seasons ago, they became a lot more accessible," Palmer says. "But I didn't watch it at home, I used to go out and watch most games either at the casino or at Cheers. I enjoy the atmosphere of watching it with other supporters. It meant a lot of early mornings and late nights."
It was only when Palmer went to a concert by Leicester band Kasabian that he met someone from the supporters' club. "It's been brilliant," he adds. "We went down to the casino for the last home game and there were probably about 100 of us. We were the only ones in there really but we made the most of it!
"We all had the gear on, I had an inflatable cup, and when they got the trophy at the end, we went down to the foyer and got a photo."
So, how did it feel once Leicester's Premier League title triumph was confirmed? "It was euphoric," he replies. "I still don't really believe it."
Palmer is looking forward to the new season and keeping up with the club's growing community in Australia. "Especially now a lot more people are coming out," he says.
"People were going to different places before but now there's a solid group of people I'm in contact with and we can coordinate where we're going to go. I think it can only get better."
Optus hold the broadcast rights to the English Premier League in Australia.