Matt Towe back at Belfast Giants in short-term deal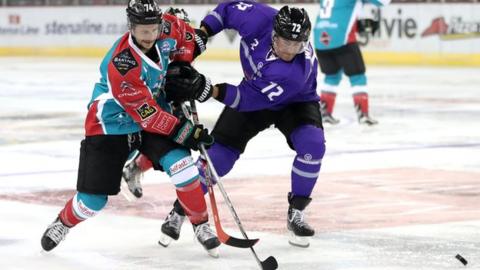 English forward Matt Towe has returned to the Belfast Giants after signing a one-month deal.
Towe, 28, played for the SSE Arena side in the 2012/13 season and posted six goals and 10 assists in 57 games.
He had spells with Braehead Clan and Guildford Flames but he now lives in Belfast and impressed in four pre-season games for the Giants.
"Matt deserves this deal which has the possibility of being extended," said Giants coach Derrick Walser.
Towe will take to the ice in Belfast's first game of the season against the Fife Flyers in Scotland on Saturday.
He scored 18 goals and 18 assists in the 2013/14 season for Braehead before spending the next two seasons with EPL side Guildford, posting 28 goals and 88 assists in 109 games.
"I am delighted to agree terms with Matt, he has impressed throughout pre-season," added Walser.
"From what the fans tell me, I know Matt was a popular player during his previous season with the Giants and I hope he can continue to impress over the coming weeks."