Scottish ice hockey: Fife Flyers crush Caps, Braehead back on track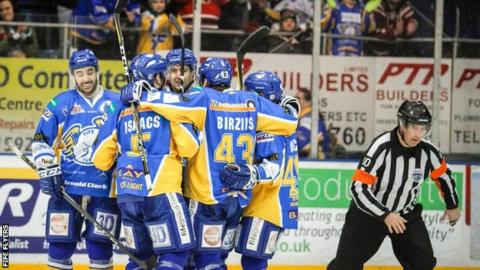 Fife Flyers hat-trick hero Shayne Stockton reckons their Boxing Day thrashing of Edinburgh Capitals was one of those nights where everything went right for them.
The 10-1 result is the Kirkcaldy side's best ever win since joining the Elite League in 2011 as the Capitals problems continued.
But Stockton revealed the message from the bench as the goals flew in was not to get too carried away.
"It was a good win for us after the Christmas break and it was great to keep the run going," Stockton said. "It was one of those games where you start hot and everything goes for you.
"The score got out of hand a bit but the message from the coaches was to stay focussed, stay on track and not to pick up bad habits.
"We've been playing good hockey recently and the loss to Dundee before Christmas was a bump in the road. We'll lose, it's inevitable, but it's how we bounce back that matters."
It was another big result for Fife in a season that has gone well for them so far, compared to Edinburgh, whose fans must surely be wishing for the end of the season to come.
The game in Kirkcaldy had effectively ended after 10 minutes when Stockton, with his first was followed on to the scoresheet by Chase Schaber and Liam Heelis.
Flyers were up to five as Stockton completed his treble, with Danick Gauthier making it six before Edinburgh finally replied through Dylan Anderson.
Peter LeBlanc, second goals from Gauthier and Schaber and one more from Ian Young completed an impressive rout over the sorry Caps.
Dundee Stars also had a night to forget on Boxing Day when they went to Manchester Storm and returned with a 4-0 shutout loss to show for their efforts.
Dallas Ehrhardt's powerplay goal set the tone as Storm took the lead after five minutes, with Matt Beca firing in a second period hat-trick to complete the job.
Braehead Clan ended their recent run of seven straight losses when they did enough to edge a 3-2 victory over second-placed Belfast Giants in Glasgow.
Tyler Shattock and Tyler Scofield had the home side two up by the end of the first period, but the Giants began to fight their way back when John Kurtz pulled one back.
Jonathan Ferland equalised for the Giants early in the third period, but a Cameron Burt powerplay goal was the one that gave Braehead that winning feeling at last.
John Tripp's side followed that up when they went to Edinburgh Capitals on Wednesday and moved into ninth place with a 3-1 win at Murrayfield.
The opening goal for Clan came from Brendan Brooks, but that was cancelled out a minute later as Mike Cazzola as the Caps looked for a reaction to the Boxing Day capitulation.
Bari McKenzie and a second from Brooks made sure of the win for Braehead, subjecting Edinburgh to their ninth straight defeat as they remain at the foot of the Elite League table.
CHRISTMAS RESULTS (all league games unless stated)
Boxing Day
Braehead Clan 3-2 Belfast Giants
Fife Flyers 10-1 Edinburgh Capitals
Manchester Storm 4-0 Dundee Stars
Wednesday
Edinburgh Capitals 1-3 Braehead Clan