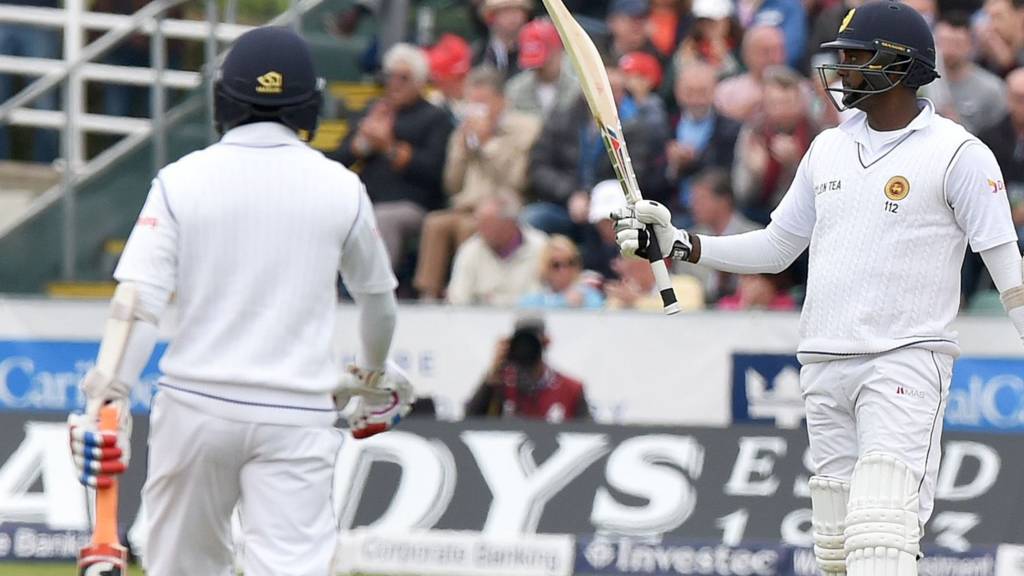 Summary
SL need 397 to make England bat again
SL close day three on 309-5, still 88 behind
Last wkt: Mathews (80) - SL 222-5
Mathews hits 80, Silva 60
Eng 498-9; SL 101 (Broad 4-40)
England lead three-match series 1-0
Right, that's the end of us for today. Join us tomorrow at 10:30 for day four. Until then, goodbye.
Sri Lanka batsman Kaushal Silva on Sky Sports: "We have to bat positively tomorrow. The first session will be crucial - we have to start well and set the tone. We have to get those 80 runs and then set a target.
"With the seam movement that they have I think we need to cover the off stump. I wanted to bring my head forward and reach the length and line of the delivery so it's easier for me to adjust to the delivery."

Geoffrey Boycott
Ex-England batsman on BBC Test Match Special
"England strove manfully. Woakes bowled really really well, very pleased for him. Anderson bowled beautifully. Every time he bowls, it's an examination batting against him. He gets a lot of balls in that corridor of uncertainty, he's a very very good performer."
England bowler Steven Finn on Sky Sports: "It's just about trying to find more consistency. [The rib injury] is not in my mind, my body is fine, I'm just trying to get in a battle and take wickets for England."

Geoffrey Boycott
Ex-England batsman on BBC Test Match Special
"The difference today was the technique of the batsmen, starting with Silva. I thought a lot of their batsmen moved their feet better. The pitch helped, nothing alarmingly bouncy, and you were confident that you could get forward, which they did. The other thing they did well was rotate the strike quickly - they won that battle." 
So, we'll all be back tomorrow, and even though Sri Lanka remain in a big hole in this match, they'll be cheered by the fortitude they showed today. Angelo Mathews and Dinesh Chandimal came to the party - but how Sri Lanka will wish their senior players could have shown a bit more application when it really mattered earlier in the series.

Geoffrey Boycott
Ex-England batsman on BBC Test Match Special
"A very good day's cricket. Good for Sri Lanka as a team, they showed some fight and determination and some very good technique. It's been good for Test match cricket because there was a competition out there for once. It's probably the only good day they've had and it was good for the people who paid good money to come and watch so all in all pleased for everybody."
Sri Lanka 309-5 (following on, 84 overs) - trail by 88
Batsmen: Chandimal 54*, Siriwardana 35*
Fall of wickets: 38-1 (Karunaratne 26), 79-2 (Mendis 26),100-3 (Thirimanne 13), 182-4 (Silva 60), 222-5 (Mathews 80)
Bowling: Anderson 16-3-40-2, Broad 17-5-47-0, Woakes 15-7-51-1, Finn 16-0-55-1, Moeen 17-2-94-1, Vince 1-1-0-0, Root 2-0-13-0.
Sri Lanka first innings 101 (Broad 4-40, Woakes 3-9, Anderson 3-36)
England 498-9 dec (Moeen 155*, Hales 83, Root 80, Pradeep 4-107)
England won toss

Jonathan Agnew
BBC Test Match Special
"Today, Sri Lanka have shown much more resilience with the bat. England's bowlers look a bit jaded."
Mattie Bagnall: Fair play SL. Good batting recovery. Don't want to be winning every Test in 3 days. Unless it's against Australia... #60AllOut
Broad sends one hooping down the leg side and Bairstow can only turn it round the post for four leg byes. That's the end of the day, and you have to say Sri Lanka have played pretty well to take this match into a fourth day.

Jonathan Agnew
BBC Test Match Special
"Jimmy didn't make him play enough in that over. He looks a bit jaded there and we'll see him tomorrow morning fresh and fired up."
SL 304-5 (Chandimal 53, Siriwardana 35)
Anderson isn't happy - he's chuntering away to himself, not happy with the footholes. Nonetheless, he manages to produce a probing maiden over to Siriwardana.

Andrew Samson
BBC Test Match Special statistician
"It's his first fifty against England in his eighth innings here."

Phil Tufnell
Ex-England spinner on BBC Test Match Special
"Young Sri Lankan batsmen must be thinking 'thanks heavens for that - not every pitch in England's like Headingley.'"

Jonathan Agnew
BBC Test Match Special
"It shows what can be done. Buckle down, don't try to be too expansive, adjust to the conditions."
Ooh, Milinda Siriwardana's got away with one there, playing very hesitantly against Stuart Broad and almost inside-edging an attempted leave onto his stumps. Chandimal, meanwhile, goes through to his fifty by stroking a four through the covers. He's played nicely, though like Mathews, it's really too little, too late from a senior player.
Right then, here we go, Jimmy Anderson with the new nut. Bit of movement but slightly too wide and Chandimal's not going to be drawn into playing anything out there.
Where are you listening from?
#bbccricket
Root rattles through another over of fill-in for the cost of three singles, and Alastair Cook has absolutely no hestitation in taking the new ball.

Graeme Swann
Ex-England spinner on BBC Test Match Special
"I'd have looked to get wickets just because of the state of the Sri Lankan batsmen. I was a great believer in doing the thing the batsmen least want you to do - always."
You have to say changing the batting order has worked for Sri Lanka - it's allowed Chandimal in particular to play with a bit more freedom lower down the order. Chanders trundles a single off Moeen.
Where are you following from?
#bbccricket
Time for a bit of part-time twirl from Joe Root. His last two victims in international cricket, you'll recall, were Johnson Charles and Chris Gayle in the World T20 final. This over isn't quite so successful - Siriwardana cuts his first ball viciously for four.
As well as the County Championship, there's also the small matter of the Indian Premier League final going on today.
Sunrisers Hyderabad made 208-7 from their 20 overs, with David Warner hitting 69 and England's Chris Jordan the top wicket-taker with 3-45 from four overs.
In reply, Royal Challengers Bangalore are 79-0 after eight overs with Chris Gayle and Virat Kohli at the crease, and AB de Villiers to come. Who'd bet against those three pulling it off?
Goodness me, Siriwardana's timed the socks of that - no more than a gentle push off Finn but it races away through the covers for four. Sri Lanka making hay in the evening sunshine.

Graeme Swann
Ex-England spinner on BBC Test Match Special
"I feel for Mo, his body language is poor and he's not got a lot of confidence with his bowling. I don't think Alastair Cook is helping him out much with his field setting. Someone in that changing room needs to be looking at the blatant things that a spinner will be thinking - and doing them. I'm not sure who up there is looking at that. Those field changes in the last over were poor."  
David Beckett: I'm a little surprised we haven't seen a spin tandem of Moeen and Joe Root.
Andrew Walker: Great response here from Sri Lanka picking up runs, earning their luck and enjoying the sunshine.
Ooh, that's well bowled by Moeen - he gets one to grip and take the edge of Siriwardana's bat and it drops just short of Anderson at slip. "Get Jordan in there!" cries a colleague, echoing an oft-heard refrain from the brainstorming meetings of the early series of Celebrity Big Brother.

Graeme Swann
Ex-England spinner on BBC Test Match Special
"Finn's still a work in progress, it's a long road to full confidence and getting his action back. He still looks fit and healthy, though. I'm a firm believer in Steven Finn, I'm sure he'll be back. Chris Woakes is now a very dangerous proposition for Steven Finn. He's come in, bowled well and looks fresh and fit."
SL 260-5 (Chandimal 30, Siriwardana 17)
Now Siriwardana's in on the act, pulling Finn through mid-wicket for four. Finn is seemingly back in the doldrums - that delivery was clocked at a rather leisurely 79mph. 

Graeme Swann
Ex-England spinner on BBC Test Match Special
"Moeen Ali is not putting a lot of body into his delivery at the moment. He doesn't seem to be taking any momentum from his run up, there's no oomph in his action. There's not much energy at the crease and as a result it's not really fizzing out of his hand. 
"The ball's going on a slow parabola and not really spinning. Maybe his confidence has been dented by Angelo Mathews."
At BBC Sport towers, my attention is briefly distracted by the sight of a colleague's Samoyed dogs being walked across the MediaCity piazza. I'll be honest with you, they terrify me. Chandimal is on the charge, clumping Moeen over cow corner and mid off for consecutive fours.

Roshan Abeysinghe
BBC Test Match Special
"If Sri Lanka can get the deficit under 100 with this pair together, they will fancy there chances of getting there."
Forgive me Mike, but Lima's not exactly what you'd call picturesque, is it? I bet they don't use that photo in the holiday brochures. Broad oversteps with a huge no ball, which Chandimal slashes through point for an additional two.
Where are you following from?
#bbccricket
Moeen is back. Siriwardana glides him to third man for two.

Graeme Swann
Ex-England spinner on BBC Test Match Special
"It's been a finer effort by Sri Lanka today. The very fact they've batted 70 overs must bring a bit of joy to the heart."
Where are you following from?
#bbccricket
Nope, the ball is rising over the top of the stumps, and Aleem Dar has got another one spot on. Eight out of eight so far when his decisions have gone to review.