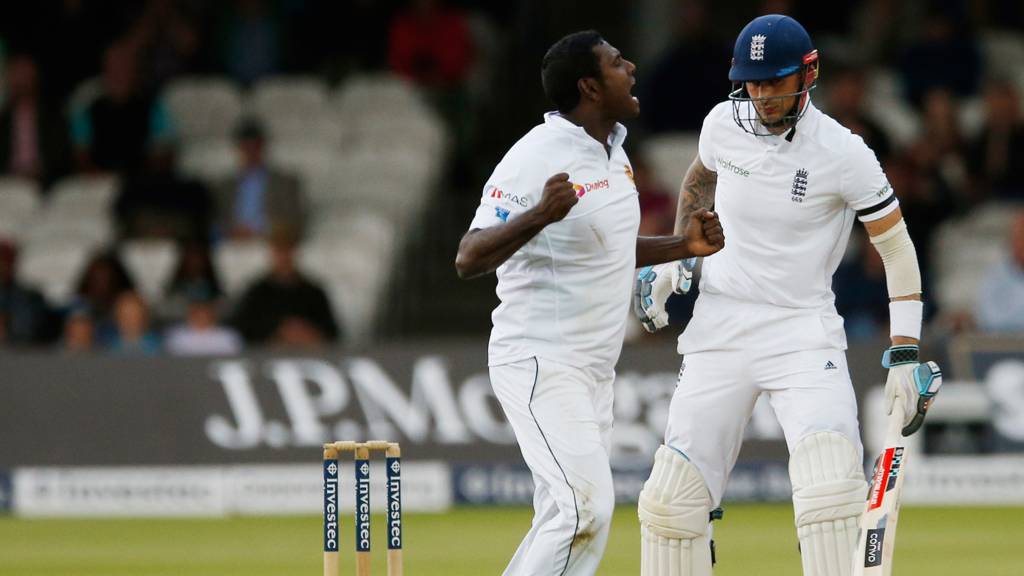 Relive Cook's ramp shot & England's 'bold' declaration
Third Test, Lord's: Scorecard
Summary
Sri Lanka chasing 362 to win
Tourists survive 12 overs before close
Hales 94, Cook 49* - batting at seven
Pradeep 3-37, Eranga 3-58
England lead three-Test series 2-0
So that, I think, is that. It's all rather deliciously poised for tomorrow with all four results quite possible.
If only that pesky rain stays away. Join us from 10:00 to find out.

Geoffrey Boycott
Ex-England batsman on BBC Test Match Special
"The two Sri Lanka openers played splendidly. Broad and Anderson beat them with the odd ball but you expect that. The quality of their batting was excellent."
So, with all the rain (more than a session lost to the wet stuff), the first part of the day was mainly about Alex Hales and Alastair Cook - they were the men who did the batting for England.
When Cook decided enough was enough, Sri Lanka had 12 overs to survive, something the openers managed with aplomb.

Jonathan Agnew
BBC Test Match Special
"What has impressed is the speed of his innings. He has set his stall out."

Geoffrey Boycott
Ex-England batsman on BBC Test Match Special
"When Hales finished in South Africa I said he can't open in Test cricket opening like that. All credit to the lad for being smart enough, thoughtful enough to work something out and let the ball come to him. He played really well.
"He has shown he can play if he plays like that. What we don't want to see is that horrible slog in the first innings. If you read Bradman, the first thing he says about batting is concentration. Hales is getting better and better - full marks to him."
More from Alex Hales: "I felt OK so far this summer. It's been me making errors once I got in, which isn't a bad place to be, not feeling out of my depth.
"I've got to show someone like Herath more respect. He's got 300 Test wickets and I was trying to slog sweep him from the second ball I faced.
"I got a pretty decent delivery today. When it came up on Hawkeye it was I thought it would be. I could have maybe played with a straighter bat. It was a gutting moment."
England batsman Alex Hales on Sky Sports: "I'm really pleased, I would have definitely taken it after South Africa, where I had a tough time.
"I've learned not to think about tempo, not to have any pre-conceived ideas how to play.
"It was definitely the right move to have time off at the start of the series. Even if this series hadn't gone to plan, I would have looked back on that as the right decision."

Geoffrey Boycott
Ex-England batsman on BBC Test Match Special
On the Sri Lanka protest over the no-ball that reprieved Hales: "It's childish. We used to play with the umpire's decision and no technology, and we had to accept it. We've gone and moaned in the dressing room but we haven't stuck the flag out."
So the end of a rainy old day at Lord's. I know exactly what I'll remember it for...

Andrew Samson
BBC Test Match Special statistician
"The highest successful fourth-innings chase in a Test at Lord's is West Indies' 344-1 against England in 1984."

Jonathan Agnew
BBC Test Match Special
"Let's hope some of the spectators come back tomorrow. It's £20 to get in. We know what England have to do."
That is it. Good work by Sri Lanka to get through those 12 overs at the end of the day. England will need 10 wickets tomorrow if they want to seal a whitewash. Should be a cracking day, if it doesn't rain...
LP: Love the declaration from Cook. Very attacking which people like/want. But, if we lose, people cannot shout down his throat.
This crowd haven't seen much cricket, so still have plenty of energy. A diving stop by Nick Compton brings the second biggest cheer of the day - Cook's six was easily the biggest. Touch too wide from Woakes, Sri Lanka looking set to get through unscathed...
Paul Morgan: Would be really nice if this game could be played until gets dark. Make up for fans sitting through all the rain.
Attacking from England, a slip, gully, short leg and that man Cook at silly point. Moeen starts too short, but then drifts the ball in to almost have Karunaratne playing outside it. One to go.
Hari Lehal: Got a 3-hour meeting in Fulham at 10am tomorrow. Praying it finishes early, the rain stays away and England win at 5ish.
Two overs left in the day, Moeen Ali to bowl one of them. Alastair Cook is once again going in at silly point. This time he's putting some shinpads on. Good thinking, skipper.

Vic Marks
Ex-England spinner on BBC Test Match Special
"It's a good declaration because it does leave the door slightly ajar. If the Sri Lankans want to go for victory, it's just about possible."
Change of bowling, Chris Woakes greeted by a rasping pull shot from Karunaratne that thuds into the boundary board before anyone can move. Sun just starting to nip behind the stand now, shadows very long. Woakes, by the way, has bowled the fastest ball of the match - 88.6mph. Remember when it was said he isn't quick enough? Not a great over, mind.

Vic Marks
Ex-England spinner on BBC Test Match Special
"Bairstow was sure and so was Compton. The oddity here was that even Stuart Broad was not so sure."
Shot lad. Silva plays the best of the innings so far, the most handsome of cover drives. The Daniel Craig of cricket strokes. Straight afterwards, England ask for a tickle down the leg side, but Rod Tucker shakes his head. No review. That's the risk for Silva getting so far across, he could follow one down the leg side. This one looks to have flicked his sweater.
rozathegoza: Chasing 70, Strauss got 29 not out.
Shadows lengthen, four slips and a gully wait for Anderson. Silva, so far across that he exposes leg stump, has an odd pre-delivery routine, constantly moving his left hand from one end of the bat handle to the other. Four overs for England to find that breakthrough, Chris Woakes is loosening up.

Andrew Samson
BBC Test Match Special statistician
"If Sri Lanka win, it will be their highest successful chase in Tests, beating the 352-9 they made to beat South Africa in Colombo in 2006."
Broad, legs longer than a supermodel, grunts in the style of a tennis player as he propels the red leather towards the gum-chewing Karunaratne. Off stump and just outside, to play or not to play. If you miss, make it look like you weren't trying to hit it anyway. Probing maiden.
He is about to come on for Northern Ireland against Poland, I believe.
Anderson round the wicket to Karunaratne, causing the slips to get very excited when one goes past the outside edge. Sun pops behind a cloud, a reasonably empty Lord's still invested in the action with a decent level of noise. Sri Lanka are halfway through their evening task.

Jonathan Agnew
BBC Test Match Special
"It has been one of those really frustrating on-and-off days, but the sun is shining very brightly now."
Listen to Test Match Special abroad by clicking here.Not available to listeners in the UK, Sri Lanka, India, Australia, New Zealand, Pakistan and Bangladesh.
SL 7-0 (7 overs remain today)
Stuart Broad, sweat glistening on his face, has the ball returned to him in errant fashion, resulting in the bowler himself having to jog to the boundary to retrieve it. I've known bowlers explode over less, but he returns to run in through the shadows and beat Silva's grope. England asking questions, Sri Lanka just about providing answers.
Old Bedfordian CC: For those wondering what Strauss has been up to, he's been taking catches and smashing us around to beat us by 9 wickets...
After all that rain, one couple in the crowd have the temerity to huddle under their umbrella in shelter from the sun. Anderson, forever adjusting his hair, is looking to move the ball down the slope - into leftie Karunaratne, away from Silva. Ooohhh, that's a jaffa, arcing away and beating the edge of Silva.
Andy: If Cook cements his middle order place does this mean England looking for a new opening partner for Hales?
England are throwing everything into this mini-session, one that is bathed by the brightest sunshine of the day. The lanky Broad to the short, crouching Silva, a leg slip lurking around the corner. Silva, for his part, is batting out of crease, desperately seeking some certainty around off stump.
David Beckett: Credit to Captain Cook (49*) for putting the team first and declaring when he could have easily stayed out for a half-century.
The Mighty Mojo: Nice of Alistair Cook to wait for Jonny Bairstow to finish his crossword before declaring...
Ooohs and aaahs from the grabbers as Kaushal Silva plays all around his front pad. If he misses that, England are singing. More craziness from Alastair Cook in this clip, it's his attempt at a scoop shot.