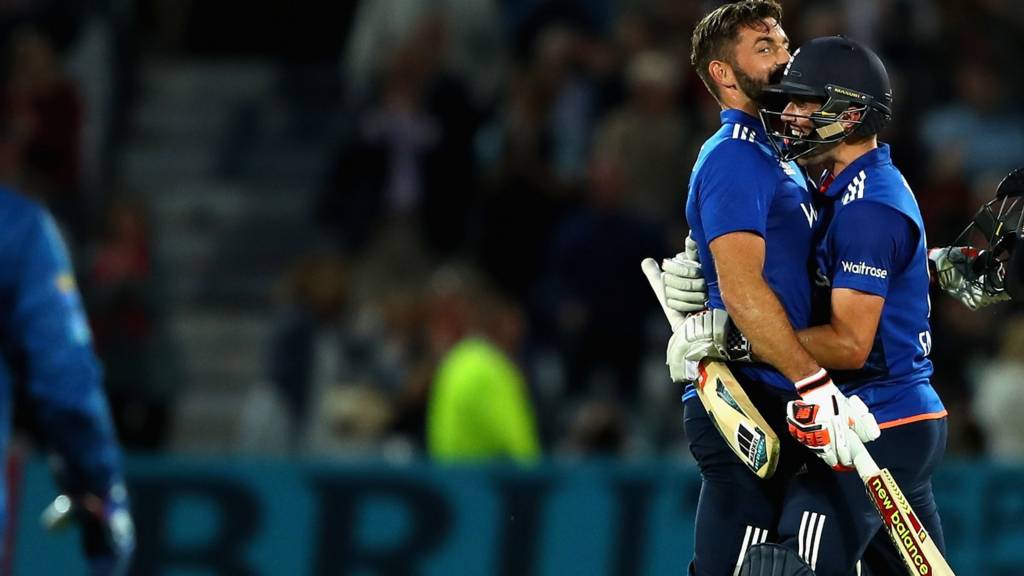 'What a game!' How England tied ODI thriller
1st ODI, Trent Bridge: Scorecard
Summary
Plunkett hits final ball for six to tie ODI
Woakes 95* (92), Buttler 93 (99)
Plunkett 22* (11), Morgan 43 (49)
Buttler & Woakes add 138 from 82-6
First ODI of five-match series
And so I'll be off. There's nothing left to say, this tells you all you need to know. Goodnight.
Right then, I think that might be it for today, at the end of one of the best ODIs you could ever see.
The live cricket on the BBC keeps coming, though. We're back tomorrow morning for the second women's ODI between England and Pakistan, with the second ODI between England and Sri Lanka coming your way on Friday afternoon.
Si Lomas: So thank god the no-ball wasn't given... Willey couldn't hit it off square and allowed Plunkett to come in!
Man of the match Chris Woakes: "It's been a good game. We were in a bit of a hole. I had to build a partnership with Jos and it's great to tie it after being in a tricky position.
"Jos and I were calm - we were ticking over nicely. We tried to take it as deep as possible. The guys that came in after did really well.
"When you need 10 off two you've got to start clearing the ropes. They bowled really well but for Plunkett to hit that final ball for six was pretty special."
Not sure, Sam. Can you see anything?
Sam Roberts: Did anyone check that last ball for a no ball??
'Chris Woakes played out of his skin'
England captain Eoin Morgan: "To come out of it with a tie is pleasing in a way, because a performance like that can almost mask the poor day we've had. 
"Three special mentions for me - Jos Buttler, Chris Woakes and Liam Plunkett got us out of a very sticky situation. Chris Woakes played out of his skin to put us in a position where it looked like we were going to win the game.
"We do have a lot of confidence down the order but we don't want to leave them too much to do.
"The bowlers were a little rusty - but the score we restricted them to was chaseable."
'We had the game in the bag'
Sri Lanka captain Angelo Mathews: "I thought we had the game in the bag for most of the overs. Unfortunately the yorker fell just off line and went for a six. 
"For Pradeep, it happens. Unfortunately for bowlers, it happens. All bowlers did well. We fell short by 15, 20 runs. It was a brilliant wicket to bat on but we had to be satisfied with 286. We just kept losing wickets at crucial times.
"We've got lots of positives. We batted and bowled pretty well. We were poor in the field. We can improve in all three departments but especially in fielding."
Paul Cotterill: Nurwan Pradeep earns a QuarterStokes. Well done lad. Wear it with pride.
In case you're wondering, that's a point each in the Super Series. England lead 13-3. I can tell you were worried about the state of play in that particular contest.
Here it is, Liam Plunkett's six off the final ball to secure a tie. What a hit, son. What a hit.
Adrian Love: Wow. In what other sport is a tie more exciting than a win?
Wondering how rare an ODI tie is? That is only the eighth time in 665 matches that England have tied.

James Taylor
Ex-England batsman James Taylor on BBC Radio 5 live sports extra
"It's amazing to see where Woakes has gone. He's made the most of his form, not just with the ball but tonight with the bat as well. Over the last couple of weeks he's performed and under massive pressure. England wouldn't be in this position without Jos Buttler as well."
England, by the way, were 82-6. Woakes' 95 not out is the highest score by a number eight in ODI cricket.
Jake Goodwill: What a moment for Liam Plunkett. Great end to the match. Big credit for Woakes and Buttler keeping them in the game.
Will Moulton: What an insane finish!! Who said 50-over cricket was dead?! Woakes, Buttler and Plunkett, I salute you.
Howard Horner: What a match. And watch an advertisement for ODI cricket! Maybe reports of this format's death have been greatly exaggerated...

James Taylor
Ex-England batsman James Taylor on BBC Radio 5 live sports extra
"Cricket's won that. What a special performance from these guys."
'It shows the strength we've got'
Liam Plunkett, who finished unbeaten on 22 off 11 balls, on Sky Sports: "It was nice to get that one out. Woakesey and Jose put us in a great position and we were backing ourselves to take it as deep as possible.
"It just shows the depth we have got. It's good for the team - you know you can carry on all the way through an innings."
What was Nuwan Pradeep thinking? He nailed the yorker all the way through that final over then, when the crunch came, served up a length ball that Plunkett could get underneath. There was no need to look when the ball left the bat, it was always a maximum.
Bowser: Incredible from Liam Plunkett! What a human!
Sam Martin: Wow!

James Taylor
Ex-England batsman James Taylor on BBC Radio 5 live sports extra
"I think that's what the game deserves - a tie. Both sides have played unbelievable cricket. Chris Woakes deserves that. For Liam Plunkett, we knew he could strike the ball. He delivered when his side needed it. What a game! Trent Bridge delivers again!"
A party inside Trent Bridge as the players make their way off. Chris Woakes first. Plunkett might have added the final biff, but Woakes' 95 made it possible. Have you ever seen anything like that?

Jonathan Agnew
BBC Test Match Special
"Eoin Morgan can't believe it."
Can you believe this?!?!?! Liam Plunkett has belted the final ball over long-off to secure a tie for England. Nuwan Pradeep misses the yorker, Plunkett clears the front leg and hammers it into the stand. Trent Bridge erupts, Plunkett almost bursts in celebration. What. A. Match.
Very good from Pradeep, Woakes jams to long leg, but the diving Plunkett somehow gets back for three. Six to tie, Plunkett on strike...

James Taylor
Ex-England batsman James Taylor on BBC Radio 5 live sports extra
"Bowlers have been under serious pressure and they've nailed it. Give them credit."
Once more! Woakes can't get it away and is almost run out. Throw misses. Woakes still at the business end. 10 off two...
Eng 277-8 (need 10 from three)
And again. Another single. Pradeep doing the business here. England need a boundary.
Eng 276-8 (need 11 off four)
Brilliant yorker from Pradeep. Just a single.
Woakes down to long-off. Must be two. Plunkett dives... fumble. He gets home. 12 off five...
Arjun Sohanpal: Can Woakes do a Brathwaite?

James Taylor
Ex-England batsman James Taylor on BBC Radio 5 live sports extra
"This is a tough ask for Pradeep in the final over. He's not bowled for a while. If ever there was a chance for England to get this..."
Eng 273-8 (need 14 off last over)
Full toss, but Woakes can't connect. The single at least gives him the strike for the last over. Big applause in Nottingham. 14 needed from the last over. Nuwan Pradeep to bowl it.

Jonathan Agnew
BBC Test Match Special
"It's something you see in Euro 2016. The fielder's tried a sliding tackle, but he's taken the ball with him. You might get a yellow card for that in the football."
Eng 272-8 (need 15 from 7)
Scoop from Woakes! Teases the fielder, who dives with his feet. Four to fine leg! Trent Bridge rocking. Woakes has 88, the highest score by a number eight in ODIs.
Eng 268-8 (need 19 off 8)
Plunkett to long-on. Just a single. Tighter than Ranatunga's trousers.

James Taylor
Ex-England batsman James Taylor on BBC Radio 5 live sports extra
"Wow, this is getting tight! I'm backing England here."
Eng 266-8 (need 20 off 10)
Wide from Lakmal. And they run. TB cheers. England are coming.