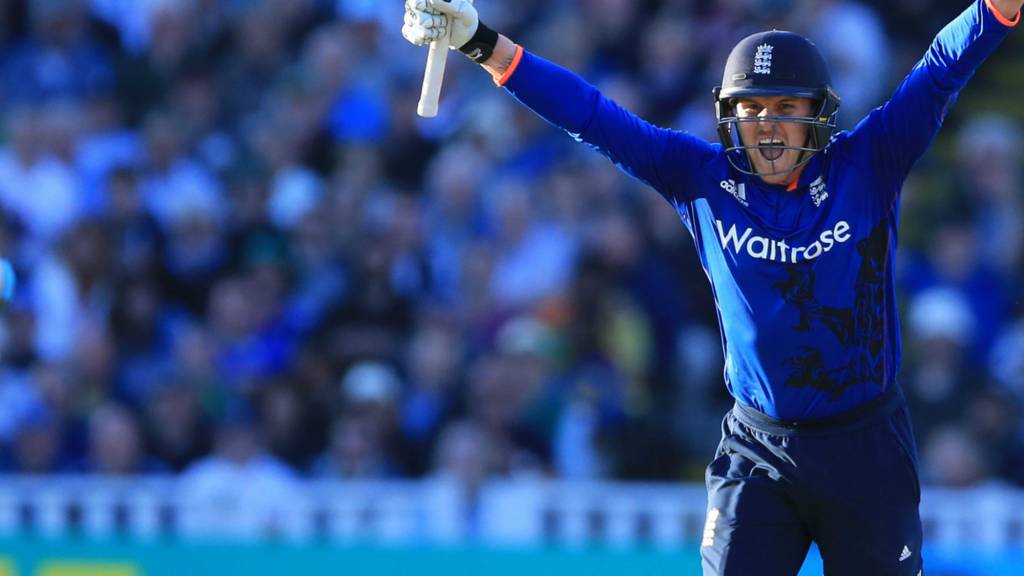 Relive England's record-breaking win over Sri Lanka
2nd ODI, Edgbaston: Scorecard
Summary
Hales 133* (110), Roy 112* (95)
England's highest ODI opening stand
England win with 15.5 overs to spare
Biggest ODI chase to win by 10 wkts
England lead 1-0 in five-match series

Phil Tufnell
Ex-England spinner on BBC Test Match Special
"Things are looking very rosy at the moment."
England seal crushing 10-wicket win
Here is the moment Jason Roy hit the winning runs to seal a remarkable 10-wicket win for England. Enjoy. I'll give the final word to Phil Tufnell...

Phil Tufnell
Ex-England spinner on BBC Test Match Special
"I really think that game at Trent Bridge hurt Sri Lanka. They came here a little bit down - they needed things to go their way, but it didn't happen for them and the wheels came off."  
Kenny Kong: Drove from Birmingham to London, in that time @ECB_cricket had finished Sri Lanka off without a losing any wicket. Staggering.
This is the sixth time England have won an ODI by 10 wickets, three of which have come against Sri Lanka
The 256 shared by Alex Hales and Jason Roy is the highest for England for any wickets in an ODI, beating the 250 of Andrew Strauss and Jonathan Trott against Bangladesh on the same ground in 2010
It is also the fifth highest ODI opening stand of all time • Roy and Hales are only the third opening pair for England to share three century stands in ODIs 
This is the first time both England openers have hit two or more sixes in an ODI

Jonathan Agnew
BBC Test Match Special
"England don't need Broad or James Anderson, Steven Finn can't get in, Chris Jordan can't get in."
'Roy and Hales put on a clinic'
England captain Eoin Morgan: "It is more what we are like as opposed to Trent Bridge when we were a bit off. It was a good wicket and to restrict Sri Lanka to 254 was a good effort. Roy and Hales were phenomenal. They put on a clinic for everyone watching. It was a pleasure to be involved.
"Full credit to our bowlers. We were miserly and forced errors. Talking about it is one thing but doing it is another.
"Nothing needed to be said [to Roy and Hales]. We spoke after Trent Bridge about being off with our basics, but we rectified that. There is no secret. 
"We will look to take the momentum into Sunday and produce a similar performance. It probably won't be as good as tonight but we will strive for that."

Jonathan Agnew
BBC Test Match Special
"Edgbaston is an intimidating place to come and play."
More from England opener and man of the match Jason Roy: "It was a lot of fun. We wanted to get off to a good start. The next thing you know, we're across the line. They kept us under it for the first 10 overs and after that we just wanted to get on with it.
"It's a great buzz. There's a lot of love in the dressing room. I'm stoked for the win.
"I was telling Alex Hales to chill out a little bit after he banged those three sixes in a row."
Alan Baird: That's as comprehensive as you like. Simply stunning.

Phil Tufnell
Ex-England spinner on BBC Test Match Special
"They were set up by a fine bowling and fielding display by England. Once Hales and Roy did get in, they absolutely made Sri Lanka pay."
Man of the match Alex Hales, who made 133 not out, on TMS: "We relish batting together. It's a very special day and one we'll remember for a long time.
"Tuesday was a kick up the backside for the top order. It was one of those days where everything clicked for both of us."
On his impressive season: "It's been good so far, but at the same time I can't get complacent. I'm pleased England stuck with me and happy to repay them."
England batsman Jason Roy, who scored 112, on TMS: "I am so stoked for the win. We kept them to a good total and then to knock it off zero down... we said to each other at halfway through the innings that we wanted to send a message."  

Phil Tufnell
Ex-England spinner on BBC Test Match Special
"Sri Lankan heads are down and England absolutely jubilant - and they deserve it. Well played."
Dan Kitchingman: Phenomenal batting from Roy and Hales here. A wonder to watch.
'We need to forget about this'
Sri Lanka captain Angelo Mathews on Test Match Special: "It was a belter of a wicket. Unfortunately we kept losing wickets at crucial times again - 256 was below average.
"I'm disappointed I couldn't contribute with the ball. Our bowling was not penetrative enough on this wicket. The spinners didn't get much out of it.
"Jason and Alex batted brilliantly. They took on the bowlers. Getting 250 runs without losing a wicket was a fantastic achievement. We just need to forget about this as soon as possible."
Huan Do: From a tie with a 6 from the last ball to a potential 10-wicket win, jaw-dropping performances from England.

Charles Dagnall
BBC Test Match Special
"It has been a fabulous performance from this England side."
I don't want to rub salt in the wound for Sri Lanka, but here is Hales being dropped by Gunathilaka.
Rob Coles: If England win without losing a wicket, is it the biggest ever total for a 10 wicket win in ODIs?
Yep Rob, it sure is.
England win by 10 wickets. Yes, 10 wickets. Hales and Roy have just treated a 254-run chase as if it were a knock-around on the beach. Wow.
Game over. Jason Roy finishes the game in style by skipping down to hammer four through extra cover off Prasanna. Awesome. Just awesome.

Phil Tufnell
Ex-England spinner on BBC Test Match Special
"A bit of pad rash for Joe Root? I don't think any batter would mind sitting there with your pads on and watching this display."

Phil Tufnell
Ex-England spinner on BBC Test Match Special
"You know as an opposition side that if you don't get these two guys early you're in trouble."
Eng 252-0 (Three runs to win)
Alex Hales now has the highest score by an Englishman in an ODI against Sri Lanka and these two have the biggest partnership ever in ODIs for an England pair. What a display this has been.

Phil Tufnell
Ex-England spinner on BBC Test Match Special
"Well played - great innings. Roy joins his mate - gives him a cuddle. You can see what that means to them. They've absolutely annihilated Sri Lanka."

Charles Dagnall
BBC Test Match Special
"What I like is these two could have chipped away and got them in ones and twos, but they've wanted to entertain. That's what's got the crowd on its feet."  
Bala: @AlexHales1 and @JasonRoy20 take a bow boys. Played a blinder!
Graham Frame: This is one way to avoid a middle-order collapse!
That is how you bring up 100! Jason Roy survives a reviewed lbw shout but then clubs the next Prasanna delivery straight down the ground for six. Lap up the applause Jase, you've earned it.
Perry: When did the England team become half decent at this one day stuff?
Jason Roy nearly chucks away the chance of a ton with a misjudged lofted drive that just clears the man at cover. Speaking of hundreds, here is how Alex Hales reached his...
Plea to Hales and Roy
tms@bbc.co.uk
Please Alex and Jason? Our middle order need some practice.
Taught something by a cricketer
tms@bbc.co.uk
John Jameson taught me cricket.......Taunton School, 1982...
Hales dropped on 126
Eng 228-0
It would appear Joe Root is a Tom Jones fan. He is sat in the changing room singing along to Delilah. Or maybe he is just taking his mind off the pad rash. And I'm sure those bananas are multiplying. There's at least twice as many running round the stand now, along with Yogi the Bear and some medieval knights. Ah, the cricket. Oh yeah, the cricket... well, Sri Lanka are having a shocker. Hales lobs up a dolly of a catch to Gunathilaka at point but somehow he manages to spill it. My two-year-old niece would have caught that.
This is England's highest opening stand in ODIs, beating Marcus Trescothick and Vikram Solanki's 200 against South Africa at The Oval in 2003.  
Benjamin Edmonds: Halesy's on fire! Your attack is terrified! Na na na na na na na na na na na na.

Graeme Swann
Ex-England spinner on BBC Test Match Special
"They're like schoolboys having a competition now, seeing who can hit it the furthest."
This is just relentless now for England. Roy joins the six party with a straight hit down the ground off Randiv. The crowd are loving it. Every hit is cheered to the rafters, every dot ball booed. It's pantomime cricket.

Graeme Swann
Ex-England spinner on BBC Test Match Special
"He loves it too - a real extravagant celebration, punching the air. He's waited all summer for that."