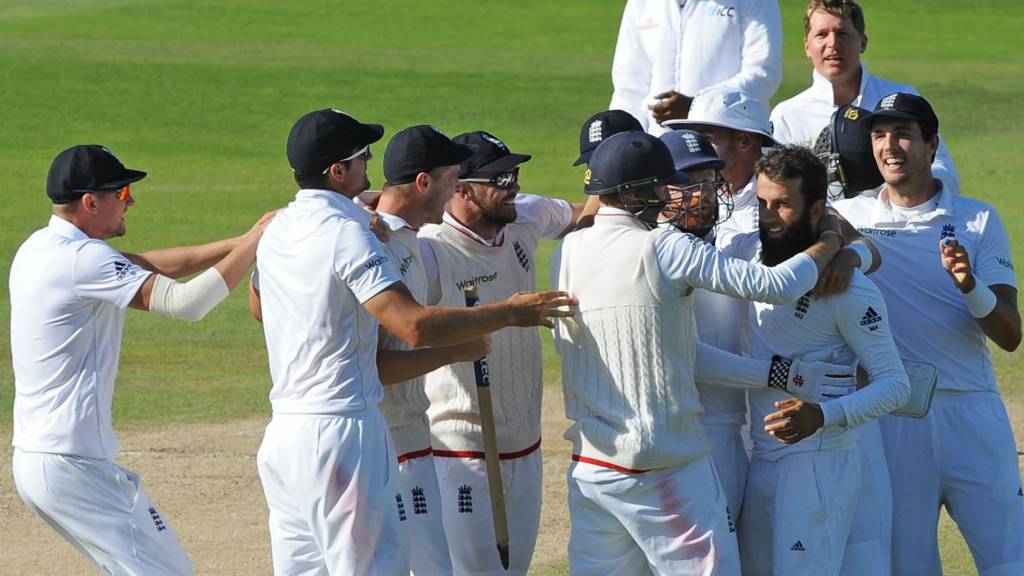 'That is an unbelievable win' - how England beat Pakistan
Summary
England win by 141 runs
England take 2-1 series lead
Aslam 70; five bowlers take two wickets each
Four wickets fell for one run in 23 balls
Eng add 31 in 4 overs before declaring
Third Test, Edgbaston
But, that is for another day. Until then, enjoy the Olympics.
Goodbye.
So, in pretty unlikely fashion, England go 2-1 up in this series. If they win at The Oval, a match which begins on Thursday, then they could become the world number ones.
John Ashenden: Where's all the armchair experts who wanted Moeen dropped? Not too shabby this time out eh?

Geoffrey Boycott
Ex-England batsman on BBC Test Match Special
I think if you spoke to most people knowledgeable about cricket, they'd say if you look at the teams, you think England are the better side. England should win more than they lose against Pakistan.
England captain Alastair Cook on where this win ranks: "It could be right up there. We seemed to be right behind for most of the game and when we got the chance to win the game we were fantastic.
"It was great character from the guys to come back and bowl like we did, and we batted well in the third innings of the game. To wipe out that deficit on that third evening was massive.
"Great credit to the four seamers. Also, the way Mo bowled into the rough after lunch - he bowled fantastically well after being under pressure for a while."
On Pakistan's last-wicket stand of 50: "I had a little bit of doubt at some stage but I did remind myself that we'd get a couple more chances at some stage."

Geoffrey Boycott
Ex-England batsman on BBC Test Match Special
This series has been up and down, it's see-sawed a bit. That's what you want to see. Old Trafford was a bit one-sided and fair play to England for that. But a bit of see-sawing, that's what you like to watch.
More from Moeen Ali: "The man-of-the-match award could have gone to a number of guys. Somehow it's me, and I'm pleased. I just tried to play the situation. I never really thought about it too much. 
"I was quite embarrassed after the Lord's game with the shots I played there. I feel like I prepared quite well before this game so I'm happy."
Man of the match Moeen Ali on TMS:  "As a team we were fantastic, it just shows how good the team we have is. We were behind the eight-ball a little bit, but fought back brilliantly. Our seamers were fantastic, it showed how good they are today on a flat pitch."
Was that the best you've played this summer?
"I think so. I went out and played my normal game. I didn't mean to go out so quickly, it just happened. It's fantastic to be man of the match here. We thought their tail was quite long and if we got them five or six wickets down, we'd be OK."
Chris Watkins: People need to get off Cook's back. He knows what he's doing, embrace the talent and decision making we have in our side now!
Keith Bunting: Second consecutive match, Cook captaincy criticised before England go on to comfortable victory.
More from Pakistan captain Misbah-ul-Haq on TMS - was he still happy with his decision to field first after winning the toss? "I think so - the first day was really good for bowling, a lot of moisture around and we could have restricted them to less than 250, but you saw after that it was a batting paradise, there wasn't any turn so I still back our decision. But we only took a lead of 100 from a situation where we'd been 260-3.
"We've got one more game left, The Oval is a good batting track and helps the spinners, so we need to get our confidence back and go there positively."
Pakistan captain Misbah-ul-Haq on TMS: "We're disappointed as it was going really well at lunch but in an hour we lost the game. 
"England reversed the ball, bowled in the right areas and with intensity, and within an hour they took the game away from us. We weren't having any sort of problems before lunch, but that spell from Anderson and Finn broke the backbone of our team. 
"Sometimes when the ball starts reversing you just need to see off that 10-15 overs so the ball gets soft, but we lost all our main batsmen then."
More from England captain Alastair Cook on TMS, on the timing of the declaration: "I wanted a few more runs [this morning] as I didn't want to give Pakistan a sniff. 
"To score 300, someone would have to play exceptionally well, but they'd still have a chance, so I wanted another 30 or 40 runs. It's one of my most enjoyable wins as captain as everyone contributed."
England captain Alastair Cook on TMS: "The heavy roller at the beginning of day two took the pace out of the pitch, and we had to hang in there and stay in the game as there's always pressure batting fourth.
"We knew when we batted second time around it was flat, and although no-one got a hundred we all contributed and batted deep on day four, so we knew today we could put pressure on them."
Great win for England, shows how often declaration debates are redundant. However, one could argue it also shows why Cook is often a tad too negative still, Pakistan haven't got anywhere near us, which shows what a potential waste this morning could have been.

Geoffrey Boycott
Ex-England batsman on BBC Test Match Special
Moeen played two splendid innings. The first innings was good when England weren't making as many as they should have. The second one he played with Bairstow and got runs here and there.
Until Moeen had the final word with the second of his two wickets to go with his scores of 63 and 86 not out with the bat.
Until last-wicket pair Sohail Khan and Rahat Ali had some fun.
The wickets kept coming...

Geoffrey Boycott
Ex-England batsman on BBC Test Match Special
Pakistan struggled with their batting. Too many players are not playing well. At Old Trafford I thought 'they're not going to get out of this'. Hafeez has played terrible shots, Younus looks past it, he's jumping around - on the whole you think that's not great.
At one point, Pakistan lost four wickets for one run. Seven down at tea, they were toast.
Did you nip off at lunch time? Write this one off as a draw? You missed plenty...

Graeme Swann
Ex-England spinner on BBC Test Match Special
England pulled it off. From the moment the second half of this game started, England have absolutely dominated. Cook was a bit poor in the morning when he didn't look like he wanted the win. In the afternoon he brought the fielders close in. He had a very good afternoon, and he should be justifiably over the moon about how his charges have performed.
And here's something for you to keep an eye on. If England win at The Oval, taking this series 3-1, and results in the Sri Lanka-Australia and West Indies-India series go their way, they will move to the top of the world rankings.

Graeme Swann
Ex-England spinner on BBC Test Match Special
Hats off to the seamers. Day five you expect the spinner to do all the work and good for Moeen to get the final wicket. But for me the standout performance for today is Steven Finn. Today he was brilliant. He deserved the wickets. Those two wickets of Misbah and Aslam changed the course of the game and opened the floodgates. 
There's quite a large part of me that wanted Sohail and Rahat to pull that off. It would have been wonderfully entertaining.

Graeme Swann
Ex-England spinner on BBC Test Match Special
England are absolutely over the moon, applauding the crowd as they walk off. The whole ground has been superb. About 10,000 came in, and as the players walk off it's a very happy English team.
How likely did this win seem when Pakistan were 257-2, or at tea on Friday when England were beginning their second innings? Just last night, the home side were 282-5 and leading only by 179. Even at lunch today, Pakistan were just one wicket down. In the end, England had almost an hour to spare.

Graeme Swann
Ex-England spinner on BBC Test Match Special
Of all the catches this series, this is probably the hardest. That is an unbelievable Test victory. To come back and win this game is incredible.
England win by 141 runs
Sohail c&b Moeen 36 (Pak 201)
Moeen Ali! Sohail Khan's resistance is over, belting a return catch to Moeen, who takes it at shin height. It completes a wonderful victory for England, one of their best in recent times. Remember, they gave up a first-innings lead of 103. They lead this series 2-1 with one match to play.  
Greg: Why do England seamers suddenly lose their brains against tail-enders and stop bowling line & length?
Harry Chamberlain: What's going on! Wheels up from Barca in 5 - can't have a two hour flight not knowing whether England have won.
I think now was about the time that Michael Vaughan said he would consider buying some walking boots. Sohail, emboldened, tries his most outrageous shot yet - the inside-out over cover. No success, but an edge does bring up the 50 partnership. They don't even acknowledge it, as if they do this sort of thing all the time....

Graeme Swann
Ex-England spinner on BBC Test Match Special
I've just lip-read Alastair Cook who's said to Finn to bowl just a yard or two short.
Whatever was said at drinks, it hasn't worked. Finn's first ball is cut for four by Sohail, who follows that up with another boundary driven down the ground. Fielders are running everywhere, Cook has another word with Finn, then is left with his hands on his hips in protest. Don't panic. Not yet, anyway. The partnership is worth 48. 48!
Theo Sheridan: Hurry up England, TMS has almost used all my data up!
Anthony Shaw: The pressure on these Pakistani batsman must be immense. So many fielders so tight!

Graeme Swann
Ex-England spinner on BBC Test Match Special
It's very important for England that they keep believing the wicket will come. It's important they don't try silly things.
Five catchers now for Moeen, one of which is Joe Root at the silliest silly point I've ever seen. Ooohhh, Rahat almost pops the ball to short cover. Still, he survives until drinks. I think there were just over 23 overs remaining when this pair came together. They've got that down to 15.

Geoffrey Boycott
Ex-England batsman on BBC Test Match Special
Did Michael Vaughan specify if he will be walking home with his clothes on or not?
Cook shuffles his pack, recalling the resurgent Steven Finn. If we're being hyper-critical, England haven't bowled too well at this last-wicket pair. First too short, then not enough straight deliveries. Hello, what's this fielding position? It's what can only be described as a backstop. Moeen Ali is right behind Jonny Bairstow. Presumably he's there for the top-edged hook, rather than to cover the keeper. A fielding position usually only seen in under-11 cricket.