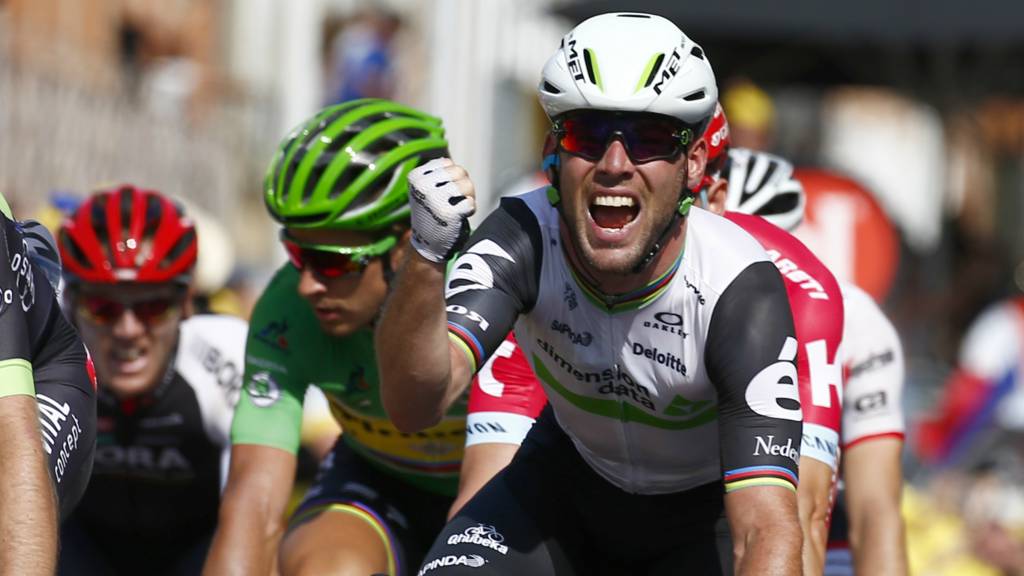 Cavendish seals 29th Tour stage victory
Summary
Stage six: 190.5km from Arpajon-sur-Cère to Montauban
BMC's Van Avermaet has 5mins 11 secs lead
Chris Froome 5mins 17 secs off lead
Live commentary from 15:30 BST
Get involved #bbccycling
Well that took time to warm up but it ended up being white-hot at the finish. 
You just cannot keep Mark Cavendish down. We're off to the Pyrenees tomorrow, where I'm sure he will be taking a back seat. 
Look forward to seeing you then. Thanks for your company today, and whatever you're doing make sure you ride safe! 
Mark Cavendish wears green jersey
That thrilling win for Mark Cavendish means he overtakes Peter Sagan, with the Manxman now wearing the green jersey. 
What about the yellow jersey?
Elsewhere, it's as you where. The general classification hasn't changed much and that means BMC's Belgian rider Greg van Avermaet remains in the yellow jersey. 
I want to dedicate it to my little niece'
Mark Cavendish is out on the podium for a third time this Tour. Asked about overtaking Bernard Hinault's record of 28 stage wins, he says: "I wasn't thinking about that, I'm thinking of my little brother he had little baby girl yesterday so I want to dedicate it to her." 
Mark Cavendish on ITV4: "Oh my god, that was terrifying that was like the old days, just wheel surfing. There are almost two finish lines, and I was a little bit too far back so it was carnage in the final straight, there were guys coming everyone. 
"I was fighting to be on Marcel Kittel's heel, I wasn't sure they were that organised, but it was downhill and I put in on a big gear and max-ed out. I went for the line and I had to come again, but I did what Marcel has done to me in the last four years and held on."
Mark Cavendish wins stage six
Watching the replays again, it was right bunch sprint and there were four riders who were within a metre of Mark Cavendish. He was almost pipped and he's just told reporters that he almost went too early. 
Mark Cavendish wins stage six
So a third stage win on this year's Tour for Mark Cavendish and a 29th overall, takes him to outright second in the most stage wins in Tour history. 
The Manxman is now one clear of Frenchman Bernard Hinault and five behind five-time Tour winner Eddy Merckx of Belgium. 
What an amazing feat and the Olympics are still to come! 
Mark Cavendish wins stage six
Mark Cavendish is understandably delighted as he beat Marcel Kittel to the punch. In all the excitement, Britain's Dan McClay (Pro Continental) made it into third too.
A very good day for British cycling, with two riders on the podium. 
Breaking
Mark Cavendish wins stage six
He's done it, what a superb finish. 
Mark Cavendish is led out and he's head to head with Marcel Kittel! 
Here we go. Ettix Quick-Step looking strong. Can Mark Cavendish do it?
Green jersey Peter Sagan is sliding down the left now. Mark Cavenidsh is behind Marcel Kittel's wheel as they sweep towards to 1km mark.
The sprint teams are heading towards the front as the general classification teams yield. Here come Marcel Kittel. Mark Cavendish is creeping forward on the left.
Over the autoroute and then a sweeping left turn as Lotto-Soudal punch the accelerator a little more. Not sure if Marcel Kittel is close by though. 
Done any damage on a bike?
#bbccycling
A few Direct Energie riders have dropped off the back, but they have several men out front. Team Sky, on the left of the pack, are led by Luke Rowe with Chris Froome a little further behind him. 

Rob Hatch
BBC Radio 5 live commentator
I've just taken my arm off the desk for a little bit. 
Done any damage on a bike?
#bbccycling
Not seen Mark Cavendish yet, but his Team Dimension Data team-mates are swooping towards the font. The green jersey of Peter Sagan is poised in the middle of the pack. 
Fans are starting to move out the way on the side of the road as the peloton becomes serious looking. 
Team Sky are now hitting the front. Maybe it's a little safer there as the roads narrow but there are a few riders who asking everyone to chill a little bit. The stress is ramping up. 
BMC and Direct Energie are punching towards the front of the peloton. Team Sky a little further back out of trouble. Pushing, pushing, pushing.
This finish is going to be tasty. 
Done any damage on a bike?
#bbccycling
Sorry Matt. I'm sure you'll have nae bother. 
The riders are sweeping their way through some technical looking roundabouts as they head towards the finish in Montauban.
Unless there are any accidents, it looks like Greg van Avermaet will be in yellow tomorrow. Don't forget his lead is over five minutes. 
I feel sorry for the poor lads. 
Send in your questions
#bbccycling
Rob Hayles answers: "No, because other General Classification teams will be happy BMC have taken the jersey due to the fact that Greg will not survive the mountains in yellow."
Jan Barta (Bora-Argon) and Yukiya Arashiro (Lampre-Merida) have been out front 4km from the start, but now with 21km left, they are sucked into the pack.
I'm torn between whether they should even bother, but I guess if you don't try then you'll never know. Good effort lads, they'll sleep well tonight. 
Done any damage on a bike?
#bbccycling
The Direct Energie team are hitting the front of the peloton, in an attempt to put in the hard yards in for Bryan Coquard ahead of the finish. Only inches separated France's Coquard from stage four victory but he was beaten by Etiix-Quick-Step's Marcel Kittel.
Seventeen seconds between the leaders and the main pack now. 
Sleeves up if it's baking hot!
Our BBC Radio 5 live commentators Rob Hatch (sleeveless) and Rob Hayles (sweating it out) are in place for the end of stage six. 
Don't forget they are live on BBC Radio 5 live sports extra, which you can listen to at the top of this page. 
Done any damage on a bike?
#bbccycling
The peloton are up and over the last climb and in hot pursuit of leaders Jan Barta (Bora-Argon) beats Yukiya Arashiro (Lampre-Merida), who are tucking into every descent to try and maintain their 41 second lead. 
Good luck lads, you're about to get swallowed. 
Another reminder that it was a tough day yesterday for two-time champion Alberto Contador and this year's Giro D'Italia winner Vincenzo Nibali.
Contador, 33, has injuries after crashes in the first two stages, and was six and a half minutes behind the yellow jersey holder at the start of stage six. 
Nibali was dropped by the peloton and dragged himself to the finish eight minutes and 28 seconds behind the general classification contenders.
They are both in the peloton today so will not make up any significant time but we are in the Pyrenees tomorrow. 
Done any damage on a bike?
#bbccycling
Send in your questions
#bbccycling
Our man Rob Hayles answers: "Chris is a marked man, as is Nairo Quintana, but he doesn't have to defend the jersey at the moment. If you have the yellow jersey, you are obliged to do much more work both on and off the bike. You have to do many more media interviews, and they are distractions you can do without at this stage."
TV pictures are showing a couple playing chess on the edge of a cliff-face. Not sure how they got there, but top marks for derring-do! 
needless to say, the helicopter camera person is in for the metaphoric kill! 
Done any damage on a bike?
#bbccycling
Leader Jan Barta (Bora-Argon) beats Yukiya Arashiro (Lampre-Merida) to the top of the climb and the gap is at about 45 seconds.
Done any damage on a bike?
The leaders are halfway up the last climb of the day, the Cote de Saint Antonin Noble Val, while the peloton begin their ascent. The gap is down to about one minute. 
After a day of sheer slog, this is where you start to flag.