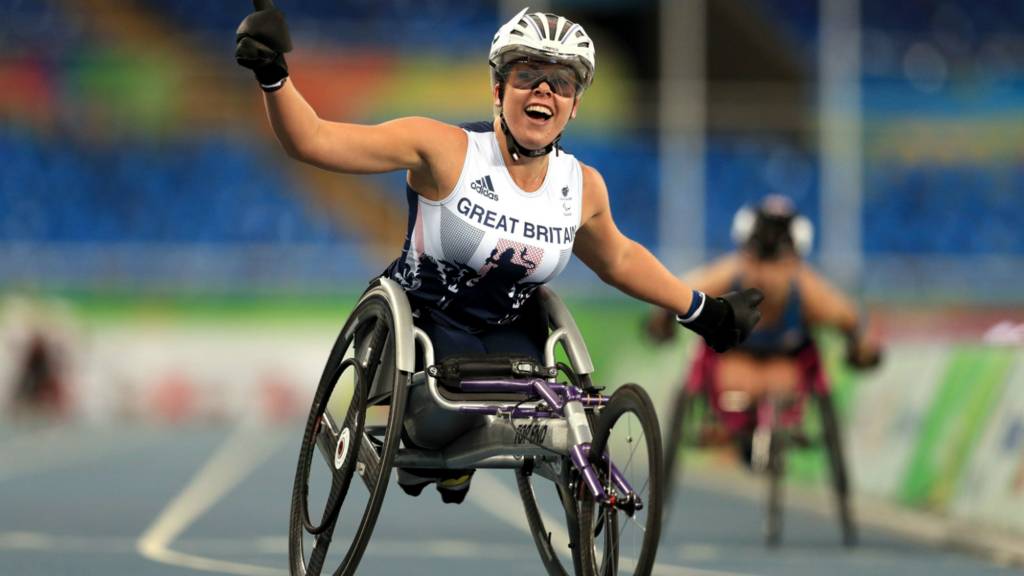 Summary
GB win four gold, four silver & two bronze in one hour in swimming & athletics
ParalympicsGB win nine golds on day seven to smash London 2012 tally
Hannah Cockroft breaks world record to win second gold of Rio in T34 400m
Andy Lapthorne wins silver in wheelchair tennis quad singles final
Listen on BBC Radio 5 live and watch on Channel4.com
That's all from us tonight, folks.
Join us back at 08:00 BST on Sportsday for more Paralympic goodness.
"My life is complete"
Men's SB14 100m breaststroke gold medallist Aaron Moores
Gold medallist swimmer Aaron Moores speaking to BBC Radio 5 live:
"It was incredible, a dream come true and I just need to thank my family back in Swansea, especially my nan and all my coaches.
"I'm so proud to be here and to win the gold medal - I could feel Scott Quin was so close to me coming into the finish so I was just powering through every stroke.
"It was agony but I was never going to give up, I was just thinking 'gold, gold, gold.'
"I've got a silver and now I've got a gold, my life's complete."
It's been a brilliant day for ParalympicsGB. Here's where the gold medals were won:
Hannah Russell - Women's S12 100m backstroke (swimming)
Aaron Moores - Men's SB14 100m breaststroke (swimming)
Michael Jones - Men's S7 400m freestyle (swimming)
Hannah Cockroft - Women's T34 400m (athletics)
Steve Bate and pilot Adam Duggleby - Men's tandem B time trial (cycling)
Sophie Wells - Grade IV class dressage individual test (equestrian)
Kadeena Cox - Women's T38 400m (athletics)
Karen Darke - Women's H1-3 time trial (Hand-cycling)
Dame Sarah Storey - Women's C5 time trial (cycling)
GB also added six silvers and five bronzes to their overall tally. 

Chris Mitchell
BBC Radio 5 live commentator in Rio
"Great Britain can't quite hold on for bronze but it's thrilling drama in any case.
"Such agony, Britain touched out of the medals but what a great race."
"I thought about a fish with boobs"
BBC Radio 5 live caught up with tennis doubles bronze medallist Jordanne Whiley watching Andy Lapthorne's final earlier and she revealed an odd motivational tactic:
"I wanted to podium in the singles - I've been in the best form of my life and haven't had any injuries this season.
"Then in my first round match I got a wrist injury and couldn't play through it in the quarter-finals.
"But I got myself back in the doubles to win the bronze after we lost the second set 6-0. I had a motivational talk with my partner Lucy Shuker at a change of ends and refocus I thought about what fish would look like if they had boobs."
Great Britain finish fourth
men's 4x100m freestyle relay 34 points
Great Britain fall away at the last 50 metres to miss out on the medals and finish fourth. 
It's Maksym Krypak who finds that extra push to grab the gold for Ukraine. 
And there's a really loud cheer as hosts Brazil take second with China back in bronze. 
Even though these young lads didn't make it a golden 10 for ParalympicsGB, nine gold medals means it's the team's most successful day in Rio. 
Great Britain have a lead going into the last 100m! 
Four young men are in the pool for the last final of the day - Ollie Hynd, Josef Craig, Matt Whylie and Lewis White go next in the men's 4x100m freestyle relay. 
Can they get ParalympicsGB into golden double figures? Let's find out...
Who will take the first ever para-canoe title?
Jeanette Chippington led the way as six Brits qualified for the maiden para-canoe sprint finals.
Chippington is a 12-time Paralympic swimming medallist, who competed between 1988 and 2004 before switching sports.
She qualified for tomorrow's KL1 final first in her heat and second overall, crossing the line in 58.676 seconds.
The 46-year-old four-time world champion will go head-to-head with Germany's Edina Muller for the first ever gold medal. 
Murderball begins
GB lose to Australia in rugby opener
Chairs crashing, athletes flipping over and professional welders court-side. 
That's right. Wheelchair rugby, or murderball if you've seen the film, touched down in Rio today. 
Great Britain opened the tournament against defending Paralympic champions Australia and fell to a 53-51 defeat, with Riley Batt scoring 27 goals for the Aussies. 
There were also wins for USA, Japan and Canada.
Lapthorne 'gutted' after loss
Wheelchair Tennis

Elizabeth Hudson
BBC Sport's Paralympics reporter in Rio
"I feel I have redeemed myself from London," says an emotional Andy Lapthorne but the Briton added that he was bitterly disappointed not to win Paralympic gold.
"As a tennis player, you are used to the physical side of the game but having played for four-and-a-half hours yesterday, I was mentally tired,.
"It was very difficult to then come out and play the world number one and I couldn't execute as I would have liked.
"I've trained so hard over the last four years and I'm gutted to have lost."
We have one GB race to go in the pool this evening - the men's 4x100m freestyle. 
Stay tuned for that one - it starts in about 10 minutes' time. 
GB sign off with a win
GB 2-0 Argentina - 5th place playoff
ParalympicsGB's 7-a-side football team secured a fifth place finish with a comfortable 2-0 win over Argentina. 
Matt Crossen opened the scoring for the Brits with a superb solo effort, cutting in from the left before firing into the bottom corner, with Michael Barker doubling their advantage midway through the second half. 
The game ended on a sour note when captain Jack Rutter was sent off in GB's last Paralympic football game for a while after 7-a-side football was cut from the Tokyo 2020 programme. 
GB's goalscorer Crossen said: "The Paralympic Games have been a wonderful experience and a great send off for a few of the lads who will be retiring after the tournament."
"I'm so proud"
Para dressage
Lee Pearson reflecting on his silver medal in the individual dressage with BBC Radio 5 live:
"I'm just so proud and my horse did the best he could've done.
"You can never think you've won after a round in this sport as it so often comes down to hundredths of points and you're working with a live animal so you don't know what mood they're in or if they've got a headache or are a bit tired.
"I was just pleased we had a safe test with no problems."
World record - Anna Stetsenko (Ukraine)
Women's S13 50m freestyle
That's a beast of a swim from Anna Stetsenko as she sets a new world best of 27.34 seconds. 
It's a really close fight for second as the splashes look big enough to reach the stands but it's Uzbekistan who take the silver and the bronze. 
America's Rebecca Meyers was hoping to make it four golds in a row in Rio but she falls back in sixth place. 
Gold medal - Ihar Boki (Belarus)
Men's S13 50m freestyle
In a class of his own, Ihar Boki claims his fourth gold medal in Rio. 
He's now a nine-time Paralympic champion as he stops the clock with a new Paralympic record of 23.44 seconds. 
And he's not done yet. He'll go for two more golds later this week. 
The hosts are delighted as their man Carlos Farrenberg takes a silver behind Boki. 
'Knocking out Australia is surreal'
Wheelchair basketball
Following an incredible 74-51 win for the GB men's wheelchair basketball team over world champions Australia, star performer Phil Pratt tells me they can start dreaming about a medal in Rio.
"This team is absolutely amazing and knocking out Australia is surreal," he says.
"The loss against the USA (at the end of the group stage) was a wake-up call and we wanted to go out and prove what we could do today. We have so many leaders, no passengers and we can't wait to face Spain tomorrow. We are all thinking about a medal - it's what we train for everyday, but we have to win tomorrow first."
Disappointment for Lapthorne
Wheelchair tennis

Elizabeth Hudson
BBC Sport's Paralympics reporter in Rio
Andy Lapthorne's team-mate Louise Hunt, the British women's number three, told me that he should take a lot of credit from his performance here.
"I think Andy should be really proud of what he has done," she said. "He has performed really well and to get to a final is amazing. I hope he can look back and see the positives.
"He gave it 100% so what more can you do?  We're all feeling for him but I hope he feels proud. Dylan played great and if your opponent plays that well what can you do?
"But as a British team, this event has been brilliant and there is still more to come."
GB's Laura Sugar, a Paralympic debutant, finishes third in the T44 200m heats to earn a place in the final.
The 25-year-old, who was born with a club foot, had crossed in fourth with a personal best 28.04 but was bumped up after Nyoshia Cain's disqualification. 
In the second heat, Dutch defending champion Marlou van Rhijin storms home in 26.69 to also make the final. 
"Gold was the only thing on my mind"
Cashmore wins silver
An emotional Claire Cashmore spoke to Kate Grey on BBC Radio 5 live after taking silver in the SB8 100m.
"To be completely honest, I'm gutted. I thought I had a lot more than that and it wasn't there.
"Gold was the only thing on my mind - I don't know if I'm still going to be going by Tokyo and I just wanted to get that gold in my fourth games and I really thought I could do it.
"It's something that I've visualised every night for the last however many years but it just wasn't meant to be - everything happens for a reason, maybe there's some sick reason behind this.
"I really don't know what went wrong, I went out really well again but obviously didn't have that strength to get back. But I've just got to get over it and a silver medal at the Paralympics is still bloody good."
"The pinnacle of my career"
Russell wins gold
BBC Radio 5 live have tracked down gold medallist and world record breaker Hannah Russell:"I came into this final just purely focusing on myself after a four-year cycle and my training went really well.
"To come here at the pinnacle of my career and to perform to my best is absolutely fantastic.
"I could hear a big swarm of warm congratulations and cheering before I got into the pool, which spurred me on - I can't see the crowd so to hear it is really important to me."
Russell wins gold in world record time
Women's S12 100m backstroke
Here's how GB won their third gold medal in the pool on day seven.
Round of applause for Hannah Russell...
"He'll regret that"
Chiassaro misses out on 800m final

Tanni Grey-Thompson
11-time Paralympic champion on BBC Radio 5 live
"The qualification for this event is really harsh and I think they need to think about putting a semi-final in there as well.
"When Richard looks back at that race he'll regret that coming off the bend he had a chance to go to the front and control it - he started picking up the pace but then slowed it and that's what put him in fifth.
"He was desperately trying to see if he had a gap with 120m to go but he went out wide and at that point it's just too far to go, it doesn't matter how good your top speed is."
A tough finish for Richard Chiassaro in the T54 800m heats. He finishes fifth and fails to join GB team-mate David Weir in the final. 
Stephen Clegg talking to BBC Radio 5 live, after finishing fifth in the S12 100m backstroke. His sister, Libby, is two-time Paralympic champion in atheltics.
"It's cool being part of a sporty family - we're quite competitive with each other but I'm so proud of Libby winning those two golds.
"I think the family have been busy getting between both arenas to see us but I'm sure they've enjoyed it all."
The agony and the ecstasy
Lapthorne takes silver

Gigi Salmon
BBC Radio 5 live commentator in Rio
"There are tears in the eyes of Andy Lapthorne but a bronze in the doubles and a silver in the singles there is so much for him to be proud of from these Paralympics."
Fellow Paralympic tennis medallist Lucy Shuker adds: "To make it into the final was an absolute epic for Lappo but he's devastated, if you get to the final you want that gold medal."
Joanna Butterfield takes fifth place
Women's discus F52 final
Silver medal - Andy Lapthorne
Wheelchair tennis quad singles

Elizabeth Hudson
BBC Sport's Paralympics reporter in Rio
It's not to be for Andy Lapthorne as Dylan Alcott wins their quad singles final 6-3 6-4 to take gold.
The Australian, who is world number one, was just too good for the world number four ranked Briton.
It means Lapthorne comes away from Rio with silver as well as the doubles bronze he won with Jamie Burdekin on Tuesday, after a match which lasted almost four-and-a-half hours.
GB win in wheelchair basketball
GB 74-51 Australia

Nick Hope
BBC Sport's Paralympics reporter in Rio
THEY HAVE DONE IT!
The GB men deliver one of their greatest ever performances at a Paralympics to defeat world champions Australia 74-51!
Yes the team won bronze at the 2004 and 2008 Games as well as silver way back at Atlanta 1996 - but the sport has progressed so much since then.
Paralympic debutant Phil Pratt has been the star of the GB team here in Rio and yet again he dazzled with 20 points, whilst team-mate Ian Sagar was the top-scorer on 26.
They'll next face Spain in the semi-finals tomorrow evening - just a few hours after the GB women bid for a place in their final by taking on USA.
Moores edges out Quin
Men's SB14 100m breaststroke final
Another GB one-two followed in the pool, after Mikey Jones and Jon Fox.
Step forward, Scott Quin and Aaron Moores.
Weir qualifies for 800m final
Men's T53 800m heats.
Well, he made that look easy.
GB's David Weir crosses first in the heats of the T53 800m in 1:37.30 to cruise into the final.
Yanfeng Cui of China also secures a place by finishing second. 
Right, back to the track where four-time London 2012 champion David Weir returns in the T53 800m heats.
Weir's had a difficult Rio campaign so far - missing out on the podium in two finals. Let's see how he gets on here...
"Mikey spurred me on"
Fox wins silver
Jon Fox speaking to BBC Radio 5 live after his second silver medal of the games:
"This is the first time in my three Paralympics that I've won two medals.
"The concentration was more on the 100m backstroke for me so I came into this race with an open mind, training with Mikey back in Manchester and he was there the whole way so spurred me on in the final few metres.
"To be fair to Mikey, he's worked his butt off so he fully deserves gold."
Jones leads Fox home for GB one-two
Men's S7 400m freestyle final
Here's how the first GB one-two unfolded in the pool...
Hewett 'living the dream'
Wheelchair Tennis

Elizabeth Hudson
BBC Sport's Paralympics reporter in Rio
Rio 2016 has been a dream come true for Britain's Alfie Hewett.
He and Gordon Reid reached the men's wheelchair doubles final on Tuesday and then on Wednesday the Norwich City fan booked his place in the men's singles final, where he will take on Reid.
Team Hewett - mum Sarah, dad Anthony, brother Barny and twin sister Ellie can barely believe what the 19-year-old has done.
"He is living the dream - Tokyo 2020 was supposed to be his Games but he's gone and done it here," said Sarah. "He's doing it for his granddad David who has cancer and was too ill to travel here - he's Alfie's biggest fan."
Wheelchair Basketball
GB lead Australia in men's quarter-final
The British fans are going nuts in an absolute humdinger of a basketball game. 
The Brits were behind at half-time but have stormed back to take the lead in the final quarter. 
Gaz Choudhry sinks a basket to put GB in front by 60-47 with under five minutes left.