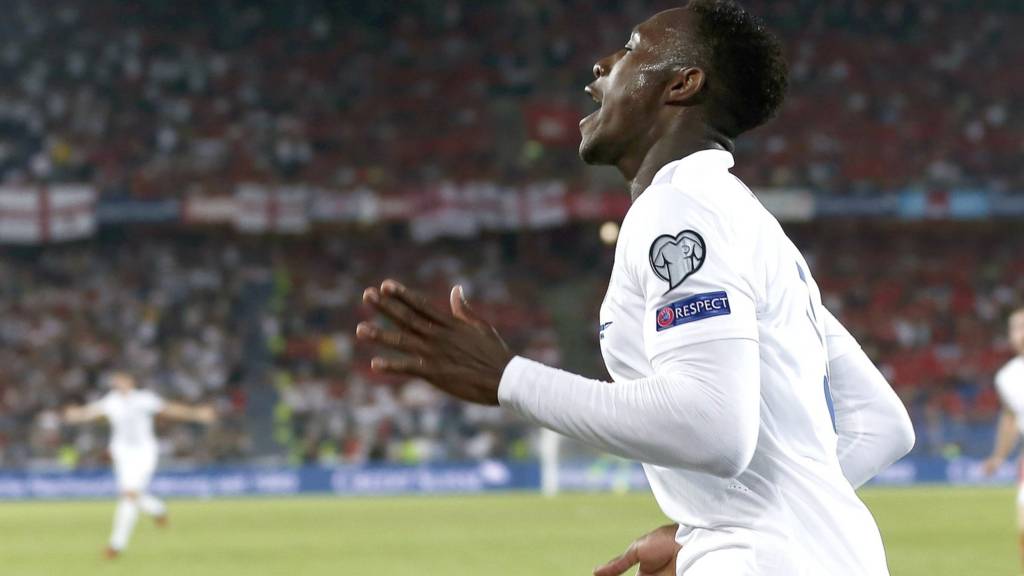 Summary
Welbeck finishes swift break with his shin
Then strikes on break in injury-time
Righto, that's it from us for now - see you tomorrow for Wales.
Capello's Russia helped to victory
San Marino, England's next opponents in Group G, made a losing start as they were beaten 2-0 at home by Lithuania, while Estonia beat Slovenia 1-0.
In Group G, Fabio Capello's Russia overcome Liechenstein 4-0 with the help of two own-goals and a penalty as they also look to bounce back from a dismal World Cup campaign.
The unfortunate Franz Burgmeier scored the best of the own-goals just after half-time as Russia scored three times after the break.
Austria and Sweden shared the points from a 1-1 draw in Vienna.
Bayern Munich defender David Alaba puts the hosts ahead with an early penalty but the Swedes quickly levelled as Erkan Zengin fired home from a Zlatan Ibrahimović flick.
Montenegro beat Moldova 2-0.
Tomorrow sees Wales get in on the Euro 2016 action with a trip to face Andorra. Can they start with three points? You'll be able to find out right here.
Holders Spain up and running
Elsewhere tonight in the Euro qualifiers, Spain shook off the disappointment of their lame World Cup defence by beating Macedonia 5-1 in Group C.
The reigning European champions scored twice in as many minutes early on to set up an impressive victory in Valencia with Sergio Ramos cheekily converting from the penalty spot and debutant Paco Alcacer notching on his home ground.
Barcelona midfielder Sergio Busquets scored his first international goal in his 69th game to make it 3-1 in first-half stoppage time after Macedonia had pulled one back from the spot.
David Silva and Pedro Rodriguez, with a superb chip, then wrapped it up for Vicente del Bosque's side.
In the same group, Slovakia won 1-0 against Ukraine in Kiev thanks to a goal from Róbert Mak.
Luxembourg led Belarus before drawing 1-1.
Orlando in London: Welbeck hasn't put a smile on my face; had £2 in him to score the only goal at 50-1 then he goes and scores a second in the last minute. Even when England win they make me unhappy! Typical.
Tom in Rugby: Does anyone else think the team looked much more balanced without Daniel Sturridge tonight? Welbeck's hunger and aggression in the tackle were key tonight, something you don't get with Sturridge. Can they both fit in the same team?
If anyone is contemplating going to Euro 2016 in France - regardless of whether England or any of the other home nations do qualify - it looks like a good one to get around at.
There will be 10 venues used, from Lens in the north to Marseille in the south. Get your holiday requests in for June/July 2016...
Join the debate at #bbcfootball
Chris Bailey:
Roger Federer, H.R. Giger, William Tell, some bars of Toblerone....your boys took one hell of a beating!
Antoine V:
A lot made of the Swiss taking Argentina all the way in the WC. They did also get THUMPED 5-2 by France. Calm down everyone
Luke:
This is how we should have gone about the WC qualifiers. Play a young team that can mature together before the tournament.
The football may be ticking down but the sport is set to rock on for hours yet.
It's the final of the men's US Open, as Kei Nishikori and Marin Cilic battle it out in New York.
You can follow all the action here
- or more importantly you can see pictures of Bob Dylan playing George Harrison. In jeans.
Join the debate at #bbcfootball
Mark Wakerly
: Do you reckon Roy Hodgson will be happy to discuss the stats of tonight's match
Tom Miszkowski
: Plenty of positives to take out of tonight, Hodgson has found a system that suits the players, hitting teams on the break
Former England international Danny Mills
BBC Radio 5 live
"The World Cup was hopeless. It was absolutely diabolical. It's basically the same group of players, with a couple of retirements, and they have gone from diabolical to decent and respectable this evening. It's a long process but we have seen signs of positivity."
Manager reaction
Switzerland 0-2 England
England manger Roy Hodgson speaking to ITV Sport: "I thought the way we approached the game from the first minute was exactly what we wanted and we got our reward. We pressurised the ball well, but you need that first goal to get people to come out and attack you. From then I thought we looked dangerous and we had several chances to aggravate the scoreline before Danny Welbeck's second.
"I think we can improve on how we see out the game, but you have to expect that some players will show a little naivety in that area."
That was England's best away performance since, oooh, er, the last time they won in Switzerland.
It may make the rest of the Euro 2016 qualifying campaign a touch dull though, eliminating the jeopardy from the group...
Flag it up
Switzerland 0-2 England
Are England's attackers learning semaphore? Danny Welbeck has put a smile plenty of faces tonight.
Alan Green
BBC Radio 5 live
"Well done Roy Hodgson. He doesn't like criticism, he would have been hurt but he's come back tonight."
Don't come here with your logic and reason MNG. That won't wash round here.
Text us on 81111
Switzerland 0-2 England
A note of caution from MNG: Great result but l seem to remember that qualifying has not been the issue. Performance AT the tournament is key.
Player reaction
Switzerland 0-2 England
England goalscorer Danny Welbeck speaking to ITV Sport: "We created a number of chances in the first half where the final pass was missing, but once we got the goal we were in control. I think it was a good team performance overall."
Former England international Danny Mills
BBC Radio 5 live
"The defence is a bit of a worry. It was a bit panicky at times, but they will learn."
Player reaction
Switzerland 0-2 England
England captain Wayne Rooney speaking to ITV Sport: "We defended well as a team and took our chances, catching them on the break with the speed we had been hoping to show.
"I think we knew the game against Norway on Wednesday was going to be difficult, but tonight was always going to be more important and we were focusing on that. We have worked on springing from defence to attack which you saw tonight. It was a happy performance from us."
Let's not forget that Joe Hart made two very good saves in the game, at crucial times too. It could have been different for England.
Join the debate at #bbcfootball
OptaJoe:
Wayne Rooney created four goalscoring chances vs Switzerland, twice as many as any other player in the game. Leader.
Join the debate at #bbcfootball
Graham Jack Thirkill:
Best England have been for as long as I can remember tonight. Rooney created the first goal superbly. Sterling is so exciting.
Next up
Switzerland 0-2 England
What's next for England then? It's San Marino at Wembley on 9 October, followed by a trip to Estonia three days later.
Join the debate at #bbcfootball
Tom Garry:
Pleasantly surprised. Plenty of positives after a grim summer. Prefer #ENG in this shape. Pleased for Welbeck. Will win group.
Dave Flood:
England win in exciting, entertaining match. Pinch me I'm dreaming
James Clarke:
So basically we've qualified with nine games to spare
Text us on 81111
Switzerland 0-2 England
England's win has, not surprisingly, gone down well.
NP: Get in, what a win played as a team with every player looking happy to play for their country bit of spirit back in the side.
Sam J from Oxford: This Swiss team took Argentina all the way in the World Cup knockouts. I appreciate that most England fans can never be happy, but I'm elated with a win here. Lots of positives for a very young team.
Former England international Danny Mills
BBC Radio 5 live
"I said before the game I wanted England to show a bit of determination and man-up a little bit and they have done that.
"It was like an old-fashioned England performance with a high tempo and having a go. The front three chased lost causes and that set the tempo.
"I think on the balance of play that was a much better performance. There are still deficiencies but that was a massive improvement."
Join the debate at #bbcfootball
Switzerland 0-2 England
Every England game tends to be seen as a disaster or a triumph - so how do you take that win? Impressed? Still worried? What were the highlights?
Let us know.
Join the debate at #bbcfootball
Fergus Alexson:
This is why, as a united fan, I was gutted to see Welbeck go
Henry:
More impressive? Welbeck scoring twice or Wilshere NOT getting hurt?
Stu Richards:
Would it be too stereotypical to say that the Swiss never really got out of neutral tonight?
FULL-TIME
Switzerland 0-2 England
That's it. And England's toughest test in the group is aced.
GOAL
Switzerland 0-2 England - Danny Welbeck
Clinical, clinical counter! Job very well done as Raheem Sterling releases Rickie Lambert, he takes his time to feed in Danny Welbeck on his left and the new Arsenal man buries it confidently, slotting into the corner. Gary Neville is in the air, Roy Hodgson gives it the double fist pump...
Former England international Danny Mills
BBC Radio 5 live
On Wayne Rooney's performance: "I think he's done well. He's not been perfect by any means but he has worked very hard and produced that moment for the goal. He made the difference for the goal.
"He has answered many of his critics this evening. Never mind the captaincy, people are saying he shouldn't be in the team. I think that's ridiculous."
CLOSE!
Switzerland 0-1 England
Jordan Henderson toes the ball away and Raheem Sterling is away. Bags of pace, all sorts of pace as he skips away down the flank, he then cuts inside and lashes over the bar from 20 yards. Excitement? He's got it.
INJURY TIME
Switzerland 0-1 England
We have FIVE MINUTES added on as James Milner does the 'think about it' sign to his team-mates. Rickie Lambert is immediately booked, I think for kicking the ball away.
Montenegro, who shared a couple of feisty games with England in Euro 2012 qualification, are 2-0 to the good against Moldova, Mirko Vucinic and Zarko Tomasevic.
Luxembourg might have to wait for their first win in more than a year. Belarus has levelled up at 1-1 through Stanislav Dragun in Group C.
SUBSTITUTION
Switzerland 0-1 England
Wayne Rooney is off as we tick into stoppage time - on comes Rickie Lambert. Win some headers, win some free-kicks and throws Rickie...
Keepers! Good claim from Joe Hart. Comes out, makes himself big and claims it well. Here comes Rickie Lambert.
Wayne Rooney doesn't give up on a lost cause and Danny Welbeck wins a corner from it. Good game management on display here. They're killing the game off pretty well.
Less of a text message, more a mission statement...
The longest ever text to appear in our live coverage? Quite probably.
MJ: Watching #bbcfootball live reporting as it happens and having followed England for 45 years imagining the kick and rush, the mis-control, the rash tackles and the lack of class... Misses one end, lucky defending the other and bluster but not much else in midfield. Nothing changes. When will someone realise England's version of football is never going to beat teams where every player has to have the necessary skills to compete at the top level?
England players simply don't. Can they pass accurately with both feet, retain possession and string passes together that stretch defences or frustrate opponents and panic them into mistake? The simple answer is NO. Can the top teams do that to England? YES and regularly. England simply don't have the necessary skills to match the real competition and the sooner supporters, players and administrators wake up to the fact and are honest about the team's limitations the better.
BBC Sport Chief Football Writer Phil McNulty in Basel
"Switzerland trying to apply some late pressure here but England standing firm - with Raheem Sterling's pace giving them a devastating outlet on the break."