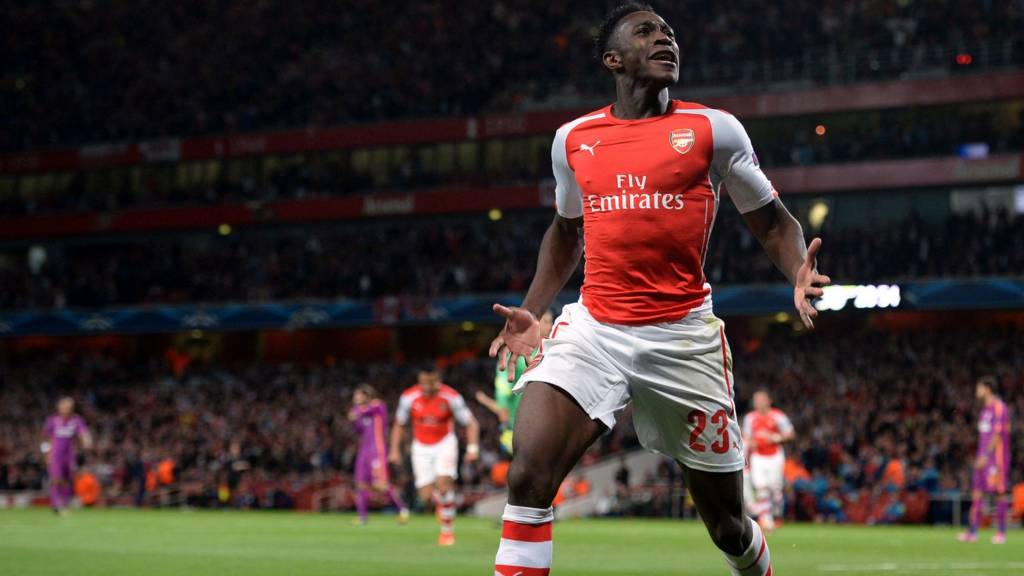 Champions League as it happened
Summary
Welbeck's first career hat-trick
Basel beat Liverpool 1-0
Atletico Madrid beat Juventus; Real win
Fulham thrash Bolton; Huddersfield win
That's your lot from me - I'm off to boil an egg in three minutes. See you later
Join the debate at #bbcfootball
Mitch Mansfield:
There are inevitable comparisons between £16m Welbeck and Balotelli. Liverpool would surely have had to pay a premium for a Manchester United academy graduate.
Vinny:
Rodgers got lucky last season as Spurs, City, United, Chelsea and Arsenal had European and longer cup run distractions.
Garry McCammon:
People are under rating Basel, they can beat anyone on their day. Was never going to be easy for Liverpool.
Manager reaction
Ludogorets 1-2 Real Madrid
Ludogorets coach Georgi Dermendzhiev said: "It was a good game, but the result could have been better for us.
"Ludogorets played a good match against the best team in the world. I am pleased, we almost got a point."
Former Arsenal defender Martin Keown
BBC Radio 5 live
"We'll see what Brendan Rodgers is made of. They're 14th and nine points away from Chelsea. The fans have got to be more realistic. Brendan has to stick to his philosophy and keep believing.
"I've liked the way he was supportive of Mario Balotelli. He was probably seething at his performance. He's not going to be a Suarez but he does energise the manager and they've got to pull together. There seems to be too many problems as a group.
"Balotelli is an individual. The way Suarez and Sterling and Sturridge integrated, it was beautiful. Balotelli is a bit of a fixed mannequin and he has to learn the Liverpool way or he'll just be standing there watching."
Manager reaction
Basel 1-0 Liverpool
Basel boss Paulo Sousa: "It was a perfect evening. We defended well, we fought, were ambitious, have created chances and kept the ball well."
When I get in tonight I'll be boiling an egg. I'll report back the details in tomorrow's Europa League live text...
Dave: Would it take longer to sack Brendan Rogers than boil an egg????
Join the debate at #bbcfootball
Jack Mousley:
Liverpool lacked the desire to win the ball, press the Basel players. Low on confidence, they are a shadow of last season.
Frank Lopez:
I don't think Liverpool has to fear that Sterling gets bought by Real Madrid to replace Ronaldo anytime soon. Way too light.
Ken Gorry:
Liverpool lacking movement in the final third. The midfield players are lacking options, Sterling should have had a hat-trick though.
A good night for Louis van Gaal's cast-offs. As well as Danny Welbeck's hat-trick tonight Shinji Kagawa picked up two sublime assists in Dortmund's 3-0 win at Anderlecht.
Former Arsenal defender Martin Keown
BBC Radio 5 live
"They both arrived at 23 and Danny Welbeck has got going a lot quicker than Thierry Henry did. Whether he goes on to emulate what Thierry did is another matter.
"But Arsenal have embraced him, Wenger loves him in that position. He's provided what Arsenal haven't had. This is an arena where he can launch his career."
Top clarification work there Dale, Good spot.
Dale: You can boil an egg in 180 seconds, or less...you just have to be several (meaning a few thousand) feet below sea level so the water will boil at a higher temperature. Don't worry Tom, I know what you're on about!
Join the debate at #bbcfootball
MOTD presenter Gary Lineker
"Just saw Welbeck's 3rd goal. Now that is the finish of a proper striker!"
Join the debate at #bbcfootball
Jack Igglesden
: Sturridge will bring goals. Missing him is costing Liverpool a lot. We did reasonably well without Suarez a bit last season.
Matthew Coote:
All them Liverpool fans mocking Spurs for what AVB did last year looking rather foolish now.
Alex Smith:
Liverpool spent £117m this summer, and they don't have a good defensive unit or bench that could change a game. Wise spending?
Liverpool now face back-to-back games against Real Madrid while Basel face Ludugorets twice. Those fixtures could prove decisive in the race for qualification from Group B.
Join the debate at #bbcfootball
Ibrahim Ismail:
Nights like this makes me appreciate Benitez. Rodgers need to be scrutinized. £100m spent and it seems the Reds have poor scouts.
Dominic O'Caollai:
What's the panic about? Beat Ludogorets and Basel (not unrealistic) and Liverpool still go through barring hammerings vs Real?
Tom:
Liverpool's last season wasn't a fluke. They worked hard to get second. It's a changed team this season and it will take time.
Former Arsenal defender Martin Keown
BBC Radio 5 live
"What Brendan Rodgers has done is go and buy players but it's about more than that. Dejan Lovren came in looking like he's the leader and Martin Skrtel seemed more determined to head Lovren than the ball. I don't know if Brendan is up for bringing in former players to his staff and whether Jamie Carragher would be interested in that.
"I know his philosophy is to pass the ball but you have got be tight at the back but it's their Achilles heel at the moment. I wasn't sure about Lovren at Southampton. He sees himself as the leader but the way Mamadou Sakho responded when he wasn't picked at the weekend suggested that wasn't handled well.
"When you're in all these competitions, last season looked like a honeymoon period. Game to game you get ragged and he's got to get the team together for the weekend and pressure's starting to build for Brendan."
Danny Welbeck scored the same amount of goals tonight as he did for Manchester United in 2014. Is he the new Thierry Henry?
You know what I think but more importantly BBC Radio 5 live are asking you. Call 0500909693 with your opinions.
Manager reaction
Arsenal 4-1 Galatasaray
Arsenal manager Arsene Wenger, speaking to Sky Sports: "That instinct of a goalscorer (in Danny Welbeck) was more aggressive and he finished well with the work of the team. He has such good pace it gives him time to finish calmly.
"We had good pace. We did have good pace in all areas of the pitch. You can see how quickly you can lose control of a game when we went down to 10 men but overall the performance was good."
Asked if it was Alexis Sanchez's best game for Arsenal: "Yes he played well and made some good passes. Overall he had a very good performance."
Joe Turner: I know this isn't TMS but you can't boil an egg in 180 seconds, it's 4-5 minutes man! Take a moment to consider the disappointing breakfasts you will cause across the English speaking world if you don't correct this and it spreads.
It's a point I was called up on on the BBC Sport desk Joe, I'm happy to retract that spur-of-the-moment call. As you can tell, I don't boil many eggs...
Bolton boss Dougie Freedman was under pressure before tonight, well it's going to be even worse now - they've lost 4-0 at Fulham, who were one of the two teams below them in the table. Kit Symons has surely boosted his chance of the permanent job with that result.
Huddersfield surprised Wolves with a 3-1 Molineux win, and Leeds and Reading played out a goalless draw.
Join the debate at #bbcfootball
Basel 1-0 Liverpool
Strong stuff from Steven Gerrard.
An opponent 'wanting it' more is always a painful one to accept as a fan.
Thoughts? Get in touch at
#bbcfootball
, pop on to the BBC Sport
Facebook page
or BBC Sport's
Google+ area.
You can also text us on 81111 in the UK only - don't forget to say who you are and where you are texting from.
Join the debate at #bbcfootball
James Searle:
I'm starting to think signing Ballotelli was a mistake. We've stopped playing as a team.
Mikey:
Liverpool looking very mediocre. Markovic needs time and practically the whole of the back four needs to change.
Danny:
It's not all is bad for Liverpool. Get Sturridge and Allen back and that will add better passing and goal-scoring soon be back on top.
Player reaction
Basel 1-0 Liverpool
Liverpool captain Steven Gerrard: "We were too soft all over the pitch and I think they wanted it more all over the pitch, which is hard to say, but is the truth.
"We cannot keep defending like that from set-pieces we made it easy for them. We came here wanting to win and expecting to win and it is disappointing. It is not good enough."
Tony: Brendan has taken us one year forward two years back in the space of three months. In Europe he's way out of his depth and domestically we're playing way off where we were after overspending in the transfer market. A long, long year ahead.
Rob from London: We're so blinkered in the UK. Liverpool were seeded third for a reason. It's their first away match in Europe for a while against a solid, if not spectacular team. The focus has to be on the league now.
Rhys from Wales: Liverpool look emotionally exhausted. I think losing the league the way the did has done serious damage to them and their confidence.
Manager reaction
Basel 1-0 Liverpool
Liverpool manager Brendan Rodgers: "We didn't start great and were not technically good early on but when we started to combine and create chances I thought we did enough to take something from the game.
"But we defended badly from the corner and it is not for the first time.
"It is something that we continue to talk about in training but you need to deal with it on the field. You have to win your first contact and if you don't do that then you can be punished.
"Mario Balotelli worked hard but needs to do more. He will be judged on what he creates and what he scored and he didn't do that, but he is trying hard."
Red alert
Arsenal 4-1 Galatasaray
One down side for Arsenal tonight was the red card for goalkeeper Wojciech Szczesny, and the Gunners have now picked up 15 red cards in the Champions League. Only Juventus (20) & Inter (17) have more.
Liverpool captain Steven Gerrard says he expected to win tonight. He looks utterly cheesed off.
Thierry Henry, Ian Wright - can Danny Welbeck not just have a good game without having to compete with Arsenal legends?
Peter: As a Liverpool fan, after accepting a slow start, I'm now officially concerned. We look astoundingly average.
Jamie from London: That's the Arsenal performance I've been waiting for all season. Well done Welbeck I'm chuffed that Arsene bought you. Hope you emulate Ian Wright.
Jane: I've seen many a poor Liverpool performance but this must be one of the worst. Enrique, Gerrard and Balotelli should have been replaced at half time.
Player reaction
Arsenal 4-1 Galatasaray
Arsenal striker and hat-trick hero Danny Welbeck: "I forgot the matchball! I'll get it after.
"My last hat-trick was for Manchester United's reserves and I'm trying to score goals. I am getting into positions and it is paying off."
If you need to check out the latest group tables, fixtures, results and match reports for this season's Champions League - you are in luck my friend.
Check it out.
Just to wrap things up across Europe, Real Madrid have won in Bulgaria but only by two goals to one, more plucky stuff from Ludogorets.
Atletico Madrid beat Juve, Bayer Leverkusen dispatched Benfica and Dortmund cruised to a win against Anderlecht.
Former Arsenal defender Martin Keown
BBC Radio 5 live
"The fans already have a special relationship with Danny Welbeck and they're singing his name. He'll be realising his career is taking off, he's the darling of the Arsenal fans. He just keeps making the runs, he's loving his football, he's got a smile on his face and the goals keep coming.
"They're going to be asked a lot more questions by Chelsea so it was interesting to see how the defence coped and they didn't concede after the penalty. It's about relationships and building partnerships. It was a mixed bag from David Ospina after he came on but he can pull off a save that's for sure."
Join the debate at #bbcfootball
Rob Meech:
I'd argue that Liverpool are missing Sturridge as much as they are missing Suarez at the moment.
Jake Saunders:
Any other Liverpool fans starting to think last season was a complete fluke?
Rian Hoskins:
Not good preparation for Real Madrid at the Bernabeu by losing to Basel, narrowly beating Ludogorets and poor domestic form
Steven Gerrard looks increasingly glum as he shakes hands with the Basel players. Basel skipper Marco Streller sorts out a dressing-room shirt exchange.
That's Manchester United, Chelsea and Liverpool all beaten by Basel in recent times.
FULL-TIME
Basel 1-0 Liverpool
Paulo Sousa leaps into the arms of his players as Basel celebrate a big win. Another win against English opposition for Basel!
FULL-TIME
Arsenal 4-1 Galatasaray
CLOSE!
Arsenal 4-1 Galatasaray
Santi Cazorla has the chance to apply the cherry to Arsenal's cake but his chip is cleared off the line by Semih Kaya.
INJURY TIME
Basel 1-0 Liverpool
Write it off and go again. This has been a bad performance from Liverpool, no two ways about it.