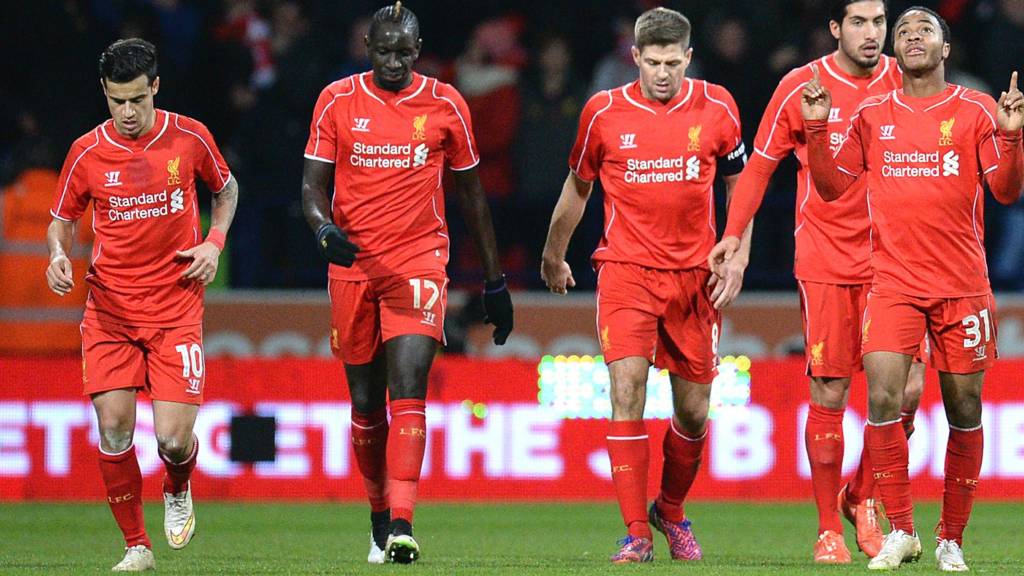 FA Cup replay: Bolton 1-2 Liverpool
BBC One and BBC Radio 5 live coverage available on this page in the UK
Summary
Coutinho completes Reds comeback
Danns sent off at 1-0 to Bolton
Gudjohnsen, 36, opened scoring
Winners face Crystal Palace in round five
That's us done for the night then, we'll see you all at the weekend. Cheers.
Phil McNulty
BBC Sport chief football writer
"Neil Lennon, asked what he didn't like about referee Roger East's performance: "I thought he was rubbish." There you go...."
BBC Radio 5 live's Kevin Kilbane
"By playing Emre Can in the back three, Steven Gerrard has the confidence to go forward as he knows that Can is confident on the ball."
There are 10 Premier League sides still in the FA Cup, with Bradford City of League One the lowest-ranked side still in.
We are guaranteed at least one Championship side in the last eight as Derby face Reading.
Yakubu to win it?
Manager reaction
Bolton 1-2 Liverpool
Bolton boss Neil Lennon: "I'm not happy with the referee tonight at all. Neil Danns' first yellow card was not a booking and I'm not convinced that our penalty was a penalty either.
"This is a step up in class and you have to concentrate for 96 minutes. They scored two good goals but they could have been avoided. We were foot perfect for nearly 180 minutes in defence but it wasn't quite enough.
"The game's gone now but hopefully we can learn from that."
Lennon's long list
Bolton 1-2 Liverpool
Derby, Fulham, Watford, Nottingham Forest, Middlesbrough, Brighton. Bolton's February list of fixtures is no easier.
The Trotters are 13 points off the play-offs and seven points above the relegation zone.
Join the debate at #bbcfacup
Former Liverpool striker John Aldridge: Emre Can gets better every time I see him. Could be a big player in the future for us. Proper football brain too! Philippe Coutinho deserved that goal!
Manager reaction
Bolton 1-2 Liverpool
Liverpool manager Brendan Rodgers on BBC One: "It was always going to be a tough game. Neil Lennon's done a brilliant job at Bolton. Going 1-0 behind away from home put us on the back foot. I think you can see on the replay it was nowhere near a penalty. We must have hit the bar about five or six times but eventually the quality came through.
"You have to keep your patience and keep the width in the game, especially against 10 men. It was a great pass by Emre Can for the first goal and a great finish, and a wonderful finish for the second goal [from Philippe Coutinho].
"This is a competition we want to do well in and thankfully we're into the next round against Crystal Palace."
Everton, Spurs, Crystal Palace, Besiktas, Southampton, Besiktas.
That's the rest of Liverpool's February schedule as they still fight on three fronts.
Player reaction
Bolton 1-2 Liverpool
Liverpool forward Raheem Sterling talking on BBC Radio 5 live: "We had a few chances to score. When we kept hitting the woodwork I wondered if it was perhaps not our day, but we stuck in there and Philippe's winner was brilliant. He's just a magician."
See all of the goals, best chances and red cards in the highlights tab at the top of the screen.
Join the debate at #bbcfacup
Kevin Chadwick: You have to start putting Philippe Coutinho in the same bracket as David Silva. Another magician with the ball.
Tim Mann: Great cup tie from Liverpool and Bolton! Shows the FA Cup IS the greatest competition in the world, just keeps on giving!
Shaun Howe: As a Liverpool fan I can tell you that we are going to win like this all the way through the tournament. Never a dull moment!
Crystal Palace v Liverpool
Arsenal v Middlesbrough
Aston Villa v Leicester City
West Brom v West Ham
Bradford City v Sunderland
Blackburn Rovers v Stoke City
Derby County v Reading
Preston North End v Manchester Utd
Manchester United's trip to Preston North End and Aston Villa versus Leicester City are BBC One's two fifth-round television games.
League One Preston will host Manchester United at Deepdale on Monday, 16 February.
Leicester's trip to Villa Park is on Sunday, 15 February at 12:30 GMT.
Danny Murphy
Former Liverpool midfielder on BBC One
"The sending off of Neil Danns didn't help Bolton. Ultimately the quality of Liverpool shone through, but they rode their luck a bit."
Liverpool have reached the FA Cup fifth round in successive seasons for the first time since 1995 and 1996. Manchester United and Eric Cantona beat Liverpool in the final in 1996 - the cream suits year.
BBC Radio 5 live's Kevin Kilbane
"It's been a super game. Brilliant to watch. Bolton scored from a very debatable penalty but after the sending off, Liverpool really turned it on. The game was end to end. Great cup tie."
Player reaction
Bolton 1-2 Liverpool
Liverpool forward Raheem Sterling on BBC One: "We had a few chances to put the game away but we didn't take it. It was a great team effort to stick in the game and get the win in the end.
"When we went 1-0 down and hit the post three times it didn't look like our day but we got there in the end. Philippe Coutinho has the magic to turn the game on its head and we saw that again."
The Bolton fans cheer their fans off the pitch. The Championship side put in a right shift but that needless red card has cost them in the last few minutes. Would they have won with 11 men? We'll never know.
FULL-TIME
Bolton 1-2 Liverpool
Liverpool will play Crystal Palace in the fifth round after a late, late show. Bolton were five minutes away from a famous win.
BBC Radio 5 live's Kevin Kilbane
"It's been a great cup tie. It looked like it was going to extra time. There's been everything. Controversy, a red card and great goals."
Last minute, Liverpool have it deep in enemy territory...
Bolton have a free-kick... Liam Trotter has a header scrambled clear...
So Liverpool will head to Crystal Palace, unless Bolton can find a rabbit in the hat now. Neil Danns's red card hasn't half cost his side.
BBC Radio 5 live's Kevin Kilbane
"It's broken Bolton's heart, but what a brilliant goal by Philippe Coutinho. Both goals have been of the highest quality."
Phil Neville
Former Manchester United defender on BBC One
"A special strike from a special footballer. Andy Lonergan has been fantastic, but Philippe Coutinho loves to cut in and bend it in to that corner."
GOAL
Bolton 1-2 Liverpool - Philippe Coutinho
And there it is! Bolton's resistance is broken again but it is a cracking goal. Philippe Coutinho has had a few shots from 25 yards tonight but he saves the very best for last, a dipping strike which kisses the crossbar and finds the net. Andy Lonergan looks to the heavens. Nothing you can do about those mate.
Join the debate at #bbcfacup
Lars Nay: Can you are the man!
Mike: Emre Can has just pulled off the scoop pass we all desperately tried to master on the school playground.
Feargal Rooney: We are going to extra time, postpone the washing for another evening.
INJURY TIME
Bolton 1-1 Liverpool
FIVE MINUTES added on. I'm sure the BBC One controller would quite like one side to score in them if that's OK.
Phil Neville
Former Manchester United defender on BBC One
"Liverpool are totally dominating at the moment. Bolton are finding it really difficult to get out from the edge of their own box."
Liverpool have set up base camp on the edge of the Bolton box. Can the Championship side hang on for extra-time?
BBC Radio 5 live's Kevin Kilbane
"Bolton were a little bit flat at the back. But the timing was perfect by Liverpool. An outstanding ball from Emre Can and a great finish by Raheem Sterling. A perfect team goal."
Neil Lennon is deflated on the bench. His side had put in a fine rearguard display since going down to 10 men but they had no answer to that goal.
Phil Neville
Former Manchester United defender on BBC One
"That goal has been coming. It was a brilliant pass over the top from Emre Can. Raheem Sterling ran off the back of Liam Trotter and the finish was brilliant - he didn't go for power, he went for precision."
GOAL
Bolton 1-1 Liverpool - Raheem Sterling
Right on cue! Raheem Sterling digs Liverpool out of a hole with another excellent goal, and tips us towards the prospect of extra time. Emre Can has time to look up and loft a lovely ball over the top, Sterling watches it on to his left foot and steers a volley through the legs of Andy Lonergan. Cancel that birthday party for Steven Gerrard - for now anyway...
Liverpool could do with a goal, could they do with Iago Aspas? The forward is on loan at Sevilla from the Reds and he has just pulled one back for the Spanish side at Real Madrid, who lead 2-1 with about five minutes left.
Steven Gerrard is five minutes away from being able to book the hog roast, bouncy castle and clowns for his birthday party...
Join the debate on the BBC MOTD Facebook page
Joseph Rawsthorne: The problem is that football is a contact sport but the commentators talk like its basketball back in the 80's the tackles that go in and now it's going like a non contact sport.
Roy Shelton: Yes the penalty was soft, but there are penalties like that every week in the Premiership where football is slowly becoming a non contact sport.
HITS THE WOODWORK
Bolton 1-0 Liverpool
What a save! Emre Can on his left peg, a great hit and Andy Lonergan tips it onto the face of the bar. The crossbar is still shaking.
HIGHLIGHTS
Bolton 1-0 Liverpool
A reminder that the red card and the goal from tonight's game can be watched at the top of the page. Click on highlights and enjoy yourself.
BBC Radio 5 live's Kevin Kilbane
"Brilliant run from Sturridge. Pressure is mounting on Bolton, it's all Liverpool at the moment. Real drama."