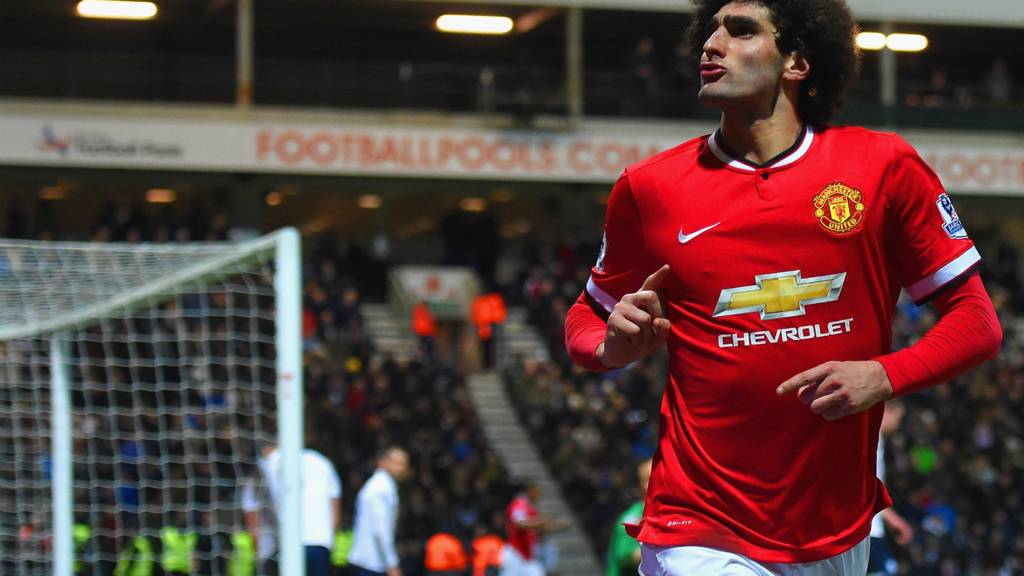 Recap the action as Man Utd beat Preston
Summary
Laird gives Preston lead, Herrera levels for Utd
Fellaini fires visitors ahead & Rooney with penalty
Man United entertain Arsenal in quarter-final
QF draw: Aston Villa v West Brom
Liverpool v Blackburn; Bradford v Reading
FA Cup fifth round - done. Thanks for coming.
We can confirm that the quarter-final between Arsenal and Manchester United will be shown on the BBC. Set the calendar for that one.
Join the debate at #bbcfacup
Andrew Lascelles:
It makes me laugh. Wayne Rooney dived to win a penalty but the England manager says he did not dive. Stop kidding the public
Richard Finch:
What example is that for youngsters? Roy Hodgson defending Rooney's dive to get a penalty. He made no attempt to get the ball.
Mark Tomlinson:
It was a clear dive! Rooney should have been booked! Hodgson refusing to acknowledge that says everything you need to know!
Manager reaction
Preston 1-3 Man Utd
Preston boss Simon Grayson, speaking to beIn Sport: "The first one he [Wayne Rooney] is close to interfering with our goalkeeper. Sometimes you get them and sometimes you don't. Even the second we felt there was slight nudge by Fellaini on Tom Clarke but there are fine lines between winning football matches and not. Regardless of the scoreline we are very proud of what we have done.
"This is a big club, the infrastructure is in place. We are doing well in the league and we will draw from the experiences tonight."
Jordan in Birmingham: No contact there. If that was Ronaldo, Suarez or another foreigner, everyone would've been on his back.
Josh in Bristol: Penalty discussion with my dad, he thinks it was (as a Liverpool fan). How is football coming to this when a penalty is given with no contact!
Mark Burgess: Phil Dowd proves conclusively that he is the worse referee in the Premier by some way. The first United goal was blatant offside and the third was no contact and the England captain disgraces the position by diving. Unlucky Preston but every thing has conspired against you.
If you missed the FA Cup quarter-final draw, holders Arsenal will travel to Manchester United.
The Gunners, who beat Hull City in last year's final, defeated Middlesbrough in the fifth round.
Liverpool host Blackburn, League One survivors Bradford City face Reading while West Midlands rivals Aston Villa and West Brom will meet at Villa Park.
Preston manager Simon Grayson calls the decisions that went against his side 'the fine margins' that can settle a game. But he has no sour grapes, he's proud of his side and is very much focussing on promotion from League One.
England manager Roy Hodgson, speaking on BBC One: "I don't think it's a dive from Wayne Rooney for the penalty I think he's taking evasive action."
Wayne Rooney was your pick for man of the match this evening with 46.4% of the vote, with Preston's Kevin Davies finishing in second.
Manager reaction
Preston 1-3 Man Utd
Manchester United boss Louis van Gaal: "I was reasonably satisfied. We didn't give anything away. The fights between Kevin Davies and the defenders was difficult but we didn't give anything away. The Preston goal was a little bit unlucky, it was deviated.
"But then we showed an unbelievable team spirit. We changed the shape and that was the solution. We scored fantastic goals, a little bit lucky also I think. I liked the second goal a lot, we have trained that a lot.
"Marouane Fellaini has a body, he also scores goals. I played him in the position that he wants for the first time but I do not always have a position for him. The spirit was better."
England manager Roy Hodgson will not be drawn on any of the season's breakout English performers. Will he pick any of them in his next squad next month? Surely...
Kevin Kilbane
Former Preston winger at Deepdale on BBC One
"For the penalty, there's no contact on Wayne Rooney. It's a dive."
Kevin Kilbane and Phil Neville do not agree about the Manchester United penalty. Kevin Kilbane is adamant that it was a dive by Wayne Rooney. Neville insists Rooney had to get out of the way.
Kevin Kilbane
BBC Radio 5 live
"Scott Laird gave the supporters a moment the will savour. I think David De Gea should've saved it and it's maybe an own goal with a touch of Antonio Valencia. Preston had a good spell after that and Joe Garner had a good chance, but he just couldn't generate enough power with a header. That was their moment, and United took control after that."
Phil Neville
Former Manchester United defender at Deepdale on BBC One
"It's tough to criticise David De Gea who has won so many games for United this season The changes made the difference for United. It created space for them. For the penalty, Wayne Rooney had to get out the way. For me it's a penalty and a reckless challenge."
England manager Roy Hodgson, speaking on BBC One: "The substitutions and change in style with Marouane Fellaini up front alongside Wayne Rooney helped Manchester United. When the equalising goal goes in as the home side a little bit of air goes out of your balloon. Tonight there were two winners - Manchester United win and go through. But Preston are winners with their performance and effort."
Manager reaction
Preston 1-3 Man Utd
Preston boss Simon Grayson: "Our players thought Wayne Rooney was in the way for their first goal but we can see that he wasn't. The players can be very proud, we gave them a good game.
"We looked like we were comfortable but when they went 4-4-2 they exposed us down the sides. They have class. The players can wake up in the morning and be proud of what they've done.
"They've not let the game pass them by and we hope to use this as motivation for the rest of the salon. Our sole aim for the season was promotion."
Scunthorpe, Walsall, Oldham. Back to League One reality with a bang for Preston. That's their next three games.
England manager Roy Hodgson speaking on BBC One: "It seems to me the longer that Louis van Gaal works with the players the better they will get. It's also incredible how well Wayne Rooney does in so many different games, in different positions."
Manager reaction
Preston 1-3 Man Utd
Manchester United midfielder Marouane Fellaini: "We knew it would be very hard but we win today and that's the most important. We changed the game, we know the quality of Ashley Young, he can cross and it was an important substitution.
"I like to play forward, I can score goals but the manager is the boss."
Phil Neville
Former Manchester United defender at Deepdale on BBC One
"They keep showing great spirit. Louis van Gaal made changes and it won them the game. It's a massive tie in the next round and they are building a bit of momentum now."
One defeat in 19 games for Louis van Gaal's Manchester United side now. With all of the money they have spent, and the star players they have brought in, you'd expect no less. But they still don't convince do they? It's a mismash of a squad if you ask me.
Have your say
Preston 1-3 Man Utd
You can have your say on tonight's match on the 5 live social.
Is time running out for Radamel Falcao at Manchester United? And is Louis van Gaal a footballing genius or do his tactics prove he's a little bit desperate? Are supporters running out of patience with their manager?
Call: 0500 909 693
Sandipan in London: Against Burnley and now against Preston, the moment we switched to 4-4-2 with two wide players, our whole outlook changed. We started creating chances, breaking down the opposition down, and became menacing, organised and purposeful in attack. What a turnaround now. All we need is Louis van Gaal to realise this (happened twice now) and stick with this set up and formation! No more arguments, this is it! Ander Herrera blossoms in the middle alongside Daley Blind too.
FULL-TIME
Preston 1-3 Man Utd
All over. Preston are out and Manchester United go on to face Arsenal in the last eight.
Huge applause around Deepdale for the home side's efforts.
Preston win a corner - is that in?! Scott Laird flicks it on, David De Gea makes a save and Ashley Young clears from off the line! Good defending from Young.
Martin Keown
Former Arsenal defender at Deepdale on BBC One
"I know Manchester United have won this but Louis van Gaal is taking too long to find out his best system and the right personnel on the pitch in games. The top managers see these things much sooner."
FOUR MINUTES added on. A dodgy offside call and a dodgy penalty call will be the talking points after the game.
That's a kick in the teeth for the home fans. Or perhaps somewhere more painful. Preston have given their all but Manchester United have played well for about 15 minutes in total, and that has been enough.
Martin Keown
Former Arsenal defender at Deepdale on BBC One
"The goalkeeper has come from a long way back and is nowhere near it. Once he goes down Phil Dowd has no choice but to give that. The penalty was emphatic from Wayne Rooney - he knows what he wants to do and no goalkeeper is saving that."
GOAL
Preston 1-3 Man Utd - Wayne Rooney (Pen)
Wayne Rooney has a goal in 2015 - it's his first of the year and he buries it. Right into the roof of the net.
That settles it. United will face Arsenal in the quarter-finals.
PENALTY TO MAN UTD
Preston 1-2 Man Utd
Wayne Rooney chases a ball through, Preston keeper Thorsten Stuckmann comes out and tackles him - Rooney goes down and a penalty is given. I don't think there is any contact...
The away fans are singing about Wembley again as Preston send centre-half Tom Clarke up front for the final few minutes. A cash-spinning replay for Preston? They need to fashion one chance...
Martin Keown
Former Arsenal defender at Deepdale on BBC One
"Robinson needed to run with it against the Manchester United defence. He just shot too soon there."
Manchester United right-back Antonio Valencia gives the ball straight to Preston sub Callum Robinson, he has time but tries a shot from way out, hitting it right at David De Gea. Unlike for the opening goal of the night, De Gea stops it.
Chris Waddle
Former Tottenham and Newcastle winger on BBC Radio 5 live
"Manchester United have actually lost a bit of composure in the past few minutes. There's still hope for Preston here in the remainder of the game."
Into the last 10 minutes of a disjointed, disappointing display from Manchester United - but they are close to a place in the last eight. What will the results from this post-mortem reveal?
Join the debate at #bbcfacup
Ashley Wilkinson:
Wonder, if United win this, it'll be considered a deserved, hard-earned win like at West Ham by Louis van Gaal. Again, far from good enough.
Chris Edwards:
Wing play gets a goal, almost like they should have been doing this since the start the fans have been crying out for it for weeks.
Andy Donley:
This, Mr Van Gaal, is why Manchester United play with wingers. Cotton on!
MAN OF THE MATCH
Preston 1-2 Man Utd
Martin Keown has picked his three contenders for the FA Man of the Match, but who gets your vote?
Have your say on the right-hand side of this page, or via the vote tab at the top if you're on your phone or tablet.