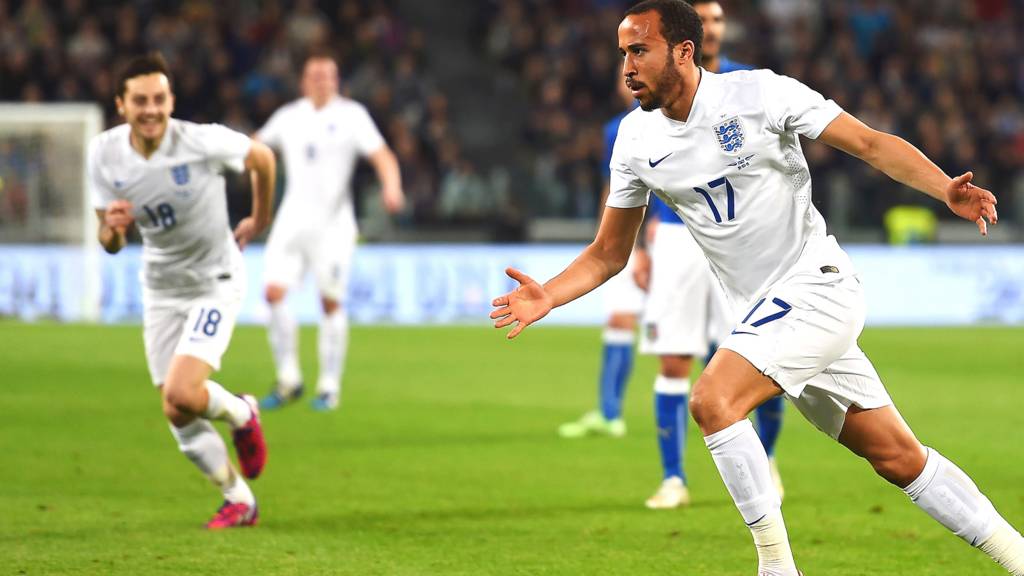 Relive England's draw with Italy
Summary
Southampton's Pelle heads Italy in front
Townsend fires in equaliser from 20 yards
Kane almost wins it late on in full debut
Blink and it's Easter. The football season rolls on, and we roll on with it. See you at the weekend!
Republic of Ireland (a), Slovenia (h), San Marino (a), Switzerland (h), Estonia (h), Lithuania (a), France (a).
Those are England's remaining fixtures in 2015 - as scheduled. Could they keep this nine-match unbeaten run going right through to Christmas?
Ben, Sunderland: International and club managers all bemoan the fact we don't have a Christmas but are happy to waste a week playing meaningless, boring friendlies when the players could be resting instead. Scrap them!
Stuart in Brighton: It's a shame the time we wasted playing with Gerrard and Lampard. Carrick was the answer all along
Michael Carrick has won just 33 caps in the 14 years since his debut. Has he been massively underused? A victim of timing? He was up against Paul Scholes, Frank Lampard and Steven Gerrard to name but three for the most of his career.
Join the debate at #bbcfootball
Mike Hall: British scientists bred Dolly the sheep 20 years ago, so why haven't we developed a new Paul Scholes yet?
So England have learned that they need to build their midfield around Michael Carrick, 14 years after his debut?
'The Phil Jones experiment'
Italy 1-1 England
England manager Roy Hodgson talking to ITV: "In the second half we had really good control, but I was very disappointed with the first half. I thought the atmosphere was dead, both teams were guilty of falling into practice match atmosphere.
"In the second half we got back to our high standards.
"Michael Carrick did very well, that is his position. I experimented in the first half with Phil Jones and he did very well defensively. Phil Jones then stepped into centre back and did very well. It was an experiment but we have to do that in these games. There might be a time where we need a Phil Jones type in that position in midfield.
"Both Andros Townsend and Ross Barkley turned the game. Barkley was was very brave. An outstanding talent and I have got to say a word about Andros. We needed someone to do something a bit of special and he has come up with the goods.
"It means a lot to us. It is no mean feat, to come to Italy and get a result, especially to take the game to them like we did. We are indebted to Andros. I haven't forgotten the first half, we can't allow that to happen. I don't think anything was good enough. We were lucky they were pretty tame as well. It keeps the momentum going."
Roy Hodgson calls Ross Barkley 'an outstanding young talent' and says 'nothing in the first half was what we wanted to see'.
Full reaction to come.
The international break can feel like a drag for some football fans - so rejoice that on Friday there are eight Championship games and a hefty schedule in Leagues One and Two, too. A bonus day! Saturday sees Arsenal v Liverpool and the return of the Premier League, Sunday it's Sunderland v Newcastle and then on Monday it's a full Football League schedule again.
Drink it in.
Check out all of the upcoming fixtures here.
'Carrick the best by a mile'
Italy 1-1 England
England striker Wayne Rooney on ITV: "I think we deserved to win it. We had the better chances. Italy were the better team in the first half, partly because of ourselves, and second half we dominated.
"Overall we are pleased with the draw and it keeps us on an unbeaten run since the summer. I thought the best player on the pitch by a mile was Michael Carrick when he came on. He dictated the play for us and was the difference between the two teams.
"It is a friendly, we are missing players, but a good chance for the players who came to give the manager something to think about."
England's next game by the way is a friendly with the Republic of Ireland on 7 June.
Player reaction
Italy 1-1 England
England goal scorer Andros Townsend talking to ITV: "I was delighted. It was a difficult game and hard to break them down. It was going to have to be a strike from 25 yards to score today. It was all us after the equaliser and we had chances for the equaliser.
"It is a good result against Italy on their home patch. It was a nightmare to be at the World Cup and not play because I was injured. The manager stuck by me through the tough times and every time he has shown me loyalty I have repaid that."
England goalscorer Andros Townsend says it was a nightmare to miss out on the World Cup through injury. Will he be in the squad in France?
Join the debate at #bbcfootball
Aaron Breddy: Much better second half. Look a different team with proper wingers on the pitch
Chris Mitchell: Much better second half. England can be pleased with that showing. Barkley and Townsend added the energy and Carrick the nous
James Brandon: Much better second half. Had the chances to win. Although it was against Italy's B Team
Get in touch at
#bbcfootball
, pop on to the BBC Sport
Facebook page
or BBC Sport's
Google+ area.
You can also text us on 81111 in the UK only - don't forget to say who you are and where you are texting from.
I'm not so sure that international football would suffer if we scrapped friendlies - but I'm prepared to hear otherwise.
What do you think?
'A typical friendly'
Italy 1-1 England
Chris Waddle
BBC Radio 5 live
"It was a typical friendly. Italy don't like friendlies either. The tempo of the game showed that. After 75 minutes it became a football match and England had chances. I am not a great lover of friendlies in modern football, did we learn anything? The players would have done better with a break than having a game."
Danny Mills
BBC Radio 5 live in Turin
"It was a fabulous strike from Andros Townsend, the one bright moment in the game. Roy Hodgson will say it was an experimental team which was inexperienced against Italy who are inexperienced. We are away from home and still unbeaten."
FULL-TIME
Italy 1-1 England
Muted applause from the Italy fans as Roy Hodgson's side pick up a 1-1 draw in Turin. England much better after the break as Andros Townsend bags Gianluigi Buffon's shirt to go with his cracking equaliser.
What did England learn tonight then?
Join the debate at #bbcfootball
Bill: Could be worse. Could be Portugal...
Get in touch at
#bbcfootball
, pop on to the BBC Sport
Facebook page
or BBC Sport's
Google+ area.
You can also text us on 81111 in the UK only - don't forget to say who you are and where you are texting from.
That's what Ross Barkley can do, rolling his man and making 45 yards right down the middle, a great run, he then lays it off to Harry Kane who thrashes in a first-time strike, stinging the palms of Gigi Buffon from 20 yards. A sign of England's future, perhaps?
Incredible! Minnows Cape Verde are 2-0 at half-time against the mighty Portugal. Wow! Only a friendly, but still...
THREE MINUTES added on. Any more goals in this one?
Who had money on the draw? Course you did.
SUBSTITUTION
Italy 1-1 England
Andros Townsend - miles better for his country than his club? - leads another charge on the break for England but his low cross is just about dealt with by a retreating defender.
Italy then threaten at the other end. This game was poor for 70 minutes but is ending pretty well. Ryan Bertrand comes on for Kieran Gibbs.
The game has come alive. Great surge from Italy sub Luca Antonelli, he leaves Phil Jagielka for dead and shoots hard, low and early. The holy trinity, but he drags it just past the far post. Joe Hart didn't have a chance of getting near that.
Danny Mills
BBC Radio 5 live in Turin
"I would love to see Harry Kane get one real, good chance. He has had limited opportunities tonight, but that is not his fault at all."
England ending on a high note. Top C.
Harry Kane and Ross Barkley link up well, spreading the Italian defence but the final cross from the right is cleared away.
Join the debate at #bbcfootball
Ian: Didn't see that coming! Some quality from an England player.
Tim Arstall: I hold my hands up, I did not think Townsend deserved a place but what a goal that is. Delighted to be wrong
Jamie Millar: Andros Townsend might be the only player who is better for England than he is for their club. Cracking strike.
Get in touch at
#bbcfootball
, pop on to the BBC Sport
Facebook page
or BBC Sport's
Google+ area.
You can also text us on 81111 in the UK only - don't forget to say who you are and where you are texting from.
GREAT SAVE!
Italy 1-1 England
Nobody really saw that one coming, but England have improved hugely in this half.
And that's a great chance for Wayne Rooney! Again the build-up is basic., a chip over the top finds the skipper, he's clear on goal but Gigi Buffon comes out well to smother his shot at source.
Rooney could have broken Sir Bobby Charlton's record this week. He's missed some presentable chances.
Danny Mills
BBC Radio 5 live in Turin
"Fabulous strike from Andros Townsend. This is what I am talking about, get the players on who are on the fringes, who want to be out there to prove a point, who are bright and sharp and want to be in an England shirt.
"This is what we want to see, players having a go."
GOAL
Italy 1-1 England - Andros Townsend
Pick that one out! Andros Townsend's third England goal is another fine strike! Ryan Mason touches the ball to him 25 yards out, he slips one challenge and then hits an instant rising drive, scorching past Gigi Buffon's dive and into the far corner. Fabulous goal.
Ciro Immobile spins in behind the England defence and he's away. Fair play to Phil Jones though, he jockeys him well and makes the covering challenge.
From the corner, however, England's latest number eight almost slams into his own net. He had no control over that clearance at all.
SUBSTITUTION
Italy 1-0 England
A debut for England as Ryan Mason comes on in midfield for Jordan Henderson.
A great ball in from Harry Kane! Out wide on the right, he rolls his defender and fires it in to the near post. Great delivery, Wayne Rooney is in there but it slips off the boot of a covering defender and flicks wide of the far post. Much better from England.
Ben in Reading: Ross Barkley and Fabian Delph need never play for the England squad again. We've seen enough.
Get in touch at
#bbcfootball
, pop on to the BBC Sport
Facebook page
or BBC Sport's
Google+ area.
You can also text us on 81111 in the UK only - don't forget to say who you are and where you are texting from.
Phil McNulty
BBC Sport chief football writer in Turin
"This match is a bit of a mess now. There has not been a great deal of quality on show and there seems to be even less now. Italy's fans are doing a Mexican Wave - boredom is setting in."
Wayne Rooney gets a glimpse of goal. It's route one as Kieran Gibbs floats a pass into him, it sits up begging to be hit and Rooney puts the size nine through it. Nice hit, but you'd expect Gigi Buffon to save that all day long. And he does.
SUBSTITUTION
Italy 1-0 England
What can Roy Hodgson tick off his list tonight so far? Phil Jones is not a midfielder, Michael Carrick is? Hope we know that now...
Andros Townsend is now on for Fabian Delph.
Euro 2016 qualifier: Manchester City defender Vincent Kompany has been dismissed for Belgium in their Group B match against Israel. The Red Devils still lead 1-0 and as things stand, go above Wales and top of the pile.
Still 2-0 to Netherlands against Spain, while minnows Cape Verde are doing well to hold out Portugal, scoreless after 20 minutes.
SUBSTITUTION
Italy 1-0 England
Italy are slowly introducing their first team as Marco Verratti comes on for Mirko Valdifiori. Verratti was exceptional for PSG against Chelsea a few weeks ago. He's still just 22.