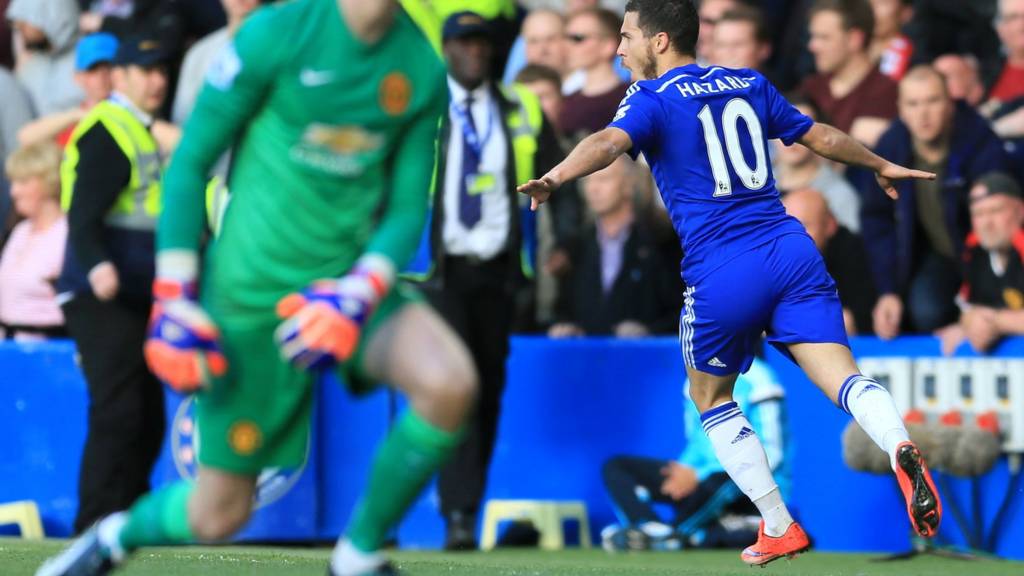 Summary
Hazard scores only goal after neat move
Blues 10 points clear at top of table
Rooney closest for United with early shot
Chelsea's last home PL defeat a year ago
United's first dropped points in seven games
That's all from us for the night - see you tomorrow.
Cesc Fabregas says he will have to wear his protective mask for the rest of the season and he will need an operation in the summer.
Across Europe and some news as Gareth Bale lasted just four minutes of Real Madrid's match against Malaga before picking up an injury.
Problems for the second leg of the Champions League semi-final?
Follow our European live page here.
Watch the winning goal
Reading 1-2 Arsenal
Chelsea have now gone 12 games unbeaten; the current longest run in the top-flight.
This was the 102nd Premier League clean sheet Chelsea have kept under the stewardship of Jose Mourinho in 190 games.
Join the debate at #bbcfootball
Chelsea 1-0 Man Utd
Joshua Okumu: Chelsea played negative football and won. No wonder they didn't make it in Europe. Great football from United.
Jamie McKellar: Chelsea did what they had to do today, professional as ever! Harsh on Herrera mind
ARSENAL REACH FA CUP FINAL
Reading 1-2 Arsenal
LvG does Abba
Chelsea 1-0 Man Utd
Manchester United manager Louis van Gaal: "In my opinion it was the best performance we have had this season. We were not effective because we have created, despite the defensive organisation of Chelsea, three chances in the first half and eight in the second half.
"That is unbelievably good. We were the dominant team on the pitch but we lose. Everything is the result.
"Everybody can have his own opinion and the winner takes it all. It's a song, but it's like that.
"The title is not definitely gone because we can still win 15 points."
Manager reaction
Chelsea 1-0 Man Utd
Chelsea boss Jose Mourinho: "Six games to play, three at home three away. Every game is difficult, every team needs points. But out situation is very good.
"It was difficult but less than you think. We prepared for the game to be like this. It was the game we wanted and expected. Control their direct football to Fellaini and control the wingers from making crosses on the inside foot. When we know Rooney plays in midfield we control his progression into the box. Control set-pieces and don't give away direct free-kicks as they have three specialists. Wait for a mistake and score a goal. It was what we wanted it to be. We are happy because the work we did in the week was what happened here.
"De Gea should see red because he had a handball outside the box. That is the only situation where he can speak. Apart from that the referee did a good job. [On the Herrera potential penalty incident] If it is Chelsea player nobody speak about anything else but diving for a week.
"I feel we are almost there but there are no almosts in football. We need eight points to be champions. It is pure mathematics."
Join the debate at #bbcfootball
Chelsea 1-0 Man Utd
Dave: Herrera the one creating the contact, not the other way round! No pen. Great call from the ref.
Critical Richard: De gea not sent off for clearly handling outside the area and yet its Chelsea who are lucky ... whatever makes you feel better
Steve Found: it's not Chelsea's fault that United couldn't beat a team with both preferred strikers out & played nearly twice as many games.
Top class interviews from both managers. Louis van Gaal declaring his side's performance the best of the season but Jose Mourinho insisting that the game was exactly as he planned.
'We made them disappear'
Chelsea 1-0 Man Utd
Chelsea manager Jose Mourinho: "We need our points but if they come against teams in second or in third it helps us. Today we won three points and our direct opponent lost three points. We are focussed on us, we have six matches to play and we need eight points.
"The game was exactly the game we want. The only thing we couldn't do was to kill the game with a second goal. We were able to make their important players disappear. Nobody saw them. They were in our pockets.
"Football is talent but strategy is also important."
"Did it please you to win a game like that? "I love it."
Manager reaction
Chelsea 1-0 Man Utd
Manchester United manager Louis van Gaal: "I am not frustrated I am proud. Why should I be frustrated? We played the best match of the season.
"In my opinion that is the main decision of the referee [the potential penalty incident involving Ander Herrera] Maybe you can watch the replays on television."
'We have dominated the champions in waiting'
Chelsea 1-0 Man Utd
More from Wayne Rooney talking to BBC Sport:
"It was a very good performance. We dominated in terms of possession and chances but we didn't take any and it has cost us.
"We have dominated the champions in waiting. It was a good performance from the team.
"On another day we would score three or four goals. We knew we had the players who could dominate. We are proud of the performance.
"Chelsea know how to slow the game down and get the referee on their side, which they did today very well. They have won the game so I am sure they are going to be champions."
Louis van Gaal has a face of thunder and simply says: "It doesn't matter how I feel."
Full reaction to come.
'Our best performance of the season'
Chelsea 1-0 Man Utd
Manchester United midfielder Wayne Rooney talking to Sky Sports:
"We dominated the game, had the best chances and we are a team that is improving. It was always going to be tough to win the title and today confirmed that.
"I am proud of the team that we dominated the game so much. It is probably the best performance of the season against the champions in waiting.
"We have had a lot of injuries. I have said before, if the manager wants me to play midfield I have no problem in doing that."
Manchester United have suffered more Premier League defeats against Chelsea than versus any other side (16).
The Red Devils have failed to score for the first time in 12 Premier League games and for only the second time in 2015.
FA CUP LATEST
Reading 1-2 Arsenal
Alexis Sanchez has just scored his second of the game to put Arsenal ahead in extra-time. A huge goalkeeping clanger too.
You can watch that game and follow minute-by-minute updates in a separate page -
click here to follow action from Wembley.
'You never know'
Chelsea 1-0 Man Utd
Chelsea forward Eden Hazard talking to Sky Sports:
"It is always good to win against Manchester United. We have to win two or three more games.
"It was very difficult, they played very well. They are very big players and we are lucky to score maybe in the first half.
"I try to score, to create something and today I did very well. That's my job.
"We are close but it is not finished. In England you never know."
'Happy to see Rooney in midfield'
Chelsea 1-0 Man Utd
Chelsea captain John Terry talking to Sky Sports:
"It was a massive win and we are delighted with that ahead of Arsenal next week. They dictated the game better than we did.
"We have not been playing as well as we can of late but we have been grinding out results and we did that again.
"We were delighted to see Wayne Rooney in midfield. A phenomenal player and such a threat in that role behind the striker.
"We have dipped a bit but we are still picking up results and that is a sign of champions. It has been four years since we won the league and we are very determined. Still not done yet."
Join the debate at #bbcfootball
Chelsea 1-0 Man Utd
Steven Taylor: Chelsea once again win with a lucky 1-0. Herrera's yellow was ridiculous too
Dewi Evans: when a player, 'looks for a foul', and wins it, there's nothing wrong, so how is what Herrera did any different?
Nathan Rowley: This is the way to win the league, surely now hazard deserves player of the year over de gea!
John Terry hits the nail on the head when he says: "We've not been playing well but we've been grinding out results."
EXTRA TIME
Reading 1-1 Arsenal
No goals in the opening seven minutes of extra-time at Wembley. Penalties on the cards?
You can watch that game and follow minute-by-minute updates in a separate page -
click here to follow action from Wembley.
Huge celebrations at Stamford Bridge. They know how close they are to a first league title since 2010.
FULL-TIME
Chelsea 1-0 Man Utd
All over. Chelsea edge closer to the title.
PENALTY APPEAL
Chelsea 1-0 Man Utd
I tell you what! Ander Herrera goes down inside the area as he latches on to a loose ball and referee Mike Dean books him for diving!
Definite contact. But did Herrera move his leg into Gary Cahill? Big call.
SUBSTITUTION
Chelsea 1-0 Man Utd
And now another change. Canny.
Eden Hazard gets a standing ovation as he is replaced by Willian. Goalscorer. Matchwinner?
SUBSTITUTION
Chelsea 1-0 Man Utd
Jose Mourinho makes a change to eat up the game clock. Cesc Fabregas is replaced by John Mikel Obi.
606 phone-in
BBC Radio 5 live
The lines are open for 606 with Kelly Cates and Kevin Kilbane.
They want your reaction to the outcome of the FA Cup semi-final between Arsenal and Reading.
Leicester are of the off the bottom of the Premier League for the first time since November - can they pull off a great escape?
If Chelsea go on to beat Manchester United - is that the title completely over?
We also want to hear from fans of Bristol City, who were confirmed champions of League One and Burton Albion - who were promoted from League Two today.
Call: 0500 909 693
Text: 850 58
We're
BBC 606 on Social media.
That hurts! Chris Smalling catches Eden Hazard in the head with his knee as he appeals for a free-kick on the floor. Ouch indeed.
FOUR MINUTES added on.
BBC Sport chief football writer Phil McNulty at Stamford Bridge
"Final whistle and victory in sight for Chelsea now. Manchester United have been dominating possession but once again they have ran into a blue wall of resistance built by Jose Mourinho's organisation. Even if they lose, however, Louis van Gaal's side have confirmed again that they are now a very different proposition from earlier in the season."
The Chelsea fans can be heard for more or less the first time all game. Still United have the ball, still Chelsea look happy enough to let them have it.
FA CUP LATEST
Reading 1-1 Arsenal
A chance! And he knows it. Wayne Rooney gets away from John Terry to meet Angel Di Maria's corner and he heads over the bar. He's not scored against a team managed by Jose Mourinho in 15 games.
Manchester United have had a whopping 70.7% of possession. That's massive. But it will count for nothing unless they can find a way through.
SUBSTITUTION
Chelsea 1-0 Man Utd
Luke Shaw has been impressive this afternoon but he can't finish the game, on comes Tyler Blackett in his place.
Ten minutes for United to salvage something - or for Chelsea to pick them off.
Join the debate at #bbcfootball
Antony Wilson: It's refreshing for United to be the better side yet losing. They now know how half their opponents have felt this season.
Edward Small: I understand the frustration but Mourinho knows how to win titles and big games. Besides, his sides score when he wants them to.
Ross Samski: The fact Chelsea will win the Premier League playing Sunday league football goes to show what a poor season it's been. Quite embarrassing.
HITS THE WOODWORK
Chelsea 1-0 Man Utd
Radamel Falcao shows a glimpse of what he can do, fine movement to slip in behind Kurt Zouma and break into the box, he hits a left-footed drive but it rattles against the outside of the post!
As close as United have come.
FA CUP LATEST
Reading 1-1 Arsenal
A lovely give and go from Eden Hazard but he drags his shot at David De Gea. Hazard a class above this afternoon - player of the year?
Chelsea 15 minutes away from another win. A foul throw from Branislav Ivanovic! You don't get many of those in a season.