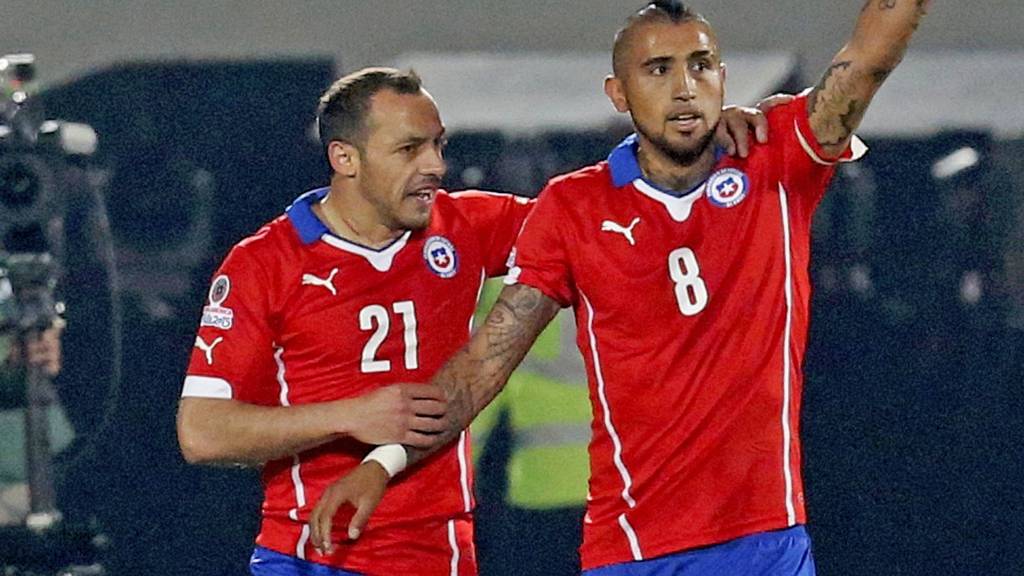 Copa America: Chile v Ecuador
Summary
Hosts Chile have never won Copa title
Juventus midfielder Vidal wins & scores penalty
Three Premier League players in Ecuador side
Final played on 4 July
And that's a wrap from us for the night!
Thanks very much for your company as ever. Vamos!
Bit of a scuffle in the tunnel, I can't quite make out who's involved but insert Latin stereotypes about temperament here. There are an awful lot of hard-looking men in mafioso style coats though. Don't ask too many questions.
Good points Noel. I guess we shall see in time.
Chile next face Mexico on Monday before rounding out Group A against Bolivia.
Join the debate at #bbcfootball
Noel Fitzpatrick: Chile all guns blazing, great to watch but they can't slow a game down and not sure they'd cope with going a goal behind.
FULL-TIME
Chile 2-0 Ecuador
RED CARD
Chile 2-0 Ecuador - Matias Fernandez
Oh dear. How to ruin your big night! Chile go down to 10 men as sub Matias Fernandez makes a poor tackle, poor rather than horrific, but he is high and sees red.
Almost a sensational goal! Chile pick through the Ecuadroian press, Arturo Vidal frees Alexis Sanchez down the left, he could square it but wants a goal himself, greed is good, he's inside onto his right foot, delays, puts a defender down, it all opens up - but his shot is brilliantly blocked!
Thriller. Thrilling stuff.
Have Chile shown that they can be real contenders to win the Copa tonight?
Quite possibly. They have not been tested defensively but their midfield is excellent and Alexis Sanchez will be a thorn in any side's side, so to speak.
So it's going to be two goals and three points for Chile tonight, and one job very well done.
GOAL
Chile 2-0 Ecuador - Eduardo Vargas
A crucial minute! Ecuador hit the bar, Chile counter and score.
It's a horrible mistake from Fidel Martinez too, the Ecuador man playing a blind pass back from the halfway line which goes straight to Alexis Sanchez. He drives on and tees up Eduardo Vargas, and he makes no mistake, across the keeper for goal number 19 in 43 caps.
HITS THE WOODWORK
Chile 1-0 Ecuador
But there is a big chance for Ecuador! Enner Valencia gets up well to meet a ball back into the box and he thumps a header against the crossbar!
Ecuador have 10 minutes to fight back. But in truth they have barely tested Claudio Bravo thus far.
Well I did say I had done no research into the weather in Chile! But thanks for pointing out my gross ignorance. Cold in Chile in June? Who knew?Everyone apart from me.
Join the debate at #bbcfootball
Chile 1-0 Ecuador
Foster: Came to Chile for the summer, however Winter has definitely come as its rather cold these days! Nearly ski season!
Matt Ridgway: Tom Rostance #BBCFootball...it's mid winter here in #Chile...expecting -1C tonight..
There are lots of lovely images of that spot-kick coming in already. Huge global media interest in this competition of course. Just wait until Lionel Messi steps out onto the pitch.
What have Ecuador got in the tank? They can't get the ball at the moment so they'll have a job fighting back. Chile bring on Matias Fernandez for Jorge Valdivia, playmaker for playmaker.
That penalty award was a bit soft but there's no denying the fact that Chile deserve their lead.
GOAL
Chile 1-0 Ecuador - Arturo Vidal (Pen)
GGGGGGOOOOOOOOOOOOOOOLLLLLLLLLLLLLLLLLLLLLLL!
Arturo Vidal steps up and puts his size nine right through the ball, bang! You do not save those. Top corner.
PENALTY to CHILE
Chile 0-0 Ecuador
Arturo Vidal cuts in from the right, can he get a shot away? No, he goes down and a penalty is given! Miller Bolanos had an arm on his shoulder and the Juventus man went to ground...
As Noel pointed out [01:58] this is a bit like watching Arsenal. Chile craft some wonderful looking moves but they tend to look for the killer ball when sometimes a shot is on. Alexis Sanchez and Jorge Valdivia are involved but there's no shot but hang on!
The game is getting stretched now as both sides start to look leggy. It's been a high tempo game in (what I can only imagine) are sweltering conditions. I'll be honest, no research has gone into that last point. It looks hot though.
Alexis Sanchez remains the most dangerous looking player on the pitch but Enner Valencia is starting to throw his weight about for Ecuador.
Tears. Tears of pain as Ivory Coast miss a chance to equalise with the very last kick of the game and Thailand hang on to take the win...
Join the debate at #bbcfootball
Chile 0-0 Ecuador
Noel Fitzpatrick: Cracking game but Chile trying to score Arsenal goals...need a few shots from distance
Ecuador will be pleased with 0-0 thus far - but they could also really poop this party with a win tonight. Enner Valencia gets a shot away and Claudio Bravo does well to get down and make the save.
Jorge Valdivia is your Robin Friday, your Rodney Marsh of Chilean football.
The number 10 was once given a 20-match ban for vandalising a hotel and later got another 10-game ban for missing a team meeting after going out with five team-mates after the baptism of his daughter.
Her head was well and truly wetted. He's a character for sure but also capable of unlocking this Ecuador defence...
No holds barred stuff as Ecuador's Osbaldo Lastra smashes the back of Jorge Valdivia. He is incensed by that challenge and the Ecuador man is lucky to get away with it. A proper reducer.
KICK-OFF
Chile 0-0 Ecuador
SUBSTITUTION
Chile 0-0 Ecuador
Chile make a change as Jean Beausejour comes off at the break, with another former QPR man Eduardo Vargas on in his place.
Chile have attempted 314 passes so far - no team made more in the first half of a game in the last Copa America in 2011. They have been impressive in the middle third.
She did, but you don't want to miss this.
Watch as Ivory Coast's Ines Nrehy misses
an almost open goal against Thailand with the scores tied at 1-1 in the side's Group B match at the 2015 Women's World Cup in Ottawa.
Half-time reading? You love a bit of gossip, don't you?
Here are the top stories from the Friday newspapers:
Liverpool could hijack Chelsea's bid for unsettled on-loan Manchester United striker Radamel Falcao, 29. (Daily Star)
Manchester United are ready to bid for Tottenham striker Harry Kane, 21, with chief executive Ed Woodward determined to lead the negotiations. (Manchester Evening News)
Arsenal and Manchester United target Jackson Martinez, 28, is on the verge of a move to a top European club, according to the Porto striker's agent. (Daily Mail)
Click here to read the full gossip column
Join the debate at #bbcfootball
Chile 0-0 Ecuador
Ugali Ujang: Haha! Alexis Sanchez is pure joy to watch..!
HALF-TIME
Chile 0-0 Ecuador
And there's half-time. Excellent watch so far, just lacking a goal.
Claudio Bravo hasn't had much to do in the Chile net, but he turned on the style when he made one flying save to keep out a shot from Fidel Martinez.
Brilliant atmosphere in Santiago tonight. Lovely stuff.
Arturo Vidal and Alexis Sanchez link up again, some marvellous one-twos on display in this first half from Chile. They're just lacking the goal their enterprise deserves.
Mauricio Isla and Arturo Vidal link up beautifully down the Chile right but Isla's low cross is just about smuggled away. A long ball over the top then finds Jorge Valdivia but the mulleted maverick can't bring the ball down.
Moments later Isla shoots wide after another neat move. Lovely, lovely football!
Chile pump in a cross, Ecuador centre-half Walter Ayovi heads it clear. And again.
That's not going to cut it.
You can certainly see why Mauricio Isla ended up at Juventus. He's been terrific at right wing-back for Chile. I'm not sure why he didn't do more for QPR to be honest.
YELLOW CARD
Chile 0-0 Ecuador
Former West Brom man Gonzalo Jara has gone into the book for an off the ball incident, Ecuador having more of it now. A few nerves around the place perhaps?
YELLOW CARD
Chile 0-0 Ecuador
Oooof! Ecuador striker Fidel Martinez with a tackle befitting this time of night. Late, high and rash. A booking.