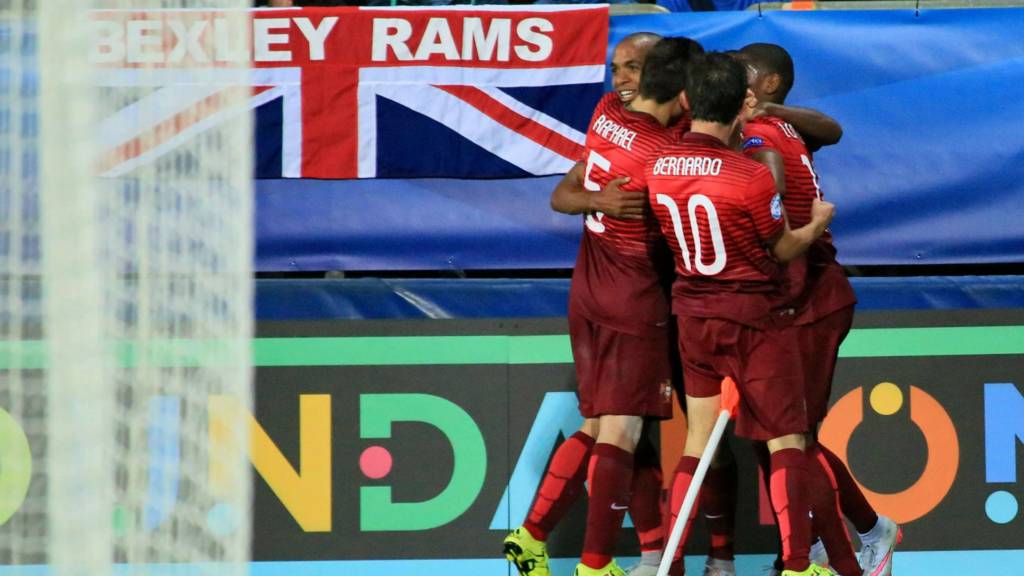 Euro U21: FT: England 0-1 Portugal
Summary
Mario slots home after Silva hit post
Kane close on several occasions
England play Sweden on Sunday
Sweden earlier defeated Italy 2-1
And that's us done for the night. See you Sunday for England's next game against Sweden.
Indeed, Ian, indeed. William Carvalho was a tank in the midfield, he's got the lot. I wouldn't expect him to stay at Sporting for much longer.
Join the debate at #bbcfootball
Ian Dennis
BBC Radio 5 live senior football reporter
"Portugal under Rui Jorge not lost competitive match in 3 years and 8 months. Excellent team with Arsenal target Carvalho impressive."
Portugal coach Rui Jorge: "I'm very happy to obtain victory against a very good team with talented players and a lot of quality. They are very strong in attack, scored in 17 games straight and so I'm very happy."
'We still have a fantastic chance'
England 0-1 Portugal
England boss Gareth Southgate: "We always felt it would be a very tight game and that's how it proved. The goal we gave away is an incredible bit of bad fortune.
"Our build-up play was good and we looked a threat, one goal was always going to decide it. We have to move on quickly, my experience of tournaments is that if you don't react well then you have no chance in the next game.
"We still have a fantastic chance of going through. The next two matches are matches we can win. I knew that Portugal are as good as anything in the competition."
I've tried hard not to make a joke about that Louise. Very hard.
Will Louise or her boyfriend be celebrating on Sunday though?
Join the debate at #bbcfootball
Louise Engelbertsen: As a Swede this has changed my plans. Thought I could enjoy a nice Sunday with the boyfriend, but now we have to go to separate pubs.
'No shame in losing like that'
England 0-1 Portugal
England goalkeeper Jack Butland: "It was an unlucky break but there is no shame in losing like that. We had plenty of chances and on another day that goes our way. We had plenty of chances and if we play with that intensity we will be OK.
"Once we got through the lines we hurt them. We have to be positive now and carry on that momentum."
Mark Lawrenson
BBC Radio 5 live
"It was most definitely a step-up in terms of quality for England from their qualifying campaign.
"Portugal weren't that much better but I felt that in their front three they had a bit more. Tom Carroll and Jesse Lingard were disappointing but every time they managed to get the ball to Harry Kane he created something.
"I know we keep talking about Kane but if you have a player with his ability then try to get the ball to him more often.
"Italy looked quite ordinary to me against Sweden. I think England are better than the two teams they have got to play but they have got to beat them."
Text us on 81111
England 0-1 Portugal
Daniel in Derby: Disappointing but it has been the best England tournament performance of the decade. Great effort lads!
Tom in London: So much negativity! Give the boys a chance. Decent performance against potential winners who drafted in a top senior player.
Will Gareth Southgate be tempted to make many changes for the Sweden game?I would imagine that Alex Pritchard may be close to a recall, he was excellent once he came on. Danny Ings too maybe.
Mark Lawrenson
BBC Radio 5 live
"To be quite honest, it is a disappointing result for England but of all of the eight teams we have seen, Portugal are most definitely the best.
"This was really, really close and from Gareth Southgate's point of view, he can sit them down and say to them that they played quite well. I don't think against Sweden and Italy that he needs to change many things.
"What they have got to do on Sunday is give Harry Kane more help. If England can do that then I'm pretty sure they will qualify."
What next for England?
England 0-1 Portugal
England now probably need to win both of their remaining games to go through to the semi-finals.
First up they face Sweden on Sunday, before Italy on Wednesday 24 June. All of those games are live with us here and on BBC radio 5 live.
Join the debate at #bbcfootball
England 0-1 Portugal
David Wright: I'd much rather watch the U21s over the seniors. Valiant effort, clear passion and pride. Take note Roy...
No positivity out there? Plenty to see for me.
England had 19 efforts on goal tonight.
Join the debate at #bbcfootball
England 0-1 Portugal
Sanj: Looks like we're getting a preview of next summer. Win all our easy qualifying matches then tank in the group stages
Dan Hayes: Consummately English tourney performance from the U21s. Sterling work by @GarethSouthgate prepping for the seniors
Just Gareth Southgate's second defeat in charge of England, and the first time he has seen his side fail to find the net.
They were decent for the first half, and ended really well too. A slack goal to concede and a quiet 15-minute spell either side of the hour mark has cost them.
FULL-TIME
England 0-1 Portugal
Carl Jenkinson's cross is cleared, Alex Pritchard shoots - deflected away! Corner...
Pritchard puts it in and Jose Sa saves a header well. Unlucky England - they've had some chances tonight!
Portugal clear the corner and send the cavalry on the counter, great cover from Luke Garbutt though to sweep it away. One more push?
England keep coming, Will Hughes has a cross blocked, Nat Chalobah beats one man and it's cleared just as he tried to pull the trigger. Corner ball, in it comes, away...
Harry Kane chips a cross in, it's headed out to Alex Pritchard but it's on his right (wrong) foot and he drags a shot wide from 20 yards.
Final minute.
Alex Pritchard is a lively character and he puts in a dangerous cross which Jose Sa does well to field.
Final few minutes...
Mark Lawrenson
BBC Radio 5 live
"England have got too many players back - they have got to take a chance."
Portugal win a corner after a lovely touch from Bernardo Silva, he's been class the Portugal 10. And another corner. And another.
Fine game management this from Rui Jorge's side.
Final five. Much better from England since Danny Ings came on but it's not going to be enough. Or is it?
SUBSTITUTION
England 0-1 Portugal
Portugal withdraw goalscorer Joao Mario and wunderkind Ruben Neves takes his place. Seven minutes remain.
CLOSE!
England 0-1 Portugal
Lovely effort! Danny Ings fires in a dipping strike from 20 yards after Carl Jenkinson finds him but the Liverpool man's effort drifts wide. England ending really well. Don't rule out a late goal...
Text us on 81111
England 0-1 Portugal
James Sheffield: Pritchard along with Garbutt was the best player on park at Barnsley last week, can't believe he didn't start tonight!
Harry Kane is a man possessed. He beats one man for strength, and pace, hustling past on the edge of the box but seeing a shot blocked. Belief?
England now playing four men right up front. Kitchen sink time.
Mark Lawrenson
BBC Radio 5 live
"England need to push up and try to play down the other end of the field. However, the Portuguese goalkeeper remains totally unconvincing."
GREAT SAVE!
England 0-1 Portugal
Instant impact from Alex Pritchard, carrying the ball high up the pitch and finding Harry Kane inside the area, Kane shoots early and hard but it's right at Jose Sa in the Portugal goal! Chance.
SUBSTITUTION
England 0-1 Portugal
Final change for Gareth Southgate as Tottenham midfielder Alex Pritchard - on loan at Brentford last season - replaces Tom Carroll. Can the number seven find the answers?
We asked in our vote how far you think England will go in this tournament.
Well, 42% of you reckon that Gareth Southgate's team will make the last four. Of course, quite a few of you may have voted before they fell behind.
One in five went for the group stage, with 23% voting that England will win the tournament.
They could sure do with a goal right now.......
I have to concur with Lawro that this Portugal side look the best in the tournament on the evidence of the opening fixtures. Germany have some big names but they didn't play well yesterday. England will be hoping that they can still get out of the group and have the chance to find out how good Germany are.
Fifteen to go. Could be a long 15 minutes too, England have lost their momentum and their shape.
Mark Lawrenson
Former Republic of Ireland defender on BBC Radio 5 live
"The last two set pieces from England have been very poorly delivered.
"What the Portuguese are doing very cleverly when they are breaking is to get two guys out wide quickly and that engineers a little bit more space for their team."
Danny Ings' first touch is a defensive header to clear his lines. He needs to get up alongside Harry Kane and try to make something happen. England were bright in the first half but they've faded badly.
SUBSTITUTION
England 0-1 Portugal
Luke Garbutt wastes another free-kick for England. He's better than that. Poor.
Portugal introduce Iuri Medeiros into the action while Liverpool's new man Danny Ings is on for England in place of Jesse Lingard. He has 18 minutes to fashion a chance or two.