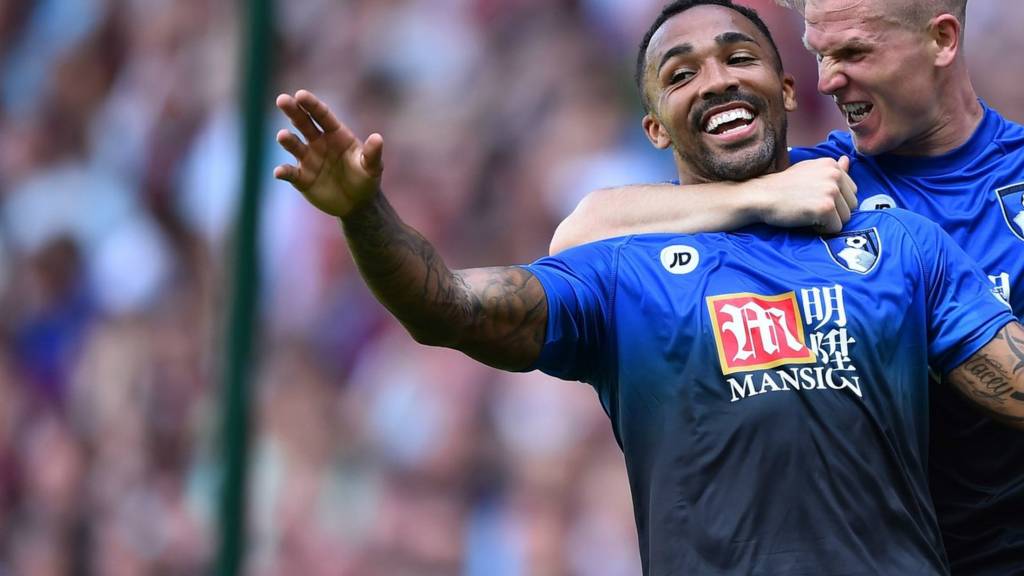 Saturday football: Reaction
Summary
Wilson treble helps Bournemouth beat West Ham in thriller
Sako scores Palace winner against Villa on debut
Defoe goal gives Sunderland first point of season
Mahrez earns Leicester point after Alli's Tottenham opener
Diouf opened scoring for Stoke, Martin levelled for Norwich
That's that from us. Make sure you return for more Premier League live text commentaries on Sunday.
BBC Match of the Day Social
If you've missed it we have an addition to Match of the Day this season.
As always you can watch it online (and on BBC One) from 22:20 BST, but we now run a live text alongside it which we encourage you to join in with on social media.
It will also add stats and extra information you can't get on the show - a dual-screener's dream.
Chelsea manager Jose Mourinho has come unstuck against managers whose surnames start with 'P' on the last six league meetings - Pulis, Poyet, Pardew, Pochettino, Pulis, and Pellegrini. 
Pedro's Premier League debut?
West Brom v Chelsea (13:30 BST)
One new signing who might make his Premier League debut is Pedro, the celebrated forward who signed for Chelsea from Barcelona this week.
Of course, this is the Pedro who could have been wearing red and playing against Newcastle today.
On Friday, Blues manager Jose Mourinho said Chelsea did not intend to "beat" Manchester United to the signing of £21m player.
"I only want to beat Man United on the pitch," said the Portuguese boss.
"I don't want to go in that direction. Our job is not to get a player another club wants."
Sunday's Premier League action
There is live text commentary on three Premier League matches on Sunday.
We start with West Brom v Chelsea (13:30 BST), then the two 16:00 BST games are Everton v Manchester City and Watford v Southampton.
Get involved - have your say

606 phone-in
BBC Radio 5 live
If you head on over to BBC Radio 5 live right now you'll be arriving not too long after the start of football phone-in show 606.
The lines are open and you can have your say. 
Call 0500 909 693 or text 85058.
Happy Alli
Leicester 1-1 Tottenham
Here are the thoughts of star-in-the-making Dele Alli, who scored his first Spurs goal.
The former MK Dons midfielder grabbed the opener at the King Power Stadium, before Riyad Mahrez grabbed the equaliser, and his fourth Premier League goal of the season.
HALF-TIME
Cardiff 1-0 Wolves
The Welsh club scored just before half-time to take the lead in this Championship 17:15 kick-off.
The goalscorer? Kenwyne Jones, who has been linked with a move to Sheffield Wednesday.
Stoke's Butland wowed by crowd
Norwich 1-1 Stoke
The 20-second match report
Sunderland 1-1 Swansea
How do you sum up 90 minutes of football in 20 seconds of video? 
Match of the Day commentator Conor McNamara shows how. 
What else is happening this weekend?
We have three good games for you tomorrow with West Brom hosting Chelsea, Manchester City visiting Everton and Watford facing Southampton.
On Monday, it's Arsenal v Liverpool at the Emirates.
Kane's pain at the La... King Power
Leicester 1-1 Tottenham
Rooney's Saturday plans
Man Utd 0-0 Newcastle
Unlike team-mate Bastian Schweinsteiger, it seems that Manchester United striker Wayne Rooney has put today's result behind him.
Cardiff 0-0 Wolves (17:15 BST)
By the way, if you want to follow the latest Championship action between Cardiff and Wolves then click here. It's 0-0 at the moment.
'Lens a lion in Sunderland draw'
Sunderland 1-1 Swansea

"There will have been some harsh words exchanged this week at Sunderland. I've played at the Stadium of Light when the atmosphere isn't positive - it can be an intimidating place to play when things are going against you.
"But Jeremain Lens was outstanding - the way he took the bull by the horns with his creative play, was excellent."
Match of the Day running order
And last but not least...
'Butland outstanding for Stoke'
Norwich 1-1 Stoke

"We saw an outstanding performance from Jack Butland today. He made some incredible saves - and the one when he  denied Cameron Jerome, with the ball already behind him, was brilliant. He was the man of the match for me - he's got Stoke the point today." 
'Hammers need more desire'
West Ham 3-4 Bournemouth
West Ham boss Slaven Bilic: "It went wrong from the start. We played a very bad first half. It is very hard to explain three of their four goals - you can't make errors like that at this level. They were more lively and more aggressive but you can't make those mistakes.
"It's not an alarming situation but we can't continue to play without more desire. We simply need a better mentality."
Help from the fourth official?
Crystal Palace 2-1 Aston Villa

"There was no flag from the assistant referee, but you could tell from the Aston Villa players' reaction that they thought James McArthur was offside for Crystal Palace's disallowed goal. 
"They ran straight over, the referee and his assistant then conferred, and they came up with the correct decision. But because it was about a minute, whether or not the referee got word in his ear from the fourth official, I don't know."
Schweinsteiger disappointed
Man Utd 0-0 Newcastle
Mostyn's lucky suit
West Ham 3-4 Bournemouth
Bournemouth chairman  Jeff Mostyn tells Sky Sports he is wearing the same suit he wore when Bournemouth clinched promotion.
"This morning, having lost the first two games, I decided to bring it out again. Even down to a pair of socks my wife was trying to dry as I was walking out of house, I'm wearing the same things. 
"I'll be wearing this suit for the rest of the season now."
'Butland has a broken finger'
Norwich 1-1 Stoke
I am happy. We had a decent amount of play in the first half but didn't create a great deal today, the conditions took the edge off our game. In the end we are grateful for a number of saves from Jack Butland who was outstanding today. At the moment Jack has a broken finger as well so that shows the strength of character he has. Xherdan Shaqiri will get better the longer he is with us but you can see that he will be a key player for us. He hasn't played much but the 90 minutes today will do him the world of good.

Steve Claridge
Final Score
"For Leicester's equalising goal, the Tottenham defender backed off Riyad Mahrez. That's because people are respecting him now - players are afraid of him, like you would be of Lionel Messi. When the defender backs off that yard from you, it's because he thinks you're going to go past him and it created the space for his shot."  
Leyton Orient head the division after maintaining their 100 percent start with a 3-2 win at Newport . Wycombe remain unbeaten after a late leveller to draw 1-1 at home to Dagenham & Redbridge . Bristol Rovers keep pace with the early pace-setters after beating Barnet 3-1. Hartlepool lost for the first time, 2-0 at Stevenage .
There were away wins for Crawley and Plymouth , and draws at Carlisle , Exeter , Mansfield and Notts County .  Yeovil recovered from two goals down to earn a first win of the season, 3-2 at home to  Luton , and 10-man Portsmouth fought-back from three goals down to earn a point at home to Morecambe . 
'Staggering performance'
West Ham 3-4 Bournemouth
Bournemouth chairman Jeff Mostyn:  "Anyone watching this game over the weekend will be staggered at our performance. I couldn't be more proud of our boys' performance."

"Bournemouth were really unlucky with their result at Anfield on Monday but their reaction has been really impressive. Callum Wilson in particular. He's had to come back from injuries in his career, and first started to score goals at Coventry when they were really struggling. 
"Now I'm looking at him to go on and score 15 goals this season. He's certainly up and running now. Outstanding today."
'I was not expecting this weather'
Norwich 1-1 Stoke
It was a really good game, the fans were great and it's very nice for me to play for 90 minutes. I'm sad that we did not win but a point was good for us in the end. It was unbelievably hot! I was not expecting this in England. But I am glad to be here - it is the best league in the world.
Player reaction
West Ham 3-4 Bournemouth
Bournemouth forward Callum Wilson, who scored a hat-trick, speaking to BBC Sport : "It's a fantastic day on a personal note but the important thing is we got the three points.
"In the first two games I think there were nerves, but today I felt we showed real confidence. 
"There's a few things we need to brush up on but  it's a fantastic result and instils confidence into the team."
Manager reaction
West Ham 3-4 Bournemouth
Bournemouth manager Eddie Howe speaking to BBC Sport: "It was a really strange game. We were in cruise control in the first half but that seemed to go out of the window after half-time when we made some strange decisions. 
"The only disappointment at half-time was that we were not more than 2-0 up. 
"We have been really heartened by the two previous games but when you don't win then naturally the players will question whether we are doing the right things."
Manager reaction
Crystal Palace 2-1 Aston Villa
Crystal Palace manager Alan Pardew speaking to BBC Sport: "We got a real grip in the second half. Villa were terrific today. Regarding the disallowed goal, Macca (James McArthur) was offside when Gayle's shot hit him. The referee got it spot on. 
On matchwinner Bakary Sako:  "We've seen the power of Sako in training. This guy has come in to score goals. This win is for Yannick [Bolasie was given compassionate leave following a family bereavement]."
Man of the match?
Norwich 1-1 Stoke
It's always nice to make some saves and get a point. I was able to produce and it's great when the hard work on the training ground pays off.
Manager reaction
Leicester 1-1 Tottenham
Leicester boss Claudio Ranieri:  "Tottenham kept possession of the ball but we created the same chances and 1-1 is the right result.
"I am happy, My players have a fantastic spirit. It was an outstanding goal and Riyad Mahrez is a very good player.
"It is important to maintain our place in the Premier League. Seven points, 33 less, that is important for us.
"Skill makes the difference and Mahrez has very, very good skill."
'We deserve to be at this level'
Norwich 1-1 Stoke
It's disappointing not to win. We had all the chances in the game but I can't complain with how we played. We were great and Jack Butland made some fantastic saves. There is no question that we deserve to be at this level.
Get Involved
Crystal Palace 2-1 Aston Villa
I would not like to guess how many games Villa have managed to throw away in the last 10 minutes of games over the past three years. We won't do well until games finish on 85 mins. Unbelievable!!
Get involved via #bbcfootball, or post on the Match of the Day Facebook page.
You can also text on 81111 in the UK only - but don't forget to let us know who you are.
Coventry surrendered their 100 per cent start, losing 2-1 to neighbours Walsall . They are replaced at the top by Gillingham , who beat Wigan 2-0 thanks to goals from Bradley Dack. Sheffield United move up to fourth after a third consecutive victory, 2-0 against bottom club  Blackpool . 
Barnsley and Bradford fought-out a Yorkshire derby stalemate at Oakwell. It was also goal-less at Chesterfield and Scunthorpe .  Swindon were the division's only away winners, 1-0 at Southend and there were home wins for  Burton, Fleetwood Port Vale.
'We are disappointed not to win'
Norwich 1-1 Stoke
We are disappointed not to win the game but that shows the standards we set ourselves. We fought back and had enough chances to win the game. If it wasn't for Jack Butland we would have won but that is the quality he has. He should be back in the England squad. We have tremendous belief in our squad and we have the freedom to go and play.
Manager reaction
Crystal Palace 2-1 Aston Villa
Aston Villa manager Tim Sherwood talking to the BBC: "To lose it so late was disappointing. I thought we were very good in the first half. We scored the goal and came back into it. 
"We saw a young player with no fear like Adama Traore. On the flip side you have young players that make mistakes and Jordan Amavi, hasn't made many but he did today and has to learn from it."
Former Everton forward Landon Donovan is not impressed with the cooling breaks this afternoon...
Ipswich remain top after winning 2-1 at Preston .  Charlton , scored a late winner to end  Hull's unbeaten start 2-1.  Fulham scored an injury-time equaliser to draw 1-1 at home to Huddersfield .  Rotherham remain bottom after going down 4-2 at QPR, Charlie Austin scoring twice.
Stephen Dobbie scored Bolton's first goal of the season four minutes into injury time as they drew 1-1 with Nottingham Forest. Burnley earned a first win of the season, 1-0 at home to Brentford. Bristol City upset Middlesbrough, winning 1-0 at the Riverside.