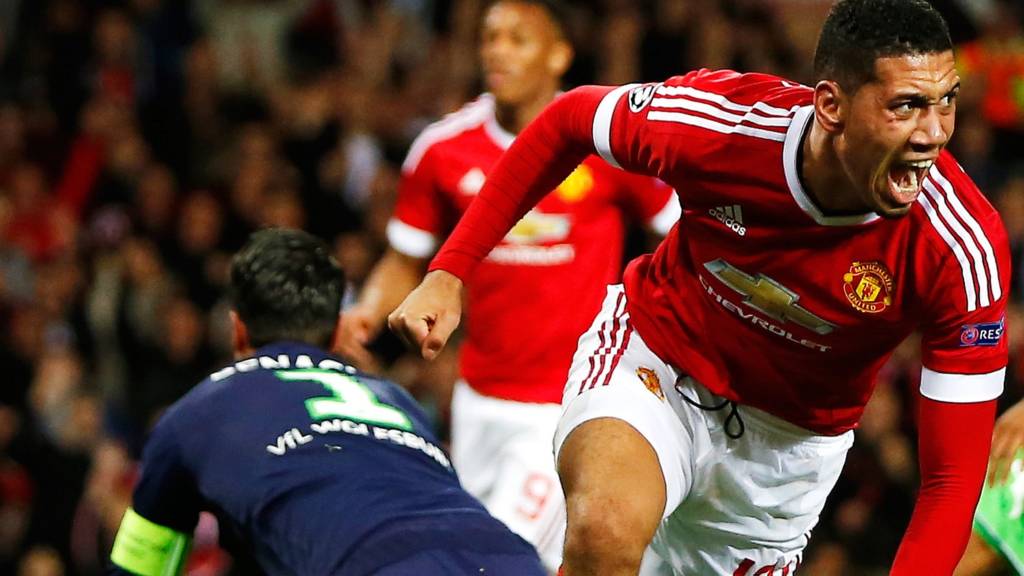 Champions League reaction
Summary
FT: Borussia Monchengladbach 1-2 Man City
Aguero scores late penalty after he is fouled
Hart saved first-half pen after Otamendi foul
Ronaldo equals Real scoring record
Use 'Live Coverage' to watch 5 live Final Score
And that's all folks!
See you tomorrow for the Europa League. Hopefully.
No? Oh come on...
Are you going to tell him or me?
Rafael Benítez, Real Madrid coach, speaking about Cristiano Ronaldo's scoring record: "I hope that Ronaldo doesn't ever stop scoring and that we can keep benefiting from him."  
We need to talk about Cristiano. 
He scored both against Malmo taking his tally to 501 career goals. Not content with that, he also went level with Raul as Real Madrid's all-time top scorer.
But - and here is a stat for you - Raul did it in 741 games. Ronaldo in 'just' 308, that's 433 games to spare. 
The stage is set for him on Sunday when Real travel to the Calderon for the Madrid Derby against Atletico, Who would bet on him overtaking Raul's record there? Not us, that's for sure, 
'Worst game of the season?'

Manchester City midfielder Kevin de Bruyne: "We only played the last half hour, in the first hour it was very difficult for us. This was our worst match this season."
'Penalty was lucky'
Man Utd 2-1 Wolfsburg
Manchester United manager Louis van Gaal on BT Sport: "It was very difficult because they scored so early. Then we did very well, we created a lot of chances. We don't finish it and it was a lucky penalty I think.
"Of course it is a penalty but there are some refs not whistling for that. We have created much more chances, Rooney and Depay could have scored and you finish the game.
"Then we score and after that it was suffering. A lot of players are very tired, a combination of a lot of matches but we didn't give much away. How many chances have we given away? Maybe one.
"We have to keep the ball better in the second half."
From one striker to another
Alan Shearer scored 260 Premier League goals. Cristiano Ronaldo got his 500th career goal today.
If you scored 20 goals a season - still a decent benchmark - you'd have to play for 25 years to get that many...
Kyle Utterson: Those that keep having a go at Wayne Rooney are clueless. He's still top drawer. United are better with Rooney in the team. Rooney's record for club and country is excellent plus his workrate and runs create space for others. 
Meetal Tailor: Good win tonight. Even better given we played with 10 men the entire game. Still wondering where Rooney was? Totally absent. 
Kyunlin: That United came back from a goal down shows the progress we've made. Wouldn't have happened last year.
'A strange game'
Monchengladbach 1-2 Man City
Manchester City manager Manuel Pellegrini: "It was a strange game! For 65 minutes both teams had very good chances to score, we did not defend well. In the last half hour we improved a lot and won the game.
"We knew that Borussia have a very fast team. Joe Hart made some brilliant saves. It could have been 4-4 after an hour but then we dominated the game.
"We got a little bit of luck at the end but we have had plenty of bad luck recently." 
'We didn't play well'
Monchengladbach 1-2 Man City
Manchester City goalkeeper Joe Hart: "We didn't play well today, we were disjointed as we had been in the last few games. But we deserved to win, we had some really good chances. It may have come late but Sergio Aguero is a cool guy and he will score.
"Kevin de Bruyne warned us about them [Monchengladbach], they have some good movement and work themselves into the ground. We won and it puts us in a good position.
"For the penalty no stone is unturned. I've seen a lot of penalties from a lot of players - we have good guys in the analysis department. We always take the scenic route in Europe!"
Sownak Bose: Wayne Rooney was comfortably the worst player on the pitch. Which is basically the usual for him these days. 
Chris Knaggs: To the Rooney bashers: he is the captain and heart of constantly improving team. His game has changed, deal with it. 
Seth Gogo Egoeh: Since Rooney started losing hair his performances follow suit. He's been a big disappointment tonight.
PLAYER REACTION
Man Utd 2-1 Wolfsburg
Manchester United midfielder Juan Mata, speaking to BT Sport: "It was a very tough game because we were physically tired at the end. But we did what we had to do. 
"The manager made a list of penalty takers and I am the first right now and I have confidence. We knew we had to win today. We are happy today."
The whistles have been blown all over Europe. 
In Manchester City's group it's two wins out of two for Juventus. They beat Sevilla 2-0 in Turin, 
PSV, who beat Manchester United last time out, lost 3-2 to CSKA in Moscow.
PSG beat Shakhtar 3-0 in Lviv. They are locked at the top of the Group A table with Real Madrid who beat 10-man Malmo 2-0. 
PLAYER REACTION
Man Utd 2-1 Wolfsburg
Manchester United defender Chris Smalling, speaking to BT Sport:"We started up against it after conceding a goal. 
"But we created a lot of chances and deserved the win. We didn't give them too many chances. We created some ourselves which gave us a deserved victory. 
"We knew they played with two wingers which gave us space, Anthony Martial's pace used that well."
Group B
Man Utd 2-1 Wolfsburg
Manchester United's win means that Group B is all square - all four teams are on three points. Very level. 
Chiemezie Onwubalili: Take that! English football in decline, what nonsense. 
Oluwaseun Badejo: Manchester showing London how it's done in the Champions League. 
Stuart Mitchell: Looks like Manchester are doing their best to keep the English entries at 4 for next season. Can't say the same for London.
Let's not start a north-south divide debate lads. We'll be here all night...
Relief all round
Manchester United 2-1 Wolfsburg

"Boos for the officials as they make their way down the tunnel but it doesn't mask the sense of relief for United fans at the final whistle.
"Sir Alex Ferguson coined the phrase 'Squeaky Bum Time'.
"Seems Van Gaal's United can put their supporters through it as well."
FULL-TIME
Monchengladbach 1-2 Man City

Conor McNamara
BBC Radio 5 live at the Borussia-Park Stadion
"This is an important result which did not seem likely 10 minutes ago. It's a big comeback for Man City. The main positive was the performance of Joe Hart, because Monchengladbach could have been 3-0 up at one point. City will look back and realise they were quite lucky given the first half."
Monchengladbach 1-2 Man City
A shake of the head from Manuel Pellegrini. That sort of entertaining, end-to-end rollercoaster is not what the coaches want.
A belter for the neutral though. And Manchester City are back in business. 
Colin Reardon: Chris Smalling - man of the match by miles. Rooney - abject nonsense! 
Rich Olyott: Smalling motm. Rooney sloppy. 
Stelios Adamopoulos: Man of the match Chris Smalling
FULL-TIME
Monchengladbach 1-2 Man City
Game over. Job done.
FULL-TIME
Man Utd 2-1 Wolfsburg

Chris Waddle
BBC Radio 5 live at Old Trafford
"It was quite an even game. The last 20 minutes Wolfsburg asked a lot of questions but couldn't put the ball in the net. Manchester United were wasteful in possession in the second half but weren't punished."
Monchengladbach 1-2 Man City
A lengthy stoppage here as Yann Sommer has his nose re-arranged. The Manchester City fans are in fine voice. What a comeback, and a deserved one too (if they hang on!).
City were a defensive liability but they have solved that by just attacking again and again and again...
Elsewhere in Europe
Ronaldo equals scoring record
He's done it. Cristiano Ronaldo scores his second goal of the night. And has now drawn level with Raul's all time goal scoring record for Real Madrid - just the 323 goals. He has a few years in him yet. How many more can he score.
FULL-TIME
Man Utd 2-1 Wolfsburg
Chris Smalling is the unlikely match-winner at Old Trafford.

Alan Green
BBC Radio 5 live at Old Trafford
"It looks like it's going to be Manchester 2 Germany 1 tonight then."
GREAT SAVE!
Monchengladbach 1-2 Man City
Almost three as Sergio Aguero meets a Kevin de Bruyne cross, brilliant save from Yann Sommer.
Just the 38 efforts on goal tonight. One every two minutes.
Sommer took a kick in the face too as he made the save. 
Manchester United 2-1 Wolfsburg

The Wolfsburg contingent in the directors' box were getting ready to acclaim the equaliser just then.
They were certainly off their seats before having to sit down as the free-kick whistled narrowly wide.
There is a definite sense of unease around Old Trafford as these final few minutes tick down.
Shohidur Rahman: Dumbfounded by Van Gaal's to take off Schweinsteiger when he was bought for exactly this situation.
Stuart Mitchell: Man Utd need Schweinsteiger or Carrick in the midfield at all times, with the latter not involved why was Basti subbed?? 
Colin Reardon: Schweinsteiger off, Schneiderlin left on! Why?!  
Monchengladbach 1-2 Man City

Conor McNamara
BBC Radio 5 live at the Borussia-Park Stadion
"What a great fightback by Manchester City!"
GOAL - Monchengladbach 1-2 Man City
Sergio Aguero (Pen 90 mins)
Cool as you like, side footed into the corner. What a game, and a huge winner for Sergio Aguero.
how big is Joe Hart's penalty save now?
PENALTY TO CITY
Monchengladbach 1-1 Man City
Sergio Aguero tripped by Fabian Johnson - PENALTY!
CLOSE!
Man Utd 2-1 Wolfsburg
Wolfsburg have come close - again! Left-back Ricardo Rodriguez flings a free-kick over the wall but a yard wide. It came after what you would call an excellent foul from Morgan Schneiderlin as Wolfsburg threatened to break down the middle. 
Three minutes left. 
Monchengladbach 1-1 Man City

Conor McNamara
BBC Radio 5 live at Borussia-Park Stadion
"They struggled for much of the first half but Manchester City are finishing this game very strongly."
Some interesting news from the other teams in Manchester United's group. 
PSV have pulled another goal back in Moscow. It's CSKA 3-2 PSV. 
However, Santiago Arias has just made it difficult for the Dutch side. He has collected a second yellow card and has departed the pitch. 
CLOSE!
Monchengladbach 1-1 Man City
You can't knock Man City tonight when it comes to attacking. Very exciting to watch as Raheem Sterling heads over from Jesus Navas's cross. 
Defensively they've been terrifying but they have kept going up front. They have six minutes of normal time to find a winner.
CLOSE!
Monchengladbach 1-1 Man City
Sergio Aguero shoots! Just wide again. His sights are four yards out.
Lose Bastian Schweinsteiger, lose midfield control. It's all Wolfsburg now - eight minutes left. 
Moan about English football being in decline all you want if you only watch Premier League and European football. But in reality, you just need to look at the depth of the English leagues to realise we are in fact progressing. We have more or less 5 fully professional leagues, plus several full-time sixth tier clubs. Which other countries can boast such depth?