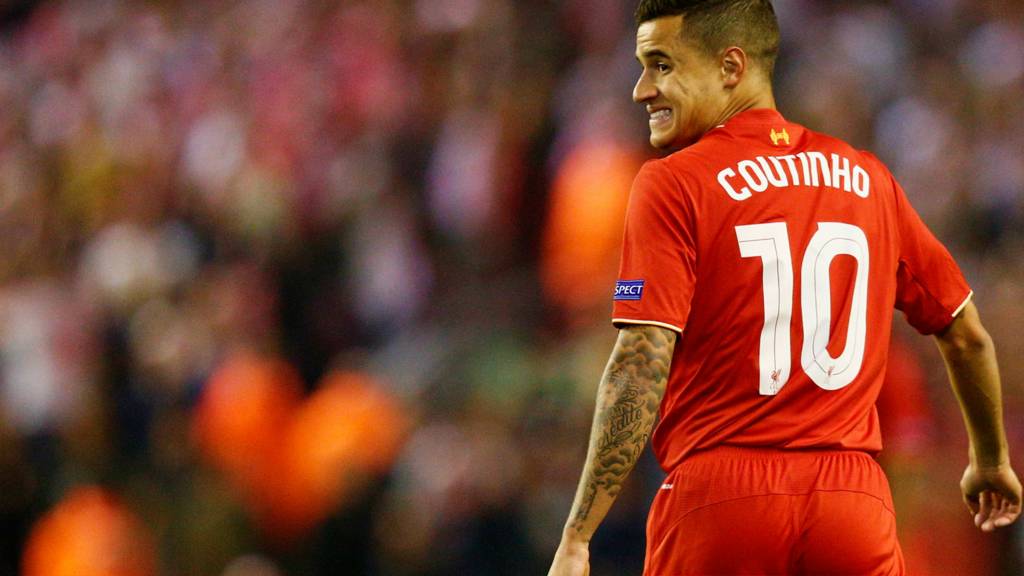 Summary
Lallana converts after fine play by Origi
Liverpool on two points after two games
Result: Monaco 1-1 Tottenham
Monaco cancel out Lamela strike
So three Europa League games, three draws for British sides.
We'll see you at the weekend.
'It's a rebuilding job'
Liverpool 1-1 FC Sion
We go into the the game against Everton and we will focus on our performance. The players will look forward to it. I haven't lost a derby yet and they are always good games. We are point behind Everton - I know the media and written press will build the game up but we will stay calm. I am immensely enjoying the job, it is a great challenge and it is a rebuilding job again.
Fringe benefits
Liverpool 1-1 FC Sion
This is where we find out about players like Divock Origi and others on the fringe. They will be important for us in games like these. Divock did well but he didn't score and he has to add that to his game.
'We have to win a game like that'
Liverpool 1-1 FC Sion
The result was disappointing considering the number of chances we created. We worked well and had a good start but gave away a disappointing goal. The players worked hard but we couldn't score the goals. You have to be clinical. We scored a good first goal. They weren't half chances, they were good chances and you have to score them at this level. We have to win a game like that.
Former Aberdeen manager Willie Miller:
"You've got to be better at the back. Efe Ambrose keeps making these mistakes. You keep asking when it's going to stop, IF it's going to stop. I can't understand why you don't mark their tallest player (at corners). Somebody will need to sit me down in a dark room and explain that one to me."
Bournemouth, West Ham , Carlisle and now Sion have all out played Liverpool at Anfield, this is pathetic. Rodgers has to go sooner rather than later.
"There was a lot of positives we'll take from the game" "final third let us down"
Liverpool have had 29 shots on goal in their two Europa League games to date.
Tim Corke: Yawn Never Walk Alone
Conor McMeekin: If Rodgers keeps his job after many more results and performances like tonight Liverpool fans must be tearing their hair out
Simon Charbonnet: Still sitting in a bistro in Sion, still wearing LFC shirt. Locals happy. I will be at the return match, in with Sion fans. Oh dear
'No excuses'
Liverpool 1-1 FC Sion

Liverpool midfielder Adam Lallana: "We need to win our home games in this competition. We had enough chances tonight - listen, we wanted three points and we felt we created enough.
"No excuses, I should have had a second. Divock Origi had a few good opportunities.
"I'm sure the fans are frustrated. We have a massive game on Sunday. The derby has spice in it and hopefully we can get three points."
How are Liverpool fans feeling about Sunday's derby now then? Of course, of the players who featured tonight maybe only three or four will feature - if that many.
Ashley Wilkinson: Only bright spot from that was #Origi. Two missed chances but excellent assist and stunning movement. Potential. Ings too
Ashley Tezoo: Sadly, Coutinho's a goner next summer. Head and shoulders above the rest! When Barca come knocking, the door gets answered...
Seaway Insurance: Well, if I hadn't been putting my toner cartridges in colour order my evening would have lacked any excitement
FULL-TIME
Celtic 2-2 Fenerbahce
Next up for Liverpool, of course, is the Merseyside derby on Sunday. Our expert Mark Lawrenson has this one down as a 1-1 draw, but what do you think the score will be? Predict the result of that match and the rest of the weekend's fixtures in our Premier League Predictor game.
FULL-TIME
Liverpool 1-1 FC Sion
And that's the game! Plenty of boos and jeers at Anfield greet the final whistle. 
INJURY TIME
Liverpool 1-1 FC Sion
THREE MINUTES added on. Get it to Steven G.... ah.
Philippe Coutinho is on a higher plane than his team-mates and opponents tonight. He glides past two or three men on the left wing, the pitch opens up and he goes to curl a shot into the far corner but he's well charged down.
Last few minutes.
Sat in the labour ward at Arrowe park hospital waiting for my Missus' waters to break. Not sure what is more boring - following LFC or waiting for this baby to come along!
You can't say that. You have said that. Either way I reckon you're in for sleepless nights and tears...
Sion goalscorer Ebenezer Assifuah comes off after taking a whack a few minutes ago. A memorable night for him. Will it be enough to earn a point though?
Seven minutes left. Any more for any more?
Becky: It's the lack of atmosphere at Anfield that worries me.
Javel Bleach: Are the different-colour boots so he knows which one to shoot with? #Lallana
Luke Parsons: *does the Mexican wave*
CLOSE!
Liverpool 1-1 FC Sion
Philippe Coutinho whips in a free-kick - Emre Can heads wide. Surely a second goal is coming?
SUBSTITUTION
Liverpool 1-1 FC Sion
Kolo Toure has lasted 75 minutes but he can't do the 90. Goosed.
Off he comes, on comes Mamadou Sakho, who takes the armband too. Liverpool have looked sharp in the last 20 minutes, can they finish it off now? 
GREAT SAVE!
Liverpool 1-1 FC Sion
Got to score! No! It's a brilliant touch from Adam Lallana to take a cross from the left and spin in one movement, he's only 10 yards out but he can't put it past Andris Vanins. Again.
It's bad news when you get more excited about what to put on the kids' butties than you do when looking at the Liverpool line-up...
Credit to you Tom, trying hard to make this game seem interesting. But can you arrange an internet based Mexican wave?
You start it off SI in 3, 2, 1....
Philippe Coutinho hits a free-kick which is well saved again by Andris Vanins. Everton will be pleased to see Coutinho out there tonight. An extra half-hour in the legs ahead of Sunday's derby.
GREAT SAVE!
Liverpool 1-1 FC Sion
It's really opening up now! Philippe Coutinho has added a real edge to the game, a class act, and his pass is lovely. Divock Origi is in on goal, he has to stretch and Andris Vanins spreads himself well to make the stop. 
GREAT SAVE!
Liverpool 1-1 FC Sion
Good chance now for the visitors as goalscorer Ebenezer Assifuah spins Joe Gomez inside the box and fires in left-footed, but Simon Mignolet saves sharply.
More goals in this game I reckon. Just over 20 minutes left. 
GREAT SAVE!
Liverpool 1-1 FC Sion
Great ball from Joe Allen sends Divock Origi in on goal. Haring away, he does really well to sell the last man a dummy, he slides past and then Origi drills a shot into the legs of keeper Andris Vanins.
A BIG chance.
SUBSTITUTION
Liverpool 1-1 FC Sion
Liverpool do summon Philippe Coutinho from the bench with a full half-hour remaining. He replaces England's Danny Ings.
Michael: Following the match at a bank in New Zealand. It's on in the kitchen area. I'll be getting coffee often
Chris Lee: Sitting here on sun lounger in St Lucia, another promising Liverpool start descends into mediocrity! Where is the quality?
Back to work - and back to enjoying yourself you two! The Europa League is not that important is it?
Shades of the young Emile from Divock Origi as he picks the ball up on the left, turns his defender and then sprints 30 yards into space. Excellent surge, but his low cross/shot is well turned away by Leo Lacroix. 
A nice ripple of applause as Philippe Coutinho trots down the sideline to warm up for Liverpool. With the Merseyside derby just days away, Brendan Rodgers won't want to use his number 10 if he can help it. 
Carlitos has a dig from 25 yards, good strike on the free-kick but it's not in the corner far enough to trouble Simon Mignolet in the Liverpool goal. 
I can think of an iconic striker in every successful Liverpool team..Rush, Kenny, Fowler, Owen, Torres, Suarez to name a few. Can't put together all of the present team to match one of the above names.
Sitting on my sofa in Worthing eating three-day old prawn crackers following tonight's football with you.
We cater for all...
HITS THE WOODWORK
Liverpool 1-1 FC Sion
Kolo Toure tries an overhead effort which is very high - but drops down on to the top of the crossbar!
GOAL - Celtic 2-2 Fenerbahce
Fernandao (48 mins)
Fernandao gets the better of  Efe Ambrose again to head Fenerbahce level...
Danny Ings does well, taking the ball down nicely with his left foot and then having a shot well saved at the near post! The Kop appreciate that.
KICK-OFF
Liverpool 1-1 FC Sion
And we are back up and running at Anfield. 
SUBSTITUTION
Liverpool 1-1 FC Sion
Half-time change for the Reds as Alberto Moreno replaces Nathaniel Clyne. That sees Jordon Ibe swap wings.