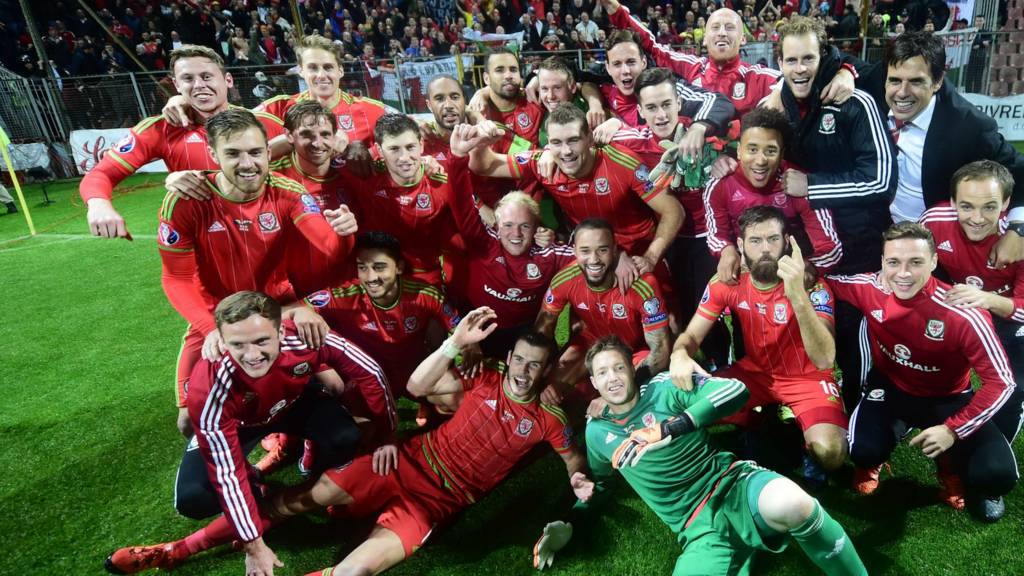 Reaction: Wales qualify for Euros
Summary
WALES QUALIFY FOR EURO 2016
They go through despite losing
Cyprus's 2-1 win in Israel proves decisive
Wales not been at a major finals since 1958
And that is that from us for the night.
It's not a dream. Wales - you are going to the Euros...
Plan your evening around this lot:
Armenia v Albania - 17:00
Serbia v Portugal - 17:00
Faroe Islands v Romania - 17:00
Finland v Northern Ireland - 17:00
Greece v Hungary - 17:00
Germany v Georgia - 19:45
Gibraltar v Scotland - 19:45
Poland v Republic of Ireland - 19:45
There are still 12 spots at Euro 2016 up for grabs.
Tomorrow Germany can secure their place with a point at home to Georgia, while either Poland or Republic of Ireland will join them.
Romania or Hungary will join Northern Ireland too.
Party in Peru
Get Involved
The Waterloo Gunner: The biggest party must be in the changing room itself... I can only imagine the champaigne spraying everywhere
'You think it's never going to happen'
WALES QUALIFY
PA journalist Phil Blanche: "You start to think it's never going to happen for Wales. It can be so disheartening and soul-destroying.
"But this group have finally done it, and they deserve immense credit. The key for me has been the team unity. They are more than just team-mates, they are friends who have come through youth teams together."
Read more reaction from people around the Welsh game here.
Well done Wales. Made Gary Speed proud, I hope he's looking down on his legacy
So delighted for Wales after all the heartache. The irony of qualifying after defeat!
Some top class comments coming in from you tonight. Where's the best party in Wales right now? Or elsewhere?
Rishi Verma: Any football fan who witnessed the near-misses of 1985, 1993 and 2003 cannot help but admire and celebrate Wales' qualification
Andrew Girvan: Congratulations Wales! I will see you in France next year! It's great to see the passion in these home nation sides
'Qualification a fitting tribute'
Roger Speed, father of former Wales captain and manager Gary:
"Watching this team has given me so much pleasure and Chris Coleman deserves a huge amount of credit for what he's achieved. It was so difficult for him to follow Gary but he's done a great job. The spirit in the side is something very special.  
"Like a few of the players have already mentioned, qualification is a fitting tribute to what Gary put in place with this group of players. There's no doubt he would be immensely proud of their success. I know he's been watching from above and cheering the team on. I'd like to think he's been an inspiration."  
'Goosebumps in Burnley'
Get Involved
I know this won't get posted, but there are constant goosebumps of pride I keep getting, wave after wave, as Wales have been confirmed guests at France 2016. Forget tonight's result, unlike Scotland, Wales did the hard work so matches like these weren't crucial, I take my hat off to Wales.
Chris Coleman, Gareth Bale, Aaron Ramsey and all ..... thank you for making a dream come true for the nation.
Meanwhile, back in Cardiff
WALES QUALIFY
Qualification to Euro 2016.... such a relief!
Paul Owen: Marvellous.just come out of a show on Broadway...initial dissapoinment then realisation when got later alerts. da iawn Cymru
Gareth Williams: mae hen wlad fy nhadau yn annwyl i mi!!!!! Cmon Wales
Gareth Reid: Do you think the wife will notice when I try and convince her we holiday in France next summer?!
Lens and Lille are lovely in June/July Gareth. What's the problem?
'Complete elation'
WALES QUALIFY
Chris Coleman tells Sky Sports: "When we come off losing 2-0 I thought we would have to go again but our secretary gave us the Israel result and it was complete elation.
"It is a dream come true. All the players from my generation, and generations before, nearly got there and it was really tough. But this group have gone that extra yard.
"They deserve everything they have got. From the first game to tonight they have given me their all. 
"When I took the job I was in a sticky situation. Gary Speed was such a great man and a great presence that I wanted to carry on his work. But I couldn't.
"So I decided to do my own thing and it has been a fantastic campaign. Gary Speed played his part and I'm sure he is smiling tonight."
Joel Ejike: What a way to do it! Not according to the script but history won't remember this defeat. Welsh football on the rise
"My proudest moment"
WALES QUALIFY
Wales captain Ashley Williams, speaking to Sky Sports: "I said at the start of the campaign that qualifying would be my proudest moment and it definitely is.
"Because the game was how it was it'll take a bit of time to sink in, but everyone is over the moon.
"We always had belief from the start but we knew it would be a lot of hard work.We didn't manage to do it in front of our home fans but when we go home now we'll hopefully win that game and have a nice night after it." 
The 700 or so fans in Zenica are still giving it their all, huge celebrations as the players and staff finally head off back into the dressing rooms. A night they'll never forget.
I never thought I'd ever see Wales qualify for a major championship on my life time....sat at home crying..a truly magnificent effort.
Wo-oh! We're halfway there
WALES QUALIFY
 There are now 12 teams confirmed at Euro 2016. Twelve spots still to fil.
Who's there:
France
Austria
Czech Republic
England
Iceland
Italy
Northern Ireland
Portugal
Spain
Switzerland
Belgium
Wales 

Phil McNulty
BBC Sport chief football writer
"Fantastic achievement by Wales to reach Euro 2016 - & delighted for all the band of followers (fans & media) who went through the lean years."
The Welsh FA is very happy this evening!
Daniel Roberts: We lose and we still go through; we lose and we still go through; we lose and we still go through.
Sarah Morgan: Well done Wales on qualifying for Euros - players and manager alike continued Gary Speed's legacy magnificently.
Aaron Billing: Allez Le Galles!!!!!
'A dream come true'
WALES QUALIFY
Wales forward Gareth Bale: "The best defeat of my life! It was a difficult game but we have done it and everyone is very happy.
"This is right up there in my career. It was a dream from when I was a small child to play in a major tournament. It doesn't stop here, we have business to do in France.
"We can breathe a sigh of relief and enjoy the occasion. We are like brothers on the pitch. If we lose the ball we fight for it back. We can now test ourselves against the best."
"See you in France!"
Bosnia-Herzegovina 2-0 Wales
Wales midfielder Aaron Ramsey, speaking to Sky Sports: "What a great moment for Welsh football. What an achievement to have made history, we are finally going to a major tournament. It's not going to sink in for a while, I'm so proud. We are finally going.
"This group of players is quite special. It didn't quite happen tonight, but the togetherness, we've been really hard to beat.
"This has been a dream of mine, I know for the others it's been the same. We're only a small nation, but we've done it. We're over the moon. Thanks to all the supporters. See you in France!"
Brilliant, jubilant scenes in Zenica. The result has already been forgotten as the players and staff celebrate with the fans. A real sense of togetherness.  The players give Chris Coleman the bumps!
Bosnia-Herzegovina 2-0 Wales
Chris Coleman was disappointed, he was livid and didn't shake hands with anybody. A Welsh FA member came over and told him Israel had lost, and then he ran with his arms aloft to the Wales supporters. They are so, so happy that it has been done. These players have done what other Wales players have not been able to do. They deserve it.
Wales defender Chris Gunter: "It is disappointing to lose tonight but we have waited 65 years for this. This means more than a game of football. It's a special feeling.
"We knew we could qualify last month and we had to wait but it will be a good night. There are 40 people here who have worked hard for two or three years."
Chris added on a few more years of hurt there...
Wales manager Chris Coleman: "I thought we did enough to get something out of the game, I was gutted coming off but wow! I can't explain how it feels.
"These fans are unbelievable. They deserve it. It's a dream. For the first time tonight we got a bit flustered but under the circumstances you can understand that.
"But we conceded four goals in nine games. It's fantastic. We've all dreamed about this. They have delivered"
FULL-TIME
Bosnia-Herzegovina 2-0 Wales
And now it's all over! Chris Coleman is initially annoyed at defeat but as a huge roar goes up from the away fans he breaks into a huge smile!
Gareth Bale leads a wave of celebrations in front of the away fans as the Bosnia fans applaud Wales!
Breaking
Wales have qualified
Bosnia-Herzegovina 2-0 Wales
It's all over in Jerusalem - Israel have lost so WALES ARE THROUGH!
Breaking
Belgium have qualified
Andorra 1-4 Belgium
Bosnia-Herzegovina 2-0 Wales
Not dealing well with crosses for either goal. Wales don't deal with the second ball again. They have suffered by not being as resilient as the have in the past. The unbeaten record goes. The disappointing thing is that Bosnia are not a great side.
GOAL - Bosnia-Herzegovina 2-0 Wales
Vedad Ibisevic (90 mins)
Huge celebrations as Wales concede another very scrappy goal. A corner is not dealt with at the front post, Milan Djuric shoots across goal and Vedad Ibisevic is on hand to smash in from a few yards out.
Wales still going through...
Bosnia-Herzegovina 1-0 Wales
Ashley Williams has a header saved by Asmir Begovic as Wales continue to push on hard for a leveller.
Wales still going through with defeat don't forget...
Bosnia-Herzegovina 1-0 Wales
Wales add Simon Church and Dave Edwards to the mix - you can't knock Chris Coleman for attacking subs.
YELLOW CARD
Bosnia-Herzegovina 1-0 Wales
Bosnia have now made all of their subs so we won't be seeing Edin Dzeko tonight. Aaron Ramsey does too much this time as he loses the ball and then gets booked as he tries to win the ball back.
Wales eight minutes away from defeat - but qualification...
CYPRUS AHEAD!
Israel 1-2 Cyprus
Another bit of breathing room for Wales as Cyprus go back ahead. Walsall's right-back Jason Demetriou smashes in
Israel must win to make Wales get another point.