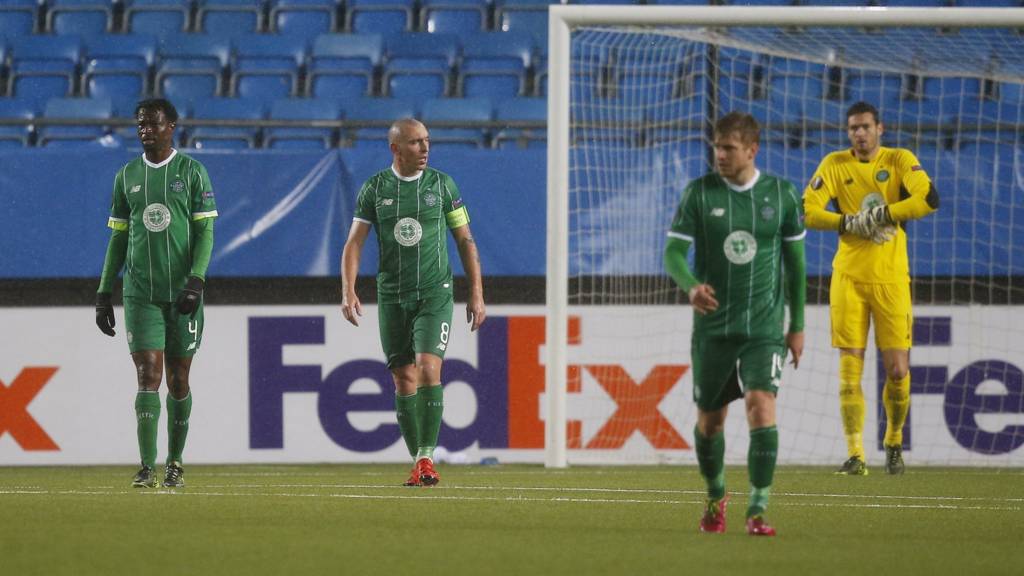 Molde 3-1 Celtic as it happened
BBC Radio Scotland 810MW/DAB/online
Summary
Kamara & Forren strikes put hosts ahead
Elyounoussi volleys third after Commons chip
Commons angry at being withdrawn
FT: Fenerbahce 1-0 Ajax (Fernandao)
Europa League Group A
Thank you for your company and contributions tonight. Good night.
Just about time for me to go.
Anonymous: "Do celtic fans honestly want celtic to qualify? I am a celtic fan and you always want your team to win but this is not acceptable. The manager is hopeless and it will be the same in europe next season"
Join the debate at #bbcscotfootball
Robbie Devenney: "#bbcscotfootball Delia doesn't rate Commons, while everyone else can see he is usually their best player, Ronnie's time is running out fast"
GarygazzboDavidson: "#bbcscotfootball feel really sorry for Kris Commons as he is the only player worthy of the jersey always. No wonder he let rip at Collins."
Celtic manager Ronny Deila
"Very disappointed. I expected a much better performance.
"It [Kris Commons' reaction] was unacceptable. That's something we can't have. Everything is about the team, not one player.
"We need to beat Molde at home then there could still be a chance [of progression] and that's positive."
Celtic manager Ronny Deila has just been speaking to BT Sport and described Kris Commons' reaction to being taken off as "unacceptable".
The Norwegian indicated the would speak to the forward about the incident.
Molde manager Ole Gunnar Solskjaer
"Difficult conditions made it not the best of games. Sometimes it was slow. It's been a completely different type of playing for these boys in Europe than in Norway and it's worked.
"I'm happy with my boys and I think we defended really well against Celtic. Obviously three more points will get us through. Can we get two? Can we get three? Three big games ahead."
Anonymous: "How many goals / games do Celtic have to lose before the penny drops ... Defence . Defence . Defence ........"
Anonymous: "It's very embarrassing that a mid table team are completely outplaying Celtic. Very disappointed from Celtic but not surprised with Delia in charge"
Joe: "When are Celtic going to realise how bad they are? Front to back they need major surgery"
Join the debate at #bbcscotfootball
Big Stevie: "#bbcscotfootball absolute embarrassment. Big changes needed or we will not even make europa league next season. Probably where we belong"
James McGlone: "I would rather play two at the back than play Ambrose or Blackett #bbcscotfootball"
Alasdair Lamont
BBC Scotland in Molde, Norway
"One of the least inspiring performances from Celtic in Europe in recent times. Aside from a decent opening spell, they were second-best throughout.
"Molde look a pretty good team but for Celtic to be outplayed by a team sitting seventh in the Norwegian league is a million miles from the type of performance being turned in by the club only three seasons ago in the Champions League."
FULL-TIME
Fenerbahce 1-0 Ajax
Fenerbahce get their first win in Group A to move into second in the section on four points - three behind Molde and two ahead of Ajax and Celtic.
Chris McLaughlin
BBC Sport in Molde, Norway
"Nothing short of a Norwegian nightmare for Celtic. They were outfought, outfoxed and worryingly outplayed for most of the rain soaked match by a side who lie seventh in Norway's top league.
"Molde continue to show why they sit at the top of group A but Celtic need a drastic re-think before the Norwegians visit Celtic Park in two weeks' time.
"Dismal stuff from the visitors on a dismal night in Norway."
FULL-TIME
Molde 3-1 Celtic
A night to forget for Celtic as Molde win comfortably to remain top of Group A. The temporary reprieve of Kris Commons' goal was quickly wiped out as Molde scored their third through Mohamed Elyounoussi. Hard work ahead for Ronny Deila and his side.
Four minutes of stoppage time begin.
Nadir Ciftci's backwards header from Mikael Lustig's cross goes narrowly wide of the Molde goal.
GOAL
Fenerbahce 1-0 Ajax (Fernandao)
Fernandao's header deflects into the net to give Fenerbahce the lead against Ajax in tonight's other Group A match.
Nir Bitton comes very close to pulling one back for Celtic, his long-range shot smacking the crossbar on its way out.
Join the debate at #bbcscotfootball
Fred McGrath: "ciftci on for commons? That's an interesting way for Ronny to hand in his resignation!
emr: "Money, decent domestic competition, etc, sure but nothing excuses this garbage.
Andy Craig / Shivar: "Surely this has to be proof that we can't let RD have another CL campaign.can't win in Scandinavia - his predecessors could
Zayne: "Seen the some of the comments on #BBCScotFootball. Everyone should just relax. The conditions Celtic are playing in tonight are atrocious."
Marc Orr: "Eager to learn which football tactics book advises to take off the only player in your team who looks capable of doing something when you're 3-1 down..."
Mohamed Elyounoussi, scorer of Molde's third goal, comes off to be replaced by Mushaga Bakenga.
Etzaz Hussain has a chance for Molde but Celtic goalkeeper Craig Gordon is able to block and concede a corner.
Eirik Hestad has come on for Ola Kamara and soon tests Celtic goalkeeper Craig Gordon with a left-foot shot.
Alasdair Lamont
BBC Scotland in Molde, Norway
"The travelling Celtic supporters are not happy with the substitution of Kris Commons and neither is the forward, venting his spleen towards the bench as he comes off."
Television replays suggest the unhappy Kris Commons was gesturing towards Celtic assistant manager John Collins and coach John Kennedy after being taken off.
Chris McLaughlin
BBC Sport in Molde, Norway
"Kris Commons absolutely furious with someone on the Celtic bench as he's substituted. One to ask Ronny Deila about after the match."
And now Kris Commons makes way for Nadir Ciftci.
Celtic have replaced Stuart Armstrong with Gary Mackay-Steven.
So close to a fourth for Molde as Ola Kamara gets in behind the Celtic defence and tries to slip the ball past Craig Gordon only to see his shot skim wide.
Join the debate at #bbcscotfootball
Erik D.Slater: "Dear Celtic: Whatever you do, just don't think about Neuchâtel Xamax"
Big Stevie: "delia has to go. Keeps picking ambrose never learns. Goodbye ronny. Its been swell"
Karl Mc Donnell: "Cant help but feel scottish teams arnt good enough for europe. All teams a whole two steps ahead of Celtic in EVERY match."
Jamie: "I find it hard to believe that Boyata and Ambrose are the two best centre backs we have at Celtic."
James Doyle: "#bbcscotfootball Why can we just not play someone in defence who can kick a ball . Surely for a few £Thou a week it's not much to ask."
Celtic's Kris Commons tries a shot that is deflected wide in the wet and windy conditions.
Chris McLaughlin
BBC Sport in Molde, Norway
"Too many of Celtic's key players are just not on their game tonight. Izaguirre has been wasteful, Bitton has lacked drive and while Brown has looked busy, his passing has been wayward."
The unmarked Ola Kamara heads wide for Molde. That really should have been four for the hosts as the striker was left on his own in front of goal.
Alasdair Lamont
BBC Scotland in Molde, Norway
"An utterly crazy 60 seconds, which began with the Celtic fans in raptures at Kris Commons' goal and ended with them tearing their hair out as Mohamed Elyounoussi squeezed the ball past Craig Gordon to restore the two-goal lead. Ronny Deila will surely be equally frustrated by the failure to capitalise on the chink of light offered by the Commons goal."
Dave in Naples: "Ronnie Delia once again shows is out of his depth at this level.Team decisions and tactics that would make a Sunday League Manager blush - penny pinching by the board has really backfired! Walking the league is just not enough in these times."
Join the debate at #bbcscotfootball
Craig: "Efe Ambrose at the back spells disaster why oh why does RD play him"
Bobatov: "Usual reactions from people wanting Deila out. Who replaces him? We don't have the lure or budget to bring in big names"
Neilo: "whatever happened to stick with team through thick and thin, some of our fans need to go not the manager"
Iain Dickson: "They might be a grand old team to play for but Celtic at the moment are not a grand old team to see. Utter garbage"
Max Baggins-Craig: "Celtic haven't been good enough, their rocky start continues, c'mon lads, you have what it takes, for sure"
Chris McLaughlin
BBC Sport in Molde, Norway
"The Commons lifeline lasted just minutes. Once again terrible defending and the twogoal deficit is restored through Elyounoussi. Celtic can't afford to feel sorry for themselves though."