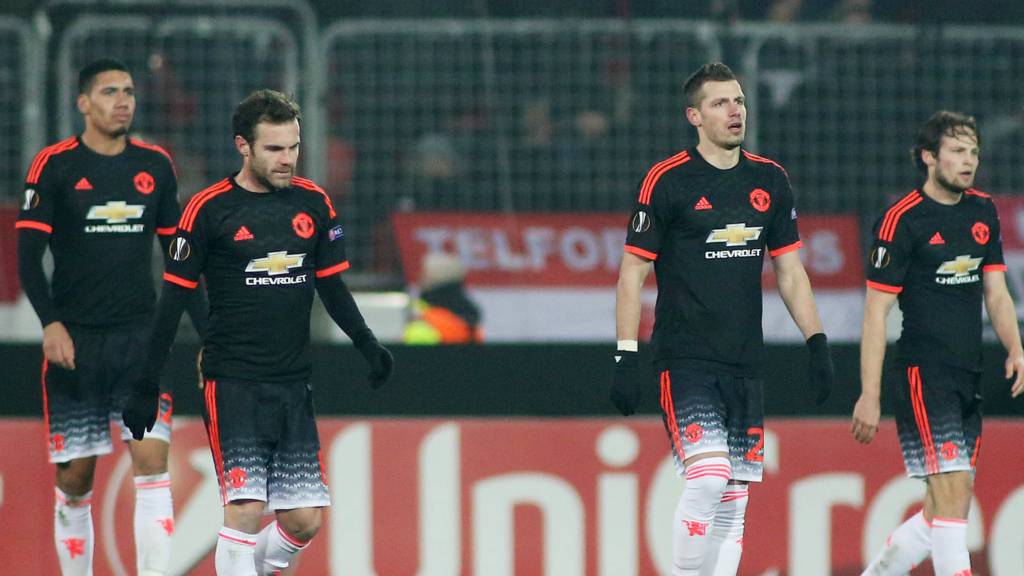 FC Midtjylland 2-1 Man Utd - as it happened
Summary
Onuachu scores with low shot from edge of area
Sisto's shot deflected in for hosts' equaliser
Depay had bundled home from close range
De Gea injured in warm-up - Romero stepped in
Valencia 2-0 Rapid Vienna
Fresh from securing his first La Liga win, Gary Neville is cruising to a second successive victory now as his Valencia side are 2-0 up against Rapid Vienna.
The Nevilleution is under way.
'Everything going against us'
FC Midtjylland 2-1 Man Utd

Manchester United manager Louis van Gaal: "It is the law of Murphy, I think! When you start a game and your goalkeeper is number 14 [on the injury list] then you are not starting like usual. A lot of things are happening in the heads of the players. The first goal is deflected, it is unbelievable, it is too much. In the second half we don't win any duels. Any second balls. Then you cannot afford a second goal. Jesse Lingard had two remarkable chances. In certain phases we were not very well organised.
"When you play with another team every week with other players it doesn't help. It is always possible in football. We have the chance to beat them at home and we have to do that. David de Gea has a knee problem so we have to wait and see. We will investigate that with a scan."
John Fernandes: Midtjylland goalscorer Paul Onuachu: "We expected more from Manchester United".. so did the world Onuachu.. so did the world
Phil Blake: LVG is the worst decision UTD have made for over 25yrs, old school management has no place in modern football OUT OUT OUT
Andrew Valette: About to become the first team to break £500m in revenue, and they've just been played off a field in Denmark on a Thursday
No action to speak of in the opening eight minutes of Liverpool's game - follow that match in full here. 
Good honest, fronting up from Michael Carrick. A man who wore the look of someone who knew that was very, very poor tonight...
'Just not good enough'
FC Midtjylland 2-1 Man Utd

Manchester United captain Michael Carrick: "It's not good enough, not acceptable. The performance is nowhere near good enough and it has to be better. We caused a lot of our own problems, all in all it's just not good enough.
"It was there for us to win the game, we should have won that but we go home very disappointed. The only positive we can take is that we have a chance to put it right next week. It won't be easy but at home we still fancy our chances. We have given ourselves a tough job. We have to give everything we can."
Get Involved
Text us on 81111
LVG moans of injuries but he sold RVP and Hernandez in the summer and didn't replace them. January came and went with no change. Kids are good but not in a desperate team.
Let's give Man U the benefit of the doubt. They are clearly caught between a rock and a hard place. Giggs is refusing to take the job short term while Jose wants a run at it from July. Letting the current season play out as is, is a risky business. LVG should fall on his own sword. His arrogance is breath taking and more worryingly damaging United's medium term commercial prospects.
If LVG stays one more day as Man United manager he is the luckiest man in the UK. The fans are the unluckiest on the planet.
'We expected more'
FC Midtjylland 2-1 Man Utd
Midtjylland goalscorer Paul Onuachu: "I think it's fantastic! A dream come true to play against Manchester United. We stuck to the tactics of the coach and we look forward to the return leg. We work very hard and we give it everything.
"We expected more from Manchester United. We are positive to go there and achieve."
FC Augsburg v Liverpool (20:05 GMT)

Plenty more Manchester United reaction coming your way in this page - but Liverpool are about to get under way.
Jimbo: Oh we're gonna blame injuries? Didn't we just have a transfer window?
James Foster: I'm extremely worried. Midtjylland will give it a real go at Old Trafford and I could definitely see them causing an upset
Matt Harding: If this doesn't spell the end for LVG I have no idea what Man Utd are waiting for. Til we're out of all competitions?
Spurs get a draw
Fiorentina 1-1 Tottenham

Get Involved
Text us on 81111
Never trust anyone who feels the need to write everything down. LVG has clearly learnt nothing from his journals and only writes them because he has no clue what to do instead.
A fascinating, and bizarre mantra that one Ian...
I'm with Richard from Manchester. All for one and one for all, one man is not to blame for 11 men playing poorly. If we are not careful we will be left with nothing. Van gaal gives people a chance, who gave Iniesta and Xavi their first games. LVG is the answer. LOUIS VAN GAALS Army.
FC Midtjylland 2-1 Man Utd
The Midtjylland players are celebrating as if they have won the Europa League, and who can honestly knock them for it? The home fans won't be moaning about paying £70-odd for these memories... 
FULL-TIME
FC Midtjylland 2-1 Man Utd
All over! A huge win for the Danish side.
1-0 at Old Trafford and Manchester United are through. That's the angle all the media will go for, I'm sure...
FC Midtjylland 2-1 Man Utd
FC Midtjylland 2-1 Man Utd
Midtjylland counter and win a free-kick right on the edge of the area. Could it yet get worse for Manchester United?
FC Midtjylland 2-1 Man Utd
Four minutes added on but there is no siege for the hosts to see out. Yet. Donald Love chucks in a cross which is easily cleared. 
Who is to blame?
Text us on 81111
Time is well and truly up for LVG. This run wouldn't be tolerated at Bayern or Barcelona, why are we allowing this to happen? We're being loyal to a fault and it's putting the club in a dangerous place. Our current commercial success has come from the Fergie era. I fear for the future.
I don't get the criticism of LVG. I absolutely don't think he's the right man for the job, but he's not the one putting in weak tackles and making mistakes. People are too quick to blame the manager and not the players on the pitch. And I blame the latter more. Weak challenges, no passion and no desire!
FC Midtjylland 2-1 Man Utd
Jesse Lingard has a shot blocked....
In good company...
FC Midtjylland 2-1 Man Utd
From the press box
FC Midtjylland 2-1 Man Utd
FC Midtjylland 2-1 Man Utd
Into the final five minutes. Louis van Gaal and Ryan Giggs both have their heads bowed in the dugout...
This game is the perfect example of how important confidence and trust is in football. One side terrified of making a mistake and not trusting their instinct, the other told to go out there and enjoy themselves. Louis van gaal has scared these players into the most boring, unimaginative and spineless Manchester United team I have ever seen.
FC Midtjylland 2-1 Man Utd
They're a good side though, Napoli...
FC Midtjylland 2-1 Man Utd
Manchester United have eight minutes to prevent a team that were not formed when Sir Alex Ferguson won his first European Cup from beating them in the Europa League.
But first they need to ensure that they don't concede a third! Lose tonight and they'd still be in a [relatively] strong position in the tie, with that away goal.
Not that many fans would take that view, I hazard to guess... 
KN: You can't win anything with these kids in defence. Sorry but they are nowhere near regular first team standard.
Ben Peterson: how bad does LVG's team have to be change something. Bournemouth, then Sunderland, now this. Worse and worse and wor...
Paul Humphreys: If something doesn't change soon we will have a Liverpool-style slump that we may not come out of. Sack LVG. Its not worked.
FC Midtjylland 2-1 Man Utd
There are some heads that have well and truly gone out there. Chris Smalling and Sergio Romero collide and almost gift the Danes a third before Daley Blind smashes a clearance wildly out of play.
Pione Sisto fires over from a tight angle as Midtjylland look for a third.
FC Midtjylland 2-1 Man Utd
GOAL - FC Midtjylland 2-1 Man Utd
Paul Onuachu (77 mins)
Wow! Manchester United now trail as the big substitute Paul Onuachu rolls Midtjylland ahead! His first touch is not great on the edge of the box but he bundles away from a weak Juan Mata challenge and then places a low shot perfectly past the dive of Sergio Romero. Perfectly-placed...
FC Midtjylland 1-1 Man Utd
That might be my favourite ever crosshead.
Back on the pitch, United seeing more of the ball since Morgan Schneiderlin came on but the front two of Midtjylland really look a threat. 
Myanmar will always need noodles
Text us on 81111
Amongst the Van Gaal vitriol, a reminder of Ed Woodward's triumphs; Moyes, urgent transfer business (not buying Fabregas), paying twice Fellaini's buyout clause, Van Gaal, not sacking Van Gaal. Still we have Noodle sponsor in Myanmar. What happens when Myanmar doesn't want United noodles though Ed? Because we are rubbish.
Fans are too harsh on LvG - how many managers would give youngsters like Lingard a chance?
SUBSTITUTION
FC Midtjylland 1-1 Man Utd
Manchester United look fragile at the moment. One pass from midfield seems enough to pick them apart as Vaclav Kadlec shoots wide.
United make a change, on comes Morgan Schneiderlin for Ander Herrera. 
A good point well made...
#bbcfootball
Jordan Legendre: This score means United can play for 0-0 at home. We know how good they are at those!
CLOSE!
FC Midtjylland 1-1 Man Utd
A mistake in midfield and Midtjylland are in! It's three on two, they work it nicely across the area to goalscorer Pione Sisto - but this time he can only curl it wide.
That's got the crowd bouncing though... 
FC Midtjylland 1-1 Man Utd
There is no consensus among the fanbase, it seems...
Just over 20 minutes remain. Is a 1-1 draw a good result for United tonight? 
Although United haven't been great under Van Gaal, it must be mentioned that he has been desperately unlucky with injuries these last 2 years. Especially in defence. Those amount of injuries would hamper any team!
LVG can't complain about injuries, as half of this team were expensively bought by him. Does this even register with Ed Woodward? Well done the kids, though.
GREAT SAVE!
FC Midtjylland 1-1 Man Utd
Brilliant! Schmeichel, Banks, De Gea - they would all be pleased with that one!
Midtjylland sub Paul Onuachu gets a yard of space to meet a cross from the right and power in a header, looks a goal all the way, but Sergio Romero throws out his left hand and turns it over the bar, one-handed.
Superb!
Spurs pegged back
Fiorentina 1-1 Tottenham
Over in Italy Spurs are now back on level terms as Federico Bernardeschi hits a deflected effort into the top corner...