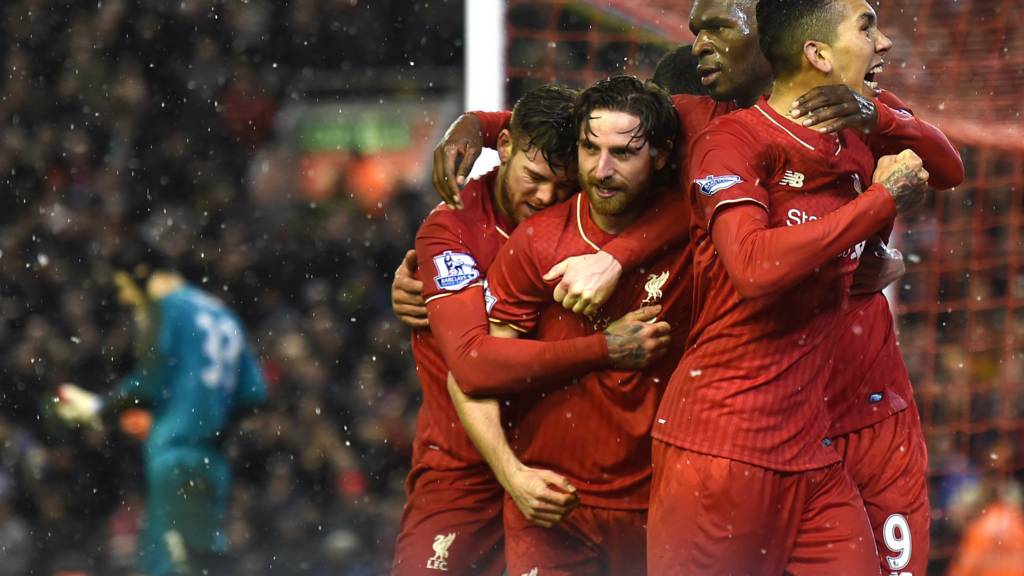 Wednesday football reaction
Summary
All the goals on MOTD - BBC One 22:45 GMT
MOTD - 23:15 in Wales & Northern Ireland
FT: Liverpool 3-3 Arsenal
Joe Allen with last-gasp leveller for Reds
Arsenal and Leicester both on 43pts

Almost time to fire up the TV. Or you can watch online. Tablet in bed?Lovely. 
'We don't have enough players'
Liverpool 3-3 Arsenal

Liverpool manager Jurgen Klopp speaking to BBC Sport: "We started so good and played so good football. It showed all of us how good we could be. 
"Then we concede a goal from a set play and we have to work at it. Organisation is one thing and sometimes we have a little problem with concentration. 
"We gave them two easy goals after we had to work really hard for our goals. We had many moments which I am happy with. 
"At 3-2, both teams had a low battery. We scored with a perfect pass, perfect header, perfect finish and nobody doubts it was deserved. 
"I have no problem with the number of games, the problem is we don't have enough players for the number of games."
Coming up
BBC ONE, 10.45 GMT

Missed any of the midweek action in the Premier League? Well fear not because there is a special edition of Match of the Day with Arsenal's trip to Liverpool up first,
Joining Gary Lineker in the studio are former Newcastle striker Alan Shearer and ex-Liverpool midfielder Didi Hamann.
Tune in to BBC ONE at 22.45 GMT. 
'The worst match of the season'
Southampton 2-0 Watford
Watford manager Quique Sanchez Flores: 
"We didn't hit the level of other matches. We didn't play well. It was the worst match we've played in the Premier League.
"Southampton played much better. I am sorry for the first half. I apologise to the fans. It's the first time in the season we failed to find the level.
"We didn't play our style on the pitch. The players can make mistakes - it's football."  
'The team was aggressive and superb'
Southampton 2-0 Watford
Southampton manager Ronald Koeman: 
"We had really big chances. Sadio Mane had two big chances. 
"The team was aggressive and superb. The centre-backs did a great job with Matt Targett on the left and Cedric Soares on the right. 
"There was also good movement from midfielder Steven Davis - he was one of the best of the night. Watford only had one good chance. It makes everybody proud that keeper Fraser Forster is back. A clean sheet gives everybody a good boost."
Huth lot of love
Tottenham 0-1 Leicester
Lee Hounslow: Gutted I feel I have been Huthed! Just have this sinking feeling Spurs are going to blow it again.
'An explosion of goals'
Liverpool 3-3 Arsenal

Liverpool manager Jurgen Klopp speaking to BT Sport: "For 60, 70% of the game we played really well. The players created opportunities but they got two easy goals. The first from a set play. For the second, Olivier Giroud is on the ground and we are more influenced by this than Arsenal.
"The third goal, we lose too easy the ball. 
"At the end we made a real good game and needed luck to make the draw and I think we deserved it. 
"It's like a battery, at the beginning you play well, and it goes down as the game goes on. 
"It's an explosion of goals but at the final whistle you cannot ignore there were problems. 
"You have to speak about Roberto Firmino and both his goals were brilliant and he played for the whole time really good."
"Very disappointed"
Liverpool 3-3 Arsenal

Arsenal manager Arsene Wenger speaking to BBC Sport: "I'm very disappointed but, overall, I cannot fault the effort and commitment of the team. 
"We had a difficult start. At 3-2, we should have made it 4-2 and didn't make the right decision in final third.
"Liverpool fought until the last second.
"I felt we had an apprehensive start. We had some bad memories from a few years ago and you could still see that in some players. We went 1-0 down and then we started to play. We come out of the game with a lot of positive but still some regrets."
'Impossible to be 100% certain'
Man City 0-0 Everton

Everton manager on the decision not to award City a penalty at the end of the match:  "We have been on the back end of receiving a penalty, in the last seconds against Stoke it was a gamble from the referee. 
"John Stones goes to slide to block the ball, Raheem Sterling does not play the ball and waited, in my eyes it is an area that is not certain if penalty or not. I believe the referee should control their emotions and the referee did exactly that, It is impossible to be 100% certain and I am pleased he did this and showed his maturity." 
Big Sam could be Enormous Sam if that win helps Sunderland stay up...
'Enormous, enormous, enormous"
Swansea 2-4 Sunderland

Sunderland manager Sam Allardyce: "From our point of view - before the game panned out unusually - we could have been three goals up in the first 10 minutes.
"Then they get the penalty which looks like he's gone down having been shot when he's kicked the floor. That lifted the crowd and it made life extremely difficult. 
"Then the sending off, then they scored immediately which put us under enormous pressure at half time. That made us do a high press which we don't normally do away from home. That's what worked for us in the end and clinical Mr Defoe has won us the game. We are putting the myth he can't play up front on his own to bed.
"We manipulated or played with the situation as it panned out. That's all we can do. We have taken the opportunity rightly or wrongly to win the game. For us it's an unbelievable win. Today it's an enormous, enormous, enormous three points to give us encouragement and hope going forward. We've made big strides to close the gap but we have to continue to chip away. I think both teams can feel a bit hard done by with the decisions."  
'Everyone can see a penalty'
Man City 0-0 Everton

Manchester City boss Manuel Pellegrini: "Everyone in the stadium could see it was a penalty, it was so near to the referee and so clear.
"Both Raheem's legs were taken by Stones but if he doesn't whistle we can't say anything."
"Diego Costa controls himself"
Chelsea 2-2 West Brom

Chelsea boss Guus Hiddink to BBC Sport:
"The unbeaten run goes on but we would have preferred the win. 
"West Brom always bounce back, there is great character. It was an intense game.
"Diego Costs controls himself, he is very dangerous. The player is concentrated on his job and doing very well.
"The manager made a wise decision when he took over the role off the referee and took of Claudio Yacob. The referee forgot to do it."
Breaking
The running order
Goals, goals, goals...

The Match of the Day running order for Wednesday, 13 January is as follows... 
Liverpool v Arsenal
Swansea v Sunderland
Tottenham v Leicester
Newcastle v Manchester United
Manchester City v Everton
Chelsea v West Brom
Stoke v Norwich City
Southampton v Watford
Bournemouth v West Ham
Aston Villa v Crystal Palace
The programme is broadcast on BBC One at 22:45 GMT (23:15 GMT in Wales and Northern Ireland). 
"You have to ride your luck"
Chelsea 2-2 West Brom

West Brom manager Tony Pulis to BBC Sport:
"We are pleased. It was a tough game, you have to ride your luck and work hard and we did that.
"I thought we were a threat as well. A great advert for Premier League football.
"Disappointed with both their goals but we kept going. 
"We were disappointed with one or two of our players because they got wound up and kept the crowd going,. You have to be sensible and you have to play with your head.
"I thought Yacob was lucky on the second one not to get sent off. We were a bit fortunate. One more and he would have gone.
"There is a couple of weeks to go. Saido Berahino's situation is up in the air. The chairman is running the club diligently, the finances are up to him."
'This is massive"'
Swansea 2-4 Sunderland
Sunderland hat-trick hero Jermain Defoe: "On a personal note to score a hat-trick, especially such an important one is great."
Do you think your goals were offside? "You have to keep making the runs, if you're offside you're offside. You get in the position and see what happens after. 
"This is massive. The rest of the season now will be big. We have to recover and just keep doing what we are doing. We are delighted with the win because we needed it."
Hat-trick hero
Swansea 2-4 Sunderland
'Unfortunately it's not May'
Tottenham 0-1 Leicester

Leicester manager Claudio Ranieri: "We wanted to win but we knew it was a difficult match. Tottenham started very well and put us under pressure but we didn't lose our confidence or shape and it was difficult for them.
"We created some good chances and in the second half it was an open match. We both had chances and we scored the goal. We have three clean sheets in a row. Unfortunately it's January, not May. There's so much work to do. We have to remain calm and believe in what we're doing."
'Hopefully we won't regret this...'
Liverpool 3-3 Arsenal
Arsenal striker Olivier Giroud speaking to BT Sport: "It is disappointing because we were 3-2 up. It was a nice game for the fans because a lot of intensity and chances to score.
"When you concede three goals in an away game it is hard to win. My first feeling is disappointment but we have shown some character to come back from 1-0 and 2-1 down.
"Hopefully, we are not going to have to regret this goal at the end of the championship. It is still a draw, they've done well at the end of the game and pushed a lot.
"It's a good performance but we could have done better."

Chelsea goalkeeper Thibaut Courtois talking to Premier League productions: "We are very disappointed. It was a tough game with them playing the long ball and, second ball, trying to provoke players."
'The referee got it totally wrong'
Swansea 2-4 Sunderland

Swansea City interim manager Alan Curtis: "All the major incidents in the game I think the referee got totally wrong. The first goal and third are clearly offside decisions. You can recover but when you play with 10 men for an hour, that's the one that killed us more than anything."
On Kyle Naughton's red card: "At the time I thought it was harsh. Looking at the video he wins the ball and it''s another one the referee gets totally wrong."
'We kept at it'
Liverpool 3-3 Arsenal

Liverpool midfielder Joe Allen speaking to BT Sport: "It's nice to come on and have an influence on the game.
"We've got that attitude of going to the final whistle. We kept at it and thankfully we have come away with something.
"They have come here in great form. Everyone knows the threat they pose. I'm sure it was exciting for everybody to watch."
'We were the better team'
Man City 0-0 Everton

Manchester City manager Manuel Pellegrini on Radio 5 live: "Maybe first half it was close, but we played well in the second half. I think we were the better team, Everton didn't create any chances, we had 17 shots but for different reasons we didn't score."
The top three are beginning to open up a bit of a gap on the chasing pack.
Are Leicester heading for the Champions League - at least?!
Manchester City 0-0 Everton

Danny Mills
Former England defender on BBC Radio 5 live
Everton survived a late penalty shout after John Stones appeared to foul Raheem Sterling. Danny Mills isn't impressed.  
"You can see John Stones after the game laughing and joking. 
"He knows he's got away with that one."
There were 23 goals tonight, and my pick of the bunch was this one from Jonny Howson.
It counted for nothing but it was an absolute gem...

Mark Lawrenson
Ex-Liverpool defender at Anfield for BBC Radio 5 live
"Liverpool are doing the thing they did against West Brom - thanking the crowd for staying in the building. 
"Arsenal were the much better side in the second half, but if they are seriously going to go on and win the league, they should have taken all three points here." 
Dancing on the train - that's what football is all about...
Ellis James Stacey: Huth's thump of a header had me dancing on the train. Choo choo to the top of the table!! 
Jurgen Klopp and his players approach the Kop to give thanks for the support tonight. What a cracking game, what a chance blown for Arsenal?
Huth on fire
Tottenham 0-1 Leicester

A Wednesday night of drama in the Premier League and you can have your say by getting in touch with the Football Social.
Call 0500 909 693, text 85058 or tweet @5liveSport.