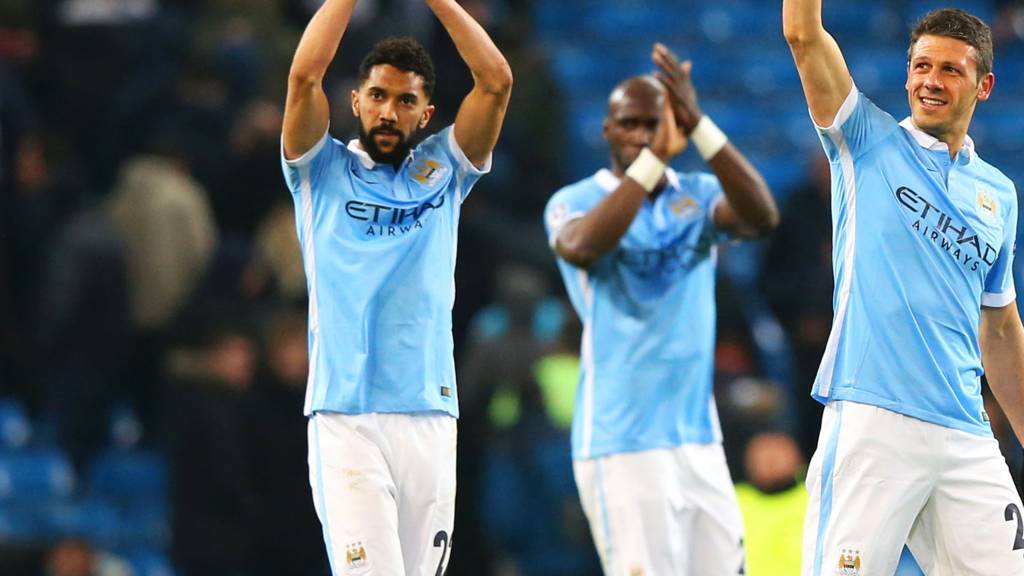 Tuesday's Champions League football
Summary
Man City into quarter-finals for first time
Captain Kompany limps off injured
Fellow centre-back Otamendi also off injured
Atletico Madrid beat PSV on penalties
Watch 5 live Final Score via play icon
And on that note we bid you farewell.
We go again on Wednesday - Arsenal are in Barcelona. Best of luck...
The last eight:
Wolfsburg
Real Madrid
Benfica
Paris St-Germain
Atlético
Man. City
Bayern or Juventus
Barcelona or Arsenal 
As a neutral you can't beat a penalty shootout. Atletico Madrid are some side, led by the brilliantly charismatic Diego Simeone. Heartbreaker for PSV though. 
Luciano Narsingh is a broken man. He quite literally had one job, replacing Luuk de Jong in the dying moments, to take a pen. And he smashed the crossbar. 
Great drama.
Breaking
Atletico Madrid are through!
Atletico Madrid 8-7 PSV
Diego Simeone leads his players in a sprint of honour, a pile-on in front of the fans. What a cauldron of noise in the Calderon! Fantastic.
SCORES! - Atletico Madrid 8-7 PSV
Juanfran
A place in the last eight of the Champions League is at stake but does Juanfran show any nerves? No chance. Low and hard and Atletico's dream lives on. They are through to the quarter-finals, again.
HITS THE WOODWORK - Atletico Madrid 7-7 PSV
Luciano Narsingh
No! Luciano Narsingh came on just to take the penalty and he smacks it against the bar. Disaster for PSV!
SCORES! - Atletico Madrid 7-7 PSV
Filipe Luis
Another cracking penalty. All square, still.
SCORES! - Atletico Madrid 6-7 PSV
Santiago Arias
What is the keeper doing? He doesn't even move, Santiago Arias rolls it in and that's seven out of seven for PSV.
SCORES! - Atletico Madrid 6-6 PSV
Jose Gimenez
Will anyone miss? Ever? The centre-back sweeps the ball into the bottom corner.
Great penalties.
SCORES! - Atletico Madrid 5-6 PSV
Maxime Lestienne
Maxime Lestienne gives the keeper the eyes and rolls it in. Simple.
SCORES! - Atletico Madrid 5-5 PSV
Fernando Torres
Fernando Torres has to score.. and he does. Top corner, great penalty.
SCORES! - Atletico Madrid 4-5 PSV
Hector Moreno
How calm is that? A lovely little dink down the middle.
SCORES! - Atletico Madrid 4-4 PSV
Saul Niguez
Jeroen Zoet dives the right way, gets both hands to it... and lets it slip through.
SCORES! - Atletico Madrid 3-4 PSV
Jeffrey Bruma
Unstoppable! An absolute bullet of a finish from Jeffrey Bruma.
GOAL - Atletico Madrid 3-3 PSV
Koke
Nerves? What nerves? Straight down the middle.
SCORES! - Atletico Madrid 2-3 PSV
Davy Propper
You don't save those! Absolutely whipped in to the corner.
SCORES! - Atletico Madrid 2-2 PSV
Gabi
Should the keeper save that? The ball creeps into the corner.
SCORES! - Atletico Madrid 1-2 PSV
Andreas Guardado
A fast bowler's run-up... and scores. Low and hard.
SCORES! - Atletico Madrid 1-1 PSV
Antoine Griezmann
Never in doubt - sends Jeroen Zoet the wrong way. All square.
SCORES! - Atletico Madrid 0-1 PSV
Marco van Ginkel
Low and hard. Jan Oblak gets a hand to it but it creeps in.
Imagine...
Atletico Madrid 0-0 PSV (Agg: 0-0)
Atletico Madrid 0-0 PSV (Agg: 0-0)
Fantastic atmosphere now! No nerves in a shootout on the continent? English fans would be clamming up now.
PENALTY SHOOTOUT
Atletico Madrid 0-0 PSV (Agg: 0-0)
Manager reaction
Man City 0-0 Dynamo Kiev (Agg: 3-1)

Manchester City manager Manuel Pellegrini: "It was a tactical game, we didn't take any risks just to qualify and waited to see if they gave any space. They played a quiet game. 
"It was important for us to keep the ball and not let them create chances. They knew before the game they had to score three goals.
"Unfortunately for Vincent Kompany, he has a calf problem again in his muscle so we will see how it is tomorrow. Nicolas Otamendi has had a kick and hopefully can recover in the next couple of days.
"It is difficult for Kompany because he came back very well, he played six games in-a-row but unfortunately for him he couldn't continue.
"It is a very important achievement for the club. Before we could not do it, we were very unlucky. It is not normal to play against Barcelona twice in the last-16. This is a club that is growing and continue to develop as a big club.
"We are going to see which is the best way to play. We normally are a team who always score so we get criticism about not keeping clean sheets. We have kept three clean sheets for three games in-a-row now.
"We will see the next game. In this knockout round, you should know how to play tactical games and we will see how far we can go."
'Not easy for City'
Man City 0-0 Dynamo Kiev (Agg: 3-1)
Dynamo Kiev boss Sergei Rebrov: "We lost this game in Kiev. But I say thank you very much to the players. City have big players with big experience but it is not easy now. I wish them well."
Atletico Madrid 0-0 PSV (Agg: 0-0)
I'm getting the vibe from social media that the finale of Happy Valley was a good watch tonight anyway. The football has been RUBBISH.
We do have a penalty shootout coming up though - potentially. 
About six minutes left. 
Another calf injury for Kompany

Manuel Pellegrini confirms that Vincent Kompany has suffered another calf injury - the same injury again.
Atletico Madrid 0-0 PSV (Agg: 0-0)
Still goalless in Madrid. No Champions League knockout tie has ever gone to penalties after being goalless over two legs. Unwanted territory. 
Who do you fancy out of that lot then City fans?
Who is through?
To the last eight
Paris St-Germain
Wolfsburg
Benfica
Real Madrid
Manchester City
Atletico Madrd/PSV
Arsenal/Barcelona
Juventus/Bayern Munich
The draw is held on Friday morning. 
Atletico Madrid 0-0 PSV (Agg: 0-0)
Approaching half-tine in extra time in Madrid. It's edgy.
'We made history'
Man City 0-0 Dynamo Kiev (Agg: 3-1)

Manchester City defender Pablo Zabaleta: "It was really satisfying to make history for this club. We are through to the quarter-finals for the first time. This group of players are working hard every day to make this club even bigger. The Champions League, we are trying to reach at least a final. It's hard but today it was job done. Not a great performance but we are really pleased.
"We drew 0-0 at Norwich and again tonight but we have great players who will create chances. They can score any time. 
"It is a shame to have lost our best two centre-backs. They were doing really well but we have a strong squad."

You can join the fun on the airwaves tonight by calling the 5 live social on 0500 909 693.
Up for discussion with Kelly & co:
As Vincent Kompany limps off again with his FOURTEENTH calf injury since coming to Manchester - is Ally McCoist right - is that the end of the road for your hopes of more silverware?
Can Guardiola rely on Kompany next season and what about that performance?
Bolton have parted company with Neil Lennon - Wanderers fans - how do you feel tonight and Middlesbrough fans - Aitor Karanka is back but for how long?
Man City 0-0 Dynamo Kiev (Agg: 3-1)
The big news to come out of tonight is the injury to Vincent Kompany. I will bring you any update on that one as soon as I get it. I would presume that he will almost certainly be out of the Manchester derby on Sunday - and he must be a doubt for the quarter-finals on 5/6 April. 
Brighton are up to second in the Championship thanks to James Wilson's first-half strike against Reading.
Hull have missed the chance to climb above Middlesbrough in third after managerless Nottingham Forest held them to a 1-1 draw at home.
Two Daryl Murphy goals have given Ipswich a 2-0 victory against Blackburn and taken the Tractor Boys to within a point of the play-offs.
Man City 0-0 Dynamo Kiev (Agg: 3-1)

Andy Townsend
Ex-Republic of Ireland international on BBC 5 live
"What I haven't seen from City going forward, especially in the big matches, is to see them turn it on and go on a run.
"Most of the City fans were heading to the exits with 10 minutes to go. They will get excited when the draw for the quarter-finals is made on Friday. 
"City are still struggling to find the quality and gears to stitch it together. Tonight, it was difficult because they had a lead and then had two players off injured early on and it disrupted them."
Get involved
Text us on 81111
Zip. Nowt. Nada.
Just came back from footy session. Checking BBC live updates, and it displayed a champagne bottle saying that Yaya Ttoure has had a shot...I guess I haven't missed much?
FULL-TIME
Man City 0-0 Dynamo Kiev (Agg: 3-1)
Joe Hart is absolutely pumped with that one. It's a big win for City and a significant step forwards but a disappointing display tonight? Does that matter? Perhaps not.
Job done. Job done three weeks ago. 
GREAT SAVE!
Man City 0-0 Dynamo Kiev (Agg: 3-1)
Got to score! A great chance for Olexandr Yakovenko but he hits it straight at Joe Hart!