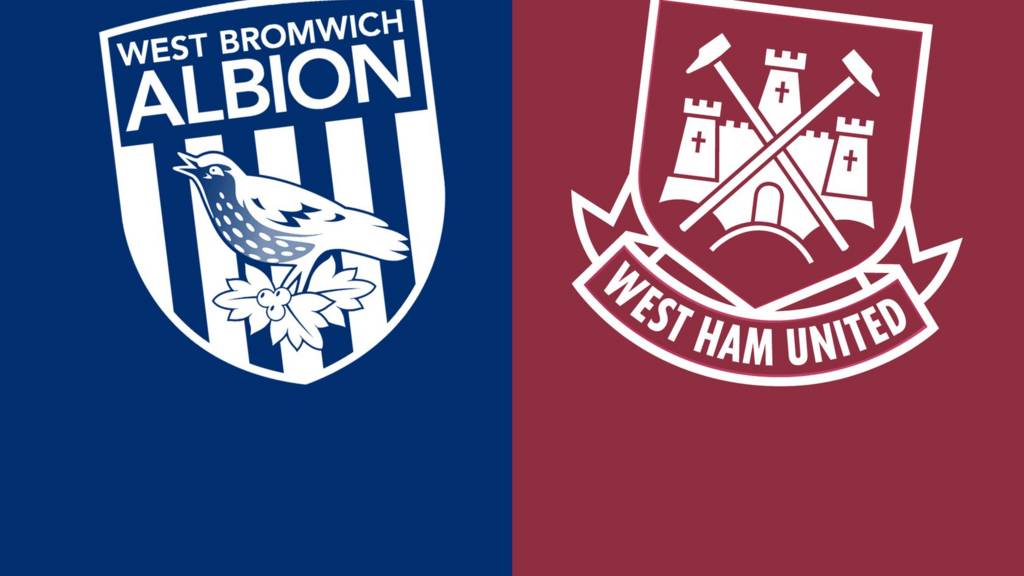 Summary
West Brom XI: Foster, Olsson, Yacob, Evans, Gardner, McClean, McAuley, Fletcher, Dawson, Rondon, Leko
West Ham XI: Adrian, Antonio, Reid, Ogbonna, Cresswell, Kouyate, Noble, Sakho, Lanzini, Payet, Carroll
FT: West Brom 0-3 West Ham
FULL-TIME
West Brom 0-3 West Ham
That's it. All over. West Ham strolled that in the end...
Craig Dawson concedes a corner and we're now deep into added time here.
Victor Moses takes it, and it goes straight out for another one for the Hammers. 
Reece Oxford receives the second corner but his header fails to go on target. 
The Hawthorns is emptying rapidly. 
'Cheerio', sing the West Ham fans, with a certain amount of glee. 
West Brom earn a corner and as it's sent across the box, the ball bounces off the hand of Baggies defender Jonas Olsson. 
Stephane Sessegnon whips in the free-kick from about 25-yards out, and wide to the right.
It comes flying in but Adrian punches clear. 
SUBSTITUTION
West Brom 0-3 West Ham
Another 17-year-old enters the fray.
Reece Oxford comes on for West Ham in place of Manuel Lanzini. 
The Hammers have some defending to do, as West Brom have a free-kick in a dangerous position. 
We're going through the motions here now.
West Ham are playing the ball around with ease, and West Brom don't seem to have an answer. 
Get Involved
#bbcfootball or text 81111 (UK only)
huw corcoran: Beyond a joke that Noble doesn't get in the England squad. With limited CM options deserves to start alongside Dier this Summer.
SUBSTITUTION
West Brom 0-3 West Ham
Dimitri Payet gets a standing ovation as he's replaced by Victor Moses.
Payet played an important part on two of the three goals for the Hammers today. 
GOAL - Mark Noble
West Brom 0-3 West Ham
A Noble double! Looks like game, set and match for the Hammers. 
Dimitri Payet glides through the West Brom defence and Andy Carroll then sends a high ball in from the left to Mark Noble, who thumps home a volley. 
SUBSTITUTION
West Brom 0-2 West Ham
Craig Gardner, who had two good opportunities in the first half, is off and Stephane Sessegnon comes on in his place.
The game has lost all it's oomph, really, and West Ham are cruising. 
Angelo Ogbonna is caught on the ankle by Jonas Olsson and looks in a bit of pain, but the West Ham defender is able to continue.
Emmaneul Emenike is gifted the ball but the Hammers substitute has no options around him.
Saido Berahino then muscles his way forward but the West Brom striker is penalised after colliding with his marker. 
A heavily-bearded Sandro has a crack from about 25-yards out.
It's curving out to the right and eventually goes out for a goal kick. 
Craig Dawson's looping ball hangs in the air for what feels like about 10 minutes.
When it eventually returns to earth, Darren Fletcher tries to make some magic happen in the box before West Ham clear their lines. 
SUBSTITUTION
West Brom 0-2 West Ham
Diafra Sakho, who's been fairly quiet for West Ham today, is coming off (very slowly) and is replaced by Emmanuel Emenike. 
CLOSE!
West Brom 0-2 West Ham
He's only just come off the bench but Saido Berahino has arguably West Brom's best chance of the game.
The striker let's fly from just inside the area but his shot is slightly scuffed and goes wide of the post. 
The flag's up against Andy Carroll, but the West Ham striker decides to have a go from distance anyway and puts it wide.
Plenty of jeers for that one. 
SUBSTITUTION
West Brom 0-2 West Ham
First changes of the match. 
Sandro comes on for West Brom in place of Claudio Yacob, and James McClean makes way for Saido Berahino
Some ironic jeers from the home crowd as Jonathan Leko weaves his way forward and gives the ball to Craig Gardner, who then sends the ball out of play with a sort of top-spinning ball to nowhere. 
Jonathan Leko bolts forward and provides Craig Gardner, who then whips the ball into the box, but Salomon Rondon is scuppered by some intrusive defending from Angelo Ogbonna. 
Better from the Baggies. 
West Brom striker Salomon Rondon is given offside but it looks like a bad call from the linesman.
We'll cut the lino some slack, though. I imagine it's very difficult for them to see. The sun is now blazing down in the Black Country and it's right in their eyes. 
At the other end, Andy Carroll tries to skim a header across goal. It's close but not close enough. 
Aaron Cresswell tries to nip past Jonathan Leko out wide but the West Ham man is clipped by the left-arm of the Baggies teenager.
West Ham earn the free-kick. Dimitri Payet sends it storming into the six-yard box at some speed but Craig Dawson heads clear.
Jonas Olsson is walking a little gingerly but he'll be OK to continue on what is his 250th appearance for West Brom. 
A West Brom corner is flung in and goalkeeper Adrian races out to punch clear. 
The Baggies start the build up again. James McClean tries to push his way into the box but he's out-maneuvered. 
Jonas Olsson is down injured so play is stopped as the big West Brom defender receives treatment. Looks like an ankle problem. 
West Ham striker Andy Carroll is fed out wide and the England man tries to scoop the ball across the box but it goes long and out of play. 
KICK-OFF
West Brom 0-2 West Ham
Back underway at a now sun-drenched Hawthorns. 
Pivotal Payet
HT: West Brom 0-2 West Ham
Those are some numbers from the West Ham man...
Fancy doing our jobs at all? Are you 18 or over? Then you could be in luck!
The BBC Kick Off Trainee Sports Reporter Scheme gives talented people from a diverse range of backgrounds the opportunity to learn and develop sports reporting skills at the BBC.
These work experience placements are two days a week for eight weeks during July and August. Placements will be available at BBC local radio and online sites across the UK.
We're looking for talented applicants, male or female, from a range of backgrounds and experiences.
Fancy it? Dive in!
HALF-TIME
West Brom 0-2 West Ham
Mark Noble's goal ends the half, which West Brom actually started quite well. 
They've got some work to do to recover from this. 
GOAL - Mark Noble
West Brom 0-2 West Ham
Some desperate defending from West Brom and the visitors sit pretty at the break. 
Cheikhou Kouyate races down thewing and no Baggies player can catch him.
The ball is fed in to Mark Noble, and he has an ugly, scuffed shot on goal which trickles past Ben Foster. 
West Brom's Craig Gardner tries to whip the ball into the box from the left-hand side but Hammers defender Aaron Cresswell controls the ball on his chest and it lands safely in the hands of Adrian. 
Two minutes of added time to play. 
West Brom are forced to back-track and West Ham captain Mark Noble gathers the ball on the edge of the box, but can only shoot at keeper Ben Foster.
This one's fizzling out a bit. 
West Brom striker Salomon Rondon is trying to use his physicality to muscle his way through into the box, but he keeps getting penalised for being a bit too heavy handed. 
His team-mate Jonny Evans tries to loop a ball in from about 40 yards out, but it's easily collected by goalkeeper Adrian. 
Jonathan Leko - the 17-year-old West Brom winger - is certainly tricky with his feet.
After trying to twist and turn on the attack, he's laid out flat on the ground after being winded by the elbow of Manuel Lanzini. 
He mooches off in a bit of discomfort, but looks like he'll be OK to continue after a quick breather. 

Martin Keown
Former Arsenal defender on Final Score
"Jonny Evans has switched off. Kouyate is good in the air but Pulis will be unhappy that Evans doesn't pick him up."
GOAL - West Brom 0-1 West Ham
Cheikhou Kouyate
A lovely header from Cheikhou Kouyate after some brilliant work out by Dimitri Payet. 
West Brom lose possession and Winston Reid feeds to Payet, who's switched over to the right.
Payet picks out an unmarked Kouyate and bing, bang, boosh - it's 1-0 West Ham. 
The Hammers have come alive a bit now. 
The ball is looped forward by Winston Reid before Jonny Evans clears. 
Cheikhou Kouyate then enjoys a decent run into the box but he can't make anything of it. 
Dimitri Payet tees up a lovely pass to Aaron Cresswell, and as the West Ham man plays it across the box from the left, Diafra Sakho comes sliding in, but he can't connect. 
James McClean with a corner for West Brom, and Gareth McAuley tries to turn it goalwards but it goes out for a second corner.
This time the in-swinger is cleared after an overhead kick from Angelo Ogbonna. 
Craig Gardner is looking sharp for the Baggies.
He receives a lovely ball from youngster Jonathan Leko, and has loads of time to place his header from inside the box, but it trickles wide.