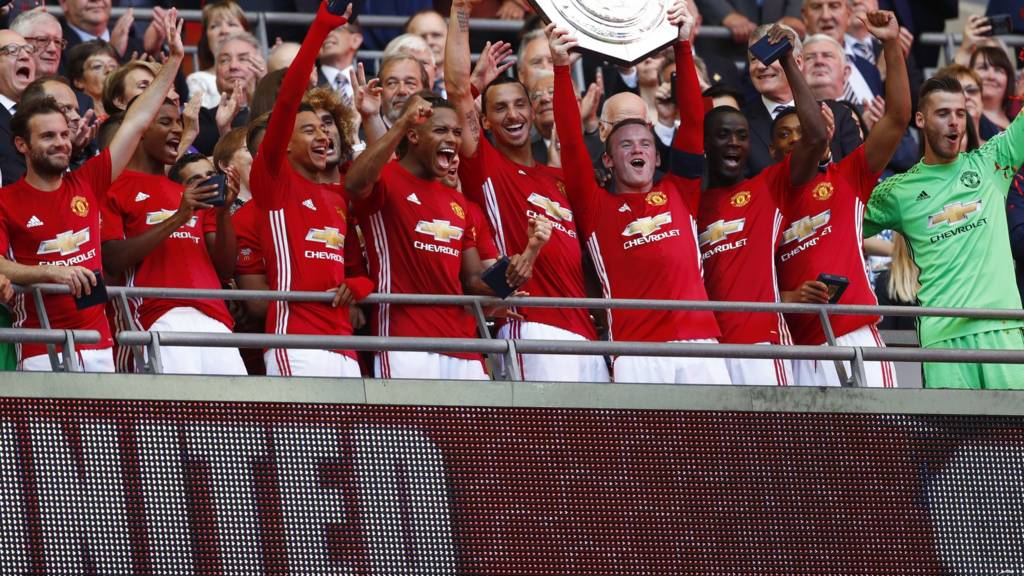 Man Utd win Community Shield - reaction
Summary
Man Utd win Community Shield
Watch goals via highlights tab
Ibrahimovic header proves decisive
Lingard had earlier put Utd ahead
Vardy replied after poor Fellaini backpass
Pogba given permission for Man Utd medical
We'll leave you there for the night. Thanks for joining us as the curtains were raised on the season. Keep your eye on the BBC website this evening for reaction to the game. 
And also, you can watch the highlights later on TV...
Jose Mourinho on the imminent signing of Paul Pogba: "Finally. It's amazing that such a good player is with us. Finally we have him. He comes to a winning side - a team who have their last two matches, in the FA Cup and today. He has to work hard to come to the team."
Jose Mourinho on his decision to bring off Juan Mata, who was only a substitute himself: "I think he played very well. He gave me exactly what I needed. 
"The rules allow six changes, I had made five and I wanted to stop the game. I need to take off the smallest player because we are expecting a lot of long balls. He is the smallest one. 
"We want to win. Everyone is happy in the end."
Jose Mourinho on Marouane Fellaini's poor backpass to set up Jamie Vardy's goal: "[It was] the mistake of the slow pitch. 
"Before the game I touched the pitch and thought we're in trouble. We wanted a quick pitch. I don't know if they forgot to water the pitch."
'It wasn't a fantastic performance'
Manchester United boss Jose Mourinho told BT Sport: "The first half performance was much better than the second. The team isn't fit enough yet. 
"When Leicester increased the pace, they had three quick players and changed the game. It's an important victory but we have lots of work to do. I would be not ambitious if I said it was a fantastic performance. It wasn't. It's always important to start with a trophy.
"Zlatan will be more dangerous when we are more dominant and play closer to the box. He's not a fast player like Jamie Vardy, who can play 50 yards from the box. He needs the team to play and produce chances for him. We need to change this."
Leicester scored with their first shot on target, which was also Jamie Vardy's first shot in the match.
Vardy has scored twice and assisted another goal in his last four games at Wembley Stadium (three for England, one for Leicester).
No player had more touches (97) or made more passes (79) than Danny Drinkwater.
Villa trail on Championship return
Sheffield Wednesday have gone ahead in the 85th minute against Aston Villa, Fernando Forestieri with the goal. Live text here.
Manchester United have won the Community Shield on 21 occasions, a record figure (17 outright wins and four shared titles).
Indeed, the Red Devils have won the Community Shield in six of their last seven appearances (2007, 2008, 2010, 2011, 2013 and 2016).
Jesse Lingard is the first Manchester United player to score in the FA Cup final and subsequent Community Shield since Eric Cantona in 1996
Indeed, he is the first player to do this since Santi Cazorla and Aaron Ramsey in 2014.
Don't forget, you can watch the highlights of the game on BBC One at 22:30 BST tonight. Or you can see them in this page right now, if you're in the UK.
Interesting from the Manchester Evening News reporter at about the time Juan Mata came off...
The first Manchester United manager to win the Community Shield since David Moyes...
Steve Howes: Zlatan compares Utd to Milan, guess he prefers to forget his time at Barca. Utd have spent so much of course they are big again.
Isaac Dee: Didn't Zlatan play for Barcelona? How come "The only one [club] I can compare it [Man Utd] to is Milan"? 
Zlatan Ibrahimovic hated his one season at Barcelona. He definitely didn't forget to mention them (see 18:03 BST).
Jose Mourinho gets his medal and now so do the Manchester United players. And Wayne Rooney lifts the Community Shield. United win the first (sort-of) trophy of the season.
Leicester's players and Claudio Ranieri stand on the pitch, looking up and applauding the Red Devils.
And now here comes the champions. Jose Mourinho signs a few autographs on his way up. His players are quite a bit behind him, he's flying up those steps!
This is the kind of thing people like to say is a "classy touch".
Leicester are coming up the stairs to get their runners-up medals. 
Not sure there's any need for Community Shield runners-up medals, being honest.
Manchester United matchwinner Zlatan Ibrahimovic told BT Sport: "It feels good. The first official game, we play for a trophy and we win. This is my 31st trophy. I'm super happy. Hopefully I can win much more than this.
"It was a difficult game. We played against a good team. They were very strong. Something big is going on with our team. We begin with a trophy.
"I feel very good. The team is fantastic. Good team-mates, good spirit. The coach does everything to win. It is probably the biggest club I played in. The only one I can compare it to is Milan." 
Manchester United scorer Jesse Lingard on BT Sport: "He [New boss Jose Mourinho] has given the front four a lot more licence to change positions. He lets you play free."
He also adds he should be OK to play in their Premier League opener at Bournemouth next Sunday after coming off with a foot injury.
Manchester United extend their record as the most successful team in Community Shield history, with number 21.
Watch big Zlat's winner again.
FULL-TIME
Leicester 1-2 Man Utd
Manchester United break and Zlatan Ibrahimovic is charging towards the halfway line. With keeper Kasper Schmeichel 100 yards outside his goal, he is starting to think about shooting. But the referee is a spoilsport and blows the final whistle.
A last-second corner for Leicester - and here comes Kasper Schmeichel again!
Kasper Schmeichel has his shirt tugged by Marcos Rojo, who escapes punishment, as they go to get onto a Luis Hernandez throw-in. David de Gea catches it. Seconds left.
SUBSTITUTION
Leicester 1-2 Man Utd
With seconds to go, Manchester United midfielder Henrikh Mkhitaryan comes on for Juan Mata.
BBC Sport pundit Danny Murphy says - of the decision to bring on Mkhitaryan - it's "perplexing". "What is the point of bringing him on for a few seconds? It's embarrassing as a player". 
And that was before he knew Mata - who was only a substitute himself - was the man coming off!
Late Leicester corner and Kasper Schmeichel comes up! But he can't get onto it. But he's staying up for a throw-in!
INJURY TIME
Leicester 1-2 Man Utd
Four minutes added on - four minutes for Leicester to force penalties.
SUBSTITUTION
Leicester 1-2 Man Utd
Leicester striker Leonardo Ulloa comes on for defender Robert Huth.
SUBSTITUTION
Leicester 1-2 Man Utd
Off comes Manchester United captain Wayne Rooney, who is moaning about some rough treatment from Robert Huth. Morgan Schneiderlin replaces him and brings the armband to... Antonio Valencia for the last few minutes.
Paul Shaddock: Yes, yes, yes! Supreme finish from the finisher supreme!!! #DaretoZlatan
Francis Edwards: Zlatan was right, he needs no introduction. Best player to come to Premier League for over a decade.
Gregory Mandapat: The God of Manchester attracting more followers and worshippers with that goal. 
GOAL - Leicester 1-2 Man Utd
Zlatan Ibrahimovic
What an impact. Marquee summer signing Zlatan Ibrahimovic scores what is probably the winner for Manchester United.
The veteran Swede gets his head onto Antonio Valencia's cross and it beats Kasper Schmeichel via the post. He looked a shade offside to me but nobody else seemed that fussed about it.
Ahmed Musa heads the ball over, but it wouldn't have counted. Robert Huth flicks a long throw to Musa, who has to move his body to get an unorthodox header on it. Goes over but referee gives a free out anyway.
SUBSTITUTION
Leicester 1-1 Man Utd
Here comes the ninth substitution of the game. Former Manchester United trialist Jeffrey Schlupp replaces Christian Fuchs at left-back for Leicester.
Ander Herrera plays a long ball over the top to Antonio Valencia and Kasper Schmeichel comes flying off his line to boot it into touch. He timed it perfectly - a couple of inches differently and it would have been a red card and penalty.
Zlatan Ibrahimovic then has a weak shot cleared off the line by Danny Drinkwater. I'm not even sure it would have gone in.
Manchester United get their first corner of the game. Wayne Rooney takes it and Leicester clear. Eric Bailly challenges Demarai Gray and loses his boot in the process.
YELLOW CARD
Leicester 1-1 Man Utd
Jamie Vardy, studs perhaps up, slides in on Juan Mata and gets a booking. 
"The game is gone," says Danny Murphy. "This referee isn't good."
Leciester debutant Luis Hernandez fires in a Rory Delap-style throw-in. The ball lands back to the defender, who tries a first-time volley high and wide from 25 yards. Ambitious...
YELLOW CARD
Leicester 1-1 Man Utd
Manchester United defender Eric Bailly is booked for barging down Jamie Vardy.
BBC Sport pundit Danny Murphy reckons the £30m signing from Villarreal would have been sent off in a Premier League game for two bookings by this stage.
SUBSTITUTION
Leicester 1-1 Man Utd
Two more switches for Manchester United. Luke Shaw and Anthony Martial are replaced by Marcos Rojo and Marcus Rashford.