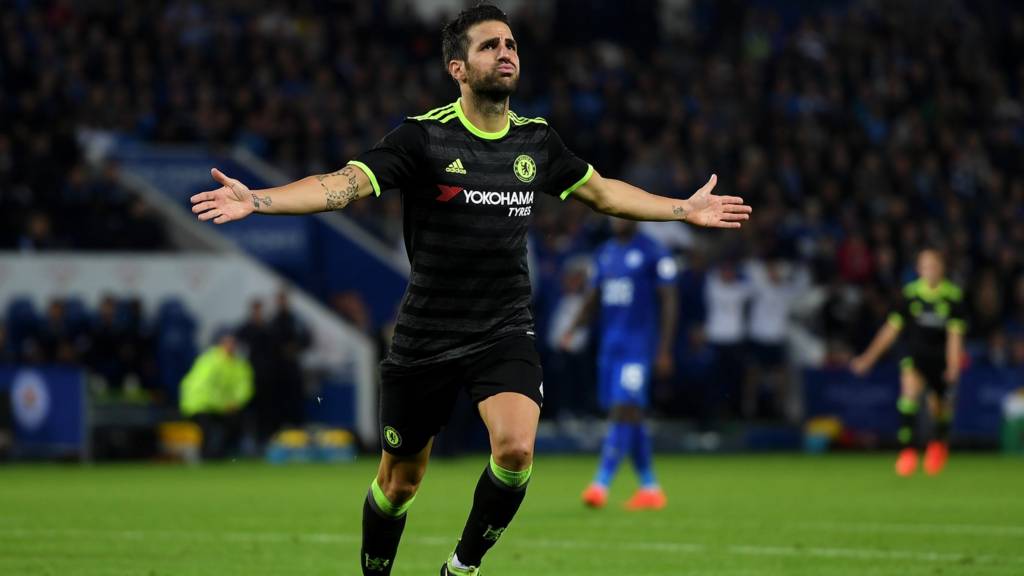 EFL Cup third round - extra time
Summary
Chelsea come from 2-0 down to beat 10-man Foxes
Preston beat Bournemouth after extra time - Makienok hat-trick
Perez scores twice as Arsenal thrash Forest
Liverpool ease through at Derby
Naismith scores as Norwich beat Everton 2-0
And with that we shall bid you farewell.
See you all tomorrow! 
Here's a look down the list of Wednesday night's games:
Fulham v Bristol City
Northampton v Man Utd
QPR v Sunderland
Southampton v Crystal Palace
Swansea v Man City
West Ham v Accrington
Stoke v Hull
Tottenham v Gillingham 
Get involved
Leicester 2-4 Chelsea
Alf: Maybe Conte will have learnt how vital Fabregas is for Chelsea from this performance and that he needs to start every game
'A complete performance'
Nottingham Forest 0-4 Arsenal

Arsenal boss Arsene Wenger: "I knew we had a strong squad. It was a full house, a completely motivated team against us and we had a complete performance.
"The speed and movement of our play was fantastic. Lucas Perez and Granit Xhaka were very good."
'They were clinical'
Everton 0-2 Norwich

Everton manager Ronald Koeman: "It's frustrating, we worked very hard to win the game. We played good football most of the time, we had 17 shots and maybe three or four big opportunities but we did not score.
"They had two shots on target, they were clinical and maybe lucky. But the second goal is a great goal, it cannot happen. He dribbled past four or five of our players."
See you in the [very] early hours...
Bournemouth 2-3 Preston
'Chelsea's decision making was abysmal'
Leicester 2-4 Chelsea

Gerry Taggart
Former Northern Ireland on BBC Radio 5 live
Why are Chelsea taking so long to get going? Their decision making when under pressure was poor, we are talking about basics. Clear the ball first, then ask questions.
Some of Chelsea's decision making was abysmal. 
Simon: A week in Center Parcs watching PNE updates on my phone...hatrick PNE! This is a good week!
The draw for the fourth round takes place after tomorrow night's games.
Here's who is in the hat thus far:
Preston
Reading
Liverpool
Norwich
Leeds
Chelsea
Newcastle
Arsenal
FULL-TIME
Bournemouth 2-3 Preston
Preston have done it! A hat-trick for Simon Makienok does the business. 
FULL-TIME
Leicester 2-4 Chelsea
Chelsea fight back from 2-0 down to win it. 
So that's three in 20 then...
Can Preston hang on? Three or four minutes left now...
So it looks like no penalty shootout in Bournemouth, and there certainly won't be one at the King Power.
Chelsea were 2-0 down after some shoddy defending but rallied back to draw level and then, with Leicester down to 10, they've bossed the extra period. Both sides are just seeing this game out, trying not to use up any more energy now. 
Those 293 away fans won't care about the journey home at the moment!
GOAL - Bournemouth 2-3 Preston
Simon Makienok HAT-TRICK (111 mins)
Incredible, it's a hat-trick for Preston striker Simon Makienok and the visiting supporters no longer care how late in the night it is.
The Championship side are back in front with nine minutes of extra-time to play.
Ball comes in low from the right and Makienok pokes out an outstretched left-foot to lift the ball over Adam Federici's grasp.
YELLOW CARD
Leicester 2-4 Chelsea
Leicester are up against it, not really been in the game, but one hoof over the top sends Jamie Vardy chasing a lost cause which he turns into a free-kick and a booking for David Luiz. 
KICK-OFF
Bournemouth 2-2 Preston
The second period is back under way. A word for those in the away end. It's 22:00 BST, it's a 275-mile trip back to Preston. And there could still be penalties to come.
Home for 03:00?
Heading for penalties in Bournemouth? 
HALF-TIME
Bournemouth 2-2 Preston
HALF-TIME
Leicester 2-4 Chelsea
Lewis Chapman: Would love to see a midfield of Kante, Chalobah and Fabregas against Arsenal. Should be giving Chalobah more of a chance
Javel Bleach: Who is this young Fabregas fella that Conte's snuck in unnoticed?
Chelsea are totally in control at the King Power, they have been ever since extra-time kicked off. Leicester have bigger fish to fry - this time next week they will have just hosted Porto in the Champions League. 
Benik Afobe is close to a ball across the penalty area, after Max Gradel had a low shot turned away. Bournemouth looking the most likely. 
Nemanja Matic has a low shot well saved as Chelsea really go for the kill now. 
GOAL - Leicester 2-4 Chelsea
Cesc Fabregas (94 mins)
When was the last time Cesc Fabregas scored twice in a game? He's got two in two minutes. Ron-Robert Zieler is timid under a high hanging ball, it's a crowd scene in front of him and the ball is eventually headed down with the keeper nowhere. Cesc Fabregas gets the ball, left-footed, eight yards out - and he smashes into the roof of the net. 
In case anyone was wondering...
Now THIS is what the League Cup is all about: 8 games, 22 goals, 2 red cards, and 2 heading for extra time!
GOAL - Leicester 2-3 Chelsea
Cesc Fabregas (92 mins)
They were 2-0 down, but Chelsea now lead against the 10-men of Leicester! It's a great goal this, Diego Costa finding Eden Hazard, he jinks in from the left and then backheels into the run of Cesc Fabregas, who takes a steadying touch and then clips in from 12 yards out. 
Nottingham Forest 0-4 Arsenal
It wasn't to be for Nicklas Bendtner tonight as Forest were soundly beaten by Arsenal at the City Ground...
KICK-OFF
Leicester 2-2 Chelsea
And we are back up and running. Diego Costa came on in the 67th minute, and has been absolutely dynamite since. 
So, just to confirm, we have two ties tonight heading into extra-time.
Bournemouth 2-2 Preston
Leicester 2-2 Chelsea 
FULL-TIME
Brighton 1-2 Reading
FULL-TIME
Leeds 1-0 Blackburn
FULL-TIME
Bournemouth 2-2 Preston
Extra time at Dean Court.
FULL-TIME
Newcastle 2-0 Wolves
FULL-TIME
Everton 0-2 Norwich
FULL-TIME
Nottingham Forest 0-4 Arsenal
FULL-TIME
Leicester 2-2 Chelsea
GOAL - Nottingham Forest 0-4 Arsenal
Alex Oxlade-Chamberlain (90+3 mins)
A real coat of gloss to the scoreline, Alex Oxlade-Chamberlain slotting home from the edge of the area. 
FULL-TIME
Derby 0-3 Liverpool