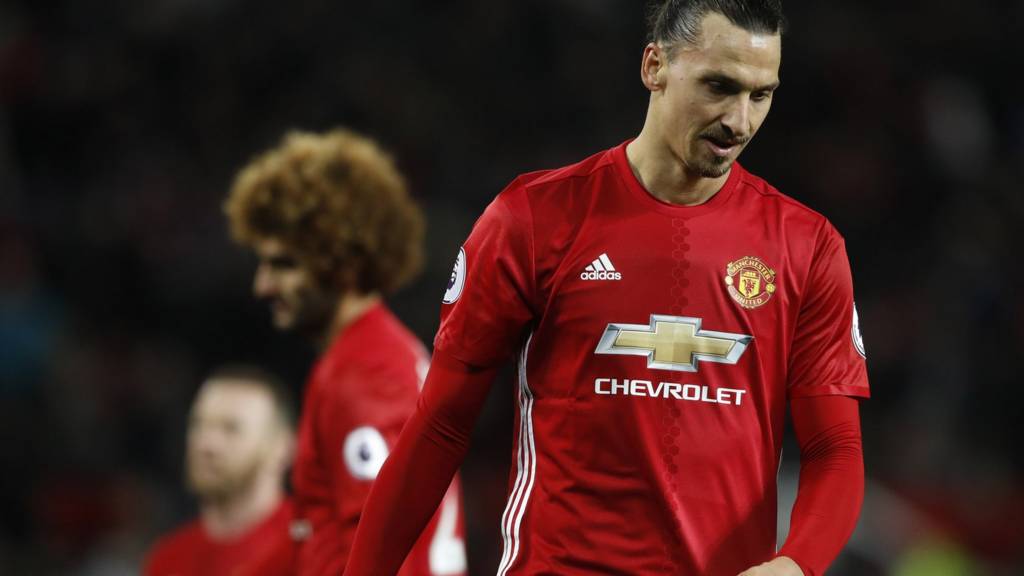 Mourinho sent off in Man Utd draw, Saints beat Everton - reaction
Summary
Result: Man Utd 1-1 West Ham - Ibrahimovic cancels out Sakho opener
Mourinho sent to stands after kicking drinks bottle
Result: Southampton 1-0 Everton (Austin after 41 secs)
Sanchez double helps Arsenal beat Bournemouth 3-1
Gomes own goal gives Stoke 1-0 win at Watford
Liverpool boss Jurgen Klopp confirms forward Philippe Coutinho will be out for at least five weeks with an ankle injury.
Read more
Well, that was an eventful day.
That is it for our coverage of this weekend's Premier League football. We've got European football for you in the form of Real Sociedad v Barcelona, which you can follow right now.
Me, though? Well, I'll see thee.
Anyone fancy a bit of Arsenal chat with Martin Keown?
'We believe results will appear'
Man Utd 1-1 West Ham
Manchester United assistant manager Rui Faria speaking to BBC Sport: "We did more than enough to win the game in a comfortable way. 
"We didn't and the reality is that we are playing well. The team is doing what we ask. We create the opportunities but we are not scoring the goals and we are suffering because we want to win the matches.
"The answers are on the pitch. We create good chances and as a team we played very well. What we didn't get was the goals that should happen with the opportunities we create to win the match. 
"We can say we are unlucky and in the last matches we should get different results.
"We all believe the results will appear. "
On Mourinho's dismissal: "The referee explained it to Jose and there is nothing more to say. I think there was frustration from Jose after the yellow card for Pogba. It should be a foul for us but the referee understood it in another way.
"I don't take over. I follow the normal procedure. The boss is Jose all the time and he passes on what is the best for the team and we just try to make it happen without having him there."
'One day it will happen for us'
Man Utd 1-1 West Ham
Manchester United assistant manager Rui Faria, speaking to Sky Sports: "We are playing well and we deserved to win but we didn't. We deserve much more than we got. 
"We dominate, we create chances to win the matches comfortably. The team is playing very well but some things didn't happen.
"One day it will have to happen for us. We'll start winning."
'It's interesting for the future'
Southampton 1-0 Everton
Southampton manager Claude Puel speaking to BBC Sport:  "It was a very good performance for us because we had a lot of injury problems before the match. 
"But it was a good game against a good team, it had lovely action and I took pleasure from our chances today - it's interesting for the future. 
"It's always better to start with a goal as normally its us conceding early. Today's performance was good for confidence after a loss at Sparta Prague earlier this week. 
"Josh Sims - for his first Premier League game, I guess it's okay! 
"I am happy for him and the team. He showed very good progress with the Under 23's and thought it would be a good opportunity for him. 
"I think it's important to respect the academy here and when we have problems with injuries its fantastic to be able to start players from the academy."
'Character, commitment and quality'
Man Utd 1-1 West Ham
West Ham manager Slaven Bilic speaking to BBC Sport: "It might have been more but it is a great point for us, especially as we played good. I have to praise the players, who showed character, commitment and quality, especially in the second half.
"In the first half, when we scored we were a little bit afraid we were winning at Old Trafford and then until they scored we lost too many balls.
"In the second half, we told the players to go up on them and I was very pleased how we played. You can't attack here all the time, they tried to press when they lost the ball and if you get out of that there is a lot of space. We were using that really good in the second half."
On Darren Randolph: "He deserved the chance. Make no mistake, it's not Adrian's fault we are in this position but Darren deserved a chance and he did really well."
African footballer of the year vote
Votes for the 2016 BBC African footballer of the year are coming in thick and fast. But time is running out to cast your vote.
Who do you think is the best African footballer this year? Gabon's Pierre-Emerick Aubameyang, Riyad Mahrez of Algeria, Senegal's Sadio Mane, Ghana's Andre Ayew or Yaya Toure of Ivory Coast.
"If you don't score, you can't win"
Southampton 1-0 Everton
Everton manager Ronald Koeman has spoken to BBC Sport: "We know Saints are a good team - they play in Europe and have very good players. 
"Their system hasn't changed much [since Koeman was manager] - the goalkeeper and defensive players are the same and are still strong. 
"We had good chances but they had better chances to score and our start was really poor because even the kick off was ours and we lost the ball too fast. 
"Obviously after they scored within the first minute, they will then drop back, defend and wait for the counter and that's what they did. Having said that, I can't complain about our second half but if you don't score, you can't win. 
"I wasn't aware of Josh Sims when I was here and he is not my problem - I work for Everton, not Southampton."
Faria speaks to the press
Man Utd 1-1 West Ham
Manchester United assistant coach Rui Faria is currently speaking to our reporters after the game at Old Trafford. Looks like Jose Mourinho is going to be a no-show after his sending off.
Defensive reinforcements required
Man Utd 1-1 West Ham

Simon Stone
BBC Sport at Old Trafford
Manchester United have been linked with Benfica's promising Swedish defender Victor Lindelof today and it is not hard to see why.
In the last minute of their last game against Arsenal and within two minutes against West Ham today, United have conceded the kind of routine 'finish off a ball into the box' goal it used to be unimagineable happening to a Jose Mourinho side.
Even though his first-choice central defensive pairing, Chris Smalling and Eric Bailly, are currently out injured, Mourinho must know United's chances of making meaningful progress under him will be undermined unless he can make his defence stronger.
Worst start since 89-90
Man Utd 1-1 West Ham
'We don't know what we have to do to win a game'
Man Utd 1-1 West Ham
Manchester United midfielder Ander Herrera speaking to BBC Sport: "Another game the same. We control the game completely from the kick-off. They score a very lucky goal and then we control and create chances. 
"Their keeper was the best one more time. That happened against Stoke, Burnley and Arsenal. We don't know what we have to do to win a game. 
"We have more possession than the opponents. I don't know, honestly.
"I have had a run like this but not playing good. The way we are playing we are controlling the whole game from the kick-off.
"Football is about scoring goals and finishing and we are not doing that right. It is true." 
David McNaught: Presumably Liverpool have just bid for Sims? #AnfieldConveyorBelt
Josh Hammond: Newsflash- Southampton brace themselves for Liverpool to try and buy another of their players in the shape of Josh Sims. 
'A dream come true'
Southampton 1-0 Everton
Debutante Josh Sims speaking to Sky Sports after picking up the Man of the Match award: "I'm delighted for how I performed today. 
"I found out I was in the squad just before kick off and as soon as I knew, the lads were just giving me advice, telling me to just do what I do best - the whole thing was a great experience. 
"It was a mixture of nerves and excitement before starting but It's everything you wish for as a kid. I've come through the academy here so having the fans sing my name and give me a standing ovation on my debut is a dream come true."
'We were all switched on'
Man Utd 1-1 West Ham
West Ham keeper Darren Randolph: "We rode our luck and had to defend for our lives at times.
"It was important to come out and have a good performance and show we can compete against the big teams. We genuinely believed we could get something from the game.
"It wasn't just me that needed to be switched on it was the whole team and they were."

Steve Claridge
Ex-Leicester striker on BBC Radio 5 Live
What Ronald Koeman will take from this game is, "That is how I want my team to play over the next few months". 
There was a real fluency to this Saints side here today. 
Everton are still a work in progress team, a bit of a bits-and-pieces-side.  
Draw specialists
Man Utd 1-1 West Ham

Simon Stone
BBC Sport at Old Trafford
It was six. Now it's eight.
Jose Mourinho was counting the number of points Manchester United have dropped at home before today's game and the revised total won't make happy reading.
In the last week they have dominated against two London sides but conceded in the final couple of minutes against Arsenal and the first couple today.
And with the FA sure to be investigating his red 'card, it's not a great time for the Portuguese.
FULL-TIME
Man Utd 1-1 West Ham
And there is the final whistle. Another difficult, frustrating afternoon for Manchester United, who came from behind to claim the point but were unable to do enough to claim all three against a disciplined and hard-working West Ham. 
We await word from Jose Mourinho, who was sent to the stands for punting a water bottle in the first half.
West Ham use up yet more time with a substitution as Dimitri Payet takes his time trotting off to be replaced by Sofiane Feghouli. There can surely only be seconds left.
FULL-TIME
Southampton 1-0 Everton
A deserved win for Southampton thanks to Charlie Austin's goal and a superb Premier League debut from Josh Sims. Not a happy St Mary's return for Ronald Koeman, though.
Finally a shot on target for Everton as Gareth Barry's tame long shot is saved by Fraser Forster. Too little, too late.
Wayne Rooney looks to conjure something in the box but his little dart and pull-back is cleared and the assistant's flag for offside kills more time for West Ham.
Into the final minute in both games. Manchester United and Everton are desperate for a goal, Southampton and West Ham digging in.
SUBSTITUTION
Southampton 1-0 Everton
Charlie Austin departs and on comes Shane Long to give Southampton more running up top.
Crucial save from David de Gea! Ashley Fletcher weaves his way past a series of tackles in the box to give himself just the keeper to beat, but De Gea comes out on top. 
SUBSTITUTION
Man Utd 1-1 West Ham
Manchester United's final change - Marouane Fellaini for Jesse Lingard. Route one time.
An impressive debut...
Southampton 1-0 Everton
John Odande: I'm sure Josh Sims, making his debut for Southampton tonight against Everton, is already on the radar of several EPL clubs
Hoops: Get that Sims kid in the England squad!
Graham Green: Great that Southampton play their Academy products. Based on today's performance, Sims has a bright future- if we can keep him!
SUBSTITUTION
Southampton 1-0 Everton
Southampton have a new hero. Josh Sims gets a standing ovation as he departs to be replaced by another academy product Sam McQueen.
Everton also make a change - their last - as Enner Valencia comes on for Leighton Baines.
The Toffees are still yet to have an attempt on target. 
It is all hands to the pump for West Ham to keep Manchester United at bay. Zlatan gets to a long ball first to beat the onrushing Darren Randolph but before the striker can finish into the empty net, Kouyate comes across to intercept.

Simon Stone
BBC Sport at Old Trafford
Manchester United assistant-boss Rui Faria is patrolling the technical area now Jose Mourinho has been banished.
He called Jesse Lingard over for a chat during one break in play, only to get pulled back by Silvino Louro, another member of Mourinho's backroom team.
Louro had a long chat with Faria before returning to the dug-out.
Whatever was said, it hasn't worked. Yet.

Alan Green
BBC Radio 5 live
What a save by Stekelenburg! He had no right to save that! 
GREAT SAVE!
Southampton 1-0 Everton
Maarten Stekelenburg is keeping Everton in this. The ball is swung to the back post by Cedric Soares and James Ward-Prowse brings it down on his chest to give himself just the keeper to beat from eight yards but Stekelenburg recats superbly to palm the ball up. It looks like it might drop over the line but Phil Jagielka steers away the danger with a hooked clearance.
SUBSTITUTION
Southampton 1-0 Everton
A first change for the Saints sees Nathan Redmond replaced by Jordy Clasie.
CLOSE!
Southampton 1-0 Everton
So close to a debut goal for Josh Sims. Charlie Austin is quick to react when Maarten Stekelenburg spills a long-range shot but his cross is sliced well wide by the young striker.
The ball is in the net for Manchester United. But it won't count. Jesse Lingard - the man who finished from close range after Henrikh Mkhitaryan had hit the post - was offside.
West Ham give Manchester United something new to think about at the back, sending on Andre Ayew for Manuel Lanzini.
Manchester United are plugging away. Jesse Lingard strikes an effort on goal from the edge of the box but Darren Randolph is right behind it.
Everton continue to seek out a winning combination. Kevin Mirallas is on for the ineffectual and clearly frustrated Ross Barkley.