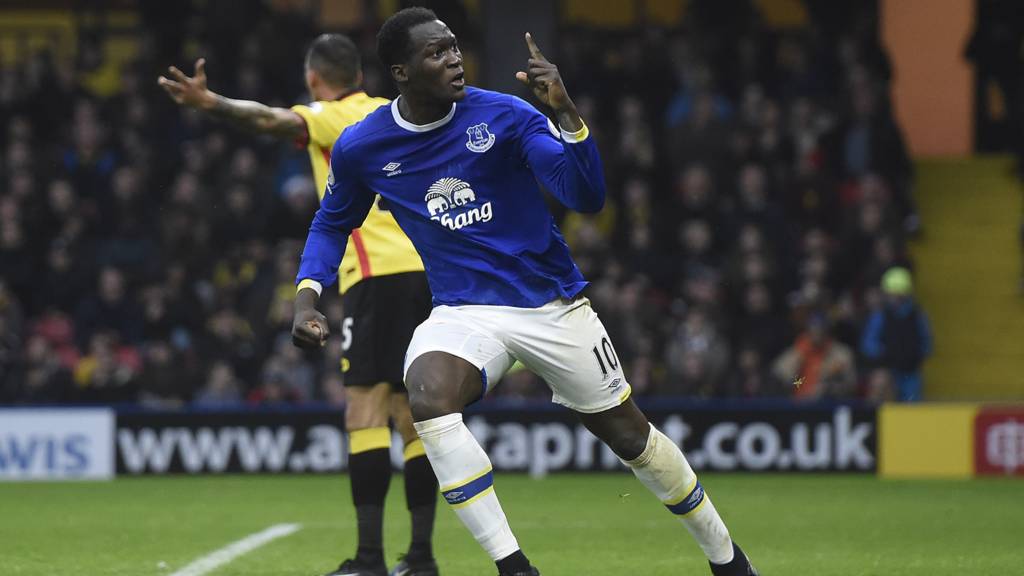 Summary
Lukaku header set-up tense finish
Okaka with superb flick and header
One win in 10 PL games for Everton
Four Premier League games at 15:00 GMT
Leicester v Man City - 17:30 GMT
Right than, that's farewell from us for now. 
But of course, Saturday football does not stop now.
Follow every move, right over here.
Get Involved
Tweet: #bbcfootball
Jawad Kayani: I am afraid that Everton could be next Valencia for Ronald Koeman
Seth Gogo Egoeh: Let's all not forget how Everton fans celebrated the sacking of Roberto Martinez and welcomed the signing of Koeman.
Watford goalscorer Stefano Okaka speaking to Sky Sports: "It was a little bit difficult in the beginning because for a long time I didn't play, but it was a fantastic game and to win is so important."
On his spectacular first goal: "I have scored three or four times like that. It's amazing.
"I know my quality and my team-mates know my quality. In Italy I was injured, but when I was in the picture everybody helped me."
My goals will come - Deeney
Watford 3-2 Everton
Watford captain Troy Deeney speaking to Sky Sports: "The big man (Okaka) did fantastic today and that's his second start so he will build into it. We have a real powerhouse on our hands and he will cause problems."
On whether he had any claim on Sebastian Prodl's goal, Watford's second: "I'm desperate for a goal but not that desperate to take it off someone else. Mine will come and it's no stress to me. As long as the team is winning, individual goals will come afterwards."
Defeat sees Everton slip to ninth in the table with the whole of the rest of the league still to play this weekend.
Is this where you thought you'd be after the first four months of Ronald Koeman's regime Toffees fans? 
Instead, it was all about Stefano Okaka for the home side. The Italian chipped in with his first goals for Watford, and the first was a delightful little back-heel flick.
You'll struggle to see a tastier goal this Saturday.
Troy Deeney looks a relieved man as he soaks in the home fans' applause with a giant Hornet mascot for company. 
The search for his 100th Watford goal goes on. He should have bagged today.

Mark Schwarzer
Former Middlesbrough and Fulham goalkeeper on BBC Radio 5 live
That's a fair result, Watford definitely deserved to win the game. Everton were well below standard and you can understand why they are in the run they are in. 
For most of the game, Everton really didn't pose many threats. Looking at the run of games they have to come, Ronald Koeman and their fans will be extremely worried.
FULL-TIME
Watford 3-2 Everton
A Gerard Deulofeu free-kick from deep is boomed away by Heurelho Gomes' fists. Watford have made it home. Just.
Valencia plays it wide to Lukaku, who plays a cross back towards his fellow striker. 
Valencia penalised for a handball. The four minutes are up, and the Watford fans are signing strong. 
Will there be time added on in time added on?
This is all about Watford just hanging on now. They're looking to hold up the ball in the Everton corner for as long as they can. And they're doing a decent job of it too. 
Will there be one more chance for the away side?
SUBSTITUTION
Watford 3-2 Everton
Nordin Amrabat robs possession. Wins a throw deep in Everton territory. 
Watford make another change to eat into the two minutes still to come. 
Juan Zuniga is in no hurry to be replaced by Christian Kabasele.
This is the man you want on the ball in the corner. Troy Deeney.
But Everton win it back...
FOUR minutes of added time...
Free-kick Everton. Ross Barkley range. 
Hearts in the Watford wall are pumping...
It's straight at Heurelho Gomes. 
How long left??
CLOSE!
Watford 3-2 Everton
Watford are so, so worried right now. Heurelho Gomes lets a Romelu Lukaku shot slip through his fingers and it's hacked away from the six-yard box. 
Where was somebody gambling for Everton?

Mark Schwarzer
Former Middlesbrough and Fulham goalkeeper on BBC Radio 5 live
Watford will be kicking themselves as they have just sat back again, they didn't get out of the box. To not pick up Lukaku in the box, you have to be asking serious questions.  
It's not necessarily about ability on the pitch. If you look at the game today, it is about Everton's application on the pitch.
They are good enough, they should be in a better position than what they are. Their fans will be asking why they weren't playing with this urgency 10 or 15 minutes ago.
He's looking for the treble, Romelu Lukaku, but too hard as he wastes a decent chance of an opening with a dribbling shot from range. 
There is time for more... 
Watford are rocking. 
GOAL - Watford 3-2 Everton
Romelu Lukaku
A glimmer! Romelu Lukaku is unmarked in the box and it's so easy as he heads home Aaron Lennon's cross to leave us with just one goal in it... 
Can the Toffees turn this around? A Lukaku hat-trick?
Andany Arthur-A: Is it Koeman or is it the Everton mentality? They have been poor for three seasons now, What next for the loyal fan?
Jodie Luke Copeland: If Ronald Koeman had just stayed at Southampton then everybody would be happy
Still signs of life from Everton - more so now than for much of the game - but all too little, too late you feel.

Mark Schwarzer
Former Middlesbrough and Fulham goalkeeper on BBC Radio 5 live
Everton have to push forward and try to get something out of this game. 
The delivery is what has been really missing for Everton today. We've seen with the corners where they have been easy for Gomes to claim - as a goalkeeper you love that.
Ronald Koeman will be very disappointed they have not been able to capitalise on good positions.
OFFSIDE!
Watford 3-1 Everton
And he missed anyway. Romelu Lukaku looks to prod home Gerard Deulofeu's cross  - turn it in and you'll set up a grandstand finish in search of a third - but skews it wide, and is called out for offside anyway.
Heurelho Gomes launches a sliced clearance out of play and Aaron Lennon is brought on for Leighton Baines. Right winger for left-back in a final throw of the dice for Everton.
Midfielder Ben Watson, briefed with shoring up the final 10 minutes of what's looking like a Watford victory, comes on for the two-time goalscorer Stefano Okaka. 

Mark Schwarzer
Former Middlesbrough and Fulham goalkeeper on BBC Radio 5 live
I am surprised it has taken Everton until the 78th minute to put Deulofeu on the left-hand side, because he can cause problems there.
He can cut back inside into the box and defenders don't want to have to foul him.
Stefano Okaka has made 69 people very happy indeed this lunchtime...
Again the Watford defence closes up on the beginnings of an Everton opening as Enner Valencia is crowded out by Sebastian Prodl. 
Frustration is bubbling. What's its boiling point? James McCarthy raises the temperature dial with a nudge on a Watford body trying to delay him taking a free-kick. 
Fifteen minutes. Everton need three goals to win, two to somehow claw themselves back onto level terms. 
But what little fight there was has long since gone from Ronald Koeman's XI.
Get Involved
Tweet: #bbcfootball
Looks like Everton are facing a not-so-merry Christmas
George Powell: Garbage from Everton. Can't defend, can't attack. Just what exactly are we paying our players and manager for
Stavros Makrozachopo: Since that demoralising defeat from Chelsea, Everton look a different side.
Johnny Magrinho: If Everton can't cope with Watford then Xmas could be a very bleak time for the club. Arsenal, Liverpool & Leicester... Ouch!
Mark's hit the nail on the head there. Everton have looked short in the entire 'knowing what to do with the ball' category.

Mark Schwarzer
Former Middlesbrough and Fulham goalkeeper on BBC Radio 5 live
Okaka is going to pick and choose the times he is going to run, and he has been very effective in doing so.
He was a little bit quiet at the start of this half, up until he scored.
What's been surprising about Everton is a lack of organisation, a lot of hopeful balls where they seem to have no idea of each other's runs.
If I told you Watford were going above West Brom with this win, would you be surprised? 
What about if that also meant moving seventh, level on points with Manchester United?
SUBSTITUTION
Watford 3-1 Everton
Second change for the Toffees. 
Enner Valencia comes on in search of goals, two of them at least, with Kevin Mirallas the man to make way. 

Mark Schwarzer
Former Middlesbrough and Fulham goalkeeper on BBC Radio 5 live
If anything I expect Watford to score more goals. The way they are playing they are pulling Everton all over the pitch. It's been pretty straightforward, Watford are more hungry.
There is no one trying to lift the Everton players, no communication. They're all confused, they don't know what's going on, really.
Koeman's lost the dog vote...
Watford 3-1 Everton
Get Involved
Tweet: #bbcfootball
Here's some of your views on Watford fielding 11 nationalities against Everton today
Jon Hind: Who cares where players are from? If English players were good and affordable enough they'd play.
FionnArsenal: Don't need more homegrown. English players need to diversify and play in other leagues. Germany have players all over the world.
Simon Jordan: Homegrown rule is a ridiculous suggestion. If you're good enough, you play. No matter where you're from.
CLOSE!
Watford 3-1 Everton
Top defending from Sebastian Prodl. 
Gerard Deulofeu's low cross is perfect for a Lukaku sweep home, but Prodl backs up his earlier goal with a strong challenge to deny the Everton striker at the front stick. Excellent work. It even went out for a Watford goal kick.

Mark Schwarzer
Former Middlesbrough and Fulham goalkeeper on BBC Radio 5 live
It was a wonderful corner, what a delivery and Okaka made a great run. He outran Gareth Barry to get to the near post.
Back down to that point about the delivery. It was great and if you get the ball in the right place in the box it makes it easy for them.
GOAL - Watford 3-1 Everton
Stefano Okaka
Just after Maarten Stekelenburg looked to have kept Everton in it with a brilliant save, Stefano Okaka heads in the resulting corner, swept in by Jose Holebas for his second assist of the match.
Ross Barkley makes his way on for Everton. He's got a lot of work to do to turn this around. Idrissa Gueye the man to make way.