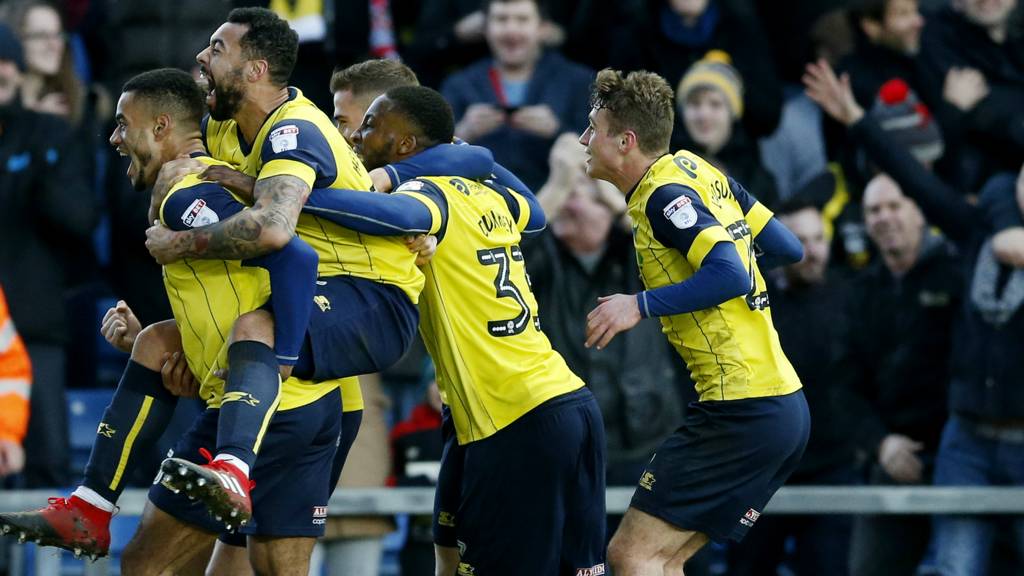 Summary
Tremendous afternoon of FA Cup action
FT: Spurs 4-3 Wycombe - Son with late, late goal
FT: Chelsea 4-0 Brentford, Palace 0-3 Man City
FT: Lincoln 3-1 Brighton - Imps come from behind
FT: Oxford 3-0 Newcastle - Magpies had penalty saved
FT: Rochdale 0-4 Huddersfield, Burnley 2-0 Bristol City
FT: Middlesbrough 1-0 Accrington, Blackburn 2-0 Blackpool
And with that, we bid this page goodbye. See you tomorrow! 
HALF-TIME
Southampton 0-3 Arsenal
Easy stuff for Arsenal so far.
Arsenal are making this look easy now. Again Danny Welbeck is involved, this time finding Theo Walcott for a tap-in against his old club.
A feast of FA Cup football still to come this weekend:
Sunday, 29 January
BBC One: 11:50 - 14:00. Millwall v Watford (kick-off 12:00 GMT)
BBC One: 15:30 - 18:00. Manchester United v Wigan Athletic (kick-off 16:00 GMT)
BBC One: 22:30. Sunday night highlights
Monday, 28 January
FA Cup fifth round draw (as part of The One Show, approx. 19:20 GMT)
'I thought we'd scored too soon'
Oxford United 3-0 Newcastle
Oxford United manager Michael Appleton told BBC Radio Oxford:
"I was delighted with how the players started the game. I thought we got a foothold in the game in the first half and they showed the quality they've got. Simon Eastwood had to make two very good saves towards the interval.
"I said to the players at half-time that they wouldn't get a better opportunity to get into the last 16 of the FA Cup. I said that we'd need to keep our concentration and that Simon would have to make one more important save, thankfully he did that from the penalty.
"I thought we'd scored the first goal too soon and for 15 to 20 minutes, they pinned us in a little bit. But, the players rode the storm and I think the penalty save gave everyone a lift.
"I think that belief really told in the last 15 minutes and I thought the players were magnificent."
'Beyond all of my widest dreams'
Lincoln City 3-1 Brighton
Lincoln manager Danny Cowley, speaking to BBC Sport: "You always go into games thinking you have a chance. The boys were organised and motivated.
"I'm surprised. It's not often football surprised me, but today...
"I was really pleased that we were able to stay in the game [after going behind]. Half-time gave us a chance to regroup. We were brave all afternoon, we wanted to press high and be committed to our style and what we believe in. 
"I can't believe the scenes and the emotion and the support – it's beyond all of my wildest dreams."
Danny Welbeck has got his second of the evening. He loves an FA Cup goal.
Hughton bemoans costly errors
Lincoln City 3-1 Brighton
Brighton boss Chris Hughton, speaking to BBC Sport: "It was certainly not a result I would have seen coming at half-time
"We were in decent control at half-time but what you can't afford is to give them a leg up, and when you concede three goals as poorly as we have, that makes it difficult to win any game.
"If I look at the goals we conceded, they are all errors."
On his decision to make nine changes to his team, he said: "I would do it again." 
Goal replay
Southampton 0-1 Arsenal
Patient stuff from Arsenal with 15 passes in the build-up to that wonderfully taken goal by Danny Welbeck. Southampton are letting the Gunners press high up the pitch and were punished as a result.
'We didn't underestimate Oxford'
Oxford United 3-0 Newcastle
Newcastle United manager Rafael Benitez:
"We didn't underestimate Oxford. We didn't take our chances in the first half, we missed a penalty and Oxford took their chances.
"You have to give credit to them as they were fighting for the result and we just made too many mistakes and paid for the first one at the start of the second half.
"I feel sorry for the fans and for us as we wanted to go through and we could've done on the chances created in the first half. It's something we need to analyse and find out why we made the mistakes we did and be ready for the next game."
Forgotten man Danny Welbeck has just scored to put Arsenal ahead, a lovely little finish it was too.
'We can't ask Boro to play their kids'
Middlesbrough 1-0 Accrington Stanley
Accrington Stanley manager John Coleman, speaking to BBC Sport: "A lot of other clubs have played their kids - we can't ask Middlesbrough to play a weakened side so it's a testament to how well we've played that it was only one-nil.
"The financial aspect is great so a replay would've been fantastic.
"But now we've got to show the same heart and spirit in every league game from now until the end of the season."
'Downing scored an amazing goal'
Middlesbrough 1-0 Accrington Stanley

Middlesbrough manager Aitor Karanka, speaking to BBC Sport: "The most important thing with these games is to just get through to the next round - we had chances to score more but sometimes it's difficult against these sides.
"Accrington Stanley were really organised and kept fighting to the end so I'm really pleased.
"Stewart Downing deserved to score, it was an amazing goal. I told him at half-time that he was one of the best players on the pitch but to score a goal is always best."
Wondering when the draw for the fifth round is?
It takes place this Monday and will be broadcast live on The One Show on BBC One from 19:00 GMT. England boss Gareth Southgate is in attendance.
'Ivanovic is a legend here'
Chelsea 4-0 Brentford

Chelsea boss Antonio Conte speaking to Bein Sports: "I am pleased and very happy for the commitment from my team. It is important to see that all the players in the squad and involved in the project. It was important to go to the next round and to think about the next game at Liverpool - a tough game."
On potential transfers for Branislav Ivanovic and Asmir Begovic: "It is difficult to make a decision but we must respect every decision for the players. Ivanovic is a legend here. He has played a lot of games and won a lot. In this season he is not playing in the same way as the last few years. We must wait over these next three days and we will see. It is the same for Asmir. He is important for us. In his position we need to find the right substitution, otherwise he is happy to stay with us."
KICK-OFF
Southampton 0-0 Arsenal
Big Sam bangs the drum
Crystal Palace 0-3 Manchester City

Crystal Palace boss Sam Allardyce: "Only time will tell whether that defeat is a blessing or not. Every game you play you want to win it. We've lost that habit of winning.  
"Our game is okay in parts, we some times look quite good and then a mistake creeps in and the opposition punish us."
'This is the beauty of the FA Cup'
Tottenham 4-3 Wycombe

More from Tottenham boss Mauricio Pochettino: "We did not underestimate them. Credit them, we cannot play them down. It was very difficult for us. It was difficult to stop them, they showed more desire and quality on the pitch. It is only fair to say the truth. 
"This is the beauty of the FA Cup. It's magic. This is completely different to Spain or France. It is the oldest competition in the world and the teams and people try to win to lift the trophy. It is always special.
"We will try to win the three competitions. It is tough because you need all the squad."
Tottenham had a scare but in the end Crystal Palace and Liverpool were the only Premier League teams to exit the FA Cup this afternoon.
Here's who is still left in the competition from the top flight: 
Arsenal  
Burnley
Chelsea
Hull  
Leicester  
Manchester City
Manchester United  
Middlesbrough
Southampton
Tottenham  
Watford
'They were heroes'
Tottenham 4-3 Wycombe
Tottenham boss Mauricio Pochettino, speaking to BBC Sport: "That is the FA Cup. Every time we play in it, anything can happen. 
"Wycombe played very, very well in the first half. In the second half we increased our level and pushed a bit and I think we played better than them but in football you need some luck and with the last chance we scored and won. 
"Full credit to Wycombe they played very well. Congratulations to them because they were heroes."
Southampton v Arsenal (17:30 GMT)
Big Sam transfer update
Crystal Palace 0-3 Manchester City

Sam Allardyce says Palace are "very, very close" to signing Patrick van Aanholt from Sunderland and he expects to sign two more before the deadline.
He also says that he has tried to sign "20 to 30" players this month. One a day!
A manager with a clear Plan B there. Send on the big lads and get it forwards. 
'We fought in a tough game'
Rochdale 0-4 Huddersfield
Huddersfield boss David Wagner: "The most important thing was we focused on ourselves & were open to different circumstances.
"The conditions were not right for our style so we totally changed at half time and found a way. We fought in a tough game.
"We were unable to play on this pitch after 25 mins so we brought on our Terriers and our tall players. Big credit to them." 
The Afcon rumbles on tonight and Burkina Faso have just hit the crossbar against Tunisia.
There is live commentary for anyone reading this in Africa, in English, French and Swahili.
How's that for service! 
'The lads have done us proud'
Tottenham 4-3 Wycombe
Wycombe boss Gareth Ainsworth: "The last 10 minutes, I don't know where to start. It was after time, there was a penalty I thought was not a penalty. 
"The lads have done me and the town so proud. It was an outstanding effort from the boys. I am so proud, disappointed but it is now back to the reality of Exeter away."
'Lincoln thoroughly deserve the win'
Lincoln City 3-1 Brighton and Hove Albion

Chris Waddle
Ex-England winger, BBC Radio 5 live
Excellent second half. Brighton deserved the lead in the first but after that second half performance, Lincoln thoroughly deserve the result. 
They've had an unbelievable story and they look like they are ready to give anyone a game in the competition. 
Team news for the late game
Southampton v Arsenal (17:30 GMT)
Southampton make 10 changes from the team that beat Liverpool to secure an EFL Cup final place on Wednesday night at Anfield. 
Jack Stephens is the only to keep his place as 19-year-old keeper Harry Lewis replaces Fraser Forster and Josh Sims, also 19, starts on the wing in a side captained by striker Shane Long.  
Southampton XI: Lewis, Martina, Stephens, Gardos, McQueen, Reed, Clasie, Hojbjerg, Sims, Isgrove, Long.
Arsenal also make 10 changes from their last match - the 2-1 home victory over Burnley in the Premier League last Saturday. 
Shkodran Mustafi is the only player to keep his place as Danny Welbeck makes his first start after eight months out with a serious knee injury.
Theo Walcott is also back from injury for his first appearance since December, and there's spots for youngsters Ainsley Maitland-Niles and Jeff Reine-Adelaide.
Arsenal XI: Ospina, Bellerin, Mustafi, Holding, Gibbs, Oxlade-Chamberlain, Maitland-Niles, Walcott, Reine-Adelaide, Perez, Welbeck.
'FA Cup is alive and well'

Garth Crooks
Former Spurs striker on Final Score
The FA Cup is alive and well. It was a magnificent day with some wonderful performances. Wycombe were sensational, as were Lincoln.
Dr Alex McCormac: Kompany played a full 90 minutes and City have a clean sheet! Coincidence...?
He's not bad at football Alex, he just needs to stay fit now!
'I'm speechless!'
Lincoln City 3-1 Brighton and Hove Albion
Lincoln striker Nathan Arnold on BBC Radio 5 live: "I'm speechless at the minute. It was a magnificent effort in the second half and our run continues." 
Ruz: As a Spurs fan, disappointed for Wycombe Wanderers at the end - they deserved more. Well played.
Glen Laker: Crikey, Spurs. I need to clean tea off my laptop now. What an FA Cup rollercoaster. Exhausting.
'Lincoln deserve a great draw'
Lincoln City 3-1 Brighton

Kevin Kilbane
Former Everton winger on Final Score
Lincoln deserve a great draw now, a Chelsea, an Arsenal or a Man United. Hopefully they'll get it. And if they could take them to Sincil Bank that would be even better.
Oxford United 3-0 Newcastle

Adam Williams
BBC Sport at Kassam Stadium
A fine victory from hosts Oxford, who progress to the fifth round for the first time since 1994.
Newcastle's poor run in the competition continues - they have not gone beyond the fourth round since 2006, the same season boss Rafael Benitez led Liverpool to the trophy.
Happy faces among the home fans as they stream out the car park, some rather more glum looking ones in black and white shirts.
Lincoln City 3-1 Brighton and Hove Albion
The crowd are onto the pitch, what a story for Lincoln management team the Cowley brothers. Top of the Conference and into the fifth round of the FA Cup. Superb. 
Mark: So so cruel on Wycombe!!! Very, very relieved!!!
Paul Leonard: Sometimes football can be so cruel .. Wycombe stand-up and take a bow.
Dan D: If that's the last ever cup game at White Hart Lane, then it's fitting. Ridiculous, embarrassingly Spursy, glorious.
Gareth Ainsworth was tapping his watch after the full-time whistle. The Wycombe boss was either not happy with the six additional minutes, or that the goal came after those were up. 
Not to be, but he can be very proud of his team's efforts. Gave as good as they got.
FULL-TIME
Lincoln City 3-1 Brighton and Hove Albion
What a win! The non-league side rock and roll on!
Lincoln City 3-1 Brighton and Hove Albion