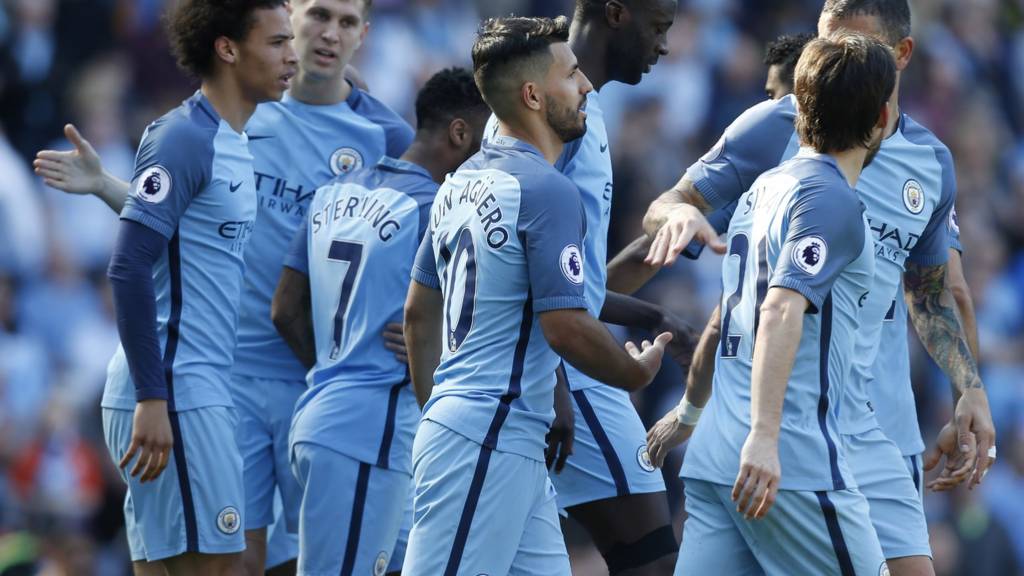 Premier League reaction: Liverpool fight back to win, Man City see off Hull
Summary
Stoke 1-2 Liverpool - Coutinho & Firmino off bench to give Reds victory
Man City 3-1 Hull - Elmohamady OG, Aguero & Delph; Ranocchia for Hull
West Ham 1-0 Swansea - Kouyate adds to Swans' relegation fears
West Brom 0-1 Southampton - Clasie gets Saints winner
Middlesbrough 0-0 Burnley - Boro's scoring problems continue
HALF-TIME
Bournemouth 1-2 Chelsea
There's the half-time whistle, and that's where we park this page for the evening.
See you later!
GOAL - Bournemouth 1-2 Chelsea
Josh King
Here's a man who's probably worth about £40m now, such is the crazy market for Premier League goalscorers.
Chelsea have been half asleep since going 2-0 up and they back off Josh King , who shoots from range and sees a deflection off David Luiz carry the ball into the top corner.
'Can't fault my players'
West Brom 0-1 Southampton

Tony Pulis told BBC Sport: "We created better opportunities in the second-half and as the game went on we controlled the last 25 minutes and I felt did enough to get something out of the game.
"It is disappointing considering the chances were there, especially in the second-half. We have had 35 shots over the last two games. We need to have more composure and steadiness in front of goal. But I can't fault my players today, over the last 25 minutes they showed their mettle and kept going."
'Forster the difference'
West Brom 0-1 Southampton

Southampton manager Claude Puel told BBC Sport: "It was an excellent performance. We played a good first-half and could have scored another goal. It was a perfect second-half, you can see the character of the players and the team. To get a clean sheet here is good with the quality of West Brom and the quality of their set-pieces.
"After the win against Crystal Palace, it's another good performance in terms of consistency. "Fraser [Forster] was the difference at the end, he preserved the three points."
GOAL - Bournemouth 0-2 Chelsea
Eden Hazard
And it's two! Chelsea are going seven points clear again as Eden Hazard ruthlessly buries after being played one-on-one. 
GOAL - Bournemouth 0-1 Chelsea
Adam Smith (Og 17 mins)
Chelsea lead, but it's not exactly how you would imagine as Diego Costa scores with a total fluke. A complete mishit, scuffed off his ankle and in off Adam Smith - who is credited with the own goal. 

Bayern Munich are streets ahead in the Bundesliga, and they are already 2-0 up at home to Borussia Dortmund.
The boy from Brazil
Stoke 1-2 Liverpool
Philippe Coutinho (30) has scored more Premier League goals than any other Brazilian in the competition's history, one more than Juninho.
Bore draw
Middlesbrough 0-0 Burnley
The Riverside Stadium has seen fewer goals than any other Premier League ground this season (29 – 12 scored, 17 conceded)
'It is a huge win'
West Ham 1-0 Swansea

West Ham manager Slaven Bilic speaking to BBC Sport:  "It is a huge win and I congratulate the boys. The spirit, team-work. We were solid and we were dangerous. We deserved to win. Maybe we could have scored another goal to make it a little easier for us.
"It was much-needed. There was big pressure, not on me, but the players. The crowd recognised that and they were behind us.
"It was a great goal. We started well and after half and hour they slowed us down. We had chances before the goal, but in every game you need a spark of extra quality.
"It was a good, solid team performance.
"It's my job, but there's a bigger picture about the club. We are the ones to blame for being in this position. I was celebrating for the players, because they have been with me and they deserve it.
"Now we need four more points as soon as possible.
"We were out of the relegation battle six games ago and we are out of it again. We don't want to be in it again."
KICK-OFF
Bournemouth 0-0 Chelsea
'Didn't deserve to lose'
Stoke 1-2 Liverpool

Stoke boss Mark Hughes:
We needed to take our chances and capitalise when we were on top. I was happy, we were good value at 1-0 and restricted them to very little. 
Second half they brought their big hitters on which made an impact but it took a mistake from us. It was a long ball down the middle and we should have dealt with it. When those are the things that are happening you think maybe it's not your day. 
We keep going. First half we were ok, second half they were better but we didn't deserve to lose the game in my view. We've got a big game coming up and we just need to get the job done.
We've come through a tough period of fixtures. Now we need to get the job done and make sure we get more points on the board quickly.
Bournemouth v Chelsea (17:30 BST)
'We were full of anxiety and fear'
West Ham 1-0 Swansea

Swansea manager Paul Clement speaking to BBC Sport : "It's a very poor result for us. We didn't deserve anything more than what we got. In the first half we were full of anxiety and fear. It affected out ability to do the basics.
"We made changes in the second half to be more positive, but we lost our identity and shape. It was a scrappy, poor game of football.
"Both teams are struggling. It's a big result for them and they won't care about how they performed. It's not a good afternoon for us.
"In the second half we gave it more. We were less anxious, but in terms of shape and technical quality, we were not at the level required.
"We got the ball up there a little bit more after Fernando Llorente came on. We had a couple of half-chances, but we didn't create enough clear-cut chances.
"The only positive we can take is that not much has changed around us. Hull lost at Manchester City. It's still tight with a lot of football to be played."
'Mignolet saved our life today'
Stoke 1-2 Liverpool

Liverpool manager Jurgen Klopp:
Second half was really good but we played a big gamble on a low battery bringing on Firmino and Coutinho. The first half was not the players, it was the way we play football. It was obvious that Stoke were better tuned but they didn't create a lot of chances, other than the goal.
We felt even after a not good first half we felt kind of confident. The two young boys did what they were able to do. We played with them in the wrong situations.   
Phil [Coutinho] lost three kilos in the last three days which some people wish but for a professional footballer it's not too cool. 
We played much better football and used the space between the lines. Everything was better. Simon Mignolet, what a save. The second was spectacular but both are good. I have no idea, that was genius and I am really happy for him. He saved our life today.
Job done, feels good. Nice weather, 63 points and I couldn't feel any better. Now we have a long week. No team in the world wins only the very, very good games. You need to win games like this.
'We keep the faith'
West Ham 1-0 Swansea

Swansea's Luciano Narsingh: "In the first half we played very badly. Second half we played better, but they took the points.
"They had a chance and they scored. In the first half we didn't create chances. We had to play in the first half like we did in the second.
"We keep the faith. We played well against Tottenham. We have to look to Watford, it will be a difficult game, but we hope we can take points."
'I am confident'
Manchester City 3-1 Hull

Hull boss Marco Silva: "The second goal was the key but they deserved to win the game. 
"We reacted well after the first goal and had a chance to score but they scored after half time and that was key.
"It is in our hands, we have six games to go and we will work hard. Since I came here I was confident and I have passed that on to our players."
This is your five-minute warning on the Grand National from a sun-kissed Aintree.
You can follow all the action right here.
Richard Pettinger:  Pep's last 2 keepers Valdes and Neuer - Please can we have someone that good? Or Hart back at least
T:  All these people constantly berating Pep about Hart, have you actually seen how many howlers he's made for Roma this season?
Vieira151: Joe Hart hasn't been much better. He was either 2nd or 1st in mistakes that led to goals in Serie A this season...
'Biggest win in a few years'
West Ham 1-0 Swansea

West Ham captain Mark Noble:  "That's our biggest win in a few years. The run we've had, we haven't been good enough but we haven't had the rub of the green either.
"I thought we played well under pressure. Swansea were only a few points behind us. It was so important.
"It's a fantastic win for the club, but I'm disappointed to be suspended for the next couple of games. The lads should have enough to see it through.
"One more win should see us safe. Hopefully we've broken that run of losses - games we shouldn't have lost. Sunderland away is massive and then we have some tough games.
"This should release the pressure, the lads should be happier. We haven't been good enough for a couple of months, but this should release the pressure."
'It will go to the last day'
Manchester City 3-1 Hull

Manchester City manager Pep Guardiola: "It was important for us to win after many days without a win. We started well and created chances and we had the right attitude.
"We could have scored many more goals. It is frustrating not go get a clean sheet but we defended poorly at set-pieces.
"It will definitely go to the last day [the fight for top four]."
Adam Wheeler: The Boys From Brazil did it for Liverpool.
Steve Tiu: Is it just me or is it really stressful to be a Liverpool supporter? Club should offer psychological & emotional counselling.
'A good attitude'
Manchester City 3-1 Hull

Hull defender Michael Dawson: "We've showed a good attitude since the gaffer has come in, our form at home has been brilliant but it was a tough afternoon for us.
"City are a class side and we know what they can do here. At 3-0 with half an hour to go they could have cut us open.
"It's not about Swansea's results, we have picked up six points this week to get out of the bottom three."
Bournemouth v Chelsea (17:30 BST)

Garth Crooks
Former Spurs striker on Final Score
Bournemouth have been very smart. They've stayed off the radar. If you stay out of the bottom three if keeps the focus away from you. Eddie Howe has done very well. That is brilliant.
Team news
Bournemouth v Chelsea (17:30 BST)
Bournemouth make one change to the side that drew 2-2 at Liverpool on Wednesday, as Ryan Fraser comes in for Jordon Ibe.
Bournemouth XI:  Boruc, A Smith, S Cook, Francis, Daniels, Fraser, Arter, Wilshere, Pugh, King, Afobe
Subs: Allop, Cargill, B Smith, L Cook, Ibe, Gradel, Mousset  
Chelsea make two changes to the side that beat Manchester City 2-1 at home on Wednesday.
Victor Moses is back from injury to replace Kurt Zouma, with Nemanja Matic taking Cesc Fabregas' spot in midfield.
Chelsea XI: Courtois, Azpilicueta, David Luiz, Cahill; Moses, Kante, Matic, Alonso; Pedro, Diego Costa, Hazard.
Subs: Begovic, Terry, Zouma, Chalobah, Fabregas, Willian, Batshuayi.
'Subs made the difference'
Stoke 1-2 Liverpool

Liverpool midfielder Georginio Wijnaldum speaking to Sky Sports:
In the first half it was difficult because it was a new system for us but in the second half the two subs made a big difference for us.
[On if the pressure is now on Arsenal] We don't look at other teams, we look at ourselves. We can't control them, so the focus must be on us.
[On his assist for Firminho] It was quite high but he made it better with his shot. It was a great shot. It was a great run and I just gave the ball behind the defence but he did it better so he gets the credit.
'It was a sloppy goal to concede'
Manchester City 3-1 Hull

Manchester City winger Raheem Sterling:  "We needed a win today, we have dropped too many points and it was back to winning ways.
"With five minutes to go we need to see the game out and don't concede. It was sloppy and we have to fix that.
"We don't worry about other teams' results, it's step by team and just focus on our results."
All calm
Manchester City 3-1 Hull

Simon Stone
BBC Sport at the Etihad Stadium
No angry words at full time but a long chat between Pep Guardiola and Marco Silva at the final whistle.
City back to winning ways with a good performance. Totally in control but we end up talking about the keeper again.
FULL-TIME
West Brom 0-1 Southampton
FULL-TIME
West Ham 1-0 Swansea
A huge win for West Ham, who can probably feel safe now. Swansea continue to sit in the bottom three. They really needed something from London.
CLOSE!
West Brom 0-1 Southampton
Albion corner, the keeper's gone up - and saved! Flicked on at the near post, Jonny Evans is there just a handful of yards out but he can't beat Fraser Forster!
FULL-TIME
Stoke City 1-2 Liverpool
Don't call it a comeback. Liverpool finally win an away game. But that's only half the story...
FULL-TIME
Middlesbrough 0-0 Burnley
As nil nil as a nil nil could ever be. A decent point on the road for Burnley, but that's no good for Boro. 
FULL-TIME
Manchester City 3-1 Hull
CLOSE!
West Brom 0-1 Southampton
West Brom send the big men up, cross comes in and Craig Dawson attacks it - saved! 
Dave in Manchester: You asked earlier which selection upset me most? Bravo, of course. A goalkeeper who can't save a shot. Utterly, utterly hopeless. Pep, please just admit you made a mistake.
Middlesbrough 0-0 Burnley
Boro throw men forwards, cross comes in.. over! 
Injury time. Four minutes of it.
Unlucky seven
Manchester City 3-1 Hull

Simon Stone
BBC Sport at the Etihad Stadium
It has taken Hull 85 minutes to have a shot on target - and unbelievably it has gone in.
That is seven goals from seven shots on target that Claudio Bravo has had to face.
I assume Pep Guardoia is giving the Chilean another chance before deciding whether he needs to buy another keeper in the summer.