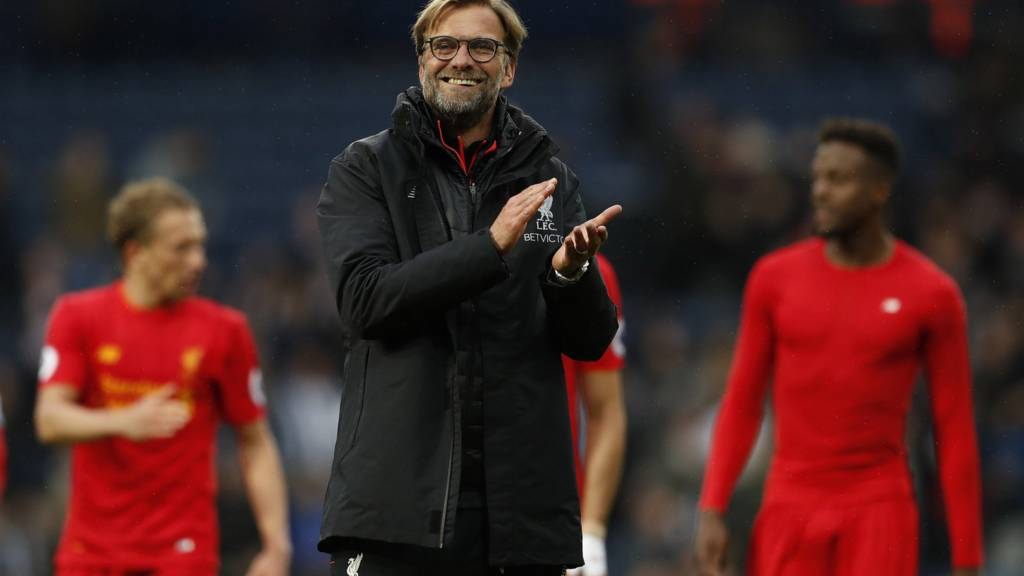 Reaction as Liverpool hold on to beat West Brom
Summary
Firmino heads in Lucas' flick-on in first-half injury time
Liverpool up to third with victory
West Brom have won one of last seven
Man Utd v Chelsea - 16:00 BST
'Players have been fantastic this year'
West Brom 0-1 Liverpool

West Brom manager Tony Pulis speaking to Match of the Day: "We are disappointed. I thought we did enough to get a point.
"The goal really knocked us. It took us 20 minutes, in which time they had some good opportunities.
"Chadli had a great chance at the back post, Matty Phillips should have scored one-on-one, Hal should have scored one-on-one - it wasn't all set-pieces.
"The difference between the top teams is the quality they have up front. The players have been fantastic this year, we have an opportunity to play some of the young players now too."
'Firmino blocked Dawson for goal'
West Brom 0-1 Liverpool

West Brom boss Tony Pulis on Sky Sports: "We were really disappointed about the goal, the one negative was the first 20 minutes of the second half. It knocked the stuffing out of us.
"Instead of coming out and picking up the tempo, we got a little bit ragged. We got it back the last 20 minutes.
"(Roberto) Firmino is blocking (Craig) Dawson off at the back for the goal, the referee blew for us in the first half when Darren Fletcher blocked the goalkeeper - make your mind up which is worse."
Tunde Paul: If Liverpool keep chipping away points like this, avoiding losing, they could still finish 3rd. Arsenal, Man City & Man Utd will lose points.
Liam Owen: Mignolet gets us another 3 points. That's not the first time he's bailed us out recently. He's becoming the keeper we hoped for!
Klopp not thinking about Champions League
West Brom 0-1 Liverpool

More from Klopp: "The boys did fantastic. I'm really happy.
"It is the Premier League, they (Arsenal) have three, four, five games in hand so we should not think about this. Today we could only get to 66 points, so it feels perfect.
"Next week we try at Anfield to get 69, and let's carry on. If we do what we have to do, we will be where we want to be."
It was a big win - Klopp
West Brom 0-1 Liverpool

Liverpool manager Jurgen Klopp speaking to Match of the Day: "It was a big win against a good, tall team. We played really well from the first second.
"We needed to adapt to what West Brom wanted to do. In all our plans it was 'no set-pieces. no set-pieces, no set-pieces'.
"I thought we did really well in the first half, not as fluent as we were second half because the movement was better between the lines.
"We scored a nice goal after a set-piece and kept the ball well. We defended well, the protection was good and Simon (Mignolet) was really lively."
It feels fantastic - Klopp
West Brom 0-1 Liverpool

Liverpool boss Jurgen Klopp on Sky Sports: "Coming here to a place we know each set-piece is a major threat, we did great.
"It was a little too static first half, but we scored a wonderful goal off a set-piece.
"We had two, three, four more chances. It feels fantastic because it is such a tough place.
"If the ball is in the air, what can you do? It is not about football, but they play football too. 
"All three points is really special for us."
'Three points are massive'
West Brom 0-1 Liverpool

Liverpool goalkeeper Simon Mignolet speaking to Sky Sports: "We are very pleased with the performance and three points are massive today.
"You know they are going to throw everything at you at the end, including the goalkeeper, and we had to deal with it.
"We scored one goal, but it was enough today."
Moses Rudende: One of the most helter-skelter finishes to a game you'll ever see. ANYWHERE!!! 
Imran Sheikh: Great win for Liverpool today, clean sheet and battled it out. But what was Alberto Moreno thinking? Should have passed it!
'Could have been perfect'
West Brom 0-1 Liverpool

OK, so in the madness of that end to the game, I made a bad call on the Moreno miss. If he had passed the ball to Sturridge, it would have been offside as Ben Foster was up in the Liverpool box. I stand by my assessment of his miss, though. That was dreadful.
Liverpool boss Jurgen Klopp, on Alberto Moreno's late miss: "He could have played to Daniel, but maybe if he plays he is offside? He had a hard few weeks, because he didn't feel well after Stoke.
"I said 'it is already a good week for you, it could have been perfect'."
'It was a great win'
West Brom 0-1 Liverpool

Liverpool captain James Milner speaking to Match of the Day: "It was a great win, they're a tough team to play against.
"To get three points and defend well, we probably could have seen the game off a bit earlier, but we're pleased with how we ground it out.
"He (Divock Origi) gets better and better, he has so much talent but seems to have the attitude and wants to learn.
"He's probably unlucky not to have played as much football as he's wanted this year. That's the strength of our side."
Jay: Hahahahahahahahaha ... oh Moreno!! 
Paul Walmsley: Aaaaand thats why Moreno should be sold in the summer.
Anina M: When you're screaming pass! shoot! SHOOT! PASS!!! at the telly and find out it's Moreno on the ball!  

Craig Hignett
Former Middlesbrough and Blackburn midfielder on BBC Radio Merseyside
There wasn't anyone from Liverpool with an off day. Every one of them mucked in. They were only under pressure for the last seven minutes or so when West Brom went route one. Liverpool put their bodes on the line.
FULL-TIME
West Brom 0-1 Liverpool
And there is the full-time whistle. Liverpool hold on after the only two minutes of the entire game that West Brom applied concerted pressure.
Roberto Firmino's goal in first-half added time is the difference. The Reds move back up to third in the table.
Chaos. West Brom come again. Foster is back up in attack. Liverpool clear and again look to capitalise on an empty goal but dwell on the ball, allowing the home side to rally.
This frantic end could not be more different to the largely bland 90 minutes that preceded it.

Craig Hignett
Former Middlesbrough and Blackburn midfielder on BBC Radio Merseyside
"That's an amazing decision by Alberto Moreno."
What the...!
The corner is cleared, allowing Alberto Moreno to break away. Ben Foster has no chance of getting back, leaving Moreno with a whole empty goal to shoot at. He does exactly that, from halfway, but misses. Firstly, how did he miss? Secondly, he could have passed to a team-mate to run it in. Bizarre.
West Brom win another corner. Ben Foster is up...
SUBSTITUTION
West Brom 0-1 Liverpool
Liverpool eat into some of the three minutes of added time by sending on Alberto Moreno to sure up at the back. Coutinho makes way.
In comes the corner but Liverpool hold firm with Emre Can heading away at the near post.
Here's a chance. West Brom force a corner, just their second of the game...

Craig Hignett
Former Middlesbrough and Blackburn midfielder on BBC Radio Merseyside
"It's about concentration levels for Liverpool. The game's won as long as they don't do anything stupid. I don't think Jurgen Klopp will want anything too adventurous now. He'll just want to see the game out."
Rondon picks up where Robson-Kanu left off as he is caught offside to end a West Brom attack. They've been strangely limp all afternoon, the home side. A lot of credit must go to Liverpool, who have managed the game well, but you wonder where the fight has gone? Complacency, knowing they are not going down and probably won't move above eighth? Or is that harsh?
David Simpson: If Origi improves his first touch and hold up play, he will be such a better player. Not good enough right now. 
Javel Bleach: Oh wow, that was a CERTAIN goal! Brilliant stop from Mignolet, who's come on leaps & bounds since Karius arrived! 
Tony Pulis grimaces down on the touchline as a throw goes Liverpool's way. The linesman on that side of the pitch has had a hell of a time this afternoon. Both barrels from the Baggies boss.
West Brom are finally having a go. They swing in a cross from the left that Darren Fletcher nods well over. Could have done with some of this intent 30 minutes ago.
SUBSTITUTION
West Brom 0-1 Liverpool
Liverpool take off Divock Origi and send on Daniel Sturridge.
Alex Hollister: Interesting how West Brom fans, proud of their physical game, cry foul when a team comes at them with same physicality.
Joel Barclays: If Liverpool win this, seriously then I don't see either of United or Arsenal pipping them to top 4.
Simon Mignolet to the rescue!
The Liverpool keeper has had nothing to do for most of this game but when called upon to dart out and block a close-range shot from Matt Phillips, who had broken clear of the Reds defence, he does so with aplomb. Brilliant - not always a word that has been used in conjunction with the Belgian.
Emre Can lines one up but gets it all wrong, firing his shot from range very high, very wide and deep into the stand.
West Brom have had a shot. Jake Livermore fires from range but drags his effort past the post. By the latest stats, the Baggies have touched the ball six times in the Liverpool box.
They are limping towards a third successive defeat at the moment.
The next delivery is deep into the box for Dejan Lovren, who can't leap high enough and glances the ball away from danger.
Coutinho whips in the free-kick, which is put behind by the head of Craig Dawson.
The resulting corner is put behind by Rondon. We go again...
Liverpool free-kick. Wide left. Edge of the box. Dangerous.
Breaking team news
Manchester United v Chelsea (16:00 BST)
Bit of breaking team news from the Manchester United v Chelsea game. Blues keeper Thibaut Courtois is missing through injury. Zlatan Ibrahimovic is on the bench for the home side.
Kevin Logan: Those gnashers are Firmino's greatest weapon! He uses them to blind the keeper before scoring.  
Aamer Iqbal: This would be West Brom's third defeat in a row after the well earned draw at Old Trafford. Only turn up against the big sides.
Lucas is booked for a foul on James McClean. He's been on the brink since the first half.
West Brom can't make anything from the free-kick, though, and remain shotless for this half.
From Opta: Neither side has fired in a shot on target so far in the second half. Albion yet to have a shot. 

Craig Hignett
Former Middlesbrough and Blackburn midfielder on BBC Radio Merseyside
"Liverpool have kept the ball much better in this second half. West Brom can't play through the middle at all. It's all about concentration. If Liverpool keep their concentration, they'll see the game out."