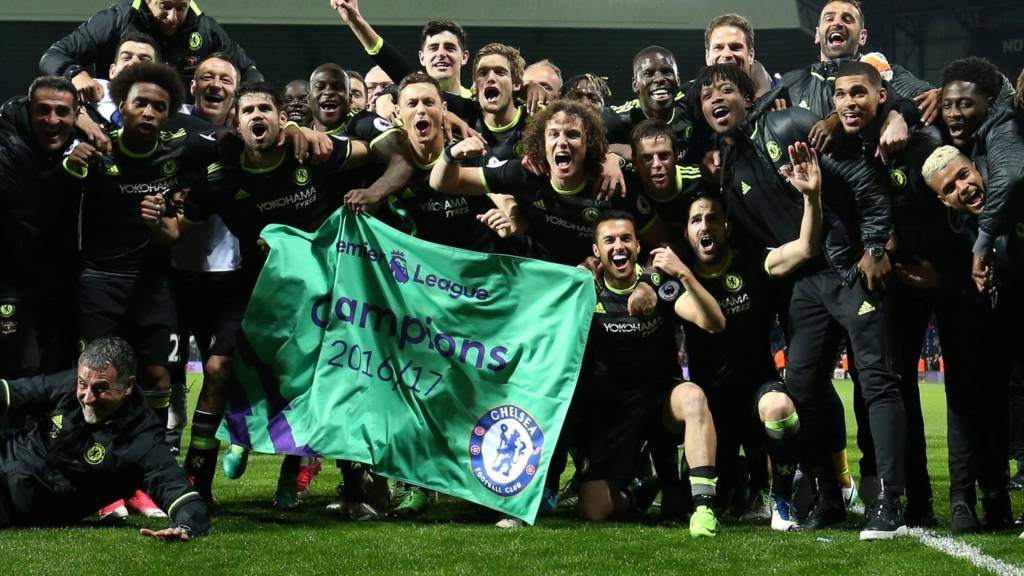 Reaction: Chelsea win Premier League thanks to late Batshuayi goal
Summary
Batshuayi comes off bench to win Premier League for Blues
Belgian striker's first league goal since August
Conte leads Chelsea to title in his first season
Fourth Italian manager to win Premier League
Good night!
CHELSEA ARE CHAMPIONS
I've just seen five replays of Antonio Conte's celebrations after that goal went in. Quite brilliant. 
Donald: Credit to Conte for taking Chelsea from 10th to 1st. All doubters have now been turned into believers.
Betiku Victor: Conte has been in Italy all his life as player and coach. He should naturally struggle anywhere else but he's been topclass
Ellie Di Fiore: Mazzari & Watford EPL champions 2017/2018... maybe just maybe worth a bet next season....? 
He did. And he was key to both campaigns.
Forget that Chelsea just won the league, Kante just won it TWICE IN A ROW! LEGEND!
Watch the scenes - Again
CHELSEA ARE CHAMPIONS
Watch the full-time scenes on Final Score as Chelsea win the 2016-17 Premier League title with a 1-0 victory over West Brom at the Hawthorns thanks to substitute Michy Batshuayi's goal.  
I don't really know what he's talking about here but he's happy enough...
New suit please...
CHELSEA ARE CHAMPIONS
App users may have to follow the link to see this tweet.
Who are Chelsea's stars?
CHELSEA ARE CHAMPIONS
'They're worthy champions alright'
CHELSEA ARE CHAMPIONS

West Brom manager Tony Pulis speaking about Chelsea's title win on BBC Match of the Day: "They're worthy champions alright. They had a poor start, and Conte had to change things. He's made it his team. Italian teams are tactically organised and well run. He changed their shape and they've been superb from that moment onwards."
'I got this yall'
CHELSEA ARE CHAMPIONS
'I can't wait to get my hands on that trophy'
CHELSEA ARE CHAMPIONS

Chelsea captain Gary Cahill speaking to Match of the Day: "It feels amazing. It is a special moment. I thought we deserved it over the season. We worked very hard and have been the better team. It is fantastic to wrap it up with a couple of games to go, it is very difficult in this league. 
"We didn't want this to drag on. We had the opportunity today to win the league and it was a pinch yourself moment in the tunnel before we went out. 
"We played maybe a bit nervy because we knew what was at stake but showed experience in the end and wore them down. 
"We felt confident in the dressing room all season. There is a danger you start believing you are champions when you are not. 
"The league is in the bag, it is an amazing achievement for everyone involved. These are moments you need to cherish. I can't wait to get my hands on that trophy."
'They've got big hearts and big lungs'
CHELSEA ARE CHAMPIONS

West Brom manager Tony Pulis told BBC Match of the Day: "We didn't need Chelsea to get a bit of luck. We needed to have the breaks go for us. We contained them well. No one can say they had an easy game. Yes, we lack certain things but I've got a great group of players. They've got big hearts and big lungs. They're very deflated in there and they gave it a go.
"We'll move on to Man City. The players have had a wonderful season. We've had a turn-around at the club this season. People are more upbeat, but we need to improve next year."
'Amazing'
CHELSEA ARE CHAMPIONS

Chelsea forward Eden Hazard: "It's amazing to celebrate with the fans. The game was so difficult. We are very happy.
"We talked a lot about the manager already, he is fantastic and we work a lot in training. Full credit to him and the players. We lost to Arsenal and then we went on an unbelievable run.
"That's when we said that we can win the league."
'My dream came true'
CHELSEA ARE CHAMPIONS
Chelsea defender David Luiz, speaking to BBC Radio 5 live: "I am happy. Very happy. It is my first Premier League title. When I decided to come back here I dreamed to win the Premier League. I am very happy because my dream came true. 
"Tonight was a great game but we did it. We work hard every day to have these moments." 
Asked about manager Antonio Conte, Luiz said: "He likes to work, works with passion every day I am happy for him. He deserves it because he is working hard every day.
"I need bed and to sleep."
'All about the Champions League now'
CHELSEA ARE CHAMPIONS
Henry Winter
Chief Football Writer for the Times on BBC Radio 5 Live
It's all about next season and Chelsea imposing themselves on the Champions League.
They have a good balance between a tight defence and flair up front.
'We deserved a draw'
Everton 1-0 Watford

Watford manager Walter Mazzarri: "I am very happy with the performance because my players gave everything. I am not concerned because I have seen a lot of Everton games. They have won 12 of 18 games at home this season, and rarely have a team put them under the pressure we managed today. 
"I congratulated all the players on their effort in the dressing room. We did not deserve to lose. We deserved a draw at least."
'Conte makes them better'
CHELSEA ARE CHAMPIONS

Jermaine Jenas
Former England midfielder on BBC Radio 5 live
Conte already had winners in his ranks. They lost their way last season and watching them last year they were unrecognisable. He has come in and reinvigorated them.
Conte, what I like about him is he gave Moses a chance and trusted him. He has made him a better player and a Premier League champion.
They are the little nuggets he brings that make him so special.
'We hope Barkley will stay'
Everton 1-0 Watford

Everton manager Ronald Koeman: "I am really proud of the players' record at home this season with 13 wins in the 19 games. We did not have the aggression and intensity in the first half, but we were better after the break. 
"Ross's goal is what we need, more goals from midfield. We hope that he will sign the contract, but it is not up to me, or the board, it is up to the player. We have offered Ross a really good contract. We cannot wait until the summer, until August.
"I am really happy. I think that we have had a really good season, finishing behind the big six in the Premier League. We need to do better away from home, but that is for next season."
While we wait for more reaction from The Hawthorns let's have a bit from the night's other game at Goodison...
The players and staff are celebrating again, in the dressing room now. Up on the massage tables, on the benches.
Who packed the champagne?
Disappointed Spurs supporter, but Chelsea won the league fair and square. Their away form far superior to Tottenham's. No shame losing out to most consistent team this season. Our injuries and European campaign might have had an effect overall but we have had a great season.
'It is a great season'
CHELSEA ARE CHAMPIONS

Chelsea boss Antonio Conte: "That decision changed our season. We had to change and find a new suit for our team. In my mind there was this option to play a 3-4-3 because I knew I had the players to do that.
"We were not lucky, we did a great job. It's important to rest. It is a great season but now we can win the FA Cup.
"Every game I feel like I have played with my players! I show my passion and my will, my desire to stay with my players in every moment of the game. This is me, I am this.
"In the present, in the past, I stay with my players in positive and negative situations. We won this title together."

Chelsea manager Antonio Conte on Sky Sports: "Thank you, thank you. this is a great achievement for the players. I thank them for their commitment and work rate. They show me a great attitude to try to do something great this season. After this win we must be happy, we must be pleased.
"I thought that Hazard and Pedro were tired and we needed more energy. Michy paid me a lot with this change! It was great. It wasn't easy for me to arrive in England and try different habits, a different language and inherit players after a bad season."
Betiku Victor: Massive credit to Antonio Conte. Came into a team with turmoil and successfully transformed the team to winners
Jamie Rowe: Well done Chelsea I'm a United fan, but there's no denying you were the best team by a long, long way this season.
Here are the obligatory post title winning bumps for Antonio Conte...
App users may have to click view more to see this tweet.
N'Golo Kante and Pedro get the bumps now, Pedro gets some serious air time. Careful! We don't want a Steve Morrow moment.
A radio presenter tries to get hold of Antonio Conte for his first interview, he's too busy (quite rightly) celebrating with fans still. 
Frank Lampard, working for Sky, is on the pitch now hugging John Terry and co.
How did Chelsea win the league?
CHELSEA ARE CHAMPIONS

Back in August, few would have predicted the relative ease with which Chelsea have regained the Premier League title.
With a new manager in Antonio Conte, and many of the same players who lifted the trophy in 2015, the Blues have been crowned English champions with two games to spare.
But how well do you remember the pivotal moments on their way to success? Time to put yourself to the test.
Willian knows all the naughty words to a chant about Tottenham as he dances down next to the fans.
How did Conte turn Chelsea around?
CHELSEA ARE CHAMPIONS

Phil McNulty
BBC Sport chief football writer
Antonio Conte's transformation of Chelsea from fallen champions to Premier League title winners inside 12 months was completed with victory at West Bromwich Albion - a remarkable success story in his first season at Stamford Bridge.
The 47-year-old inherited a squad that had declined from domestic superpower to mid-table mediocrity amid acrimony and the sacking of title-winning manager Jose Mourinho. But he has shown the personality, tactical brilliance and sure touch to put them back at the top of the English game.
So how has the charismatic Italian achieved what many inside Stamford Bridge regard as a miraculous rejuvenation of fortunes to return the Premier League crown to Chelsea?
The celebrations continue. John Terry gets the bumps.
If you've ever had the fortune to see your team win the league, especially away from home, you'll appreciate the fact that these Chelsea fans are going nowhere.
The squad line up for the mass Klinsmann dive now! 
Jaime Dodd: Congrats to Chelsea for winning #EPL, with European football we'll see how it goes next year
Greg: To be fair you've gotta love Conte's pure enthusiasm and joy
Kurt Booth: As an Arsenal fan the end of the season has left me with no-one to root for, so just going to say congratulations Chelsea 
'Another one in the cabinet'
CHELSEA ARE CHAMPIONS

Chelsea defender Gary Cahill: "You have to cherish these moments, you work so hard all season to be where we are. Consistently we have been the best team in the league. There is no better feeling in football.
"People have written us off as a team and individually and this has shut them up. We are champions. It's another one in the cabinet."

Jermaine Jenas
Former England midfielder on BBC Radio 5 live
It is huge. 
Pep's job at Manchester City was a bigger job, Chelsea had won the league, they were winners. 
But tactically, individually, what Conte has done with these players and to bring them together is sensational.

Chelsea defender John Terry: "These boys have been on the field doing it week in week out. It's been a delight to sit and watch, a different perspective.
"The togetherness was shown from day one."