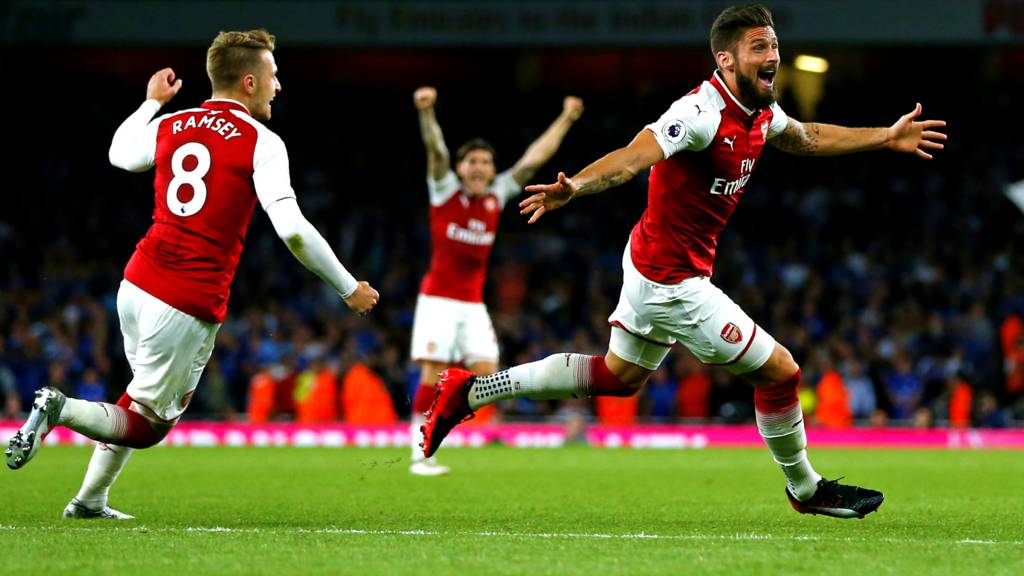 Summary
Premier League season starts with classic
Ramsey & Giroud come off bench to give Arsenal late win
Vardy had twice put Leicester in front
Lacazette scores two minutes into league debut
What a match!
I'm off for a large "pint of water" to recover.
Come back tomorrow for more, yeah?
Football's back - so dig out your studs!
#GetInspired
Mud-caked boots in bag under stairs ✔14 players on Friday night, seven by Sunday morning ✔The beautiful game ✔✔✔
Celebrate the return of the football (as even August obliges us by behaving like autumn) and get involved yourself. Find out how with our Get Inspired guide...
Manager reaction
Arsenal 4-3 Leicester
Leicester manager Craig Shakespeare, talking to Sky Sports: "We've had this a few times here. To lose in the manner we did is very disappointing. We can take heart from the way we went about it but in those key moments we needed to be a bit more streetwise.
"Arsenal had a lot of possession and have world-class players. We showed what we're capable of, showed heart and spirit. We've got a challenging start but if we get this type of performance then we'll get points on the board."
On whether a free-kick should have been given against Mesut Ozil in the build-up to the Gunners' third goal: "I'm disappointed it wasn't given for handball but from the corner I expect us to mark better."
Over the past two weeks you have been voting for your favourite goals from 25 years of the Premier League - and we now have a shortlist from which you can choose the best one the league has seen.
With a winner picked from each five-year period, you can now choose your overall favourite, with the most popular goal revealed on Match of the Day 2 on 13 August.
Take a look and get voting.
Erm, has anyone checked on former Arsenal midfielder Ray Parlour?
Has that game sent him over the edge?
'We're not going to be too down-hearted'
Arsenal 4-3 Leicester
Leicester manager Craig Shakespeare speaking to Sky Sports: "We spoke about being compact and being a threat with the pace of Vardy. We executed that well. We're disappointed to score three and come away with a defeat.
"When teams make substitutes just before corners it's confusing. I'm disappointed with the handball in the build up, but once the corner's given you have to defend it better. I don't know whether it was lack of concentration or game management.
"I've been impressed with Harry Maguire since he came in. I wanted some Premier League, British experience. He's young and will only get better. Jamie Vardy is back to his old self. We want him to be a nuisance.
"We're not going to be too down-hearted. We have to be posititve as it's the first game."
More from Arsenal manager Arsene Wenger: "We know defensively we can do better but overall we produced a top-quality game.
"When the substitutes came on they had enough quality to make the difference.
"I'm convinced that overall this kind of game can strengthen the belief. When you're in difficult situations you're reminded you've done it before so can do it again.
"Lacazette is getting stronger in every game and tonight he put in a very convincing performance."
There's a key bit of drama that went amiss among all the other bits of drama that happened in the 82nd minute of the match.
Turns out there was a strong suspicion of handball by Mesut Ozil before the corner that indirectly led to Aaron Ramsey's equaliser.
Ozil, with his arm by his side, seemingly flicked the ball with his hand and then controlled it on his left foot before Danny Simpson's interception.
Referee Mike Dean didn't see it either. Add that to your list of talking points...
'Every point you drop can cost you'
Arsenal 4-3 Leicester
Arsenal manager Arsene Wenger talking to Sky Sports: "Going forward and character wise we have been great. We had some avoidable goals which we conceded and overall we have to work on that.
"It's impossible to keep them happy when strikers don't play. We have many games and hopefully I can give games to all the strikers. They all deserve to play."
On Olivier Giroud: "I love the man and the player. He's a fantastic guy and he's committed. He doesn't want to leave and I'm happy he wants to stay. At one stage I opened the door for him as I knew I had many strikers, and in the end he decided to stay."
On competition this season: "I don't know how good everyone will be. There are six or seven teams who can win and it makes it interesting. Every point you drop can cost you a lot."
Leicester striker Jamie Vardy, who scored twice, speaking to Sky Sports: "This has happened to us the last three seasons here. We put ourselves in a commanding position and a few lapses in concentration have cost us.
"We had quite a few chances. Unfortunately they didn't go in but we can take a lot of positives.
"Scoring three goals away from home is a positive and we'll get back on the training field to make sure we sort the problems out."
The stats for this match are remarkable.
Arsenal had 70% possession and a whopping 27 shots, including 10 on target.
Leicester had 30% of the ball (obv) and had only six shots in total, three going on target.
Arsenal goalkeeper Petr Cech speaking to Sky Sports: "We started really well and I thought we could stay in control. Then we made mistakes and they punished us. They had chances and then we had to chase. There were difficult moments when we were down and we managed to get out of that and it's great to see."
This was only the sixth time in 25 years that an opening game in a Premier League season has seen seven goals scored – no game has seen more.
You're welcome.
Mat VP: Can anyone tell me what it is like to watch @Arsenal and not be a fan? It must be really enjoyable!
BthG: Memo to Arsene Wenger: don't sell Giroud!
Craig: Premier League classic. Greatest opening day game of all time
'Courageous' Arsenal
Arsenal 4-3 Leicester
Arsenal's Olivier Giroud speaking to Sky Sports: "Obviously I knew that I was going to have a chance so we tried to push. We kept the faith and kept believing in our game to push hard. We've been courageous to the end and thank God we won the game."
FULL-TIME
Arsenal 4-3 Leicester
Long live Friday night starts to the Premier League!
YELLOW CARD
Arsenal 4-3 Leicester
In the fourth of five minutes of extra time, Wes Morgan picks up the first booking of the match.
We've had almost one of everything now.

Jermaine Jenas
Former England midfielder on BBC Radio 5 live
Olivier Giroud has completely changed this game. He's given Arsenal a totally new option and finally they can get crosses into the box.
Message to Kasper Schmeichel: Now is not the time to be going wandering out to the midfield area!
The Leicester goalkeeper comes darting forward to try and get an attack started but loses possession.
There's an open goal but Arsenal can't find it.
What a crazy game.
I will start a petition for all games to be played on Friday nights if they're going to be as good as this!
Outstanding entertainment.
I should say...before Arsenal's fourth, Alexandre Lacazette had a brilliant chance after a weaving run but was denied by another decent stop from Schmeichel.
GOAL - Arsenal 4-3 Leicester
Olivier Giroud
Madness. Utter madness.
Super sub Olivier Giroud lands a bullet header from an Arsenal corner and although Kasper Schmeichel tries to palm it out, it bounces off the crossbar and falls way over the line.
If the Emirates had a roof it would be in the highest part of the solar system by now.
GOAL - Arsenal 3-3 Leicester
Aaron Ramsey
Are you not entertained?!
We are back level AGAIN as Aaron Ramsey finds space in the box and finds the net with a confident finish after being set up by Granit Xhaka.
Granit Xhaka sprints off to take a corner which he earned by striking from distance.
He whips it in from the right but Aaron Ramsey can't get on it.
More changes afoot for Leicester, as Kelechi Iheanacho comes on for Matty James.
Arsenal ping the ball around the box like a hot spud.
The final chance goes to Alex Oxlade-Chamberlain but he can only place wide.
Jamie Vardy decides Leicester need to attack and although he gains plenty of territory, the England striker does it alone and eventually he's hustled off the ball.
Marcus Tongue: New season, same old Arsenal in bringing on Giroud around this time to try rescue a result.
Geoff Ramm: How much would Arsenal spend on Adams & Keown right now?
Joe Wedgwod: Arsenal fans need to relax. Back three is a work in progress, key defenders missing. Back the boys for a comeback!
SUBSTITUTION
Arsenal 2-3 Leicester
Theo Walcott is on, Danny Welbeck is off for Arsenal.
Meanwhile, Arsene Wenger is pictured with the biggest scowl on his face.
Careful, Mr W, you'll get terrible lines by the end of the season if you continue like that.
Riyad Mahrez looks like he's going to go on another pulsating attack, with Jamie Vardy ready and waiting, but the Foxes forward is dispossessed brilliantly by Sead Kolasinac.
Arsenal have two decent chances now. Alex Oxlade-Chamberlain takes a right-footed swing from distance and Kasper Schmeichel has to stretch to put it behind.
Then Mesut Ozil finds himself in space in the box but he pokes his effort wide.
SUBSTITUTION
Arsenal 2-3 Leicester
Shinji Okazaki makes way for Daniel Amartey, in Leicester's first change.
It's one-way traffic at the moment and it's all going to the hosts.
Alexandre Lacazette finds Mesut Ozil but the Gunners striker can't latch on to it properly.
CLOSE!
Arsenal 2-3 Leicester
Aaron Ramsey's first touch of the ball is nearly a goal!
The Welshman comes flying in to meet Alexandre Lacazette's lovely ball from the left but he tumbles over and can't quite angle his effort on target. He was under a lot of pressure from Christian Fuchs.
Ramsey's winded in the process.

Jermaine Jenas
Former England midfielder on BBC Radio 5 live
It looks like there's going to be a complete change of formation for Arsenal.
I'm guessing Alex Oxlade-Chamberlain will go to right-back, Hector Bellerin's gone to left-back. It doesn't look too secure to me.
SUBSTITUTION
Arsenal 2-3 Leicester
Arsenal go for the double switch.
Mohamed Elneny makes way for Aaron Ramsey, while Olivier Giroud comes on for Rob Holding.
The Gunners take their time to build up play across a four-man midfield.
But poor communication on the left-hand side sees the ball roll out of play, away from Sead Kolasinac.
It looks like Arsene Wenger's about to make some changes.

Jermaine Jenas
Former England midfielder on BBC Radio 5 live
That's more like the Arsenal we're used to - intricate passes around the box. Kasper Schmeichel takes one for the team there by making himself big but that's exactly what you have to do. Good goalkeeping.
CLOSE!
Arsenal 2-3 Leicester
A beautifully crafted build-up and a great stop.
Danny Welbeck squirms free again and feeds to Hector Bellerin, and the Arsenal wide man is denied by Kasper Schmeichel, who makes himself big.
Alex Oxlade-Chamberlain takes a punt from outside the box and his powerful effort is saved by Kasper Schmeichel.
It's parried into the path of Arsenal's record signing Alexandre Lacazette, but the Frenchman is ruled offside.
Alex Oxlade-Chamberlain, who has easily been Arsenal's best player for this mad Premier League opener, sends in another wicked cross into the box.
Kasper Schmeichel in the Leicester goal flaps a bit and luckily for him, the defence clear their lines.

Jermaine Jenas
Former England midfielder on BBC Radio 5 live
It's pretty simple - this Arsenal back three just can't defend crosses. There's not an Arsenal player laying a hand on Jamie Vardy.
Leicester deserve it - they really do. Only Alex Oxlade-Chamberlain has shown anything this half - the rest of them look beaten. It's a weird atmosphere at the moment.
GOAL - Arsenal 2-3 Leicester
Jamie Vardy
The party continues...
Jamie Vardy has loads of space to head home from Mahrez's corner.
Arsenal defender Nacho Monreal is livid about their positioning, and rightly so.