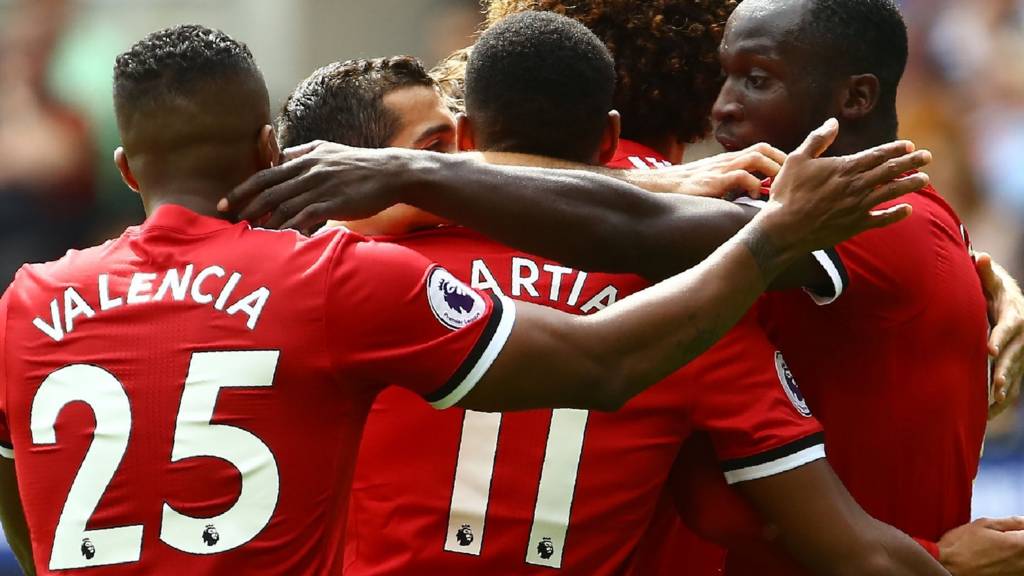 FT: Swansea 0-4 Man Utd - Bailly, Lukaku, Pogba & Martial
Follow Kilmarnock v Celtic here. Follow today's EFL action here. Follow FA Cup South Shields v Bridlington Town live here.
Summary
Man Utd have won both Premier League games 4-0
Swansea have yet to score this season
Sub Martial with shot into bottom corner
Pogba with precise lofted finish
Unmarked Lukaku from eight yards
Pogba header tipped onto bar - Bailly slots home
Get involved - #bbcfootball
Two games, eight goals, two clean sheets, six points. Manchester United have made an excellent start to the season.
'We need quality in'
Swansea 0-4 Man Utd

Swansea boss Paul Clement to BBC Sport: "In the end you always get what you deserve but the scoreline is harsh. One to 79 minutes was one goal. I made some changes to put offensive players on but we got in a mess defensively and at 2-0 we were vulnerable. You have to have belief you are still in the game but we gave the ball away and played to their strengths. They are dangerous on the counter and we were punished.
"I will make sure the players do not let this affect confidence too much against a team competing for the title this year. We have to brush ourselves down and prepare for the League Cup next week.
"There was a good atmosphere around the stadium and we started brightly. Generally, our shape was sound but the way it unfolded was disappointing. Move on quickly from this.
"We want to do business in the transfer window and it is clear to see we need quality in."
'United were devastating'
Swansea 0-4 Man Utd

John Hartson
Ex-Celtic and Wales striker on BBC Radio 5 live
Clearly the opposition will get tougher for Manchester United.
But in terms of the first two games they've been faultless. In that three or four minute spell where they took the game away from Swansea, they were devastating.
4-0, another clean sheet and eight goals in two games. Will there still be United fans who are not happy?
'Martial working hard'
Swansea 0-4 Man Utd

More from Manchester United manager Jose Mourinho: "Happiness in our play. It happened to me so much with my teams, you winning 1-0 and you can can concede. There was no need to close the door, just let the horses run freely.
"Anthony Martial is working hard. He is confident. The French language connection is there to help him a lot and get to the level we know he can be because the potential is huge."
'Happiness in our play'
Swansea 0-4 Man Utd

Manchester United boss Jose Mourinho speaking to BBC Sport: "During almost 90 minutes, I don't say 90 because there was a moment when they had a chance and we lost a little bit the confidence. They were waiting with class, calm and consistency for the moment to kill the game.
"Swansea played with five in the back and they had a moment when they felt they had to change and when they did we had more space and killed the game.
"I felt in control, if you had a chance to look at me and my body language I think you could see that. Football is football and when you make a mistake you can concede so I never felt totally relaxed. I had players on the bench who could help me."
Can everyone please just stop calling United champions elect. We are two matches in let's not take the mick.
Khristian: 2 games 3 late Goals , Proof that United are Now Ruthless! last season its a draw while playing the same way... small margins
Sho Rahman: All goals aside a shout out for Phil Jones please. Absolutely immense again.
Matt Salisbury: Two good results but let's not get carried away - much bigger challenges to come
'Swansea need players'
Swansea 0-4 Man Utd

John Hartson
Ex-Celtic and Wales striker on BBC Radio 5 live
Swansea need a lift.
They need players to come in the door; Paul Clement, I am sure, will have his eyes on several players.
But you cannot keep losing your best players every year. We saw how close Swansea came to going down last year. They lost Ashley Williams last summer, Wilfried Bony the season before.
Now they've lost Gylfi Sigurdsson, you cannot keep recovering year in year out when you sell your best players.
There's money here for sure.
Two goals each for Paul Pogba and Anthony Martial so far this season.
Merci.
Daniel Shack: Anyone remember how City started last season? #justsaying
Bob Moss: Is it too early too say the Manchester derby will be the title decider, everyone else playing for European places.
Dan Evans Media: I'm calling it...Man United... champions elect already.Swansea played pretty well for 80 mins but United are a different level.
'More confident'
Swansea 0-4 Man Utd

Manchester United midfielder Paul Pogba, speaking to Sky Sports: "We've had a very good result, 4-0 again with a clean sheet, We want to carry on on this road.
"We are more confident [than last season]. We know each other more. We work for each other and I think that is easier for us."
Manchester United winger Henrikh Mkhitaryan, speaking to Sky Sports: "It was a tough game, especially in the first half. We had passion, we did what we had to do. The second half became much easier because they played with more defenders and that left space.
"Team spirit. We also have a little luck with the chances we are creating."
Manchester United have scored 4+ goals in their opening two league games of a season for the first time in 110 years (1907-08).
Reaction to come from players and managers.
Henrikh Mkhitaryan says Swansea going from a back five to a back four in the second half changes the game.
The United players are enjoying this victory.
Anthony Martial has Eric Bailly in a playful headlock, while Paul Pogba 'dabs' towards the travelling supporters.
Never dab too early, Paul.
FULL-TIME
Swansea 0-4 Man Utd
Swansea looking for a consolation, but Jordan Ayew's daisycutter from 30 yards goes wide.
By the way, in amongst all them goals, Ander Herrera came on for Henrikh Mkhitaryan.
Into injury time.
Swansea boss Paul Clement looks on ruefully.
BBC Sport app users may have to click view more to see this tweet.
£89m + £75m = goals galore.
If you do not hear from me in the final three minutes, it is because my fingers have stopped working.
That three goal spurt from Manchester United came in three minutes and 41 seconds.
Henry: 3 goals as easy as they come, Swansea back four at absolute sixes and sevens. Jose looks angry. Typical Man Utd. Ruthless.
Nick Wagstaff: 80 minutes was a good effort, to keep it tight, against this Utd team
Scott: United are back
'What a result'
Swansea 0-4 Man Utd

John Hartson
Ex-Celtic and Wales striker on BBC Radio 5 live
Swansea are gone.
They are trying to get forward and they can't get back to defend.
4-0...what can you say? It's flattering in terms of how the game has gone, but what a result.
GOAL - Swansea 0-4 Man Utd
Anthony Martial
Raining goals at the Liberty, United bag four again.
Goalscorer to creator, Paul Pogba slots a pass to Anthony Martial.
The United sub runs to the edge of the box unchallenged, looks up and rolls the ball into the net from eight yards out.
Frenchman to Frenchman, bang, goal.
GOAL - Swansea 0-3 Man Utd
Paul Pogba
Two goals in two minutes.
Again, Henrikh Mkhitaryan is the architect, finding space down the right.
He puts the ball into the box for the onrushing Paul Pogba, who gently chips the ball home.
Cool as you like and an £89m finish from the Frenchman.
GOAL - Swansea 0-2 Man Utd
Romelu Lukaku
One chance, one goal. Game over.
I said three minutes ago he has not had a sniff, but Romelu Lukaku gets an opportunity and tucks it home.
The big Belgian is found in the box by Henrikh Mkhitaryan and finishes with ease past Lukasz Fabianski.
The Swansea fans trying to rouse their troops for the final 12 minutes.
"Paul Clement's barmy army," they sing.
Romelu Lukaku has not had a sniff today.
Phil Jones rushed into a clearance by Tammy Abraham as Swansea look to build pressure again.
Can they nick one late on?
Vaishach: So Fer should have been off then
Dharma Djojonegoro: Leroy Fer should have gotten 2 red cards so far...
SUBSTITUTION
Swansea 0-1 Man Utd
Changes for United.
Marcus Rashford, roundly booed, and Juan Mata make way for Marouane Fellaini and Anthony Martial.
Paul Pogba smacks his free-kick narrowly over.
Close.
Paul Pogba is over the free kick...
YELLOW CARD
Swansea 0-1 Man Utd
Daley Blind smacks a first time drive over from 25 yards out.
On the follow up, Leroy Fer catches the left-back and gets booked.
CLOSE!
Swansea 0-1 Man Utd
Tom Carroll swings in nicely shaped corner, which comes off Nemanja Matic for another...
...and the next one should be in the back of the net, but two Swansea players both miss their kicks from six yards out.
Jordan Ayew and Tammy Abraham are the guilty duo.
Swansea are not out of this and just need a ball to drop nicely to them inside the area.
Maybe it will from this corner...
David P H Thomas: Swans miss Siggi so much already, they must invest fast or face the same struggle as last year
Henrikh Mkhitaryan screws an effort wide from 20 yards, which almost ends up at the corner flag.
SUBSTITUTION
Swansea 0-1 Man Utd
A couple of subs for Swansea.
Luciano Narsingh and Wayne Routledge enter the action, Kyle Bartley and Roque Mesa exit.
CLOSE!
Swansea 0-1 Man Utd
Oooh. Jordan Ayew flashes a brilliant ball across the six-yard box, but Tammy Abraham cannot get on the end of it.
The Swansea man just nudged out there by Phil Jones.