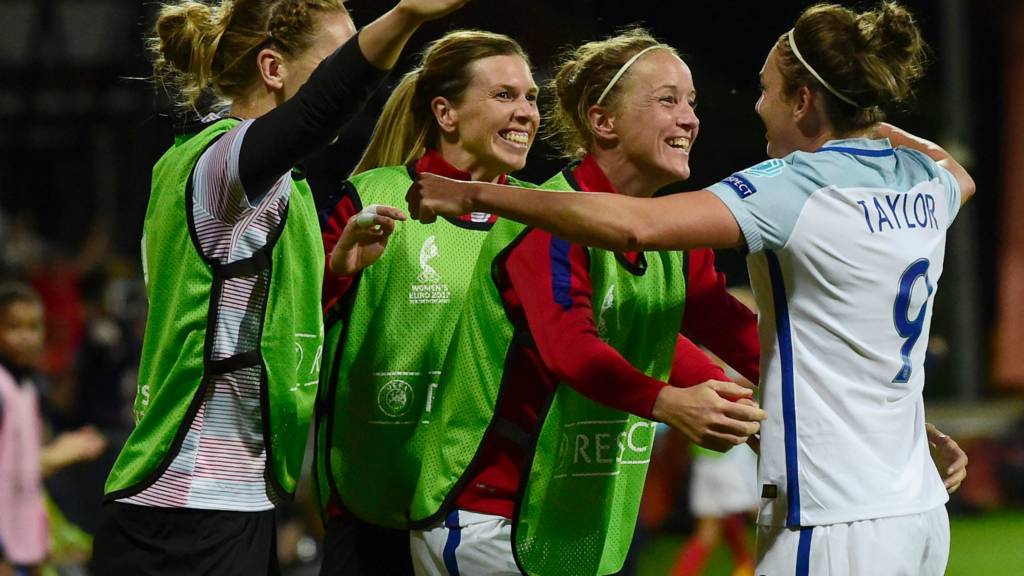 England into Women's Euro 2017 semi-finals - reaction
Summary
England through to Euro 2017 semi-finals
Taylor scores winner - her fifth of tournament
Lionesses will meet hosts Netherlands on Thursday
Result ends 43-year wait for win over France
Jill Scott will miss semi after being booked
Austria beat Spain on penalties to reach semis
Holders Germany knocked out by Denmark
And with that we bid you good night.
See you all Thursday?
'Now England have an identity'
England 1-0 France

Rachel Brown-Finnis
Ex-England goalkeeper on BBC Radio 5 live
I've seen a change in Mark Sampson since the World Cup and it manifests itself in the girls and how they conduct themselves, their morals and ethos. That is the biggest credit to Mark.
His tactics in the World Cup were questionable at times. He chopped and changed his team and I'm not sure he knew his preferred style.
But now England do have an identity, they do know what their best team is and it shows how much Mark Sampson has grown into this.
'It's a huge result'
England 1-0 France
England manager Mark Sampson, speaking to BBC Radio 5 live: "I'm proud of them. they work so hard and are desperate to improve. All those qualities were apparent tonight. This was a tough game against an excellent French team. Olivier's done an excellent job with them - they're one of the best in the world for a reason.
"It's a huge result for us because this is a French team that beat America to win the SheBelieves Cup, they came in as one of the favourites and are full of Champions League winners. It's a big result and I'm very, very proud."
Support from England Hockey
England 1-0 France
'I am incredibly proud'
England 1-0 France
England manager Mark Sampson: "I am incredibly proud of the players who showed what they are all about. However long that game went on we weren't going to be broken down. This is a French team who without a doubt are one of the best in the world. We ground out another result.
"We don't listen to the bookies, none of us bet, we're not allowed to! We'll keep bringing the best performance we can. It's another clean sheet and both of our goalies weren't really worked tonight.
"There are only four left and any team here has earned their right to be there. We will do our best and try and get through to the final."
Chamberlain praises 'clinical' England
England 1-0 France
Siobhan Chamberlain, England's substitute keeper who played in the second half, has spoken to BBC Radio 5live.
"I'm not too sure what happened to Karen [Bardsley]. She went down and she couldn't shake it off. So I got to play 15 minutes and it's a repeat of the World Cup quarter-final, which we also won.
"When you're coming on, they can't start the game without you so it's an opportunity to take your time and get on when I'm ready and focused.
"It was a fantastic display from front to back. Everyone was commanding their areas. It was clinical from Taylor.
"The Netherlands are unbeaten for a reason. A lot of their players we know in the WSL. We'll go and work on the game plan to try and win."
We are still waiting for Mark Sampson's reaction. Don't underestimate how big a win that was for him. After his pre-match comments he would have been in trouble with a defeat.

That's the strongest squad of players the #Lionesses have ever knocked out of a major tournament. France were expected to win the Euros
'Bodies on the line'
England 1-0 France
More from the England captain Steph Houghton: "Stoppage time felt like forever but that's what we're about, resilience.
"All respect to France they have world-class players but we pride ourselves on clean sheets and we put our bodies on the line."
'I knew they weren't going to break us down'
England 1-0 France
England captain Steph Houghton on BBC Radio 5 live: "I'm delighted. You could tell by the celebrations how much it meant. We knew it would be tough but it showed what we're about - we put out bodies on the line for that win.
"The character and determination were unbelievable. I knew they weren't going to break us down.
"It means everything. We're experienced in big games and we know we can dig results out and we're looking forward to a semi-final against the Netherlands."
'It's theirs to lose'
England 1-0 France

Jacqui Oatley
TV Presenter
Brilliant, @Lionesses. Proving they have the mentality for the big occasion these days. No longer the underdogs. It's theirs to lose.
'I was always going to shoot'
England 1-0 France
England striker Jodie Taylor on Channel 4: "I was fortunate that the keeper went down early. As soon as Lucy slipped me the ball I knew the keeper would move early, I've seen a lot of footage.
"My last thought was to hit the ball clearly, I was always going to shoot! The stoppage time felt like such a long time, my heart rate was up there.
"I did watch the Germany game, it leaves everything wide open. I can't wait for the semi now. We have said all along that we wanted to play the Netherlands, we relish it."
Clear your schedules for Thursday evening. England meet the Dutch in Enschede, it's a 19:45 BST kick-off. Of course you can follow it all with us.
From one England squad to another
England 1-0 France
App users may need to select 'view more' to see this content
Get involved
#bbcfootball or text 81111
Ben Dunbar: Comment les aimez-vous les pommes?
Duncan Moris: Harsh on the French, England second best all night, but some gutsy stuff and one chance for JT gets us through!

Rachel Brown-Finnis
Ex-England goalkeeper on BBC Radio 5 live
What every single player has is belief. They are all at the top of their game. I don't think there's one player who isn't in peak physical condition.
Siobhan Chamberlain came in and it's an emotional time, she would have been nervous. But you step over the white line and it falls into place.
Get involved
#bbcfootball or text 81111
SamC: Fantastic! Best England performance I've ever watched in my 27 years. Buzzing!
'Making history!'
England 1-0 France

Rachel Brown-Finnis
Ex-England goalkeeper on BBC Radio 5 live
Once again these girls make history, doing it when it counts. They've done it in the biggest stage. They've ground out a 1-0 victory and I feel so proud of those girls out there.
A collage of sporting emotions played out before us in Deventer. France captain Amandine Henry hides her head in her shirt, injured England keeper Karen Bardsley limps out to join the celebrations, Camille Abily emerges with a child in her hands. Is that goodbye from her?
She is in deep tears.
It doesn't get easier for England. They will face the hosts Netherlands in the semis on Thursday night.
Breaking
England have done it!
England into the semis
Mark Sampson with a huge leap into the air, a pile-on in the middle of the pitch. England have finally beaten France.
Sampson is delighted. As well he may be.
FULL-TIME
England 1-0 France
England have won it!
This has been the longest second half ever...

Rachel Brown-Finnis
Ex-England goalkeeper on BBC Radio 5 live
Siobhan Chamberlain will not be more thankful for a tame header in any game in her career!
What a chance!!!
France put the cross in, sub Clarisse le Bihan gets there first and can only head straight at Siobhan Chamberlain. SHe should have left it for Claire Lavogez behind her!
Demi Stokes cuts out a pass. Jonathan Pearce is going to explode...
England win a corner. A relief. Can they keep it in the corner?!

Rachel Brown-Finnis
Ex-England goalkeeper on BBC Radio 5 live
England need to be careful. As well as rallying the troops, Steph Houghton's got to keep organising the backline.
England look a spent force. This is proper smash and grab stuff now. But give Jodie Taylor one chance and she'll score in this tournament. That's the story of the night as it stands...
Six minutes. Wow. I guess England goalkeeper Karen Bardsley was down injured on three occasions before she was replaced.
INJURY TIME
England 1-0 France
Into the last minute. England free-kick. Celebrated like a goal from Mark Sampson.
SIX MINUTES added on!
Claire Lavogez rolls the free-kick short, Amandine Henry runs on to it - WIDE!
Jade Moore with the hand-off in Claire Lavogez's face. Foul.
Free-kick in a dangerous area...
Table football defence is doing the job at the moment. England five minutes from glory.
Reminder, they have not beaten France since 1974...
Get involved
#bbcfootball or text 81111
Steve Elsworth: 9minutes left 9% battery left. On Eurostar coming back from Lyon. Tense? Just a little
Spindley Bobbins: Some of England's defence is rather reminiscent of table football - just swing anything at it and hope it doesn't go in
AWAY! Goodness me. Claire Lavogez bends in a fine free-kick, it's half cleared, well blocked, blocked AGAIN from point-blank range and then Lavogez fires wide!
Jade Moore blocked that twice while on the floor. Heroic.
Get involved
#bbcfootball or text 81111
Sam Douglas: Some of the most nerve wracking football I've ever watched! C'mon ladies you can do this
The end is nigh. England into game management mode now, winning a throw right in the corner and fencing it off. Jodie Taylor has worked the channels so well and she has scored five goals in these finals from six attempts.

Rachel Brown-Finnis
Ex-England goalkeeper on BBC Radio 5 live
England are managing this game very well. It's really clever strategical play.
Jodie Taylor wins a corner for England with some rare possession. Jordan Nobbs' ball in is not dealt with, Jill Scott heads it back in and on the spin Millie Bright fires over.
Taylor is then caught in the middle and Griedge M'Bock is booked.