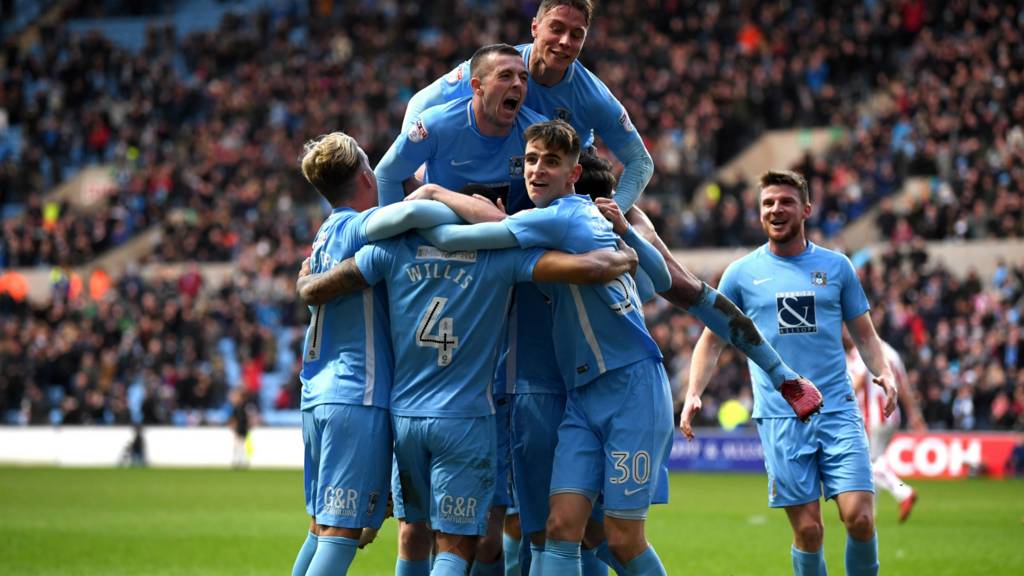 Summary
22 third-round ties kick off at 15:00 GMT
Coventry cause shock of third round with 2-1 win over Stoke
Watch highlights online this evening
React to the results - #bbcfacup
We wish you farewell.
Head to the video wall below for highlights or join Saj here for the Chelsea game.
The romance of the FA Cup, Dan Walker style
Look over here and you'll find all the highlights and goals from today's 15:00 GMT kick-offs in the FA Cup third round on our glorious video wall.
'I need to get better at goal celebrations'
Coventry 2-1 Stoke
Coventry City right-back Jack Grimmer, who scored the winner against Stoke: "The FA Cup is something special. I scored in the 97th minute to win a tie for Shrewsbury (in 2016) so to add to it today was amazing.
"Right at the last minute, I took a touch and decided to shoot. I think if any photographers took a photo a couple of seconds after they would have seen the surprise on my face. I think I need to get better at goal celebrations.
"We made it difficult for them. They wanted to come and play football and the pitch didn't allow them to do it. They worked us hard and that is a sign of what this team can do.
"I was exhausted in the dressing room. We defended for our lives in the last couple of minutes. As you can imagine the music was on and it was a great atmosphere. Everyone soaked it up. It was so well deserved.
"The main thing that we've spoken about is about giving back to the fans. It's not where the fans expect us to be. This one is for them. They came out in numbers today and they were brilliant."
Get Involved
#bbcfootball or 81111 on text
What do you make of Coutinho's potential £142m move?
Si Roberts: Sad to see Coutinho go but satisfying to know that by ignoring the advice of half the BBC pundits last summer to accept the first bid, Liverpool secured half a season and an extra £60m.
'A strange one'
Man City 4-1 Burnley

Burnley boss Sean Dyche: "I thought we were very good until they scored their first - a very contentious goal - and then we looked a bit punch drunk.
"It all changed very quickly and my only gripe is how quickly we switched off after the first goal."
On the first goal: "The first goal was contentious because the referee could use his common sense and stop that from happening.
"The referee said he did not need to blow the whistle. The law and common sense view of refereeing is what is important at that moment. Our player is three or four yards away from the referee gesticulating if he is going to blow the whistle and at that moment Manchester City played it into the slot our player would have been.
"It is a strange one today. You come away from a result like that and the scoreline doesn't suggest how the game went. There were so many good things from us today."
Foot off the gas
Newcastle 3-1 Luton

Newcastle United manager Rafa Benitez: "I said in the news conference we wanted to approach the game with a strong team to make sure we were going through.
"First half we finished really well. We were 3-0 up, maybe it's harder to keep concentration in the second half.
"They scored and maybe had belief they could then score more. We had chances to finish the game. The first half was quite good, a lot of possession, passing and good goals.
"In the second half we needed more experience to manage these games. Keep the ball and then a fourth goal would have finished it but we couldn't do it."
Aston Villa 1-3 Peterborough
Only Harry Kane (24) has scored more goals among Englishmen in all competitions in English football than Jack Marriott (23) this season.
'Aguero is essential for us'
Man City 4-1 Burnley

Manchester City boss Pep Guardiola: "Both of Sergio Aguero's goals were amazing, there were clever and quick and I am happy with both of his goals.
!It's an honour for me to have Aguero under my command. The quality he has is amazing and we need him to score a lot of goals. Aguero is the kind of player that in a matter of seconds can score two goals. He is an essential player for us."
On David Silva: "David Silva is a legend for the club for what he has done. I am happy for him to have made his statement and it is not easy for him to travel to Spain and England back and forth. But we are happy because everyone is playing well. And for today."
KICK-OFF
Norwich 0-0 Chelsea
'We're all under pressure'
Coventry 2-1 Stoke

Stoke manager Mark Hughes speaking to Match of the Day: "It's clearly a difficult time for us. When we make mistakes, they're getting penalised. We're not giving ourselves the right defensive platform at the moment and when that happens you're always vulnerable.
"Clearly, the only way to quieten down the noise around the club is to win games. We need to turn it around and quickly. We're good enough in this league - we've proved it during my tenure - but we've got to be better in key moments.
"We're all under pressure. I can take the pressure and the focus. I'm not naive and I realise people will talk about my position. But we've got good owners who will make the right decisions for the club. They have done before and they'll do it again.
"Credit to Coventry. They deserved the win for defending manfully and putting bodies on the line. I wish them well."
'Naive'
Newcastle 3-1 Luton
Luton Town manager Nathan Jones: "We were a little bit naive to be honest. I'm a bit disappointed.
"At times we were excellent in the second half, we looked an attacking threat.
"We gave a wonderful account of ourselves. We had a right go at a Premier League side. We haven't tried to nick a result, we had a good go.
"Maybe that's naive but we played some great football today and the fans were outstanding."
'We were solid'
Bolton 1-2 Huddersfield

Huddersfield manager David Wagner: "We dominated the ball and controlled the game. We thought our spaces would come as the game went on and I thought it was a deserved win.
"We had a debutant and several players coming back so there could have been disharmony, but I was very satisfied with how solid we were."
'Manchester United away would be perfect'
Coventry 2-1 Stoke
Mark Robins has discussed the Coventry fans on Match of the Day: "The atmosphere was outstanding and the supporters desperately want to grab on to something.
"They're lifeblood of the club. Some are staying away at the moment but we want them back. I can't ask them to come, as it's so expensive. But we need every penny we can in the transfer market. We're trying to build something.
"It's an outstanding achievement, against a team full of stars, some of whom will be playing in internationals and at the World Cup this summer. To come out and not scrap or hold on, we were deserved winners."
Robins on the pressure on former team-mate and Stoke manager Mark Hughes: "In management you get it all the time. It won't be the first time or last time he's had this. We've all been through it. You have to stay focused. He's a talented manager and he needs to get a break. Their chairman is notoriously patient and hopefully he'll be given that time.
"For us it's brilliant, we're in the fourth round draw. Hopefully we'll get a big club away from home - Manchester United away would be perfect."
"When a Premier League side lose to a lower league side, that's news."
If it doesn't go so well this week Mark, there's always a job for you here...
'The boys threw themselves at everything'
Coventry 2-1 Stoke
Coventry manager Mark Robins on Match of the Day: "I'm proud. Regardless of the current troubles at Stoke, and the pressure on them, we equipped ourselves really well. We went toe-to-toe with them. We could have been 3-0 up in the first half. They put pressure on us in the second half were able to bring on a wealth of experience from their bench.
"But then we got the second on the counter. The boys threw themselves at everything and we're in the hat for the next round."
Were Coventry hanging on at the end? "They were desperate for the win, as we were. There were times where you have to forgive the lads who are 18 and 19. There were so many things that were pleasing out there today."
Mark Hughes says that 'we have disappointed ourselves and our fans."
The Stoke manager is under some heat at the moment.
Full reaction to come.
Get Involved
#BBCFACup or 81111 on text
Alex from Leeds: Stoke and Mark Hughes fan here. This is not the result that should decide whether he stays or goes. If results continue to be poor, he can leave at the end of the season. Now is not the time - I doubt Coates will think so either.
Andrew Dunn: Not so long ago we got knocked out by Worcester City but today we have created the upset of the round. Awesome for the Sky Blues. The long-suffering fans deserve this. Wonderful day for the club.
Two sides to every story.
WATCH: Lovely backheel from Gundogan sets up Aguero
Manchester City 4-1 Burnley
WATCH: Grimmer's screamer knocks out Stoke
Coventry 2-1 Stoke
It was a scintillating City display in the second half
Man City 4-1 Burnley

Steve Wilson
Match of the Day commentator
Burnley had the audacity to take the lead and City were frustrated.
But then two goals in 94 seconds from Sergio Aguero turned the tie around.
Manchester City wanted to avoid any kind of headlines today and they did that with a scintillating display in the second half.
They are now 32 games, domestically, unbeaten.
Get Involved
#BBCFACup or 81111 on text
Andy Holgate: Bizarre comments from Adam Blaize. Pep has indeed inherited a lot of these players but he's taken them to a new level. He's "built" the players into great players or even world class. Look at Sterling and Otamendi. Just look at KDB. That is is Pep's work. Quite dismissive from Adam to the genius of Pep.
Derek, Holland: Pep killing football?!?! Reviving The Beautiful Game, more like
Al, Manchester: Please Adam at 1647: Give Pep some credit. He has spent lots of money but hasn't he coached players to improve and play his way? Sterling,Sane, De Bruyne, Stones. Shall I go on?
'It was a typical yellow card'
Wolves 0-0 Swansea

Swansea manager Carlos Carvalhal: "Listen I don't have an opinion on the Wolves red card but my staff said it was a clear red. I didn't see it - but I saw our red card.
"It is a typical yellow card, a touch on the back of the player in the middle of the pitch. Instinctive. Everyone felt it was a yellow card. This is a situation I don't want to talk too much about, but that's two games in a row with bad decisions.
"I am very happy about my players. We had a clean sheet, the commitment was good.
"I was only in the market for 24 hours after leaving Sheffield Wednesday but I must tell you that my phone rang a lot. I am pleased about that."
Hughes on the brink?
Coventry 2-1 Stoke

Chris Waddle
Ex-England winger for Radio 5 live
You see a lot of turnover of managers in the modern game. Lifespan as a manager is so short. Sometimes though you do have to point the finger at the players. They played OK today but Hughes needed a strong performance and he did pick a strong side. They didn't deliver.
Get Involved
#BBCFACup or 81111 on text
Geoff Kidd: Never rated Hughes as a manager. All this talk of expansive football and the talent he's brought in, but plan B is always Peter Crouch.
Simon Rigler: Feeling a touch sorry for Mark Hughes. Like many worn out relationships, at the end absolutely everything is going against him. Time for a change for both parties.
Is there no way he can rekindle the flame, Simon?
Get Involved
#BBCFACup or 81111 on text
Mark Davies: #QPRFC#bbcfacup Why do people call for a winter break? QPR have had the first weekend in January off for the last 23 years and it's not improved our results or players at all.
Karl in Peterborough: What a cracking result for the Posh. Can beat anyone outside the Premier League on our day #MightyPosh
Mike: If Guardiola didn't build those teams who did? Credit where credit is due he's doing a top job
'A great attitude'
Exeter 0-2 West Brom

West Brom manager Alan Pardew speaking to Match of the Day: "It was a professional display. We were good in the first half and should have had more goals. Exeter had a good old go in the second half and we defended well. At both ends the display was good.
"It was a great attitude on a sticky, horrible pitch.
"The team has functioned well and I didn't want to lose that rhythm by changing players.
"Of course the first win is important to us as it's been so long since we've won a game. We've won here and now we have to try and win at home."
Aston Villa 1-3 Peterborough
Get Involved
#BBCFACup or 81111 on text
Sam Lock: GET IN NOTTS! What a result that is and such a great goal to win it, good draw for the 4th Road now please
Anon: I'm Hughes in! I mean, I'm not a Stoke fan but don't think he should go. This is the same Stoke that was 9th three seasons in a row under Hughes and playing great football
The late game
Norwich v Chelsea (17:30 GMT)
Sacked in the morning?
Coventry 2-1 Stoke
App users may need to select 'view more' to see this content.
Breaking
Coutinho on his way?

Phil McNulty
BBC Sport chief football writer
Liverpool's Philippe Coutinho is understood to be close to completing a £142m move to Barcelona after staying behind as his team-mates travelled for a mid-season break in Dubai.
More to come on that one - just a bit!
Get Involved
#BBCFACup or 81111 on text
James Stevenson: That's what the cup's all about. A brilliant win for Coventry City and their fans. Disarray for Stoke. That could be that for Mark Hughes.
Tom in Kent: Well played Wigan and Coventry but for me West Brom winning a game has to be the shock of the day!
Graeme Poole: How can Villa thrash Bristol City 5-0 one week and then lose to Peterborough the next?!! Even more inconsistent than the England cricket team. #FACup#bbcfacup
These Stoke fans have made their opinion known at Coventry today...
Brentford 0-1 Notts County
Jon Stead loves the FA Cup...
His winner gave League Two side Notts County victory at Brentford.
Stoke heads are down
Coventry 2-1 Stoke
BBC Sport's Ivan Gaskell in Coventry:
It was a cup tie that had everything.
Stoke were under pressure coming into the game and they were under pressure for much of the first half.
Jack Grimmer scored from nothing and Stoke tried everything but their afternoon - and the season - took an even grimmer turn.
Stoke heads are down, but Coventry – what a huge shock.
Sky Blues celebrate
Coventry 2-1 Stoke
Marcus Hall
Ex-Coventry defender on BBC Radio Coventry & Warwickshire
Coventry have thoroughly deserved the win since the moment they went 1-0 up. Stoke had a few chances but Coventry took theirs. To a man, they were fantastic and to hold on like they did for the last 25 minutes was fantastic. They put their bodies and heads on the line and made it over the line.
FULL-TIME
Aston Villa 1-3 Peterborough
Another upset to report as League One side Peterborough put three past seven-time winners Aston Villa to progress.