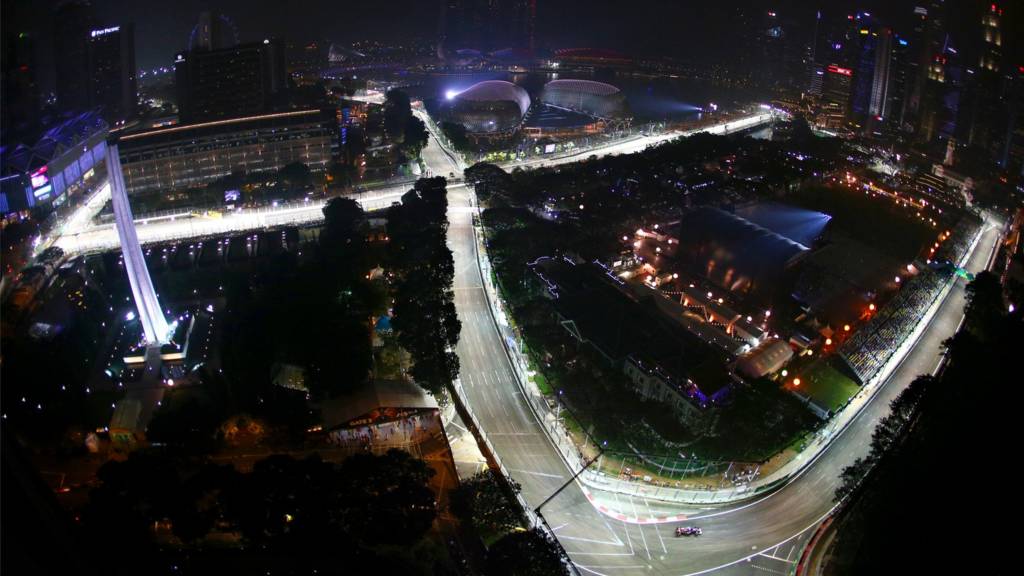 How Singapore practice unfolded
Summary
Kvyat fastest in second practice, Hamilton fourth
Red Bulls much improved
Stevens crashes in the Manor, puncture for Sainz
Rosberg fastest in first practice, Hamilton 2nd
Rossi hits the wall late on for Manor
A false dawn? Or have Mercedes really got a fight on their hands? Everything appears to be set up for an interesting weekend under the lights. 
You can read Andrew Benson's report here and we shall be back 10:30 BST sharp on Saturday for coverage of final practice and qualifying. Until then.
11) Massa 12) Nasr 13) Ericsson 14) Button 15) Sainz 16) Grosjean 17) Bottas 18) Maldonado 19) Rossi 20) Stevens
1) Kvyat 2) Raikkonen 3) Ricciardo 4) Hamilton 5) Vettel 6) Perez 7) Rosberg 8) Alonso 9) Hulkenberg 10) Verstappen
Red Bull's Daniil Kvyat finishes fastest in second practice for the Singapore Grand Prix.
Both Sebastian Vettel and Daniil Kvayt dipped into the 1:50s on their long runs, something Lewis Hamilton didn't manage to do. A closely-fought battle on the cards? Or are the cards being kept close to Mercedes' chest?

Jennie Gow
BBC Radio 5 live pit-lane reporter
I've asked Mercedes what happened with Rosberg at Turn 18 and they said nothing untoward. He just carried on. They brought him in for a set of soft tyres and sent him back out."
Into the final five minutes of the session and Daniil Kvyat tops the timesheet ahead of Kimi Raikkonen, Daniel Ricciardo and Lewis Hamilton. Nico Rosberg is down in seventh. 
"Check that things aren't too hot," Nico Rosberg says over team radio. "Engines temps are OK Nico," comes the reply.
Yellow flags as Nico Rosberg, on worn supersoft tyres, heads down an escape road at Turn 18.
Lewis Hamilton had been lapping consistently in the 1:51s but the performance is perhaps just starting to drop away as his 17th lap on the supersoft tyre is a 1:52.741s.

Andrew Benson
Chief F1 writer
"Red Bull's Daniil Kvyat can come across a bit vapid, partly because of his flat Russian accent, but in fact he has an appealingly dry sense of humour, and earlier this week he summed up amusingly the difficulties of preparing for the intense challenge of a two-hour race in the crushing heat and humidity of Singapore. After admitting he had found his first race at Marina Bay 'quite tough' last year, he said he had been preparing back in Lugano by 'training wearing winter clothes in 30C. Looking like a complete idiot - everyone was looking at me thinking: "What is he doing?"'
"Red Bull are hopeful of a much stronger weekend after the trials of Spa and Monza and are optimistic of competing with Ferrari for best of the rest behind Mercedes. Kvyat's team-mate Daniel Ricciardo said on Thursday: 'I still think Ferrari will be strong and tough to beat for us but we should be close. Friday will be a tell-tale sign. If we start on the right foot we'll be there.'"
Alexander Rossi's first timed effort in FP2 is a 1:57.390 on the supersoft tyre, putting him in P19.
Get involved #bbcf1
Can Hamilton be compared to Senna?
"OK Daniel, pace looks good, degradation is very good," Daniel Ricciardo is told over team radio. A good session for Red Bull so far.
Twenty minutes left and Alexander Rossi emerges for the first time in FP2.
Daniil Kvyat, who looks set to top the timesheet today, is showing good pace on his long runs as he clocks a 1:51.6 on his 10th lap on the supersoft tyre. 
Could Mercedes have a fight from the Red Bulls on their hands this weekend?
Get involved #bbcf1
Can Hamilton be compared to Senna?
Lewis Hamilton's last lap - his ninth on the supersoft - was a 1:51.335 while Daniel Ricciardo, also on long runs, is round in 1:41.546.
"Revised lap time target high 51."
It doesn't look like Lewis Hamilton will finish Friday on top of any of the practice sessions as his focus appears to have switched to long runs.
A rare chance to get a picture of Teenage Mutant Ninja Turtles on this page thanks to Manor...

Jennie Gow
BBC Radio 5 live pit-lane reporter
"It is starting to rain down here. There are spots of rain in the pitlane. Meanwhile Felipe Nasr has picked up a reprimand for failing to come on track at the right point in FP1."
Meanwhile, it has been a good day so far for McLaren, with both Fernando Alonso and Jenson Button getting plenty of running without any major drama. Alonso has the eighth fastest time at the moment with 1:46.959, while Button is 14th fastest with 1:47.888.

James Allen
BBC Radio 5 live F1 commentator
"It looks as though Kvyat went out again on the supersoft and managed to go more quickly on that original set of supersofts. Hamilton meanwhile has just gone back out on circuit. So is he going out on a long run, or is he, like Kvyat, going out to see if he can find more pace?"
Get involved #bbcf1
Can Hamilton be compared to Senna?
Daniil Kvyat has turned his Romain Grosjean anger into speed as he goes fastest of all with a 1:46.142. Kimi Raikkonen drops to second, while Daniel Ricciardo is now third.

Tom Clarkson
BBC F1 pit-lane reporter
"Kimi Raikkonen does not like simulators but after he made that error at the start of the last race he went and did 100 practice starts on the simulator. That is how motivated he is. A few years back I don't think he would have done that, but he really wants to make this work at Ferrari."
Lewis Hamilton's second go on the supersofts seems him split the Ferraris, a 1:46.479 putting him around three tenths of a second off Kimi Raikkonen's benchmark.
Meanwhile, a hair-raising moment for Daniil Kvyat as Romain Grosjean gets in his way and Kvyat hits the brakes, before raising his hand in frustration.
"BEEP. BEEP," is the sound over team radio as Kvyat embarks on an expletive laden rant against Grosjean.
Lewis Hamilton's first lap on the supersoft tyres sees him off at Turn 1 and he has to back off his lap. He's having another go now. 
Meanwhile, Nico Rosberg's first run on his qualifying sim seems him go third fastest with 1:46.781.
Get involved #bbcf1
Can Hamilton be compared to Senna
With Lewis Hamilton bidding to equal Ayrton Senna's record of 41 wins from 161 starts this weekend, we are asking if the two can be compared, and if Hamilton can be considered an F1 great.
No he can't. Second fastest for Sebastian Vettel, three tenths of a second down on his Ferrari team-mate.
Felipe Nasr, also with supersoft shoes on, goes sixth fastest with 1:47.755, but here comes Sebastian Vettel on his first run on the supersofts. Can he move into P1?