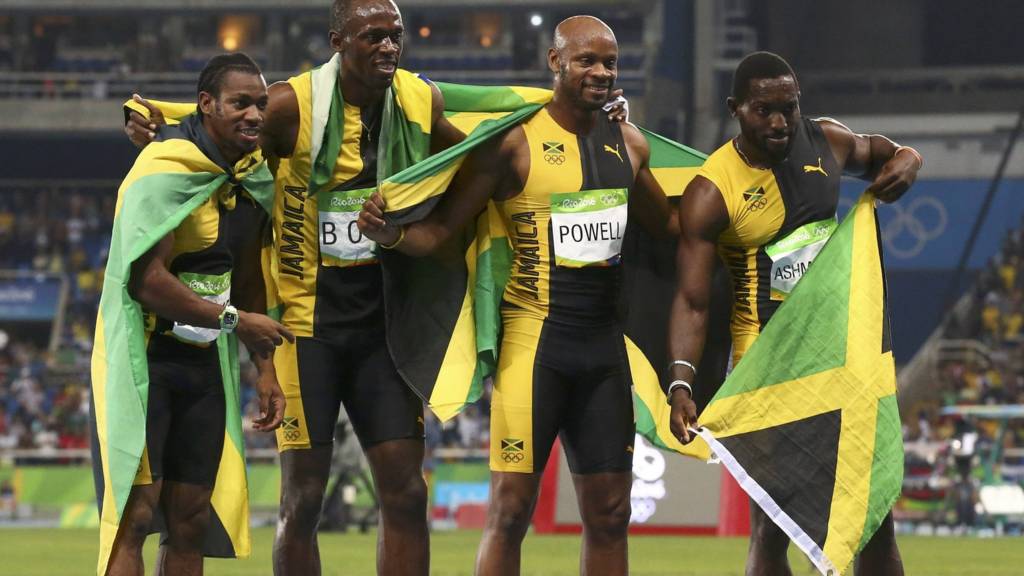 Summary
Usain Bolt wins 4x100m relay for his ninth gold - the 'triple triple'
GB's Lutalo Muhammad taekwondo silver after last-second defeat
GB win bronze in women's 4x100m
Athletics: GB appeal against men's 4x400m disqualification
GOLD - GB women beat Netherlands on penalties in final
GOLD - GB's Nick Skelton on Big Star wins individual show jumping
GB have 24 golds (60 medals in total)
Diving: Daley tops standings in 10m platform preliminaries
Boxing: GB's Joyce into Sunday's super-heavyweight final
An epic night.
Let's do it all again tomorrow yeah?
Brazil progress to volleyball final
Men's volleyball semi-final
Host nation Brazil have beaten Russia to progress to the final.
Watch their winning moment.
US disqualified
Men's 4x100m
Tyson Gay on USA's DQ: "Hell, we already did the victory lap and then when we talked to TV, they told us.
"They said Justin Gatlin got the stick before the zone. He's saying he didn't. Hopefully we can appeal."  
It's been a wonderful day/night of emotions out in Rio, but the upcoming Paralympics look like being chaotic.
As budget cuts are announced for the Paralympics in Rio, Paralympic wheelchair racer Josh George said the cuts were 'disappointing' and 'it almost makes you feel like a second class citizen'.  
Bolt's nine golds...
'Roller coaster of emotion'
It really was...
Lutalo Muhammad: "It was a roller coaster of emotions today, but hey I still won three fights. Unfortunately I literally just came up short at the last second in the final. Obviously it's disappointing for me. I wanted to be the Olympic champion today, but I just have to settle for silver.
"I'm very happy to be here, second-time Olympian, second-time Olympic medallist- bronze, silver, so we know what's next."
ThinkBig33: So nice hearing the girls talk positively and about the pride for each other.  
'We smashed it'
GB women win 4x100m relay bronze
Asha Philip: "We came here to get a medal and we delivered. We had a lot of pressure to get this, but we had so much trust and faith in these girls. I have been with the senior team since 2011. We didn't even make it four years ago and I have to thank all the girls from 2012 because it has helped us so much. I am so happy. Thanks to these girls and those at home."
Desiree Henry: "I cannot believe it. This was my first Olympics I wanted to go out and enjoy it but also to get a medal. To do it I had tears in my eyes. Thank you to everyone who has made this happen."
Dina Asher-Smith: "I am so proud of these girls. We have worked unbelievably hard. Out of all the teams I think we worked the hardest. We have worked so hard and this for the entire nation."
Daryll Nieta: "I am speechless. I am so proud of our team. I am happy we have this faith and trust in this team. We absolutely smashed it."
'I'm going to be even faster at 35'
Men's 4x100m
Michael Johnson said earier on tonight that he though that Justin Gatlin would carry on.
Sounds like - as ever - he was right.
Here's Gatlin: "I never said this was my last Olympics. This Olympics has made me hungry for the world championships next year (in London). I'm 34. You guys thought I couldn't run this fast at 34. At 35 I'm going to be even faster."
On finding out about the disqualification while celebrating the third-place finish in the stadium:
"It was the twilight zone. It was a nightmare. You work so hard with your teammates, guys you compete against almost all year long. All that hard work just crumbles."
Jos van der Lelie: Upsets and shocks, achievement and disappointment, big winners and big losers. Drama and emotion in #Rio2016. What a great day  
Taekwondo
Lutalo Muhammad takes silver
An emotional Lutalo Muhammad spoke to BBC Sport following his last gasp defeat in the final.
This is an extremely powerful sporting interview...
Make the most of this video. It's the last time we'll see him at an Olympics...
Rhuban: So much drama during these final few days!  
Monica Lee: Usain Bolt loves Steve Cram's commentary. Don't we all?   
So near yet so far for Muhammad
Special word for Steve Cram at the end of Usain Bolt's interview. "Steve, this is because of you. This is why I talk to this guy," while pointing to Phil Jones. 
Poor Phil.
'I am the greatest'
Bolt wins his ninth
Asafa Powell: "It was never in doubt. We went out there very confident. We are a team and we love competing on the track. I love running with these guys. We are here to relax, we are very confident we just want to get the stick in that man's hands."
Nickel Ashmeade: "We went out there and executed it and did well."
Yohan Blake: "That was all of us. Usain need to be immortal and he is immortal. I will encourage him to come back for 2020."
Usain Bolt: "I am proud of myself and I have to say thanks to the guys. The pressure is real. I look at it as accomplishment. I live for these moments, it is beautiful and I came through. I'll go home, stay up late tonight talking and having fun. It is not real. It is a brilliant feeling. I told the guys if it didn't happen tonight I would beat them up. I am the greatest."
Run, jump or throw yourself into fitness
#GetInspired
If you've been inspired by tonight's action in the Olympic Stadium, why not have a go yourself?
You can find out how to get into all types of athletics in our special guide.
GB disqualified
Men's 4x400m
Great Britain have 60 medals by the way. Sixty!
They got 65 in London four years ago. It is only 20 years since they won 15 in Atlanta. With one gold...
 "I'm going to stay up late and have fun," says Usain Bolt after he won his ninth gold medal in the 4x100m relay.
And why not?
This is what gold feels like...
Taekwondo
Muhammad silver in -80kg
It's great to see a smile on Lutalo Muhammad's face. A huge effort. Olympic effort. 
This Olympic Games hasn't half served up some drama in the last fortnight. Tonight might be well up there.
Disqualifications, last-second defeats, historic golds. 
Brilliant stuff. 
Handball
Poland 28 - Denmark 29
Denmark are through to the final of the Men's handball competition after beating Poland in the Semi-Final after extra time.
Muhammad distraught after dramatic defeat
Stefanidi wins gold in women's pole vault
Women's pole vault final
Greece's Ekaterini Stefanidi wins gold in the women's pole vault.
Take a look at her winning moment.
Michael Johnson still doesn't know why the GB team were disqualified from the 4x400m almost two hours ago.
If he doesn't know - NOBODY KNOWS. 
Lutalo Muhammad misses out on gold
Lisa Pinnell: OMG now the US DQ'd in the relay? What the heck is going on in Rio tonight? Can't see why?   
Matthew Wallace: These judges in the relay events love a good disqualification.   
Lutalo Muhammad must think he has the gold medal won, but allows Cheick Sallah Cisse to land a scoring shot in the final seconds.
Bolt does 'treble treble'
Men's 4x100m relay final
Usain Bolt ended his Olympic career by claiming an unprecedented 'treble treble' and his ninth gold as Jamaica won the 4x100m relay final.
Speaking of DQs...
Men's 4x400m heats
Earlier on this evening the GB men's team were disqualified after winning their 4x400m heat. We are not sure why. 
Here's the anchorman:
'They don't know'
Men's 4x100m

Steve Cram
BBC athletics commentator on BBC TV
I think the US team are the only people in the stadium that don't know they are disqualified. They have just done their lap of honour, but it is up on the big screens.
Breaking
US team disqualified
Men's 4x100m
The United States team came third in that men's 4x100m final - but they have been disqualified.
Once again, the BBC Sport pundits are a touch confused...
Ben: I'm not gonna lie, I'm in tears watching that interview  
Richard Walker: I feel gutted for @LutaloMuhammad losing the gold medal in such a manner. Post interview with him is heartbreaking. Poor guy.   
Blaynos:@LutaloMuhammad interview is one of the most heartbreaking things I've ever seen. Nothing to apologise for!   
Lutalo Muhammad on BBC One after losing his gold-medal fight in the last seconds:
"I was so close to becoming Olympic champion and making my dream. I am so distraught. I don't want to cry but I am so sorry to the people that stayed up to watch. I let them down at the last second. This is so hard.
"I was so close to being Olympic champion. The emotions are so raw. It's hard to say how disappointed I am. It should have been gold. I am so upset i can't speak clearly.
"I am absolutely gutted to blow it like that. I'll have to wait four years for another chance. It's one of the low points of my life."
Oh my word. If you've seen a better Olympics interview than the one given by Lutalo Muhammad in the aftermath of his taekwondo defeat, I'd like to hear about it.
He was half a second away from being champion. Incredible. Can you imagine how that must feel?