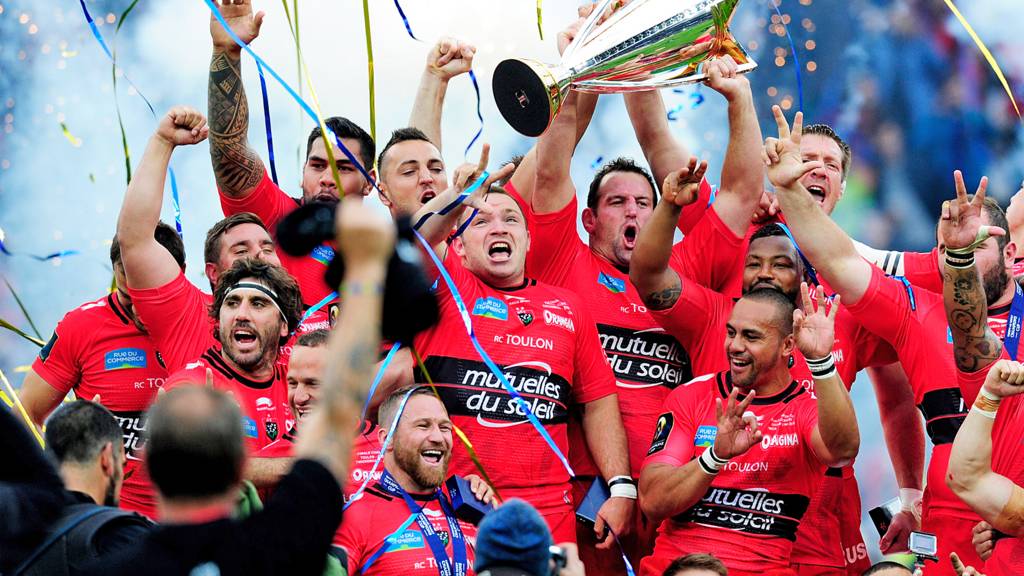 Toulon 24-18 Clermont - as it happened
Summary
Toulon first team to win three straight European titles
Clermont Auvergne 18-24 Toulon FT
Fofana & Abendanon tries, 1 con & 2 Lopez pens for Clermont
Bastareaud & Mitchell tries, 1 con & 4 Halfpenny pens for Toulon
Second row Ali Williams tells Sky Sports that he has "never loved an Australian as much as I loved Drew Mitchell when he scored that try."
The team spirit does seem very strong at the heart of the Toulon team.
That is fine bit of management to bring in so many big names and big contracts and not get rid of the spirit.
Clermont Auvergne meanwhile trudge down the tunnel. Can they take revenge in the Top 14 knock-out stages?
Toulon lift the new Champions Cup with plenty of the players thrusting three fingers into the Twickenham sky.
Just to reinforce the point the players are handing t-shirts plastered with a big number three as they go and celebrate with their fans.
Get involved via #bbcrugby
Exceptional circumstances then...?
Luke:
Abendanon and Armitage are exceptional circumstances. They are the best! @nick_abendanon should have been Eng#15 3 years ago!
Mike Martin:
Ludicrous that RFU bar French-based Armitage and Abendanon from England. World Cup should be best XV, come what may.
Gully:
In a world cup year you have to pick your best players no matter where they play. That means Abendanon and Armitage
Drew Mitchell was one of that group of Australians abroad who was given a route back into the Wallabies squad last month as the ARU relaxed his restrictions on foreign-based players.
That electrifying score in the second half might be the sort of thing he is planning for the World Cup pool meeting with England on the same ground.
Clermont centre Jonathan Davies speaking to Sky Sports: "It is a tough one to swallow at the moment. Our discipline cost us at times and we fell off some tackles. The effort was there, it was just the execution.
"We came off the boil in the middle point of the game, but a couple of errors let them back in the game. There is hugely disappointment. we have to get silverware for this town."
Toulon owner Mourad Boudjellal is on the pitch is a state of disbelief.
Jonny Wilkinson looks on with a content grin on the sidelines.
Are the key parts of the best club team in European history? I think so.
The best club team in the world? Quite possibly.
Clermont opted for a crossfield chip on the final play. Surely the wrong option with the ball in hand and the clock against them?
It was all or nothing. And Clermont come up with nada.
Bryan Habana claims the ball and is awarded a penalty as he is taken out in the air. He just has to trot off the field to bring the game to a close.
Full-time
Clermont 18-24 Toulon
Toulon win a third successive European Cup.
They missed the corner! Extraordinary.
Toulon boot downfield. Abendanon runs it back to within 20m. Incredible.
What a game.
It is still in the balance. Clermont still pressing for a winning score.
But now Toulon knock on at the line-out. Put-in for Clermont....
And now a penalty to kick for the corner...
A big call!
Nigel Owens rules that Mathieu Basatreaud clamps down over the top of a breakdown legally and awards the penalty to the holders.
Proper Toulon celebrations greeted that decision - both on the pitch and in the stands.
Clermont now. They are working through the phases and are up to the Toulon 22m line. What a final.
Toulon are knocking on the door for more. Up and around the Clermont 22m. One more try would put the game to bed.
But the support is a little slow to the breakdown and Nigel Owens parps in Clermont's favour for hanging on.
Try
Clermont 18-24 Toulon - Drew Mitchell (missed con Halfpenny)
What a try!
Drew Mitchell takes a ball on the burst on the Clermont 10m line and just leaves a trail of destruction behind him. Six defenders are left choking in his jetstream as he jig-and jags through the Clermont team and shirts over for a sublime solo score.
Twenty-four carat quality for the Wallaby.
Conversion narrowly missed by Halfpenny. Could that be costly? The gap is six...
Clermont feel like the coming force in the game right now.
There is a belief about the boys in white and that is what they need to put a tiger in their tank.
Scrum-time on the Toulon 22m line. The holders could do with taking their time over this and gathering their thoughts.
Fifteen minutes left and a one-point ball game. Whose's your pick?
Clermont force a line-out up in the Toulon 22m as Ludovic Radoslavjevic spots Leigh Halfpenny is not at home.
Disallowed try for Toulon
Clermont 18-19 Toulon
Toulon are within a whisker of stretching back clear.
Ali Williams, gathering a fortunate bounce off the foot of Clermont full-back Nick Abendanon, plunges over in the corner, but loses control of the ball just before he grounds.
What a see-sawing, momentum-changing couple of minutes.
Try
Clermont 18-19 Toulon - Nick Abendanon (con Lopez)
Come back Nick, all is forgiven.
One of the cheekiest tries you will ever see.
Nick Abendanon, whose chip was punished in the first half with a Toulon try, dinks the ball over the top of Carl Hayman and gathers to stroll in unopposed.
Sublime.
Clermont are inching closer. Up to the Toulon 22m. And over. Phase after phase...
Get involved via #bbcrugby
Michael Griffiths:
Farcical if Steffon Armitage doesn't make the World Cup squad, so good at the breakdown, guarantees at least 2 turnovers a game
Ouff!
Drew Mitchell must have that one pencilled into his diary last month, he had Jonathan Davies lined up so far in advance.
Davies clings on an retains the ball in a thumping tackle from the Toulon wing.
Basic errors are costing Clermont.
A decent little rolling maul rumbles up over halfway, but the hard work goes to waste as replacement Julien Bardy spills a simple pass as they attempt to shift the point of attack.
Replacement
Clermont 11-19 Toulon
A change at scrum-half as well with Ludovic Radoslavjevic replacing Morgan Parra at nine for Clermont.
Clermont have summoned Aurelien Rougerie off the bench. The legendary centre is on in place of wing Naipolioni Nalaga.
A 34-year-old on the wing? I'm not sure his nous will compensate for the ageing legs out wide.
Clermont trail by eight. They are backed up against the wall with no choice but to play.
They are going to have to mine deep into their reserves of team spirit and hope they hit champagne.
Penalty
Clermont 11-19 Toulon - Leigh Halfpenny
A bit of contact lens bother, but even shooting with only one eye is not enough to put Leigh Halfpenny off.
Another pure strike, another three points.
This is kamikaze. Toulon kicking out from just near their own 22m and Clermont wing Noa Nakaitaci spills attempting to gather.
He then compounds things by slinging the ball away in frustration with Bryan Habana buzzing around him. Habana squeals in frustration and referee Nigel Owens obliges with the penalty.
Replacement
Clermont 11-16 Toulon
A couple of changes with Levan Chilachava replacing Bakkies Botha in Toulon's second row, while Thomas Domingo is on for Vincent Debaty in the Clermont front row.
Matt Giteau punts long upfield. That is a whisker away from perfection, turning Naipolioni Nalaga, but overcooking the touchline.
Line-out back up on the Toulon 22m line for Clermont.
It is a busy day in central Clermont...
Steffon Armitage rampaging through the middle, bumps off Nick Abendanon. Where's the support? There it is!
Matt Giteau, with flyers outside him, darts for the line. He is hauled down just short and his death-or-glory offload, slung out the side-door just before his hits the deck, flies straight into touch.
Drew Mitchell and Leigh Halfpenny were waiting for something better.
Kick-off
Clermont 11-16 Toulon
Juan Martin Hernandez lofts up a high kick-off. Again Clermont are flaky underneath it, a second row leaping and not getting anyway near it. But Noa Nakaitaci bails out his team-mate and claims possession.
Right, ready? We are ready to go once again.
If that Mathieu Bastareaud try proves decisive, Abendanon is going to suffer in the post-match autopsy.
With 40 minutes already up, Clermont full-back Nick Abendanon's chip into midfield was high-wire rugby when something more safe and secure would have done.
Chris Masoe shrugged off the full-back as he tried to get in a tackle and make amends and galloped off downfield.
Get involved via #bbcrugby
Nick Powell:
That Twickenham attendance is poor, still a lot of noise from the French Fans, they love their rugby
What is French for, "you've won it once, now go out and win it again"?
Clermont coach Franck Azema needs to get Alf Ramsey on his players.
They were hitting Toulon from all angles in the first ten and were asking all the questions. They need to rediscover that.
Half-time
Clermont 11-16 Toulon
Try
Clermont 11-16 Toulon - Mathieu Bastareaud (con Halfpenny)
You don't stop him from there.
Mathieu Bastareaud crashes his dumper truck frame between Davit Zirakashvili and Noa Nakaitaci as the prop and the winger run out of mates and find themselves alone trying to cover three Toulon attackers.
Leigh Halfpenny resumes normal service with a lovely ping from out wide.
Clermont led 11-3 at one point, they head to the dressing room five points adrift.