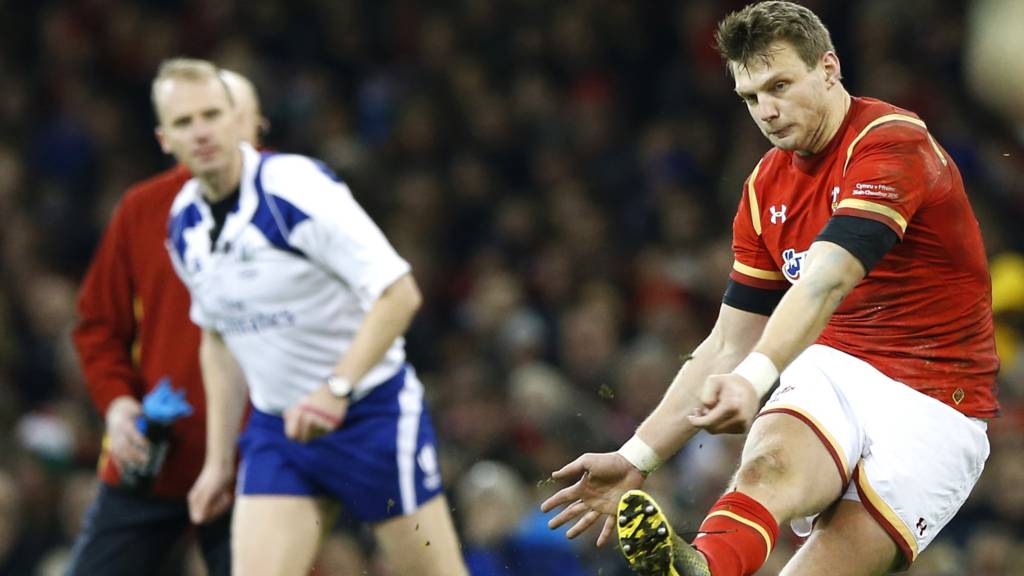 Summary
Result: Wales 19-10 France
Unbeaten Wales top of Six Nations table
George North Wales try in 46th minute
Biggar four pens and conversion
Guirado try for France in 79th minute
Wales move into pole position although England could leapfrog back over them with a victory over Ireland on Saturday.
Righto, we're off. Join us again tomorrow for Italy-Scotland, which kicks off at 14:25 GMT, before England-Ireland at 16:50. Let's hope it's better than the shambles that was Wales-France. 
'I thought it was brilliant'
FT: Wales 19-10 France
A boring game? Warren Gatland's not having it. 
"I thought it was brilliant," the Wales coach told the BBC. "It's what Test rugby is all about. We defended brilliantly in the second half.
"Things we had worked on looked really good for us. 
And on the England game in two weeks' time: "Eddie Jones has been saying enough for the both of us. What he says is from the heart. I have no problems with what he's been saying. It's good for the game."
'I wasn't sure what was going on, if I'm honest'
FT: Wales 19-10 France
Wales captain Sam Warburton tells BBC Sport's Sonja McLaughlan: "It was a very ugly way to win a Test. We kept fighting for territory in the second half. Fair play to France, they kept going for 80 minutes. The plan was to wear them down but it didn't happen.
"From our point of view, we played a team with two wins from two and we're undefeated. It really sets it up for Twickenham.
"I was thinking to myself 'surely the fans are starting a Mexican wave - it's boring'. No-one really knows what's going on in the scrum, if I'm honest. It will be interesting to look back on."

Rob Jones
Former Wales scrum-half on BBC Radio 5 live
 "In the Northern hemisphere we are very good at slowing possession down to prevent the opposition playing. We have got very good at that spoiling and that means that we don't see the game that we would like to - the sort that is played in Australia and New Zealand."
No game plan?
Wales 19-10 France

Ali Williams
Former New Zealand lock on BBC One
"It's frustrating when you watch the game and they're not trying things. We've not seen the simple executions in the Six Nations. We should have game plans - one, two or three moves at least.
"If your coach is saying you should just score off opposition mistakes, what is your coach telling you during the week?"
bbc-coverage
Watch Six Nations Forum
There is still 30 minutes of analysis to come on the red button and online, so we'll let you know what the boys are saying. 
Wales reaction
Wales 19-10 France
Man of the match Gareth Davies on BBC One: "To be fair to the French they gave us a challenge. It was a scrappy game but a wins a win.
On the game against England: "We'll look back at the video. As I said it was scrappy, so we need to get a few things right at Twickenham."
Five in a row for Wales
Wales 19-10 France
That's Wales' fifth successive win against France, stretching back to the semi-final defeat at the 2011 World Cup. Wales go top of the Six Nations table, their next game is against England at Twickenham in two weeks' time. Former All Black Ali Williams, in the BBC studio, looks like he's just been forced to sit through two months' worth of Cash in the Attic.  
Full time summary
Wales 19-10 France
Get involved
#bbcsixnations
Robert Weller: Gareth Davies has played brilliantly tonight.
Meera Patel: This has to be by far the most bizarre yet boring game of rugby I've ever seen!

Brian Moore
Ex-England hooker on BBC One
"It's enough to work on. It's a win and Wales never looked like losing, which is good enough."
Full-time
Wales 19-10 France
There's the final whistle and we are all put out of our misery. Wales will be happy with the win but as entertainment, it was pretty dire.

Rob Jones
Former Wales scrum-half on BBC Radio 5 live
"It was inevitable that that try was going to happen with all the changes disrupting the Wales pack. It is a deserved score for France skipper Guilhem Guirado who has put in a captain's performance."
Get involved
#bbcsixnations
Alan Boyle: Guirado has been by far the best player on the pitch tonight!! Brilliant all round performance!!
Try (Guirado)
Wales 19-10 France
Guirado caps a fine personal performance with a try from short-range but the French skipper has been ploughing a lonely furrow in Cardiff. Trinh-Duc kicks the conversion.
Gareth Davies, who has just been subbed, is the man of the match. France rumble towards the Welsh line but they're unable to get it down and Wayne Barnes calls a penalty. Kick to the corner, 5m line-out...
France look to run it from their own 22, nice touch by Trinh-Duc and here he comes on the break... France have had more shape in attack since Trinh-Duch was introduced. 
The Biggar man
Wales 19-3 France
Dan Biggar departs.
His key stats:
Metres made: 66 (best Wales player)
Carries: 8
Penalties: 4
Conversion: 1
Points: 14
Gareth Davies finds a hole and here come Wales... but it's a penalty for France, Guirado with more spadework at the breakdown. The Toulon hooker has been excellent in a losing cause.

Rob Jones
Former Wales scrum-half on BBC Radio 5 live
"Dan Biggar has become a huge figure for Wales after his exploits in the World Cup. Rhys Preistland was that man a few years ago, but he has suffered a loss of form and confidence. However I think he has done well since he came on in the last couple of games."
Replacement (Priestland on for Biggar)
Wales 19-3 France
Biggar hobbles off to be replaced by Rhys Priestland, the good news is it's just cramp. France skipper Guirado is back on, and here he is on the charge. Two hookers on at the moment, Camille Chat still in the fray. Wales penalty, Priestland finds touch. 
Biggar struggling with cramp
Wales 19-3 France

Jonathan Davies
Former dual code international on BBC One
"I would get Dan Biggar off straight away. I think the game is won. I'd get Rhys Priestland on for some game time. A good 10 minutes will do him the world of good."
Trinh-Duc straight down the middle with his clearance kick, Biggar runs it back. Liam Williams collects another high one, Faletau knocks on when the try-line was begging. Pass behind him, not really his fault.
Replacements
Wales 19-3 France
All change in the Welsh front row, Fickou slots into centre for France. Atonio runs over Jenkins and the Welsh prop will be peeling tyre marks off his shirt this evening. The New Zealand-born prop weighs in at 24 stone. It almost shouldn't be allowed.
Get involved
#bbcsixnations
You guys are still not happy with referee Wayne Barnes...
Derek Paterson: Barnes having a howler this half...Wales getting away with murder.
Peter Johnson: Has Barnes given up officiating Wales? Coming in at the side, off their feet, high tackles...
Rhys Willis: The referee is ruining the game. Spent more time listening to his voice than watching the game.
'A superb General'
Wales 19-3 France

Brian Moore
Ex-England hooker on BBC One
"I think Dan Biggar has grown and grown in his game. He's now a superb General."
Penalty (Biggar)
Wales 19-3 France
Fly-half Dan Biggar down with a spot of cramp. Meanwhile, down in the southern hemisphere there were 198 points scored in the first three Super Rugby games of the season. But, according to some, that's not proper rugby. Biggar with another penalty attempt and over it goes, France are getting a thumping.
France have actually overtaken Wales in the possession stakes. Considering they nearly forget what shape the ball was in the first half, that shows how they have dominated after the break.
Not sure what that was all about, but it's as you were. Francois Trinh-Duc replaces Jules Plisson at fly-half for France. Danty tackled by Davies in midfield and it's turned over, the French centre far too upright. Biggar threads the needle with his kick through and France have their backs against the wall again.

Paul Grayson
Former England fly-half on BBC Radio 5 live
"France's attack has been very predictable. They should have got over the line by now, but there is too much straight running into contact rather than stepping into space and using angles."
France try to release their back-line but there's no quarter given by the French defenders. Machenaud with the half-break but he can't get the ball away. Plisson with a break but North intercepts his pass, I think that might be only the second time he's had his hands on the ball. The ball is cleared but the TMO has seen something else. This really isn't much in the way of entertainment...
Get involved
#bbcsixnations
Dai Trembath: As a long-time follower of lower level rugby South West 1, this rugby wouldn't look out of place down in our league.
Peebs: Four or five penalties in the Welsh 22...surely time for a yellow card warning?
Phil Harper: Plisson - the worst individual performance in the Six Nations in years?!

Jonathan Davies
Former dual code international on BBC One
"One player has stood out for France. The captain Guirado has been brilliant in ball-carrying and defence. He's really put everything into this.
"They have to get something from this pressure they're exerting in the Wales 22."
More monumental defence by Wales and it's another France scrum. You really think France have to get something from this attack or it's game, set and match Wales. Harem-scarem defence by Wales, I think that was Biggar with a between-the-legs pass on his own try-line. They eventually clear their lines, but Faletau was off-side. Back we go, scrum in front of the Welsh posts...
North try puts Wales in control
Watch the highlight of the match so far.

Paul Grayson
Former England fly-half on BBC Radio 5 live
"France have upped the tempo and power output since Yoann Maestri was brought on for Paul Jedrasiak in the second row."
Faletau has put in 15 tackles so far, added to his 33 in the first two. Goujon picks up at the back of the scrum but he's on the back foot. France have the penalty advantage, Plisson kicks straight into touch. Not sure what that was about. But we go back for the penalty and again it's a 5m line-out...

Rob Jones
Former Wales scrum-half on BBC Radio 5 live
"If France don't score here I think it might be game over even with 25 minutes left.
"It is so deflating to have this much pressure and territory and not come away with anything."