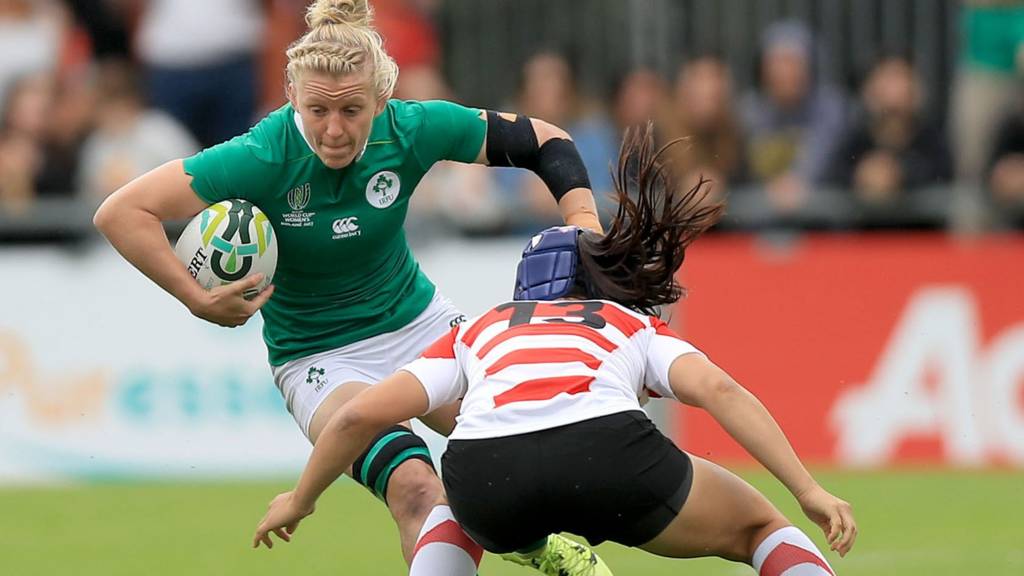 Relive a dramatic day as Ireland & England win but Wales lose
Summary
Full-time: England 56-13 Italy
Full-time: Ireland 24-14 Japan
Full-time: Wales 0-15 Canada
Match day two in the 2017 Women's Rugby World Cup
That's it from us for now.
We'll be back on Thursday for more action from the Women's Rugby World Cup.
Comeback complete
Ireland 24-14 Japan
Orla Bannon
BBC Sport Northern Ireland in Dublin
The Irish fans rise as one to salute an incredible second-half comeback.
A 10-point victory seemed unthinkable half an hour ago but the forwards turned this one around to keep their World Cup dreams alive.
The Japanese take a bow - and rightly so. They more than played their part in an enjoyable game.
So results today mean Wales are out of contention for the semi-finals in Belfast.
But Ireland and England both have two wins from two matches, so it all goes down to the final group games on Thursday.
England will face three-time finalists the USA while hosts Ireland meet France.
Full-time
Ireland 24-14 Japan
It's all over.
It wasn't pretty and Irish nerves are completely wracked but somehow Ireland eke out a victory against a brave Japanese side who deserve all the credit in the world.
Relief is etched on the faces of the Irish players, staff and supporters who now go into Thursday's pivotal game against France with two wins from two.
Try - Ireland 24-14 Japan
Fitzpatrick, con Stapleton
They're safe!
Ireland launch a relentless late attack and are well over 30 phases when Paula Fitzpatrick ploughs over from close range.
There's three minutes left to play at the UCD and Ireland are three points ahead.
You can only imagine how nervous the home fans are right now.
Penalty
Ireland 17-14 Japan
Ireland move ahead for the first time in the game with a penalty from Nora Stapleton in front of the posts.
Full-time
Wales 0-15 Canada
Emily Belchos' conversion doesn't clear the posts but it doesn't matter.
Canada still come away with the win and still haven't conceded in the World Cup.
Try - Wales 0-15 Canada
Magali Harvey
A quick penalty from Canada leads to late drama.
Magali Harvey sprints down the right wing and touches down in the corner. That's her sixth of the tournament.
Wales will be gutted. They've been in touching distance of the world number three side for most of the match.
Ireland pile on the pressure
Ireland 14-14 Japan
Ireland put together 19 phases of play as they lay siege on the Japan line in a bid to secure the victory they desperately need.
Wales have a decent spell of possession but they can't get out of their own half.
A big carry by Robyn Wilkins, who's come off the bench, is fed to Jess Kavanagh-Williams but the balls goes into touch.
We're into the red on the clock.
Crowd getting behind Ireland
Ireland 14-14 Japan
Orla Bannon
BBC Sport Northern Ireland in Dublin
Ireland have never got going out wide so scoring off a set piece was their best route back into this game and Paula Fitzpatrick's try off a rolling maul somehow has dragged Ireland level.
The crowd are trying to lift them to summon up a big finish.
Canada go on the attack and Magali Harvey makes headway up the right flank, as she has done so much in this match, but she's bundled into touch for a Wales line-out.
Both teams are back to full strength now after the two sin-bins.
Converted try - Ireland 14-14 Japan
Paula Fitzpatrick
Replacement Paula Fitzpatrick rumbles over for Ireland's second try after the Irish forwards put together a rolling maul from a line-out.
Nora Stapleton again adds the extra two points to draw the hosts level.
Game well and truly on...
Wales concede another penalty for an infringement at the ruck and once again Canada opt to kick between the posts.
Magali Harvey is over 30 metres out but it's straight for the wing.
But she can't get the distance on it. The ball dips under the posts.
Ireland hopes in the balance
Ireland 7-14 Japan
A quarter of this match to go and the outcome is still in the balance.
Ireland's hopes of making the World Cup semi-finals on home soil most likely rest on winning this game but as it stands those ambitions hang by a thread.
With both sides a player down, Hannah Jones is penalised for not rolling away and Canada opt to go for the posts.
Magali Harvey steps up. She's on the 22 metre line, but it's pretty central.
It's clear! Canada extend their lead.

Dafydd Pritchard
BBC Sport Wales in Dublin
That could be a turning point.
Wales captain Carys Phillips joins Canada's Julianne Zussman in the sin-bin.
There are 13 minutes left and, boldly, Canada have turned down an easy kick at goal and opted for a scrum.
Sin-bin - Carys Phillips
Wales 0-7 Canada
Magali Harvey, the Canada wing, is almost waif-like for a rugby player but she has just landed a huge hit on Wales full-back Dyddgu Hywel.
Canada turn the screws in attack as they make their way into Welsh territory.
The referee blows up after an infringement at the breakdown and it looks like Carys Phillips is going to get a yellow card.
She had been warned...
Sin-bin - Julianne Zussman
Wales 0-7 Canada
Canada are down to 14 players for 10 minutes, as full-back Julianne Zussman is rightly carded for stamping.
What can Wales do here?
Canada clock up 11 phases as they move to within two metres of the try line.
But Wales are awarded a penalty after Julianne Zussman appears to have stamped on Meg York, the Welsh replacement.
The TMO is going to have a look to see if a card is needed.
Ireland 'lifeline'
Ireland 7-14 Japan
Orla Bannon
BBC Sport Northern Ireland in Dublin
Tom Tierney makes five half-time substitutions and within six minutes, Ali Miller's try gives Ireland a lifeline.
Having wrestled back the momentum, Ciara Griffin wins a vital turnover. They need to build on this.
The referee has to have a talk with Carys Phillips, as he's not happy with the repeated infringements at the breakdown.
Phillips is told to report back to her Welsh players.
Canada are awarded a penalty and they successfully kick to touch for a line-out in Wales territory.
Converted try
Ireland 7-14 Japan
Ireland eventually get on the scoreboard with a well worked try by winger Alison Miller.
Nora Stapleton adds the conversion to reduce the deficit to seven points.
Canada earn a penalty and opt for a quick tap-and-go.
As they feed down the line to the left, there's a knock-on and the opportunity is wasted.
Sin-bin
Ireland 0-14 Japan
Ireland's woes are compounded as centre Katie Fitzhenry is yellow-carded.
Referee Ian Tempest issues the card for repeated high tackles by the Irish.
Kick-off
Ireland 0-14 Japan
We're back under way at the UCD, by the way.
Ireland have a big second half on their hands.
Yep, there's a knock-on from Latoya Blackwood in the five jersey.
Scrum to Wales. They've survived again (for now).
Try review
Wales 0-7 Canada
Canada are camped on the Welsh line. Surely they've got to go over?
It looks like Alex Tessier has done it. But the referee wants to check for a knock-on.

Dafydd Pritchard
BBC Sport Wales in Dublin
Wales are hanging on here. Canada have been camped in the Welsh 22 for quite a while, and the only thing stopping them from adding to their lead is Wales' bloody-minded defending.
Here come Canada on the attack after turning over possession.
Karen Paquin feeds to Magali Harvey on the right wing but as she tries to dance over, two Welsh players come over and absolutely nail her. She's stopped in her tracks.
Canada continue to pick and go but somehow they're held up by a resolute Wales defence.
'Stunned silence' in Dublin
Ireland 0-14 Japan
Orla Bannon
BBC Sport Northern Ireland in Dublin
Stunned silence around the UCD Bowl at half-time.
A 14-0 lead is not flattering the visitors one little bit.
Ireland are too predictable and with a World Cup semi-final disappearing over the horizon, they'll have to find a creative spark from somewhere, and fast.
Half-time
Ireland 0-14 Japan
Well no-one in Ireland expected this.
Japan's first-half superiority has been almost total, with the visitors on top in every respect. Ireland are being completely out-played.
Having come from behind to overcome Australia in their first Group C game, another inspired comeback is required.
Ireland coach Tom Tierney must give the team talk of his life in the Irish dressing room at the interval.
Wales have a penalty and Elinor Snowsill opts to kick to touch... but it doesn't make touch. It dribbles over the dead ball line so it's brought back for a Canadian scrum.
That's a poor mistake from the Welsh.
Latoya Blackwood absolutely pummels Welsh lock Mel Clay to the ground. What a hit!
Canada hog possession but they can't get out of their own half at the moment.
Converted try
Ireland 0-14 Japan
Japan full-back Mayu Shimizu wrong-foots a couple of Ireland defenders and dives over for her side's second try of the game.
Shimizu converts her own try as the under-performing hosts look stunned.
A just reward for Japan's dominance of territory and possession.
The TMO decides that it's no try and a Wales penalty as a Canada player is caught off their feet.
Canada pounce immediately. Elinor Snowsill feeds to Magali Harvey, who has so much space on the right wing.
She's five metres out when the Welsh defence scramble.
The Canadians continue their onslaught and they think they've gone over underneath the posts...
Fiona Hayes
Ireland prop on BBC Radio 5 live sports extra
There were a lot of mistakes by both teams but I think Wales will be happier.
Canada are seven points up but Wales' line speed is better and they're getting their hands on the ball a lot more than they did in the New Zealand game.
Their errors can be fixed. Wales look stronger, even though they're behind.