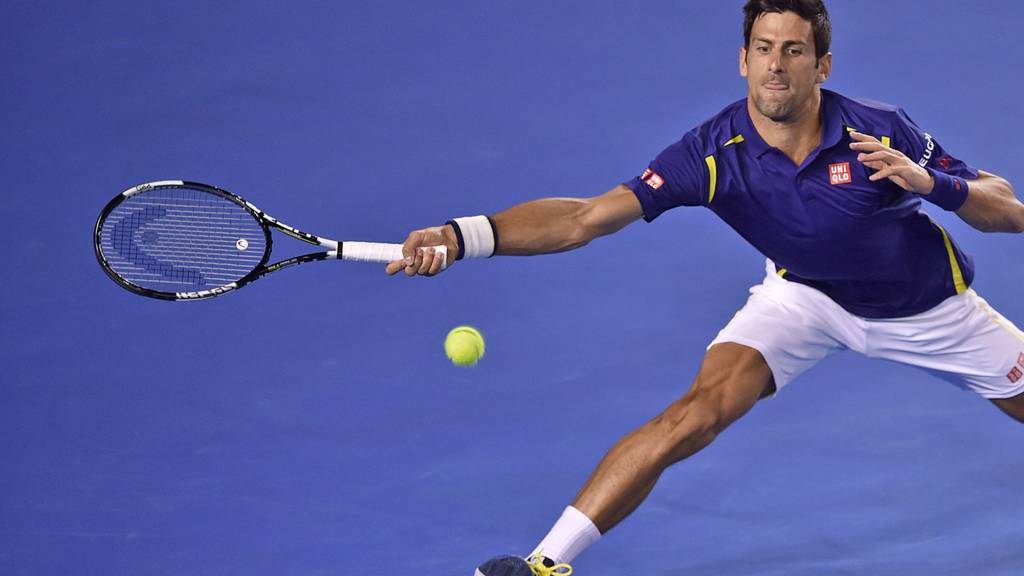 How Djokovic beat Halys on day three
Summary
Novak Djokovic beats Quentin Halys 6-1 6-2 7-6 (7-3)
Daria Gavrilova knocks out Petra Kvitova 6-4 6-4
Fourth seed Radwanska beats Bouchard
That is it from me for today.
Thanks for your company.
Novak Djokovic: "I have to give credit to the Australian Open. Everyone is putting effort in the development and evolution of this tournament."
Game, set and match
Gavrilova beats Kvitova
Daria Gavrilova, the world number 39, has done it!
The young Australian has beaten Petra Kvitova, the sixth seed, 6-4 6-4 to loud acclaim, a series of whoops and a frenzy of clapping over on Margaret Court Arena.
Djokovic 6-1 6-2 7-6 (7-3) Halys
France's 19-year-old wildcard Quentin Halys gets a good ovation as he leaves the court a gallant loser.
He certainly showed his potential in that third set but, in truth, was never a problem for the brilliant Novak Djokovic.
Game, set and match
Djokovic 6-1 6-2 7-6 (7-3) Halys
The first match point is saved on Halys' serve.
That is it though as Djokovic serves to the forehand and Halys nets.
Tie-break
*Djokovic 6-1 6-2 6-6 (6-2) Halys*
Another big serve from Djokovic and Haly's stabbed return is past the baseline.
Djokovic is now running away with this. Match pointt.
Tie-break
*Djokovic 6-1 6-2 6-6 (4-2) Halys
The first mini break as Quentin Halys is wide with a backhand. A first serve from the Frenchman is called in, Djokovic challenges - wrongly.
The Serbian is in control as Halys goes wide. Change of ends.
Tie-break
Djokovic 6-1 6-2 6-6 (2-1) Halys*
Brilliant from Quentin Halys as he reaches around the net post to win the first point.
Djokovic levels and it stays on serve as Halys nets.
Tie-break time as Djokovic takes the game to love.
The line judge at one end is having a bit of a nightmare as another call goes wrong. Djokovic wins the challenge.
*Djokovic 6-1 6-2 5-6 Halys
An ace is the perfect start for Quentin Halys.
Novak Djokovic is then long with a routine forehand but Halys keeps his cool and sets up game point by forcing Djokovic to the left and putting away the second ball.
Djokovic thinks his forehand lands on the baseline but a challenge shows it was out. Game Halys.
Djokovic 6-1 6-2 5-5 Halys*
Can Halys break and win the set?
Not this time. Djokovic puts away a forehand to make it 40-0.
Halys responds with a service-return winner but Djokovic holds to 15 as the Frenchman nets.
Pressure back on the 19-year-old.
Gavrilova closing on Kvitova win
Sixth seed Petra Kvitova really is in danger now, having been broken in the second set.
Home hope Daria Gavrilova leads 6-4 4-2 and is on the verge of a famous victory.
*Djokovic 6-1 6-2 4-5 Halys
See ya...
Quentin Halys completely wrongfoots Novak Djokovic with a forehand and the Serb gestures his praise.
The world number one turns the screw though as he passes with a backhand to take a 15-30 lead, but Halys stays in the game with the next point.
Game point Halys after a cool sliced overhead and he holds as he booms a winning forehand down the line.
Djokovic 6-1 6-2 4-4 Halys*
A puff of the cheeks as a seventh unforced error from Novak Djokovic makes it 15-15.
He quickly makes amends, forcing Halys long before setting up game point.
Halys goes long and we are level. Time for Novak to break?

BBC Radio 5 Live Sports Extra
Times tennis correspondent Barry Flatman: "Halys has grown up a bit in the last 90 minutes."
*Djokovic 6-1 6-2 3-4 Halys
Novak Djokovic is looking a tad annoyed as he sends a forehand long on the opening point of the game.
An ace gives Halys a 30-0 lead before Djokovic puts a sliced lob long.
Crash. A huge forehand cross court wins that game.
Djokovic 6-1 6-2 3-3 Halys *
No problems on Djokovic's serve as he wins the game to love.
Quentin Halys has got himself into this match but you can't help feeling he is delaying the inevitable.
Puig beats big-serving Pliskova
Kristyna Pliskova hit 31 aces - which we believe is a record for a women's match - but ended up losing to Monica Puig in an epic second-round match on court eight.
After a 62-minute final set, Puerto Rican Puig fought back to beat the Czech 4-6 7-6 (8-6) 9-7.
*Djokovic 6-1 6-2 2-3 Halys
Quentin Halys is not going away quietly.
He is attacking Novak Djokovic and goes 30-0 up. The Serbian passes the Frenchman to pull a point back but Halys responds with an ace and a fist pump.
That is brilliant from the world number one though, a delicate drop shot, but Halys wins the game with another big serve that Djokovic can't get back.
Djokovic 6-1 6-2 2-2 Halys*
Normal service has been resumed.
Although things aren't quite as easy as they were for Djokovic.
He wins the game to 15 with an ace.
*Djokovic 6-1 6-2 1-2 Halys
You don't upset Djokovic like that.
The Serb threatens to break back instantly as he races into a 15-40 lead.
Back on serve as he pumps his fist after putting away an overhead. 

BBC Radio 5 Live Sports Extra
Times tennis correspondent Barry Flatman: "Everyone needs a bit of luck and Halys got it there. Well, well, Djokovic 2-0 down - how many times is that going to happen in the next fortnight?"
Halys breaks!
Djokovic 6-1 6-2 0-2 Halys*
The biggest cheer of the night and Halys punches the air.
Great defence at the net from the Frenchman and he puts away a winner. Great stuff.
The euphoria doesn't last long as a Djokovic first serve whistles past the wildcard.
A sniff of a break? More than that - it's 15-40. 
He's done it. His backhand hits the net and bobbles over. He will take that.
*Djokovic 6-1 6-2 0-1 Halys
A furrowed brow from Djokovic as he wallops a backhand long.
Halys takes the game to 40-0 with a lovely soft touch at the net to pick up the ball on the half volley.
Back to 40-30 after an unforced error and a double fault.
The Frenchman wins the game though as his cross court forehand is too good for Djokovic.
Meanwhile over on Margaret Court Arena a potential shock is in the offing.
Young Australian Daria Gavrilova has taken the first set 6-4 against sixth seed and two-time Wimbledon champion Petra Kvitova.
Game and second set
Djokovic 6-1 6-2 Halys
What can Halys do? He hits a massive return, charges into the net and Djokovic just sends the ball past him.
The Frenchman attacks Djokovic again and, this time, lands a winner on the sideline. An ace from Djokovic takes it to 30-15 and Halys nets to hand his opponent two set points.
It is so simple. Halys is long and another set for Novak.
Djokovic breaks!
*Djokovic 6-1 5-2 Halys
Quentin Halys is giving Novak Djokovic a game in this set.
His serve is in danger again though as Djokovic passes a stranded Halys with the Frenchman at the net.
Two break points and another break.
What is happening here?
Quentin Halys explodes into a couple of returns and he is at 0-30 on Djokovic's serve.
The Serbian, now at 15-30, is dragged way out of court but a brilliant passing shot levels with Halys waiting to pounce at the net.
An ace gives Djokovic game point and - that is brilliant - he wins the game win a low backhand winner. Coach Boris Becker is clapping.

BBC Radio 5 Live Sports Extra
Times tennis correspondent Barry Flatman: "That was a very good game from the young Frenchman. I would imagine he will want to get back on court almost immediately after this - against a player more at his level - to show what he's learnt having played at a much higher level today."

BBC Radio 5 Live Sports Extra
Times tennis correspondent Barry Flatman: "It is tricky for these young emerging players these days because the guys at the top stick around longer."
An ace from Quentin Halys and Djokovic responds with a powerful forehand winner down the line.
The Serb is relaxed as he heads a ball back to the ball boy - to the amusement of the crowd. He is less amused as he misses down the line to give Halys 15-30.
Halys is unable to take advantage as he clumsily nets but a smash does give him game point after another big first serve.
Djokovic forces deuce with a backhand winner but advantage Halys as he puts away a volley. A second deuce after Djokovic's slam-dunk smash but Halys is fighting and has another game point as he drives a forehand into the corner.
A third game of the match as Halys booms an ace down the centre. Fair play. 
Djokovic march to the third round continues.
A winning forehand is followed up by a couple of errors from a very, very trouble Halys.
The Frenchman is long with a forehand and it is another simple game for Djokovic.
You doubter David Law... (see last entry)
Halys follows up a strong first serve to put a winning forehand away to set up game point and, boom, an ace.
Huge applause from the crowd.
David Law
Radio 5 live sports extra commentator
"This could get embarrassing. I'm not sure Halys will win another game. Djokovic is producing a bit more showmanship in his matches and now the crowds are starting to appreciate the greatness now."
Halys just wants it to end.
An ace down the centre and Djokovic is 40-0 on his serve.
Another big serve and Halys goes long.
If this was a boxing match, the towel would be in.
Djokovic breaks!
*Djokovic 6-1 1-0 Halys
It is relentless.
The French wildcard has shown some flashes of brilliance but, like many would be, he is way out of his depth.
Djokovic angles away a high volley to set up another break point and he wins that as Halys goes wide.
Don't expect a shock here.