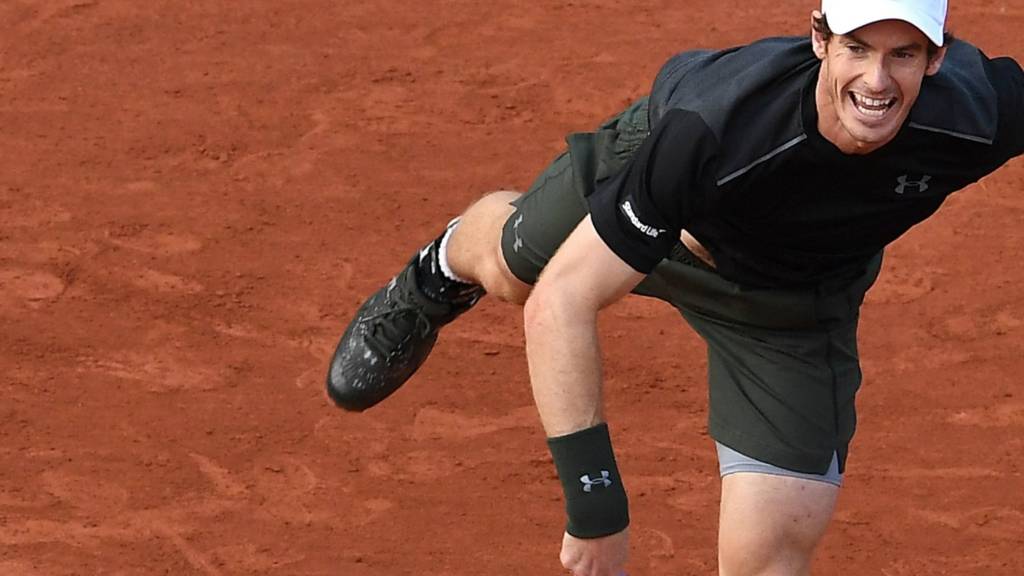 French Open: Murray v Stepanek suspended
Summary
Andy Murray's match resumes second on Philippe-Chatrier Court tomorrow
Andy Murray's match suspended because of bad light
Radek Stepanek leads Murray 3-6 3-6 6-0 4-2
Kyle Edmund beats Nikoloz Basilashvili 7-6 6-7 7-5 6-1
Naomi Broady loses 4-6 6-3 3-6 to Coco Vandeweghe
Heather Watson beats Nicole Gibbs 5-7 6-2 6-2
That's it for tonight.
We'll be back tomorrow with live updates of Murray v Stepanek. 
Thanks for joining us!
Tuesday's order of play
Novak, Rafa and Serena...and now Andy Murray.
Court Philippe Chatrier
Angelique Kerber (Ger x3) v Kiki Bertens (Ned) 
Andy Murray (GB) v Radek Stepanek (CZE)
Novak Djokovic (Ser x1) v Lu Yen-Hsun (TPE) 
Jan-Lennard Struff (Ger) v Jo-Wilfried Tsonga (Fra x6) 
Serena Williams (USA x1) v Magdalena Rybarikova (Svk) 
 Court Suzanne-Lenglen
Francesca Schiavone (ITA) v Kristina Mladenovic (Fra x26) 
Rafael Nadal (Spn x4) v Sam Groth (Aus) 
Oceane Dodin (Fra) v Ana Ivanovic (Ser x14) 
David Ferrer (Spn x11) v Evgeny Donskoy (Rus)
No risk for Murray
French Open 2016
Jamie Murray, Australian Open doubles winner, has tweeted about his brother's game... 
Daniel Woods: "Murray probably a bit disappointed he didn't wrap up the 4th set. Will the momentum he has be enough?"
Play suspended
Stepanek 6-3 6-3 0-6 2-4 Murray
That's it. No more light. The players go off and will regroup for tomorrow. 
Stepanek 6-3 6-3 0-6 2-4 Murray*
Stepanek, looking a little tired now, goes 30-0 up. The light is really fading now.
A tiny, weeny, little slice over the net from Murray makes it 30-15. Cheeky, that. 
Stepanek responds with a monster of a forehand winner to make it 40-15, and the Czech holds serve. 
Game, set and match Edmund
Edmund 7-6 6-7 7-5 6-1 Basilashvili
He's done it!
Kyle Edmund joins Heather Watson in the second round with an emphatic performance in the fourth set against Georgia's Nikoloz Basilashvili.
The 21-year-old Briton fired down 16 aces to overpower his opponent.
Edmund on the verge of victory
Edmund 7-6 6-7 7-5 5-1 Basilashvili
Meanwhile sensational form from Kyle Edmund has seen the Briton open a 5-1 lead over Nikoloz Basilashvili in the fourth set.
Surely a place in the second round awaits now!
He's serving for the match...
*Stepanek 6-3 6-3 0-6 1-4 Murray
Murray slams a brilliant forehand down the middle of the court for 40-0. 
Stepanek steals back a point but Murray finds an ace in his locker and he holds serve.
As he goes to sit down, the Scotsman shouts to the umpire: "It's getting dark". 
Stepanek 6-3 6-3 0-6 1-3 Murray*
This may well be the last game we see. Apparently court one have just been hauled off for bad light.
Stepanek finally stops the rot and wins a service game. 
No indication of stopping just yet...
 Andrew Robert: "Are you sure Andy's not shouting "Mon!" as in "Come on!"?
You obviously speak better Murray than me...I swear he's saying 'mine'. 
*Stepanek 6-3 6-3 0-6 0-3 Murray
My word. Stepanek has just won a rally by flicking a backhand round the net posts. Where did he pull that from!? 
The pair are level on 30-30. There's a cry of frustration as Murray carelessly puts out a return on the right-hand side. Break point Stepanek.
But Murray keeps him at bay with another exhausting rally. Deuce. Murray loses the advantage, before gaining it back again. 
And a shot into the net from Stepanek sees Murray claim his NINTH consecutive game. 
What a turn around!
Murray breaks again
Stepanek 6-3 6-3 0-6 0-2 Murray*
Stepanek edges a brilliant, brilliant rally. He really is working Murray to the ground out there, mixing up his returns in the most unpredictable manner. 
But Murray draws level at 30-30, and then earns another break point. With another shout of "mine".
Stepanek fails to get his first serve in and on his second, a return goes long and the game is Murray's. 
Edmund takes the third set
Edmund 7-6 6-7 7-5 Basilashvili
The Murray fightback seems to be catching. Kyle Edmund has just taken the third set against Georgia's Nikoloz Basilashvili, having fought back from 5-3 down to take it 7-5.
Edmund is one set away from the second round, but will he have time to do it before play is suspended for the day?
*Stepanek 6-3 6-3 0-6 0-1 Murray
Andy Murray's developed a weird habit of shouting "mine" when he wins a point. He sounds like one of the seagulls from Disney's Finding Nemo. 
He also screams another "let's go" as he goes 30-15 up. 
Stepanek is forced forward and he thinks he's won the point with a backhand volley but Murray returns and the Czech can only muster a return into the net. 40-15. 
The British number one and second seed goes on to wrap up his seventh consecutive game. 
Stepanek 6-3 6-3 0-6 Murray*
Stepanek changes his shirt. Could these be tactics for slowing down play? Hummmm....
Anyhooo, we're continuing. Various commentary teams reckon we've got 15 minutes of light left. 
Stepanek 6-3 6-3 0-6 Murray*
The debate continues about the light.
Stepanek has gone to the toilet. Andy Murray and the umpire discuss what's going to happen on court. 
Game and third set
Stepanek 6-3 6-3 0-6 Murray*
"It's incredible how much arrogance there is," says a riled Radek Stepanek. 
Ooooooh. Fighting talk to the umpire, as the Czech complains about the light. We're continuing for now.
He needs to concentrate as well - Murray has two set points. 
Stepanek can only hit into the net as Murray claims the third set in style. 
*Stepanek 6-3 6-3 0-5 Murray
I've barely had time to shove a custard cream in my gob during this set. It's just too quick.
Murray holds his serve to love and now leads 5-0 in the third. He's done it in about 15 minutes. Madness. 
Broady beaten by Vandeweghe
Broady 4-6 6-3 3-6 Vandeweghe
It looked promising for Britain's Naomi Broady after she won the second set but American Coco Vandeweghe outplayed her in the final set to reach the second round.
Kyle Edmund is also facing an uphill battle. He's 5-3 down in the third set against Nikoloz Basilashvili, having lost the second set after winning the first.
Murray breaks
Stepanek 6-3 6-3 0-4 Murray*
A mini fist pump from Murray as he levels 30-30 on Stepanek's serve. 
We proceed into a rally, and the Czech comes out on top as Murray overpowers the baseline. 
We end up at deuce when Stepanek hits a return into the net. 
Advantage Murray, as Stepanek makes the same shot again.
Can he break? Yes he can! Britain's number one is well and truly up for this now. 
*Stepanek 6-3 6-3 0-3 Murray
He's changed the chant.
"Let's go!!" the Scotsman growls. 
Murray holds his serve to love and all of a sudden the picture changes (slightly). He's 3-0 up in the third and my word is he fired up now. 
Murray breaks
Stepanek 6-3 6-3 0-2 Murray*
"COME ONNNNNNN," roars Andy Murray, as he earns three break points.
Stepanek's first serve is well long, and although he clears his second serve, the Czech's return goes into the net. 
"COME ONNNNNNN." rings out from the mouth of Murray again.
*Stepanek 6-3 6-3 0-1 Murray
The Stepanek special - a backhand drop shot - is back and it's still making Murray mad. He just can't handle it. 
Murray does hold his serve, despite the Stepanek trick, and he lets out a lion's roar. There's a fire in his belly now (not literally). 
Theo Bowyer: Murray's in serious trouble here... Being outfoxed by the wily Czech. Needs to Step it up a few levels!
Come on then, tennis fact fans. When was the last time Andy Murray went out in the first round of a Grand Slam?
Answers on Twitter via #bbctennis. 
Simon Briggs
Daily Telegraph tennis correspondent on BBC Radio 5 live sports extra
"Andy Murray is completely unrecognisable from the world number two who beat world number one Novak Djokovic in his last match."
Game and second set
Stepanek 6-3 6-3 Murray*
Stepanek takes the second set with a pulsating ace down the middle. 
There's life in the old dog yet, eh?   
Matt McGladrigan: Serious danger zone time for Andy. Doesn't want to be two sets down going into tomorrow, with a rest for 37y/o Radek.
Murray, on his second serve, hits a return into the net for 0-15. 
In the absence of hawk-eye, the umpire is forced down to look at a Stepanek return and he rules in Murray's favour to make it 15-15.
But the Czech wins his 16th point from 23 at the net to go back ahead. And a Murray error at the net, after a long rally, hands Stepanek two break points.
Wowzers. He's done it again. Stepanek breaks. He'll serve for the set now. 
Paul Thompson: Surely Andy Murray needs a new full time coach asap? This was not in the script. Fitness is sure to turn into his advantage later.
A brilliant rally draws ooohs and aaahs from the Paris crowd. 
Both men are stuck to their respective baselines. We go back and forth, back and forth, back and....eventually...Stepanek grabs the winner. 
A first double fault from the Czech leaves it at 40-30, but Murray carelessly places a forehand well wide and Stepanek takes a 4-3 lead in the second. 
"Oiiii," blasts Stepanek as he completely mis-hits a backhand. 15-0. 
Andy Murray lands his fifth ace. 30-0.
Forehand winner from Murray. 40-0. 
And seconds later his service game is wrapped up. Easy peasy. 
Edmund loses second-set tie-break
Edmund 7-6 (7-4) 6-7 (7-9) Basilashvili
Kyle Edmund fails to win the second set against Nikoloz Basilashvili over on court six.
The young Briton, who won the first set on a tie-break, can't repeat the trick as the big-hitting Georgian levels the match.
Still all to play for.
We've hit the hour mark on Phillippe-Chatrier Court and we've got an Andy Murray outburst.
"I killed my legs before the tournament," he appears to shout, randomly. 
They seem to be working OK, though, as he forces deuce on Stepanek's serve.
Stepanek earns his second advantage with a volley close to the net and wraps up the game with a strong serve. 
Now it's Stepanek's turn to start shouting with frustration. He hits long and Murray leads 30-0.
No, wait. Make that 40-0 with an ace. 
No, wait again. He's held his serve. That was speedy work. 
Broady fights back
Broady 4-6 6-3 Vandeweghe
Britain's Naomi Broady has levelled her match against America's Coco Vandeweghe by winning the second set.
She is now starting a final-set decider in a bid to join Heather Watson in the second round.
Should be quite a battle.
Andy Murray's changed his shirt. He's gone from white to black. Maybe to reflect his mood?
Stepanek continues to out-do his opponent in terms of court position. The Czech is making Murray run all over the place.
The 37-year-old is 40-30 up and an ace sees him hold his serve. 
Simon Briggs
Daily Telegraph tennis correspondent on BBC Radio 5 live sports extra
"That has been the worst set Murray has played since Monte Carlo at the start of the clay-court season.
"He's come here on a great run and that'll be very disappointing to lose that set like that. But he's been in these situations against Stepanek before and knows he can get out of it.
"He also knows he has the advantage of superior fitness against a 37-year-old but he'll be hoping the match doesn't go over two days to allow Stepanek the chance to rest."