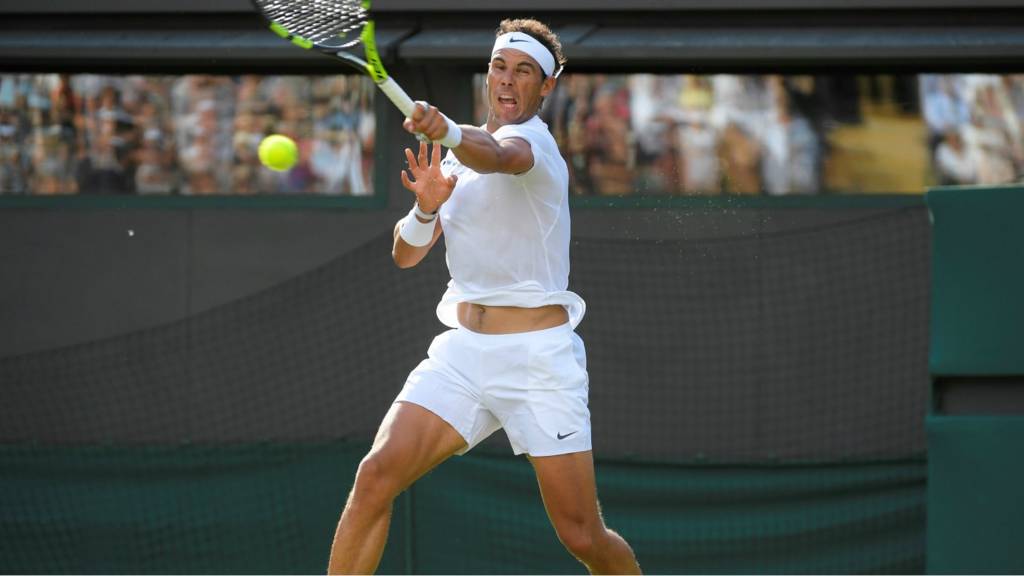 Relive four British wins on day three at Wimbledon
Summary
LIVE: Nadal beats Young 6-4 6-2 7-5 on Centre Court
Andy Murray beats Dustin Brown 6-3 6-2 6-2
Murray fourth Brit to make third round
Johanna Konta, Heather Watson & Aljaz Bedene also through
Venus Williams & Halep win but Kvitova loses
Watch Today at Wimbledon on BBC Two
That's all from us today.
But please come back for more on Thursday. We'll be live at 10:00 BST.
Good night!
Wimbledon shuffle: day three
May contain flying ants...
Game, set and match - Ostapenko
French Open champion Jelena Ostapenko has battled through against unseeded Canadian Francoise Abanda.
Abanda took the first set 6-4 but the French Open champion fought back to take the next two 7-6 (7-4) 6-3.
Game, set and match - Giorgi
Giorgi 6-4 6-7 (10-12) 6-1 Keys*
We have our shock on court three. The number 17 seed, Madison Keys, of the USA, is out, losing in three sets to Italy's Camila Giorgi.
The world number 86 won 6-4 6-7 (10-12) 6-1. She had wasted four match points in the tie-break but took her fifth opportunity to advance.
App users may need to select 'view more' to see this content.
*Ostapenko 4-6 7-6 (7-4) 5-3 Abanda
Jelena Ostapenko, 13th seed, is now serving for the match against Canada's Francoise Abanda.
Giorgi 6-4 6-7 (10-12) 5-0 Keys*
Camila Giorgi needs one more game to knock out Madison Keys, with the American 17th seed down two breaks in the final set.
Quick catch-up with all the action today.
OK, here goes:
Willis wins on return to Wimbledon
Marcus Willis - the 2016 hero of Wimbledon - is through to the second round of the men's doubles with fellow Briton Jay Clarke.
They beat Jared Donaldson and Jeevan Nedunchezhiyan 6-7 5-7 7-6 6-0 6-3.
What a comeback!
*Ostapenko 4-6 7-6 (7-4) 3-3 Abanda
French Open champion Jelena Ostapenko is fighting to stay in the competition against unseeded Francoise Abanda of Canada. The 13th seed from Latvia lost 6-4 in the first set, won the second set tie-break 7-4 and we are with serve in the third.
That match faces a race against time to be finished before the light is deemed to be too bad to continue.
Giorgi 6-4 6-7 (10-12) 3-0 Keys*
Madison Keys saved four match points during the second set but is a break and 3-0 down in the deciding set against unseeded Italian Camile Giorgi.
Keys is the 17th seed, while Giorgi is ranked 86th in the world.

Jonathan Jurejko
BBC Sport at Wimbledon
Job done for Rafa. He's loving life back on Centre Court. Four bicep-bulging fist pumps and a roar up to the darkening Wimbledon sky tell you what winning here means to him.
And he still finds time to whip off his shirt once last time to a cacophony of wolf-whistles.
He's the Cristiano Ronaldo of tennis...

Pat Cash
Former Wimbledon champion on BBC TV
Rafa was cruising and playing well. Occasionally he loses his timing and aggression. You have to give credit to Young, he's very talented and has it all.
Nadal is working his way into the tournament. He served pretty well and got his rhythm. He will be more than happy.
Game, set and match - Nadal
Nadal 6-4 6-2 7-5 Young
Vamos!
Rafa Nadal goes through in style, by holding to love.
Cap doffed to Donald Young, mind. The world number 43 put up a big fight in that final set and was thoroughly entertaining.
Three match points to Nadal
Nadal 6-4 6-2 6-5 Young*
Another scintillating exchange ends with Nadal's drop shot just skimming the net. 15-0.
A big serve from Rafa takes him to 30-0.
And repeat for 40-0.
Three match points
Game, set and match Halep
Haddad Maia 5-7 3-6 Halep
Women's second seed Simona Halep is safely into the last 32 after a straight-set win over 21-year-old Brazilian Beatriz Haddad Maia (who beat Laura Robson in the first round).
Halep won it 7-5 6-3 to set up a third-round tie with China's Shuai Peng, a 6-2 6-2 winner over Spanish 25th seed Carla Suarez Navarro.
Nadal breaks back
*Nadal 6-4 6-2 6-5 Young
Rafa's not rattled by this turn of events. He's gone 0-30 up.
But he is a little aggravated now as someone in the crowd shouted out and put him off.
With his head back in the game, Nadal has two break points and he slams a forehand cross-court to break back immediately.
The fourth seed will serve for the match (again).

Jonathan Jurejko
BBC Sport at Wimbledon
Well it looks like Rafa mugged me off...
It's going on longer than five minutes. Helped, of course, by some serious tenacity from Donald Young.
"I don't want to go home Donald!" shouts one fan.
Neither does the American...

Boris Becker
Three-time Wimbledon champion on BBC TV
Well deserved Donald Young, he didn't rise to the intensisty, he took the chances, never gave up. Now he has to cool down again and find his concentration.
Young breaks
Nadal 6-4 6-2 5-5 Young*
His mum's on his feet! Donald Young has broken Rafa Nadal to level the third set at 5-5.
Scenes in Centre Court.
Break point Young
Nadal 6-4 6-2 5-4 Young*
Wait, wait, wait! Another break point for Donald Young. A double fault for Rafa Nadal.
Wowzers.
Young looks devastated as the break point goes abegging. He's gone long past the baseline.
To deuce...
Break point Young
Nadal 6-4 6-2 5-4 Young*
Donald Young is becoming Centre Court's new darling.
An 87mph winner down the line sees him steal the first point from Nadal's service game.
Nadal wins a challenge on his first serve, so the point is replayed. The pair go corner to corner in a rally, and the Spaniard prevails for 15-15.
But he goes long on the next point and it's 15-30. The crowd are loving this!
Rafa levels again with a volley but wait for it...BREAK POINT YOUNG! A monster forehand into the corner.

Jonathan Jurejko
BBC Sport at Wimbledon
Centre is baying for more. I don't reckon this will last another five minutes. Donald Young has only found one break point in the match and won just 26% of points on Rafa Nadal's serve...
A huge roar from Donald Young as he eventually holds serve. His mum gives him a big round of applause for that show of resilience, too. Love her.
Anyway, Rafa Nadal's going to serve for the match.
Young's not up for giving in just yet. A solid forehand into the corner gives him a 30-0 lead.
Make that 40-0, as Rafa goes long.
Nadal finds a forehand down the line to get off the mark and Young goes rogue with a backhand to hand his opponent another point.
And then the net. We've gone from 40-0 to deuce. Ouch.
Young gains the advantage, only for Rafa to snuff out the danger with a backhand volley. To deuce...
Madison Keys has saved herself in the second set.
Italian opponent Camila Giorgi was serving for the match, but American Keys, the 17th seed, is clinging on as she has broken the serve of the world number 86 to put us back on serve over on court three.
Nadal's had to find another notch in this set and it's fully cranked up now.
The fourth seed leads 40-0 and smashes out the game with an ace.
Young will now serve to stay in the match.

Boris Becker
Three-time Wimbledon champion on BBC TV
We all wanted to see how Nadal played on grass, he hadn't showed up in a while. But from what I've seen so far, he looks strong, he looks confident, he looks hungry.
He is the ultimate competitor and will give all he has got. Of course, everybody's favourite is Roger Federer but then you have Murray, Djokovic. The big four are back. They all have a realistic chance, but it depends who they go up against.

Jonathan Jurejko
BBC Sport at Wimbledon
Nothing us Brits love more than a grafter. Donald Young's mad dash around the court like a Supermarket Sweep contestant - find it on the Internet, kids - won arguably the loudest roar of the match by the Centre Court crowd.
Nadal breaks
*Nadal 6-4 6-2 4-3 Young
The crowd are absolutely buzzing as they watch this lively pair zip about on court.
The spectators have had a proper treat today, what with this match, Konta, Murray and Brown. Yes, they may be a bit sweaty in the heat but it's probably been worth it.
Young and Nadal trade blows at the baseline and the American overcooks his final effort. Two break points to the Spaniard.
Young whacks out and Nadal strides ahead once again. We're heading for a swift conclusion, it seems.
Young channels his inner Nadal with a crushing forehand winner. Bosh.
The American fails with a challenge and then the umpire overalls one of his line judges. Rafa nicks the points.
Nadal moves to 40-15 and goes on to hold. We remain level in the third set.
Madison Keys needs to find some form, very quickly.
The American, seeded 17th, lost the first set 6-4 to Italian Camila Giorgi out on court three and the European is now a break up and serving for the match at 5-4 ahead in the second set.

Jonathan Jurejko
BBC Sport at Wimbledon
That sleeping beauty has stirred! I can see him opposite the media seats, a few rows behind Uncle Toni and Carlos Moya.
No-one else is napping. A few green patches of empty seats are starting to appear on Centre, but those fans still here aren't worried about a late Tube or train ride home.
They want to see more tennis. Every point won by Donald Young, every point in which Rafa Nadal is pushed, is greeted by thunderous applause and encouragement for the American.
Maybe they all live within walking distance.
Young's got into the swing of this now.
"Showtime," announces Boris Becker on BBC commentary, as the American lands a half-volley drop shot for 30-0.
Nadal snatches a point back at the net but he hits wide for 40-15 and Young wraps up another service game with a fantastic forehand cross-court.
The crowd are behind him a bit more now.
The TV pictures pick up the obligatory slumbering spectator in the stands. It's been a long day.
Nadal continues to look fresher than ever on court. Whipping another forehand winner to start the game.
Young blitzes forward to pick up a drop shot and force Nadal into a wild swipe. A chance at 15-15?
Another arcing forehand sets up 30-15 for Nadal then yet another on the angle makes it 40-15.
A belting return from Young caps this fine passage of play but Nadal puts away a simple smash to claim the game.

Boris Becker
Three-time Wimbledon champion on BBC TV
I think Donald Young could be a consistent top 30 player but he has to improve his backhand. He is also lacking a little bit of firepower. He plays a lot of doubles, he's good at that.
Nadal backhands into the net to give Young a 40-15 and the world number 43 holds with ease.
He's keeping the gap closed at the moment.

Boris Becker
Three-time Wimbledon champion on BBC TV
Good effort by the American but he has to do it again. One game isn't enough. He has to build momentum, create his chances.
Donald Young snatches the first point from Nadal's service game but then sinks to his knees as he nets on the next point.
It's the Spaniard's turn to get it all wrong, though. He shanks a forehand wide for 30-30.
The fourth seed recovers with a beautifully-placed volley and holds as Young notches past the white lines.