Festival of Motorcycling: Dunlop quickest in opening practice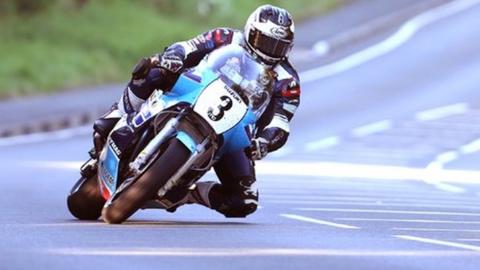 Multiple TT winner Michael Dunlop went quickest in the opening practice session for the 2016 Festival of Motorcycling on Monday.
The first session for the event, which includes the Classic TT and Manx Grand Prix, also saw newcomers getting their first untimed laps of the TT course.
Dunlop, from Northern Ireland, set the fastest lap of the session on his Classic TT Superbike at 121.133mph lap.
The second practice session will be held on Tuesday.
Steve Mercer (118.203mph) and Ivan Lintin (117.995mph) were the next quickest in the session - also on their Superbikes.
Welshman Ian Lougher (113.363mph) leads Lightweight practice with John McGuinness fastest in the Classic TT class and Michael Rutter leading the Junior Classic TT class.
Clerk of the Course Gary Thompson warned riders of damp patches around the course ahead of the session.
Alan Thomas from Wales was reported off at the Water Works but organisers said he was "uninjured".
The first races get under way on Saturday.
Classic TT Superbike
Michael Dunlop - 121.133mph
Lightweight TT
Ian Lougher - 113.363mph
Classic TT
John McGuinness - 107.089
Junior Classic TT (350cc)
Michael Rutter - 99.501mph